Lightly crispy on the outside and chewy on the inside, these Coconut Macaroons are made for coconut lovers! Dip the bottoms in chocolate for an even more decadent treat.
These Coconut Macaroons are for serious coconut lovers. For even more of a coconut fix, check out these Coconut Brownies, Coconut Cream Pie, or Coconut Bread.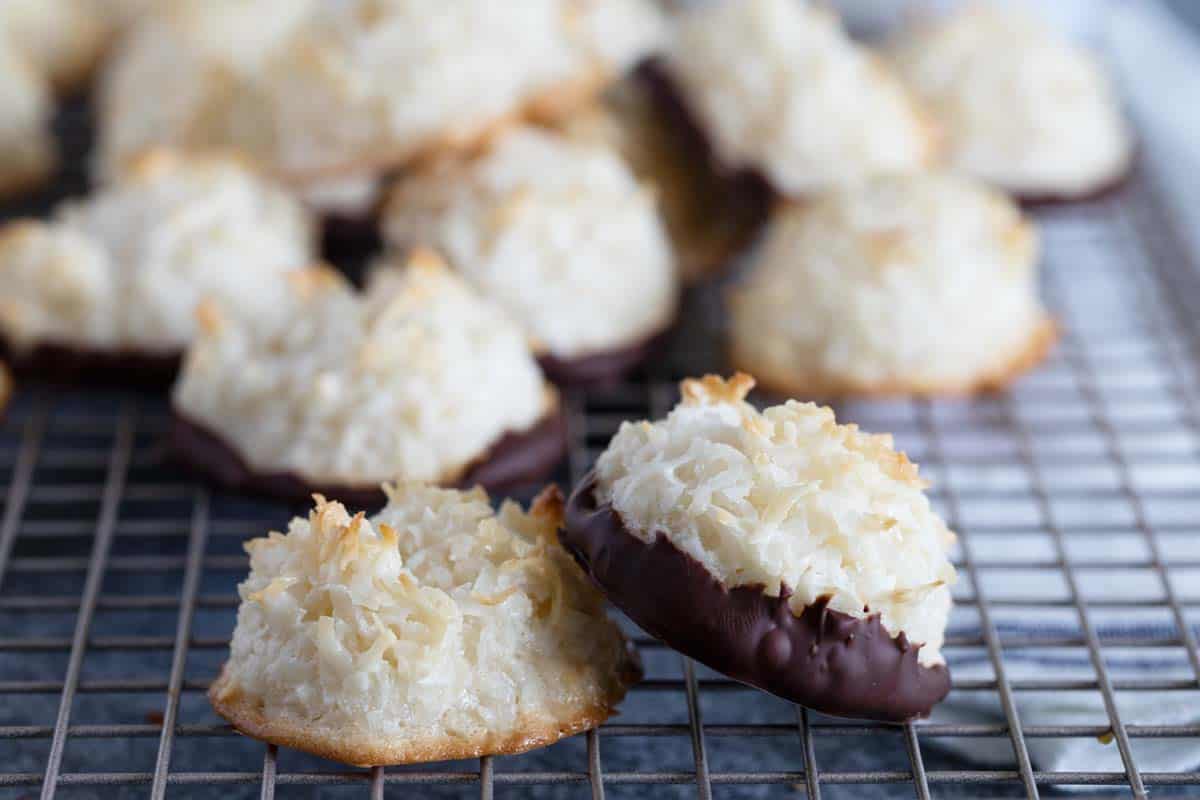 I am a coconut lover. It's probably no surprise – I feel like there has been a lot of coconut around these parts lately.
And I'm not stopping anytime soon.
Every coconut lover needs a good Coconut Macaroon recipe, and I'm here today to share mine.
You won't even believe the recipe testing that went into this recipe. I tried the kind with just coconut and sweetened condensed milk – too dense. Tried the kind with just whipped egg whites – not the texture of the macaroons that I love. So this recipe combines the two. Sweetened condensed milk plus egg whites – you get the lightly crispy exterior and chewy interior. My idea of perfection!
You can serve these coconut cookies up as is, or dip them in chocolate. We actually like both ways, so I'll usually dip half and leave half without the chocolate.
Ingredients
Coconut: You will want to use sweetened, shredded coconut. I haven't tried it with unsweetened coconut, but I'm guessing it would work fine as long as it is shredded coconut and not desiccated coconut.
Sweetened Condensed Milk: Make sure you are using sweetened condensed milk, not evaporated milk. And note here that you aren't using a whole can – you will have a few tablespoons left over. If you use the full can, you will have the liquid pool around the bottoms of the cookies. Which is totally fine – just not as pretty or not as easy to dip.
Vanilla and Almond Extracts: I like to use the combination of both extracts. I really love almond extract with coconut. You can use all vanilla extract, if you choose, though.
Egg Whites: Using room temperature egg whites is best. This will give your cookies some volume.
Salt: To balance the flavors.

And if you want to dip your macaroons in chocolate, here's what you'll need:

Chocolate: You can go all out and get a really good chocolate bar, or use some good chocolate chips, like I did.
Shortening: I like to add a little shortening to help keep the chocolate glossy and also so it stays just a little bit softer.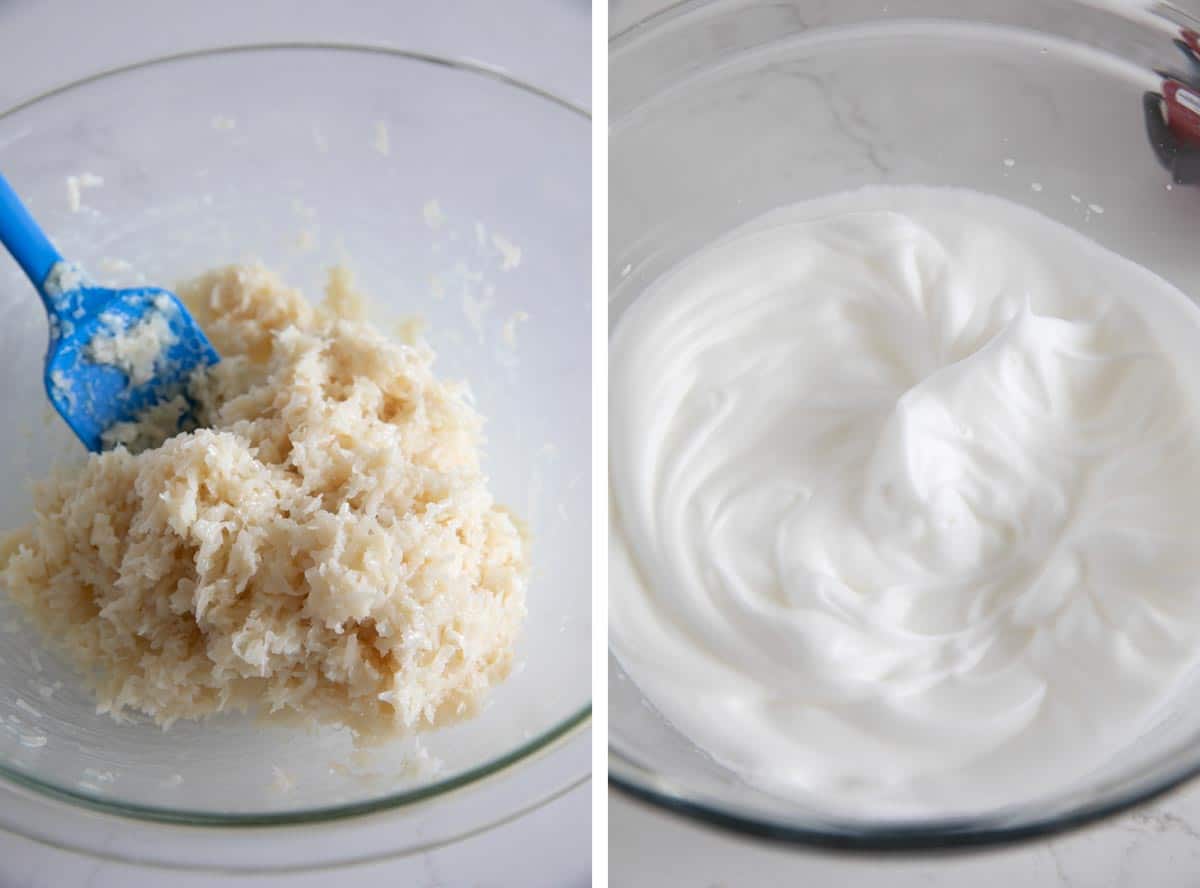 How to Make Coconut Macaroons
In a large bowl, mix together the coconut, sweetened condensed milk, and both extracts.
In another bowl, beat the egg whites with the salt until you have stiff peaks.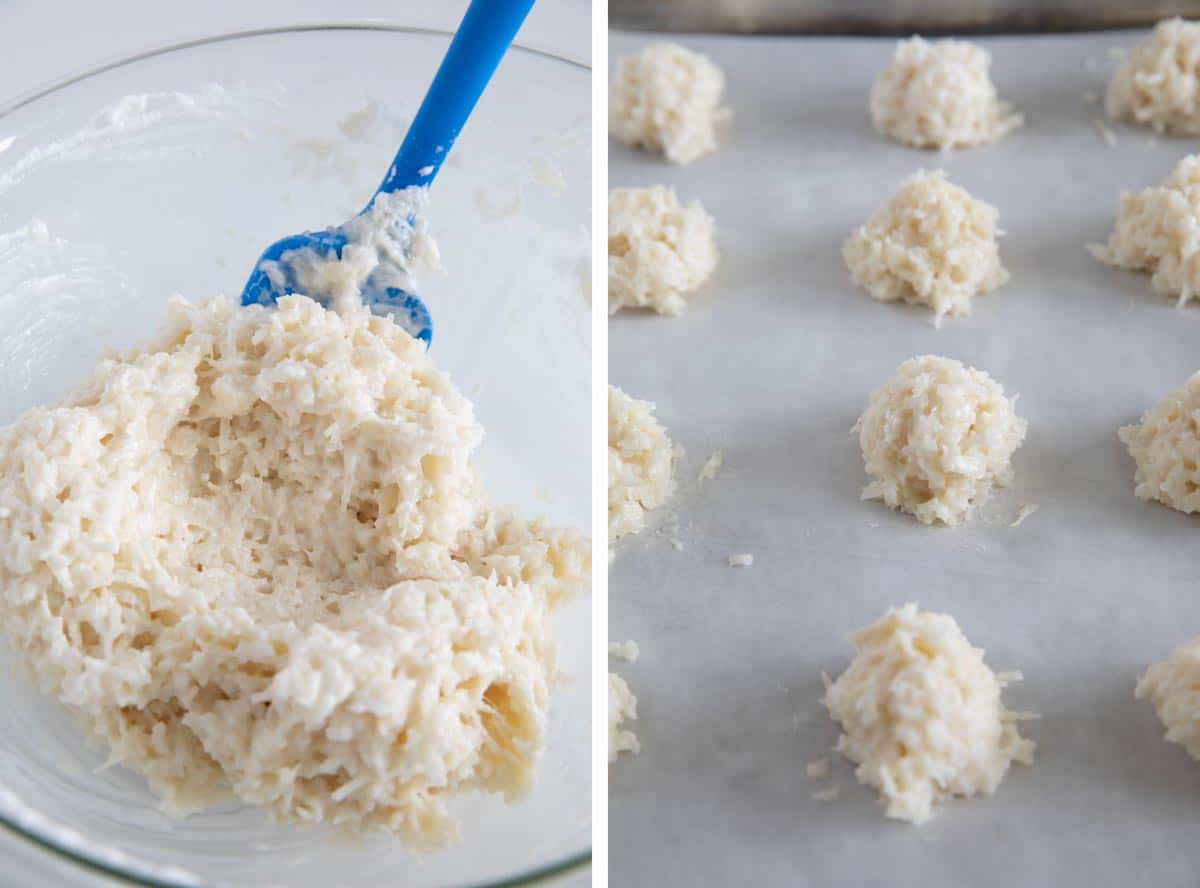 Now you'll fold the egg whites into the coconut mixture. Try to do this as lightly as possible – you don't want to totally deflate the egg whites.
Use a medium cookie scoop and scoop the mixture onto 2 baking sheets that are lined with parchment paper or a silpat liner. You can also do this with a spoon instead of a cookie scoop, but it's harder to keep them the same size.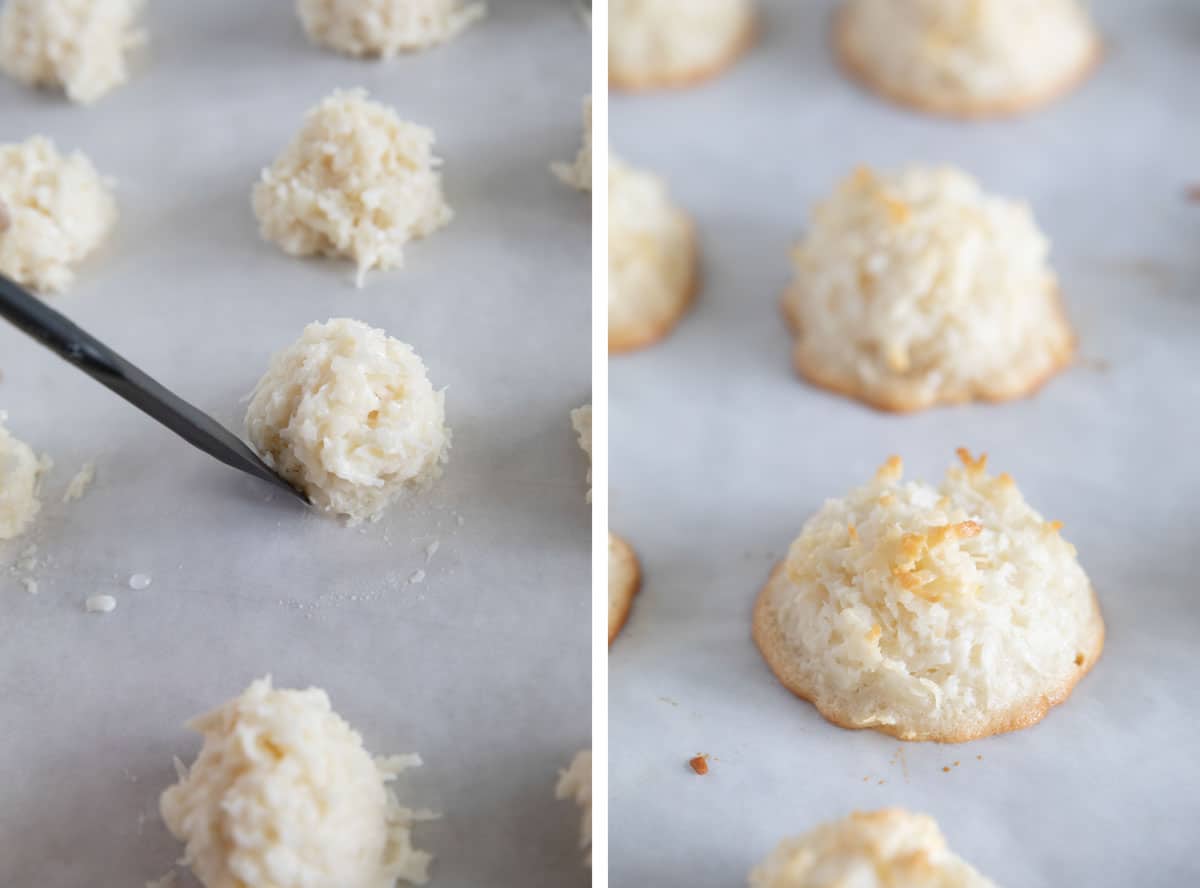 Next I like to take a small spatula that I've dipped in water and "tuck" all of the coconut strands into the cookies. If you leave them out, they tend to burn faster, plus they make it harder to dip the cookies. By pushing all of the strands in, you get a cleaner shaped cookie.
Bake the cookies until they are golden brown. Let them cool completely.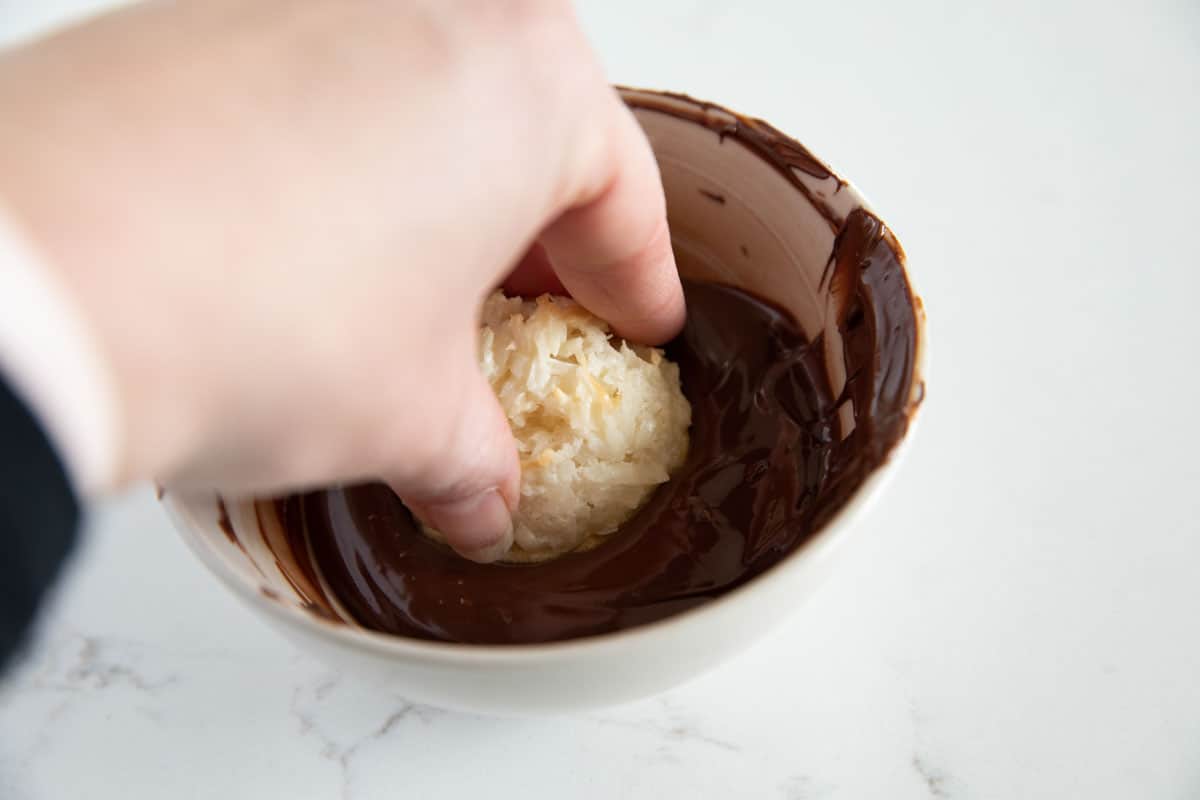 If you are going to dip the cookies, combine the chocolate and the shortening and melt over a double boiler or on half power in the microwave. Dip the bottoms of the cookies and wipe any excess on the edge of the bowl. Return to the parchment paper. Let the chocolate set completely before moving. You can place the baking sheet in the freezer for about 10 minutes to hurry this process along.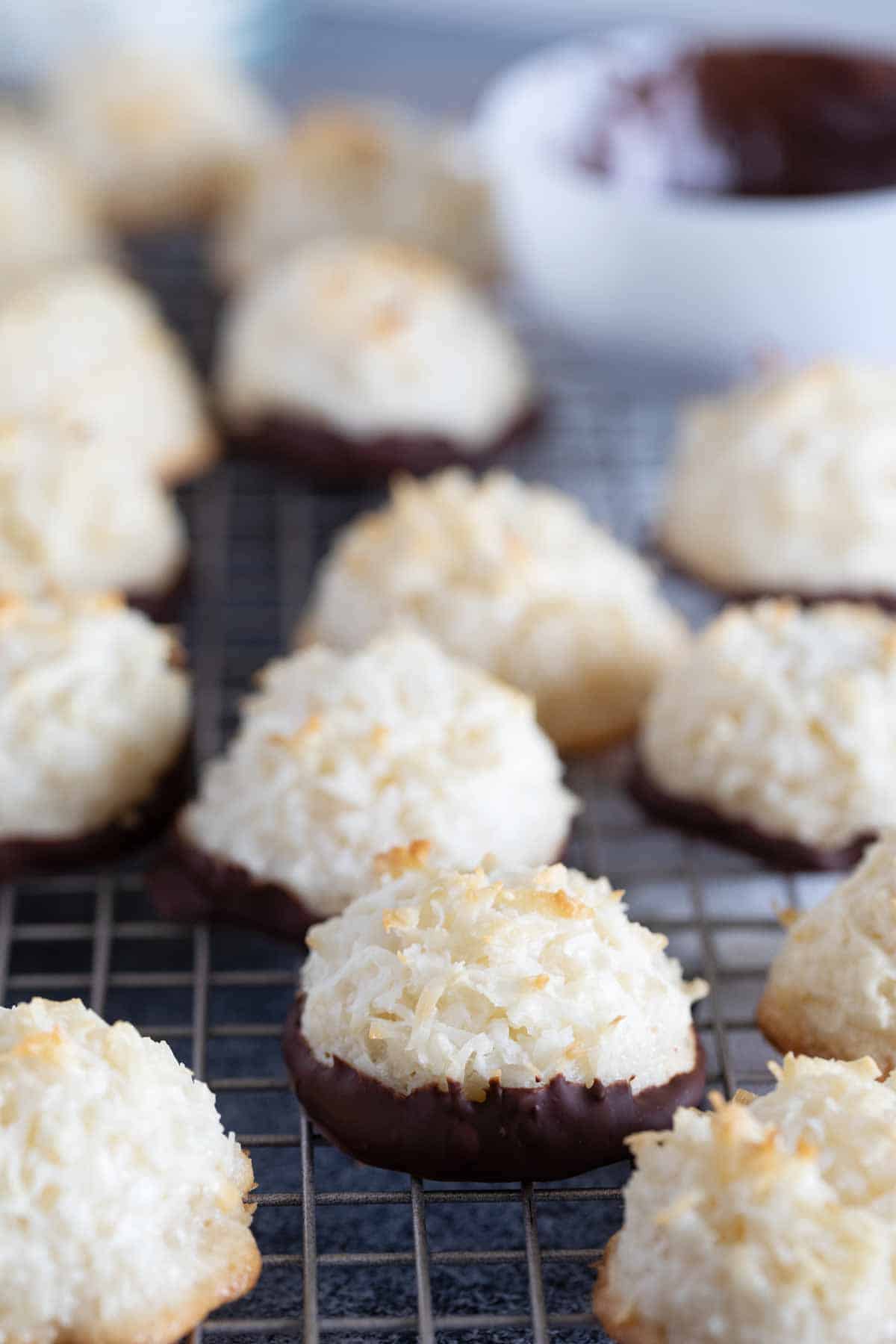 Storing and Freezing
STORE: Store any leftovers for up to 7 days. Store in an airtight container. They will lose some of their crispy exterior and may become a bit sticky, but are great make ahead cookies!
FREEZE: Baked cookies can be frozen. They are best if frozen in a single layer with a piece of parchment paper between layers. Thaw at room temperature on a baking rack. The cookies will lose a bit of their crispy exterior, but they are still delicious!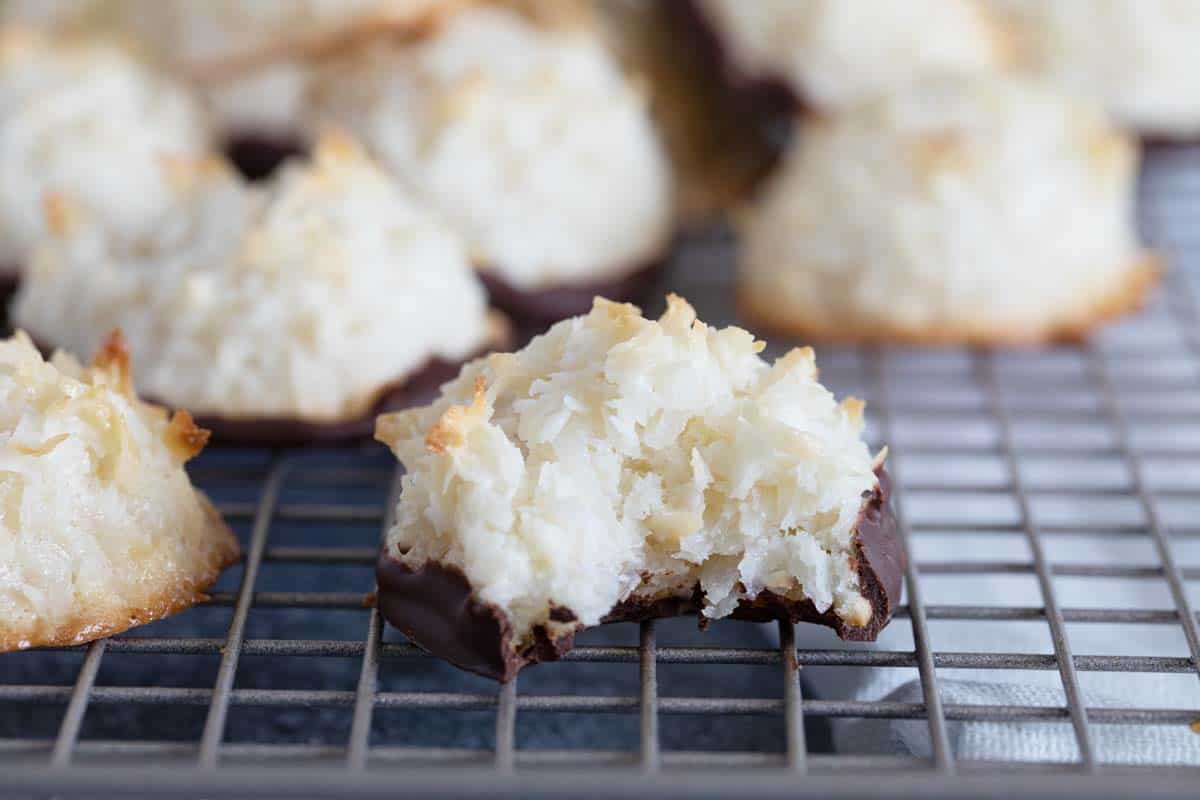 More Favorite Cookies: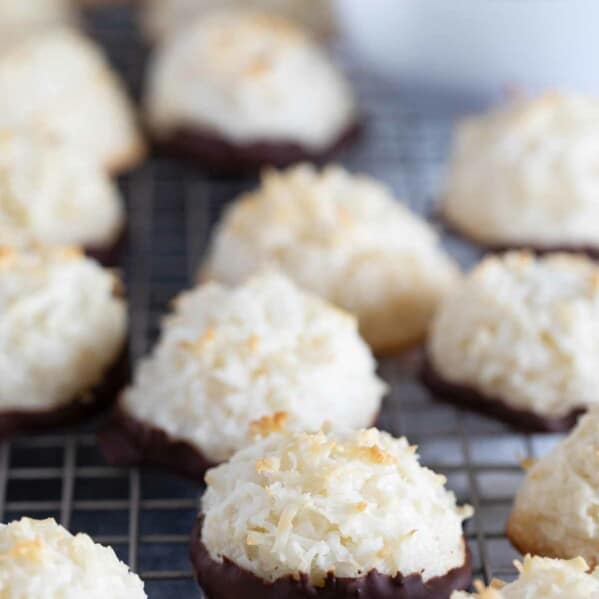 Coconut Macaroons
---
Author:
Prep Time: 10 minutes
Cook Time: 30 minutes
Total Time: 50 minutes
Yield: 24 cookies 1x
Category: Dessert
Method: Baked
Cuisine: American
Description
Lightly crispy on the outside and chewy on the inside, these Coconut Macaroons are made for coconut lovers! Dip the bottoms in chocolate for an even more decadent treat.
---
Scale
Ingredients
14 oz sweetened shredded coconut
1 cup sweetened condensed milk*
1 teaspoon vanilla extract
1/2 teaspoon almond extract
2 large egg whites
1/4 teaspoon salt
4 oz chocolate, optional
1/2 teaspoon vegetable shortening, optional
---
Instructions
Place a rack in the top third of the oven and another in the bottom third. Preheat the oven to 325ºF. Line two baking sheets with parchment paper or silpat liners.
In a large bowl, stir together the coconut, condensed milk, vanilla extract, and almond extract.
In another bowl, beat the egg whites with the salt until stiff peaks form.
Add the egg whites to the coconut mixture and gently fold them into the mixture.
Using a retractable cookie scoop**, drop the batter onto the baking sheets – you should get 12 cookies for each baking sheet.
Dip a small spatula in water and gently press all of the bits of coconut along the baking sheet into the cookie ball. This is to prevent any pieces hanging out and burning. It also helps if you are dipping the cookies in chocolate.
Place both cookie sheets in the oven and bake until golden brown, 25-30 minutes, rotating the sheets halfway through the baking time.
Remove from the oven and allow the cookies to cool completely.
If dipping in chocolate, combine the chocolate and the shortening and melt in a double boiler or on low power in the microwave. Dip the bottoms of the cookies in the chocolate, scraping any excess off the bottom on the side of the bowl. Return to the baking sheet and allow the chocolate to set up completely. To make this go a little faster, you can put the baking sheet with the cookies in the freezer for 5-10 minutes.
Recipe Notes:
*this is not a full 14 oz can. You can use the whole can, but will experience some pooling at the bottom of your cookies. I like to save the extra and use it with this Condensed Milk Toast.
**If you don't have a cookie scoop, you can use 2 spoons to drop the batter onto the baking sheet. You'll still want to make sure you use a spatula to tuck any loose pieces of coconut in.
Nutrition information provided as an estimate only. Various brands and products can change the counts. Any nutritional information should be used as a general guide. Nutrition information does not include the chocolate for dipping.
Nutrition
Serving Size: 1 cookie
Calories: 120
Sugar: 13 g
Sodium: 87 mg
Fat: 6 g
Saturated Fat: 5 g
Unsaturated Fat: 0 g
Trans Fat: 0 g
Carbohydrates: 16 g
Fiber: 2 g
Protein: 2 g
Cholesterol: 3 mg
Keywords: coconut macaroons