Coconut lovers will go crazy over these Coconut Cupcakes that are perfectly moist coconut cupcakes topped with a cream cheese frosting and even more coconut.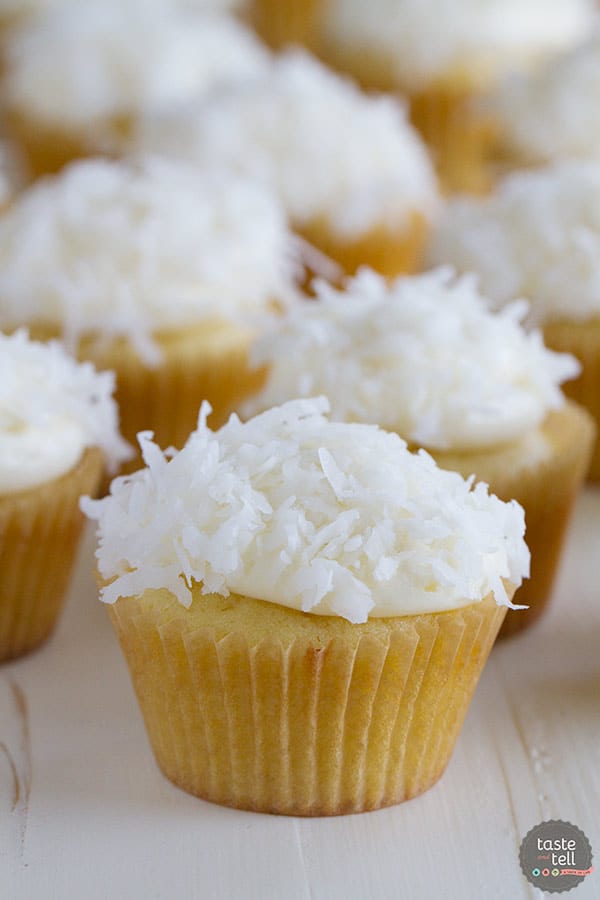 Photos Updated September 2015



Originally posted October 27, 2008 – It seems like a lifetime ago that I first posted this recipe. And a lifetime ago since I worked in corporate America. It's only fitting that I re-share this recipe and this post today, as I have been thinking a lot lately about how this blog and this business that I've created have blessed my life. It's crazy to think that I am still here – 3 kids later – loving blogging more than ever. These cupcakes were amazing the first time I made them back in 2008, and they continue to be a favorite today. (I am partial to coconut anything!!) Enjoy!
The original post from 2008 follows:
Things here in the Taste and Tell household are changing. The baby is not even here yet – still 3 more months – but life is already different.
The company I have been working for for the last almost 4 years has been struggling a bit because of the falling stock market. I won't get into details because really, food=exciting, stock market=boring, but as of about a week and a half ago, I am officially unemployed. There were some layoffs, and I volunteered myself to be one to go, especially since I was hoping to not return after the baby comes. So while I was excited to become a stay-at-home mom, I am now getting to spend a few months being a stay-at-home wife in preparation for the baby!
So what kind of changes does that mean for my food blog here? Well, I'm not sure yet! I'm cooking more, which is a good thing, and hopefully I'll be able to try out more of the recipes and techniques I've been bookmarking. It might be harder for me to make the rounds on other blogs, but so far I've been managing. I was able to sit at a computer for 7 hours a day, and blogging and visiting other blogs was not a problem because I had the time. Now I am busier than I have ever been before! But I'm still making time for blogging, because it's what I really enjoy.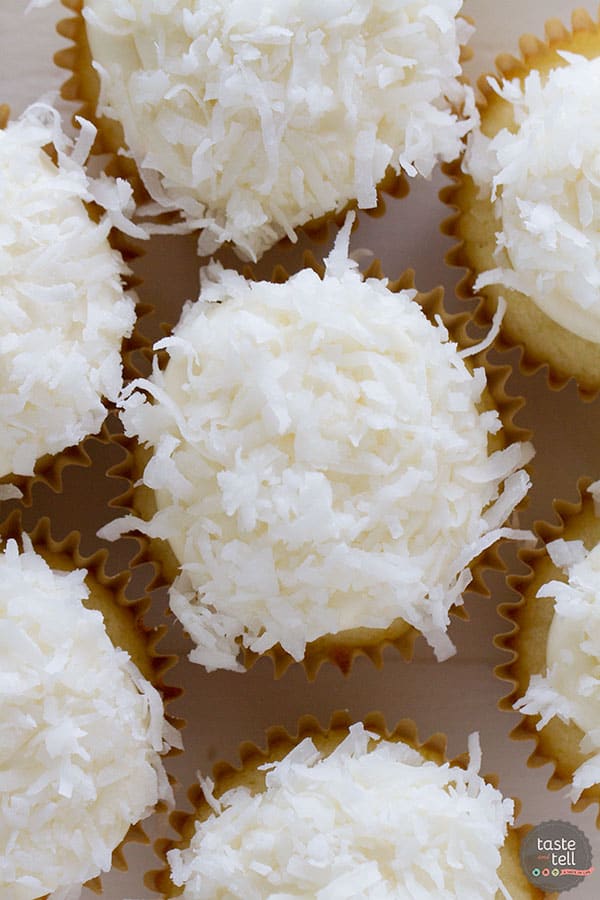 What does this all have to do with these cupcakes? Well, they were my final "hurrah" at my job. I found out about the layoffs on Thursday, and brought these in on Friday for co-workers birthday. I figured that just because many were getting laid off, it didn't mean we shouldn't celebrate his birthday!
I took the recipe for Ina's Coconut Cake, and combined it with the recipe for her Coconut Cupcakes. But there was something else I wanted to try as well. Several weeks ago, I was watching a rerun of Throwdown with Bobby Flay – it was the cupcake throwdown. Bobby's challenger – I can't remember who she was now, but she said that she never uses butter in her cupcakes – only oil – because it keeps them moist. Bobby won the challenge, but people did complain that his cupcakes (in which he used butter) were dry. And I really don't like a dry cupcake. So I thought I'd test it out and use vegetable oil instead of butter.
These cupcakes were anything but dry. And although they may have lost a little bit of a boost of flavor from the butter, the texture of these made up for it. They were absolutetly delicious! One of my favorite cupcakes to date.
Now I'm just going to have to figure out who to pawn my baked goods off to so that I don't eat them all!!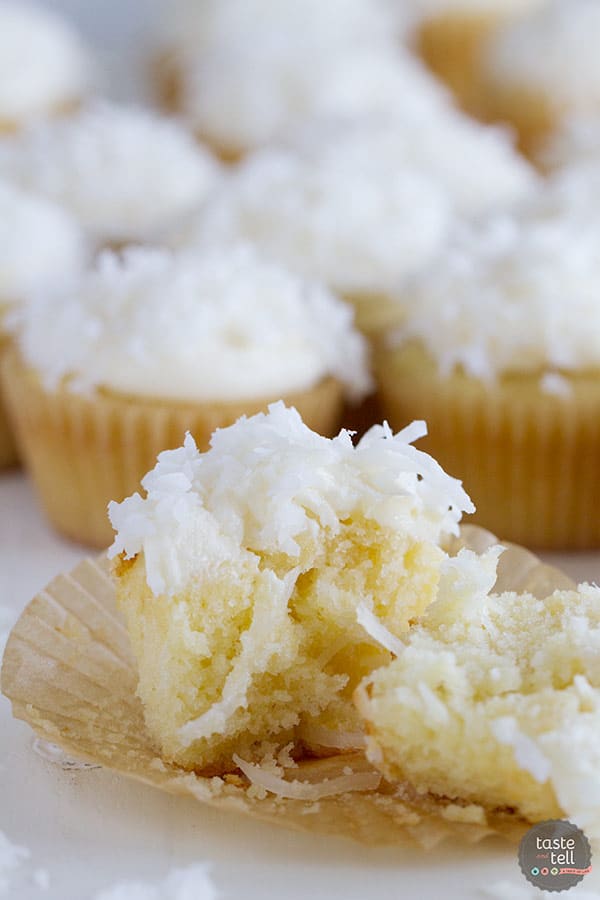 Like what you see here? Make sure you are following Taste and Tell for more recipes and ideas!
Facebook | Pinterest | Instagram | Twitter | Google+ | Weekly Newsletter | Feedly | Bloglovin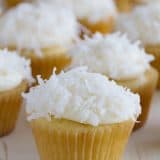 Coconut Cupcakes
---
Author:
Prep Time: 30 mins
Cook Time: 20 mins
Total Time: 50 mins
Yield: 36 cupcakes 1x
Description
Coconut lovers will go crazy over these Coconut Cupcakes that are perfectly moist coconut cupcakes topped with a cream cheese frosting and even more coconut.
---
Scale
Ingredients
For the Cupcakes
1 1/2 cups vegetable oil
2 cups sugar
5 large eggs, at room temperature
1 1/2 teaspoons vanilla extract
1 1/2 teaspoons almond extract
3 cups all-purpose flour
1 teaspoon baking powder
1/2 teaspoon baking soda
1/2 teaspoon salt
1 cup buttermilk
4 ounces sweetened shredded coconut
For the Frosting
8 ounces cream cheese, softened
1/2 cup butter, at room temperature
1/2 teaspoon almond extract
1/4 teaspoon vanilla extract
2 cups powdered sugar, sifted
6 ounces sweetened shredded coconut
---
Instructions
Preheat the oven to 350ºF. Line cupcake pans with paper liners.
In the bowl of an electric mixer with the paddle attachment, combine the oil and the sugar. Mix on medium-high speed for 2-3 minutes. Add in the eggs, one at a time, beating well between each addition and scraping down the bowl once or twice. Add in the vanilla and almond extracts and mix well.
In another bowl, sift together the flour, baking powder, baking soda and salt. With the mixer on low, add one third of the flour mixture, followed by half of the buttermilk, another one third of the flour mixture, the remaining buttermilk, then ending the the remaining flour mixture. Mix just until combined. Fold the coconut in with a spatula.
Fill the cupcake liners 3/4 full with the batter. Bake for 18-20 minutes, or until a toothpick inserted in the center comes out clean. Allow the cupcakes to cool completely.
To make the frosting, cream together the cream cheese, butter, almond extract and vanilla extract until light and smooth. Slowly add in the powdered sugar and mix until smooth.
Frost the cupcakes with the frosting then sprinkle the tops with the coconut.
Don't miss a thing! Follow me on Pinterest to see what I'm pinning!
Visit Taste and Tell's profile on Pinterest.