Sweet and gooey, this Coconut Pecan Pie is the perfect way to change up a traditional pecan pie.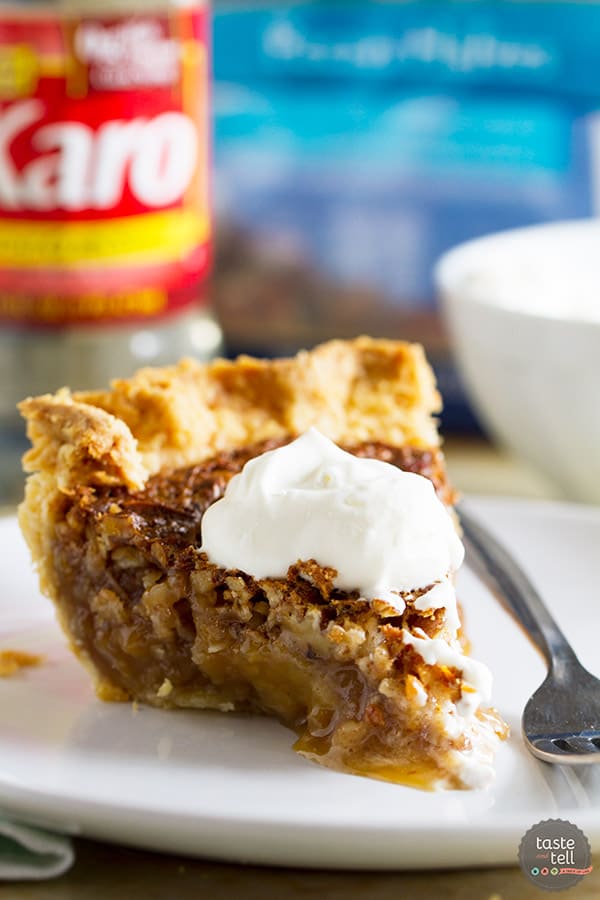 I am a Bake a Little Extra Blog Ambassador and this post is sponsored by Karo® Syrup and Fisher® Nuts. I'm so glad to be able to work with companies and organizations that I truly believe in. Thank you for supporting them, too.
It is officially my favorite time of year – pie season!!
If you are a regular around here, you know that I have dedicated this year to pie. A new pie recipe has gone up every month, but since this is November, and everyone needs lots of Thanksgiving pie in their November, I may just have to step it up this month and make more than one.
Not that you'd have to twist my arm or anything. 😉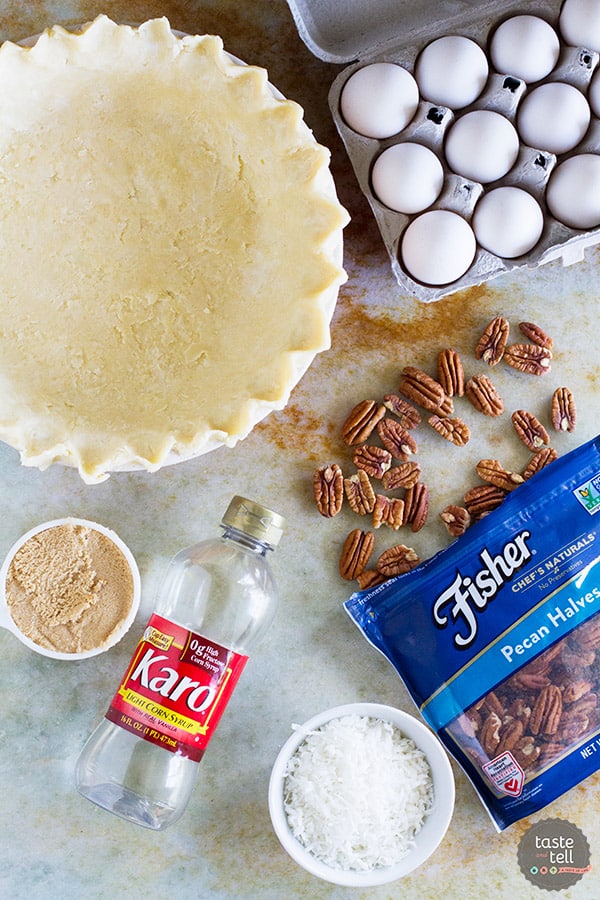 I'm starting with a twist on a classic that will make you get those little heart eyes. I introduce to you: Coconut Pecan Pie. It's no secret that I love coconut. So it's only natural that I'd take a classic – the pecan pie – and add some coconut to make it extra special.
I started with a recipe for Coconut Walnut Pie on the Karo® Syrup website but because pecan pie is a classic Thanksgiving dessert, I knew I had to have pecans in there. I used Fisher® Pecans because I knew I needed quality, tasty pecans. And of course, you can't have pecan pie without Karo® Syrup. It brings the perfect amount of sweetness to the pie, and gives it the perfect pecan pie texture. The coconut is a perfect pairing, and a dollop of fresh whipped cream on the top just gives it that little something special.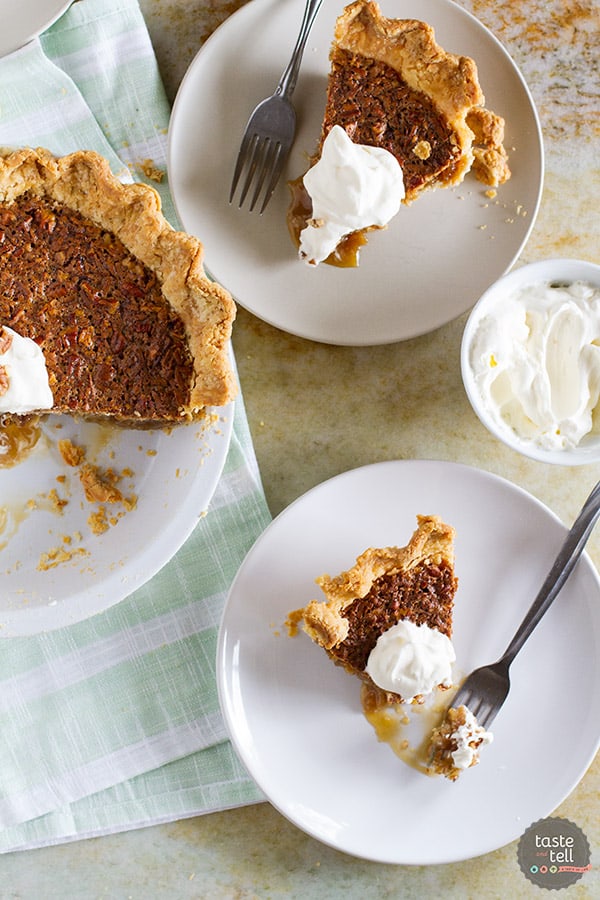 When it comes to pie crusts, you want to protect them from over-browning and the best way to do that is a pie shield. If you don't have a pie shield, you can use foil to cover just the crust edges.
I'm planning on baking up lots of pies this holiday season to share with my family and friends so stay tuned for more great recipes. This is my favorite time of year to bake a little extra and share the love, and I can bet that your friends and family will go crazy over this Coconut Pecan Pie. Bring it to Friendsgiving or your Thanksgiving dinner with family. It's the perfect way to kick off the holiday baking season!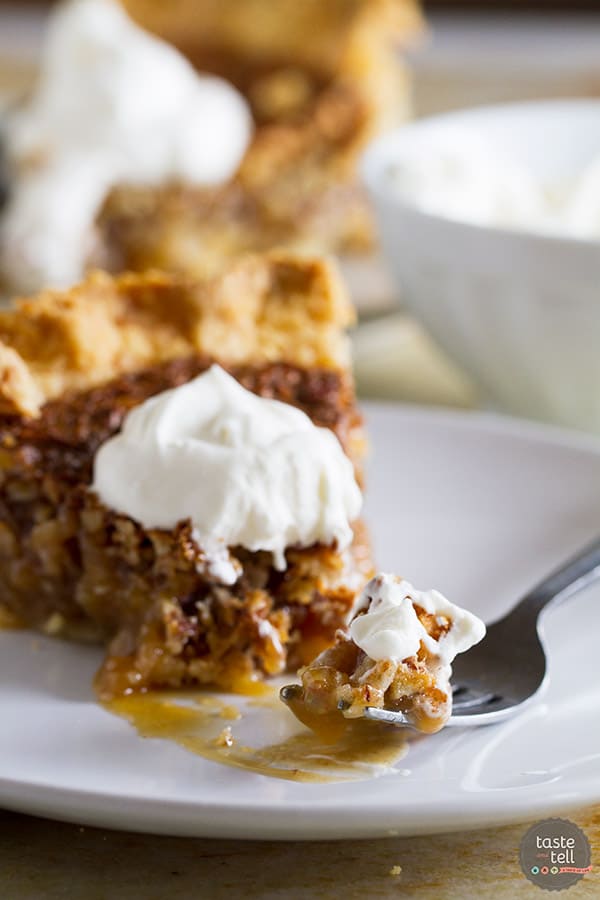 Like what you see here? Make sure you are following Taste and Tell for more recipes and ideas!
Facebook | Pinterest | Instagram | Twitter | Google+ | Weekly Newsletter | Feedly | Bloglovin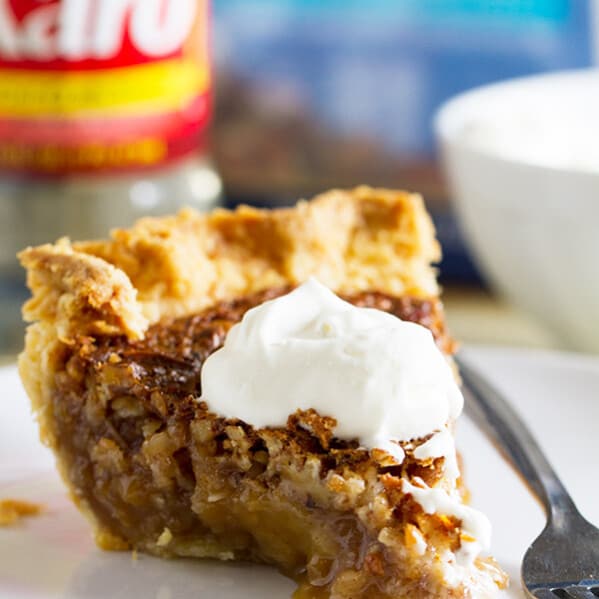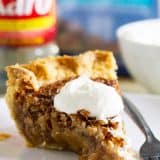 Coconut Pecan Pie
---
Author:
Prep Time: 15 mins
Cook Time: 70 mins
Total Time: 1 hour 25 mins
Yield: 8 servings 1x
Description
Sweet and gooey, this Coconut Pecan Pie is the perfect way to change up a traditional pecan pie.
---
Scale
Ingredients
1 cup Karo® Syrup
3 eggs
2 egg yolks
1 cup brown sugar
1/2 cup butter, melted
1/4 teaspoon Spice Islands® Ground Saigon Cinnamon
1/8 teaspoon Spice Islands® Sea Salt
1 teaspoon Spice Islands® Pure Vanilla Extract
1 cup chopped Fisher® Pecan halves
1 cup sweetened, flaked coconut
1 (9-inch) unbaked or frozen deep dish pie crust
---
Instructions
Preheat the oven to 350ºF.
In a large bowl, mix the corn syrup, eggs, egg yolks, brown sugar, butter, cinnamon, salt, and vanilla. Stir in the pecans and the coconut. Pour the filling into the pie crust.
Place the pie on a baking sheet and transfer to the center rack of the oven. Bake for 60 to 70 minutes, until the center reaches 200ºF. The center should bounce back when tapped. Let the pie cool for at least 2 hours before serving.
Don't miss a thing! Follow me on Pinterest to see what I'm pinning!
Visit Taste and Tell's profile on Pinterest.