Comfort dinner x 2! This Cheesy Kielbasa Pasta Casserole makes 2 full casseroles – eat one now, and the second casserole freezes well for later!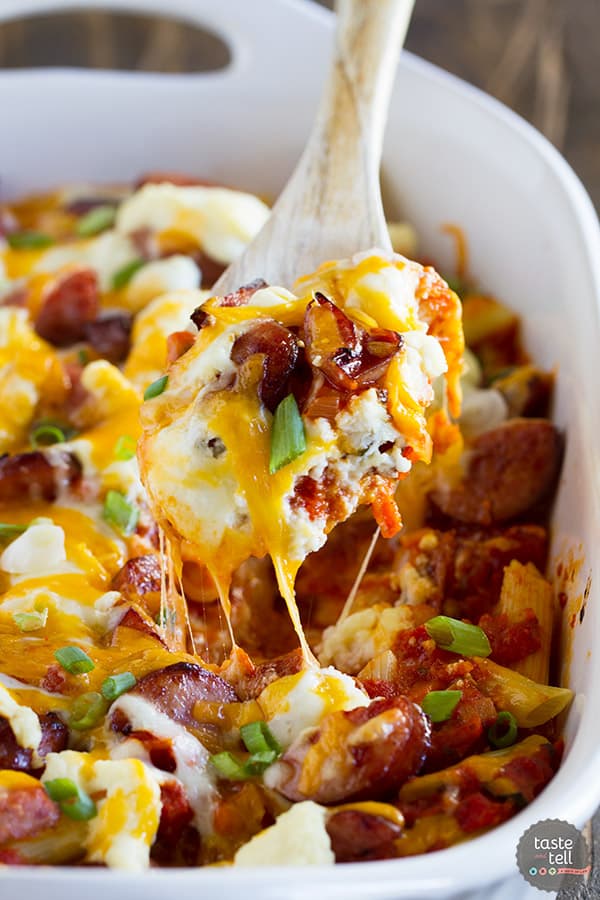 Let's talk freezer meals, shall we?
I know, a riveting subject. But when your life is crazy, but you still want a homemade meal on the table at the end of the day, you start to have this great hope for delicious freezer meals.
But I will be the first to admit that they aren't all that great. In fact, some of them are downright inedible. Often loaded with pasta that goes to mush because it's drenched in cream-of-something soup, you might as well not even put dinner on the table because no one is going to want to eat it.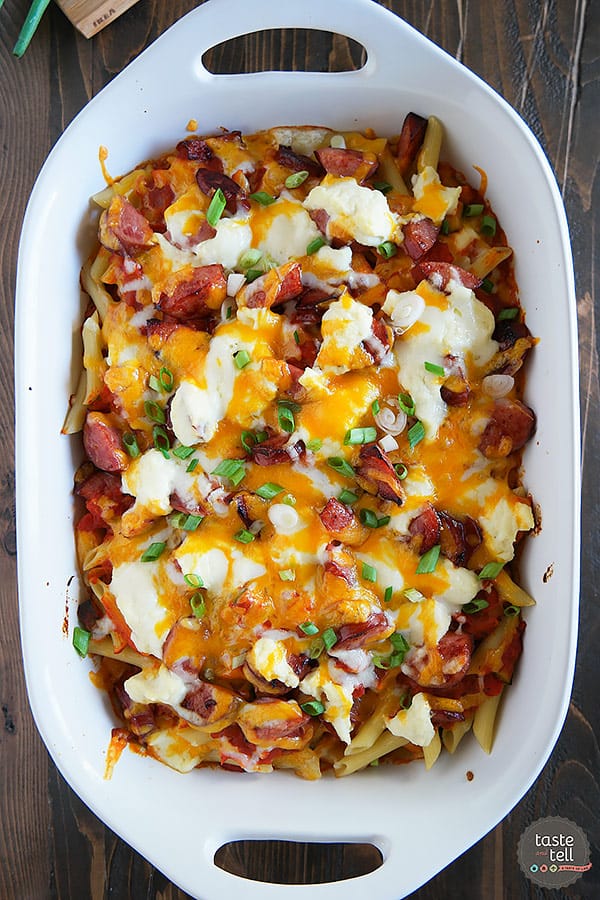 But I've been on the lookout. For freezer meals that actually taste good after their time in the deep freeze. There have been some failures. And happily, there have been some winners. That give me hope that this whole idea of stocking my freezer with meals is an idea that actually might work.
And one of those successful freezer meals is this Cheesy Kielbasa Pasta Casserole.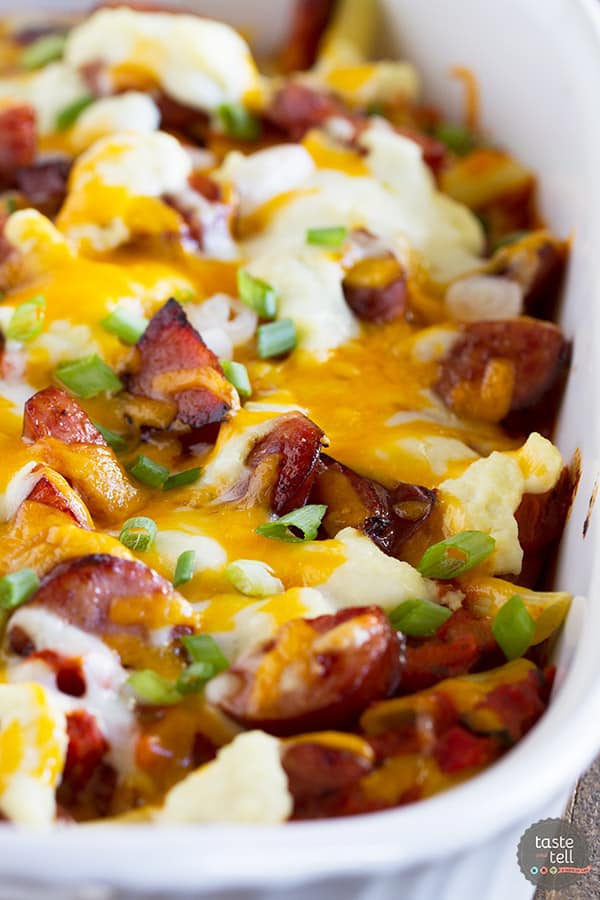 I originally didn't even think I would test this as a freezer meal. It looked delicious, so I decided to make it for dinner. But the recipe makes 2 full casseroles. I knew this going in, and had planned to just cut the recipe in half, but part way through making dinner, I realized that I wasn't paying attention. And that I hadn't halved several of the ingredients. So I decided to just embrace it, and make one casserole to put in the freezer.
We ate dinner that night, and everyone gobbled up their dinner. Really – you can't go wrong with this if you like comforting pasta dinners. And then a few weeks later, I pulled the frozen casserole out of the freezer. I honestly was prepared for it to be a mushy mess. But do you know what? It wasn't. In fact, I think we actually liked the frozen casserole better than the first. Maybe the flavors had time to meld together. I don't know. But it was wonderful.
We are definitely calling this Cheesy Kielbasa Pasta Casserole a freezer success!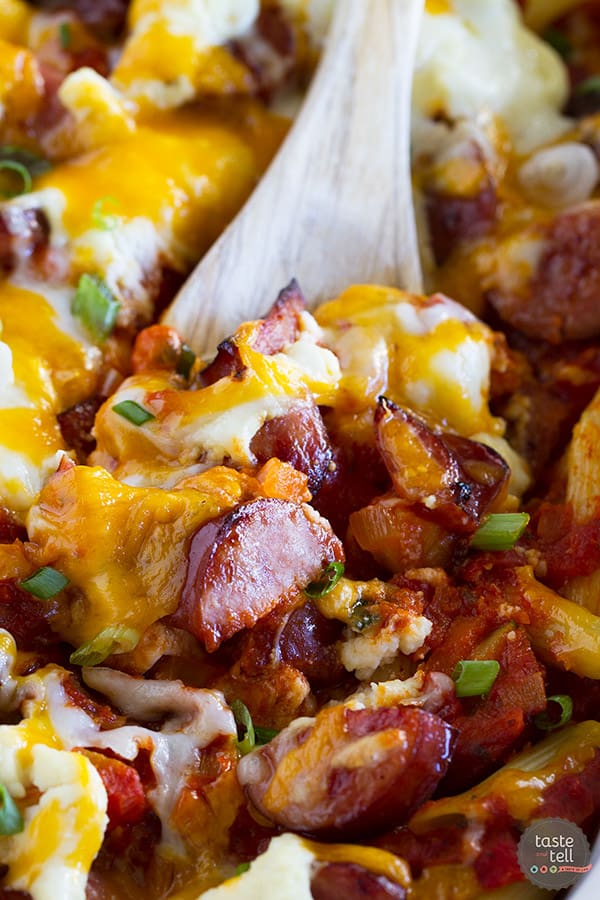 Like what you see here? Make sure you are following Taste and Tell for more recipes and ideas!
Facebook | Pinterest | Instagram | Twitter | Google+ | Weekly Newsletter | Feedly | Bloglovin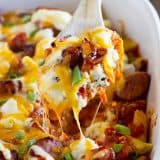 Cheesy Kielbasa Pasta Casserole (Freezer Friendly!)
---
Author:
Prep Time: 15 mins
Cook Time: 55 mins
Total Time: 1 hour 10 mins
Yield: 2 casseroles, 8 servings each 1x
Description
Comfort dinner x 2! This Cheesy Kielbasa Pasta Casserole makes 2 full casseroles – eat one now, and the second casserole freezes well for later!
---
Scale
Ingredients
12 oz penne pasta
2 (14 oz each) packages of kielbasa sausage, halved lengthwise then sliced
1 tablespoon extra virgin olive oil
1 large onion, chopped
2 medium zucchini, diced
2 medium carrots, peeled and grated
1 clove garlic, minced
1 jar (24 oz) spaghetti sauce
1 can (14.5 oz) diced tomatoes
1 egg, lightly beaten
1 carton (15 oz) ricotta cheese
2 cups (8 oz) shredded cheddar cheese
2 cups (8 oz) shredded mozzarella cheese
1–2 green onions, sliced
---
Instructions
Preheat the oven to 350ºF.
Bring a large pot of water to a boil, then salt generously. Add the pasta and cook according to package directions. Drain.
Meanwhile, heat the oil in a large skillet over medium heat. Add the sausage and cook until browned on both sides. Remove the sausage from the pan to a plate and cover lightly with foil. Reserve about 1 tablespoon of oil in the pan and drain the remainder. Return the pan to the heat and add the onion, zucchini and carrots. Cook, stirring often, until softened, about 5 minutes. Add the garlic and cook until fragrant, another 30 seconds.
Stir the spaghetti sauce and the undrained tomatoes into the vegetables. Bring to a boil, then reduce the heat. Simmer, uncovered, for 15 minutes.
In a small bowl, combine the egg and the ricotta cheese.
Spray 2 9×13-inch baking dishes with nonstick cooking spray. (Make sure one is freezer safe. I like to use a disposable aluminum pan.)
In each of the pans, layer one fourth of each of the drained pasta, the tomato sauce, the sausage, the ricotta mixture, cheddar cheese, and then the mozzarella cheese. Repeat the layers.
Cover the casserole that you are going to eat with foil, and bake for 15 minutes. Remove the foil and cook an additional 15 minutes, until heated through and the cheese is melted. Top with sliced green onions before serving.
Let the second casserole cool completely, the place a piece of plastic wrap over the top. Cover tightly with foil and freeze.
When ready to bake, allow the casserole to unthaw in the refrigerator for 24 hours. Remove from the refrigerator 30 minutes before baking. Carefully remove the foil and discard the plastic wrap. Recover the casserole with the foil and bake at 350º for 45-60 minutes, then remove the foil and bake an additional 10-15 minutes.
SHOP THIS POST!
More Comforting Pasta Casseroles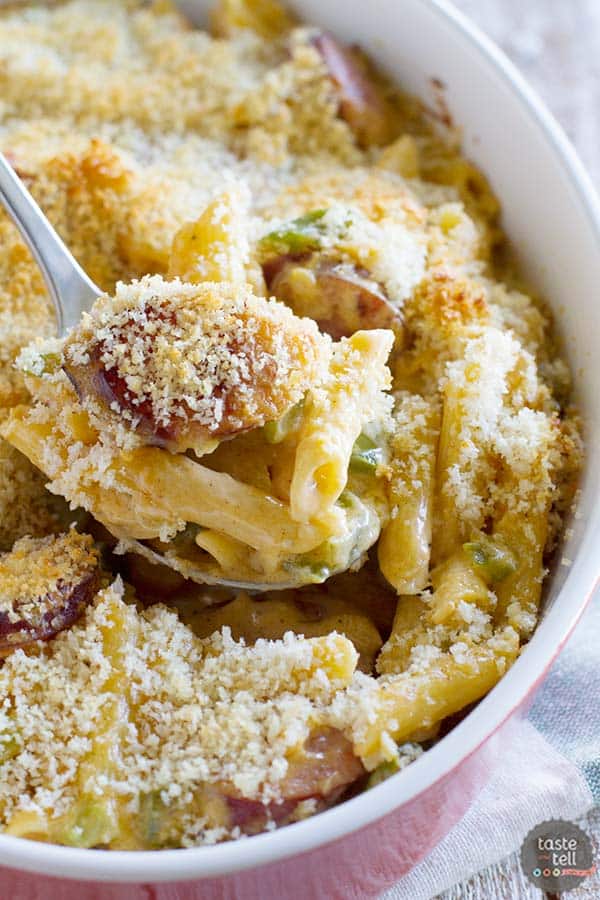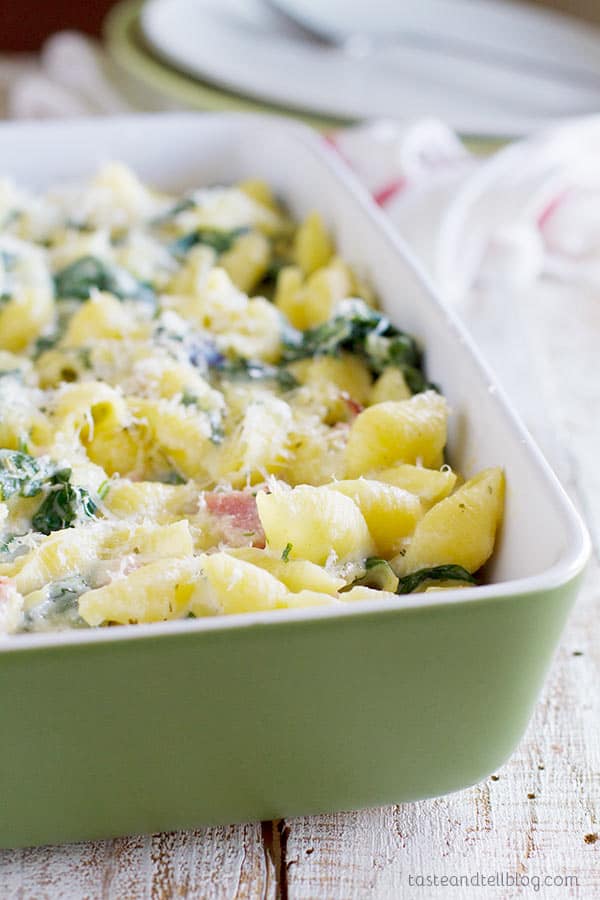 Creamy Shells and Ham Casserole
Around the Web:
Cheesy Ravioli Bake from Lil' Luna
Dump and Bake Chicken Alfredo Pasta Casserole from The Seasoned Mom
Chicken Bacon Alfredo Pasta Casserole from Will Cook for Smiles
Don't miss a thing! Follow me on Pinterest to see what I'm pinning!
Visit Taste and Tell's profile on Pinterest.