This Coconut Bundt Cake is the most perfect coconut cake recipe. It is flavorful and moist with the perfect amount of coconut flavor.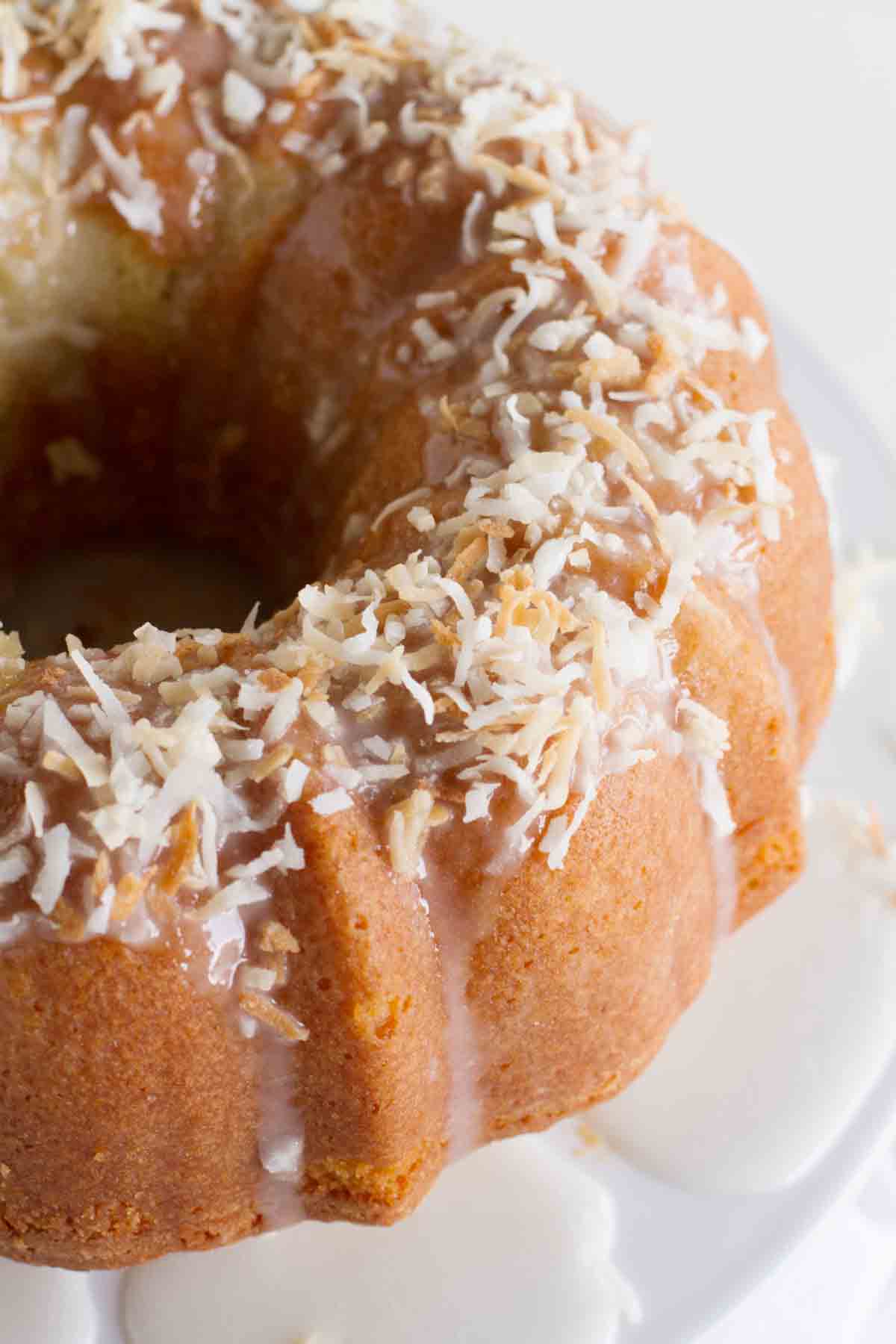 I don't know what it is about bundt cakes, but it seems like just about everyone loves them. I think it's because they aren't intimidating like a layer cake would be. They remind me of something you'd whip up on a Sunday night to take to grandma's house.
As much as I love a good layer cake, (like this Dark Chocolate Cake with Nutella Buttercream), or a beautiful cupcake, (like these Key Lime Cupcakes), I'm always drawn towards the bundt cakes.

Which is why I am super happy to be sharing this recipe today, courtesy of a new ebook by Sommer from A Spicy Perspective – Brilliant Bundt Cakes. I was so excited when Sommer released this ebook, as my bundt pan doesn't get enough use, and I knew this ebook would get that pan on a regular rotation.
Brilliant Bundt Cakes is filled with 25 bundt cake recipes – perfect for any occasion. And it doesn't stop there – you also get 10 topping recipes (for things like Fresh Blueberry Sauce or Creamy Peanut Butter Sauce) – recipes sure to add something special to your bundt cake.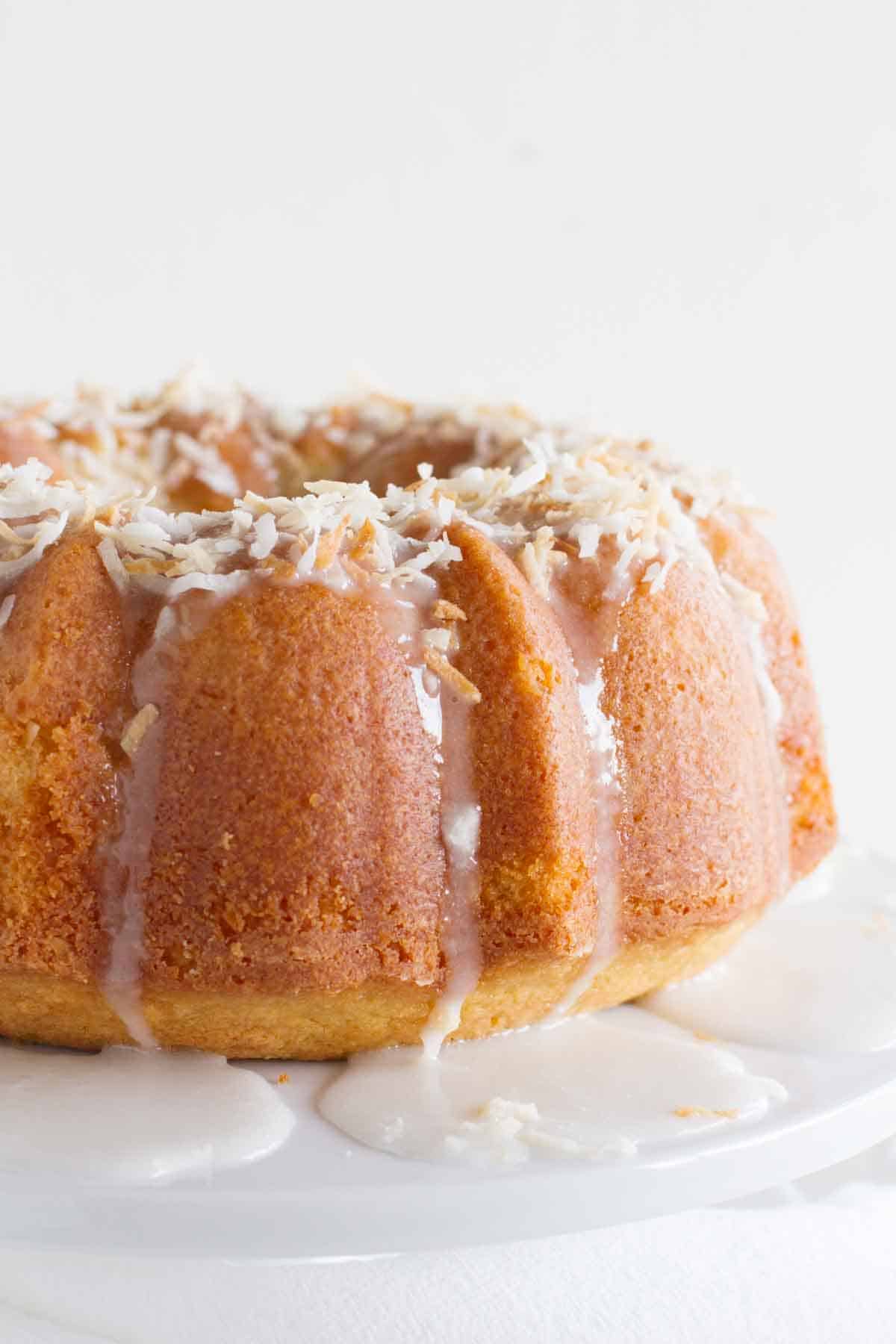 Here are the details:
Number of Photos: Many! There is a photo of every recipe, and each and every one is beautiful.
Difficulty Level of Recipes: Easy. Bundt cakes are known for being pretty simple, and I think all of the recipes fell into that category. As long as you can remember to grease and flour the pan well, you shouldn't run int any problems.
Availability of Ingredients: Easy. You should be able to find all of the ingredients in a normal grocery store. In fact, I think I had many of the ingredients for several of the recipes right in my pantry.
Other Recipes I Want to Try:
Cinnamon Swirl Bundt Cake
Toasted S'mores Bundt Cake
Italian Cream Bundt Cake with Pistachios
Peaches 'n Cream Bundt Cake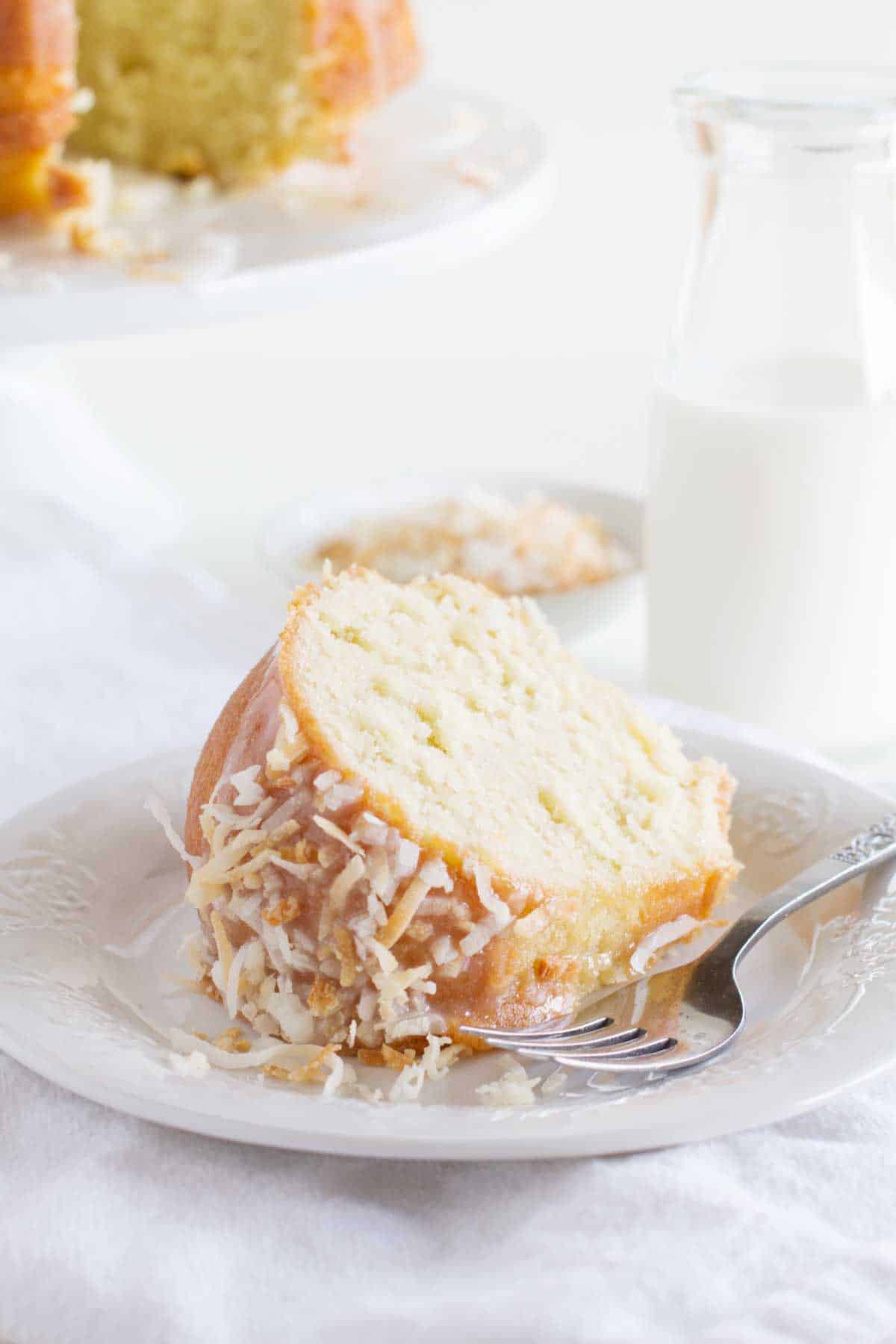 I loved the array of recipes in this book, and honestly changed my mind multiple times when I was trying to decide what to make. I have a thing for coconut (especially lately) so it should be no surprise that I ended up going with this coconut bundt cake.
And let me tell you – I was very happy with my choice.
This cake is everything that I expect for a bundt cake. A moist cake with a dense yet tender crumb, this coconut bundt cake has the perfect amount of coconut flavors running through it. And the glaze!! I'll admit that I'm that person who goes crazy over a simple glaze, and will dip my finger into the puddles of glaze that drip from the cake. (Don't judge – you know you do it, too.)
This glaze is so simple, but it brings such great coconut flavor to this cake. My kids aren't coconut fans (the horror!!) but they still enjoyed this cake, minus the shredded coconut on top. But my husband and I were huge fans, finishing off more of this cake than I care to admit. I had planned on saving a slice or two and then finding a neighbor to pawn the rest off onto, but well, that didn't happen. 😉
I would completely recommend this ebook to everyone. And the timing is perfect, as I'm sure you are still looking for desserts for holiday parties or even for your big holiday meal. And right now, Brilliant Bundt Cakes is only $2.99. You can't beat a deal like that!!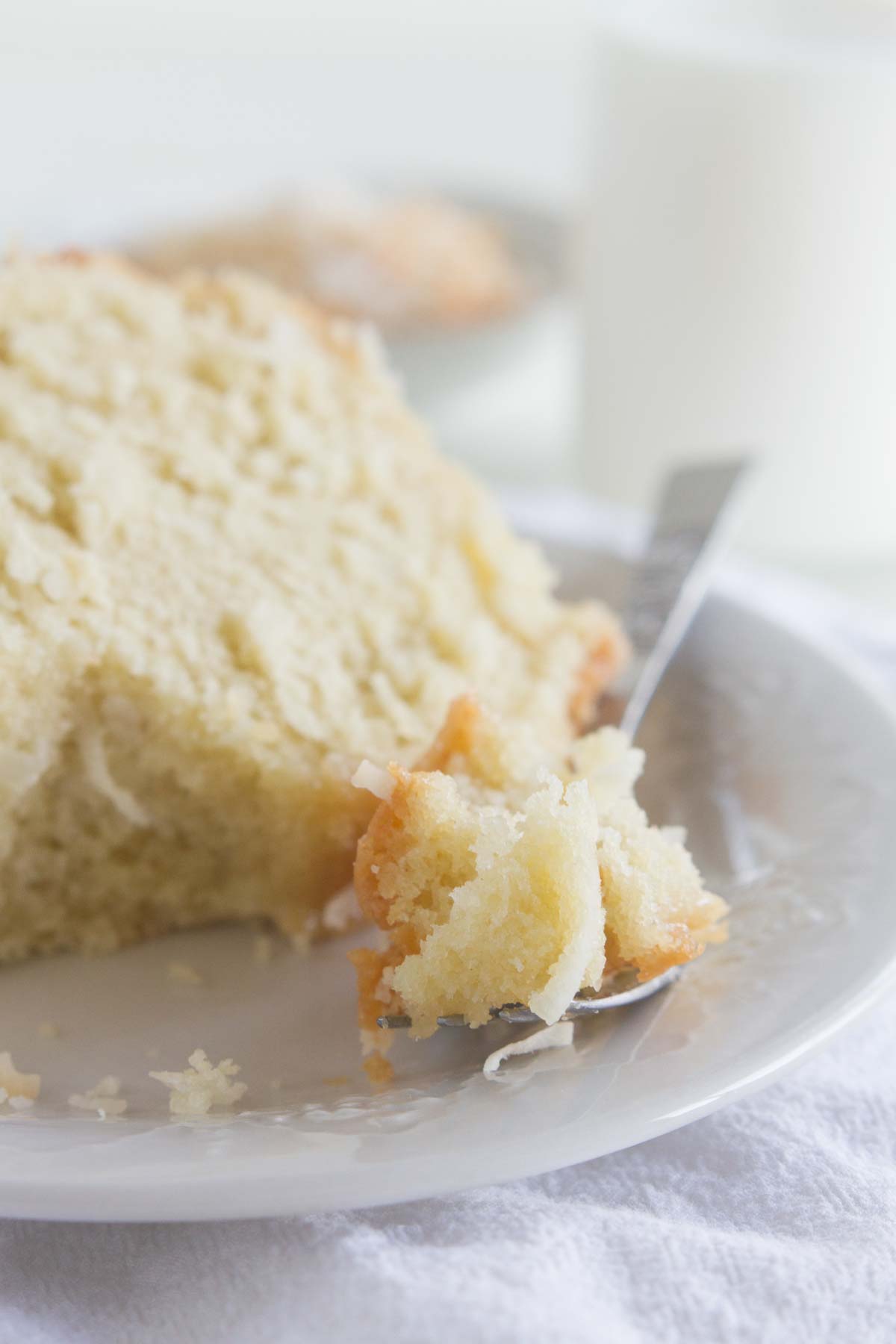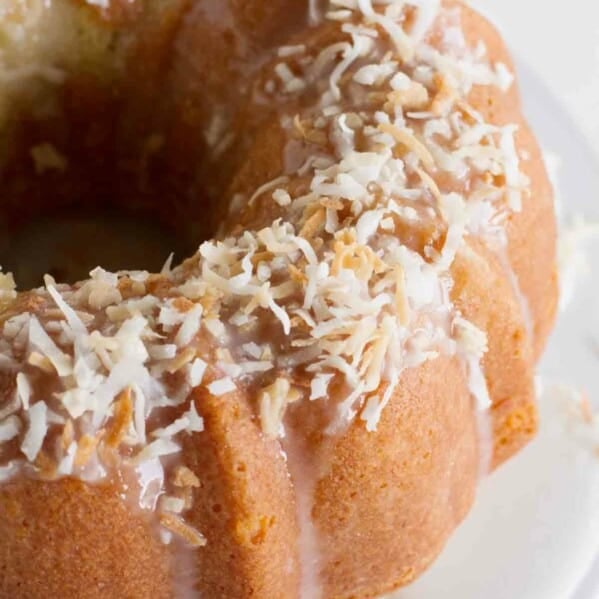 Coconut Bundt Cake
---
Author:
Prep Time: 20 minutes
Cook Time: 60 minutes
Total Time: 1 hour 20 minutes
Yield: 12 servings 1x
Category: Dessert
Method: Baked
Cuisine: American
Description
Crazy for Coconut Bundt Cake – the most perfect coconut bundt cake recipe that is flavorful and moist with the perfect amount of coconut flavor.
---
Scale
Ingredients
Cake
1 cup butter, at room temperature
2 1/2 cups granulated sugar
3 1/4 cups all-purpose flour
1/3 cup cornstarch
1 teaspoon baking powder
1 teaspoon salt
1 tablespoon vanilla extract
6 large eggs
1 (13 oz) can unsweetened coconut milk
2 cups shredded sweetened coconut
Glaze
1/4 cup coconut milk
1 cup powdered sugar
1/2 cup shredded coconut, sweetened
---
Instructions
Preheat the oven to 350ºF. Grease and flour a 12-cup bundt pan.
Combine the butter and sugar in the bowl of a stand mixer and beat until light and fluffy, 3-5 minutes.
In a medium bowl, whisk together the flour, cornstarch, baking powder and salt.
With the mixer on low, add in the vanilla and the eggs, one at a time. Scrape down the sides of the bowl, and with the mixer still on low, add in the coconut milk and flour mixture.
Scrape the bowl again and mix until smooth. Stir in the shredded coconut. Pour the batter into the prepared bundt pan.
Bake the cake until a tester inserted in the middle comes out clean, 55-65 minutes. Cool the cake for 30 minutes, then turn out onto a cooling rack and cool until room temperature.
To make the glaze, whisk the coconut milk and powdered sugar until smooth. Drizzle the glaze over the cooled cake and immediately garnish with toasted coconut.
Keywords: coconut bundt cake, coconut cake