Starting with frozen pierogi makes these Pierogies with Ham and Broccoli an easy weeknight meal. It's a fun and tasty meal that the whole family will love!
Easy weeknight meals are the best! Looking for more easy meals, try this Garlic Spaghetti or these French Dip Tortilla Roll Ups.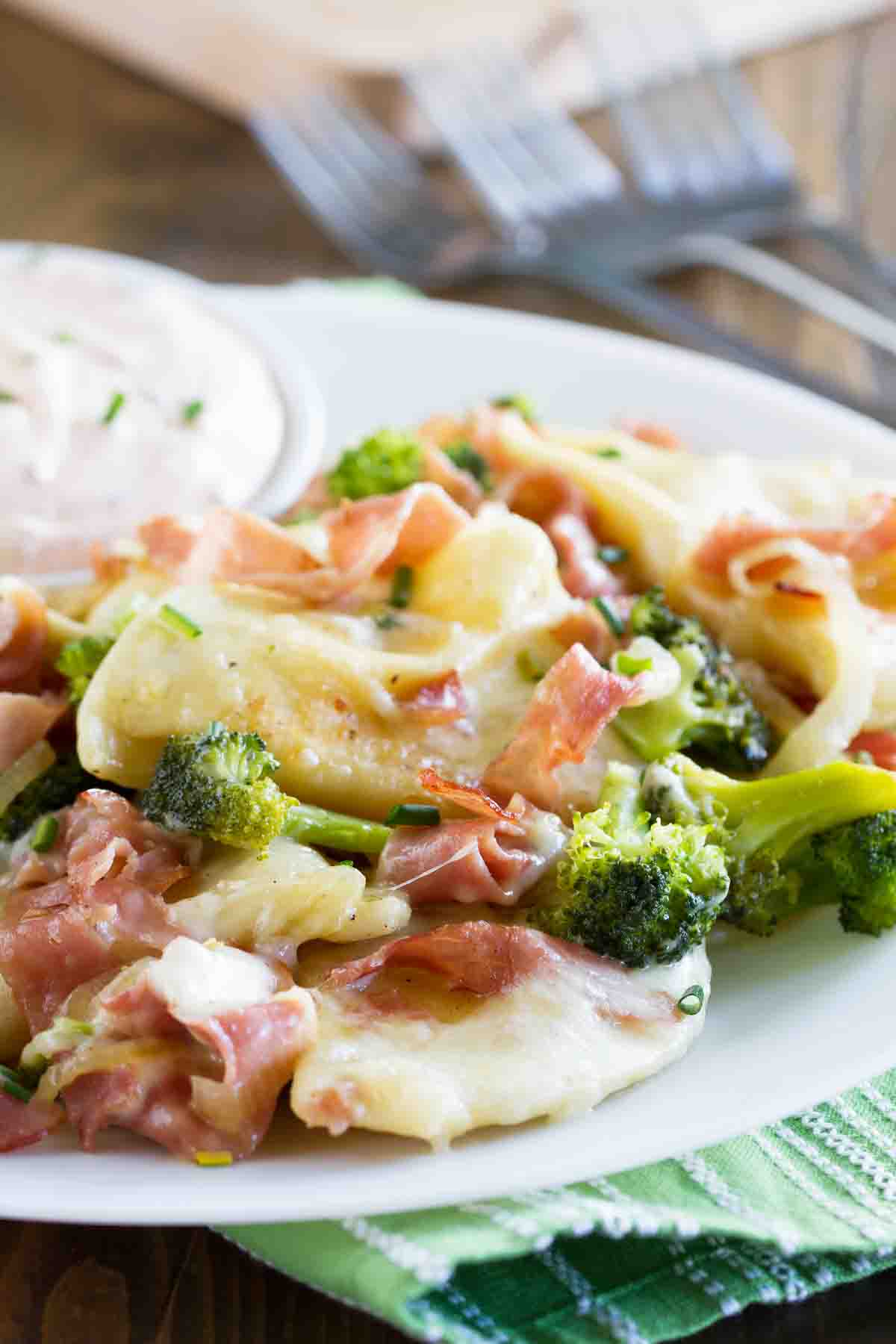 Happy Monday! I've said it before, but I'm one of those weird people who really love Mondays. It's my chance for a clean slate, a new week to start over from scratch. I love cleaning up the house and getting organized after a weekend with everyone home. I love getting back on a schedule after a weekend of keeping things relaxed. Mondays are my thing.
My only problem with Monday, though, is that Monday night is normally when I do my grocery shopping. I have learned that I can do my shopping in half the time if I'm alone, so quite awhile ago, I started going at night once the kids are in bed. It's not always ideal, because let's face it – sometimes most of the time I'd rather be at home in bed. But it's so much easier.
But Monday night grocery shopping usually means that Monday night's dinner isn't anything fancy. And it needs to be made from ingredients that are either in my panty, in my freezer, or from ingredients that won't go bad in a week. Sometimes I have to get creative. But most of the time, I just try to keep it simple. And these Pierogies with Ham and Broccoli are the perfect way to keep things easy.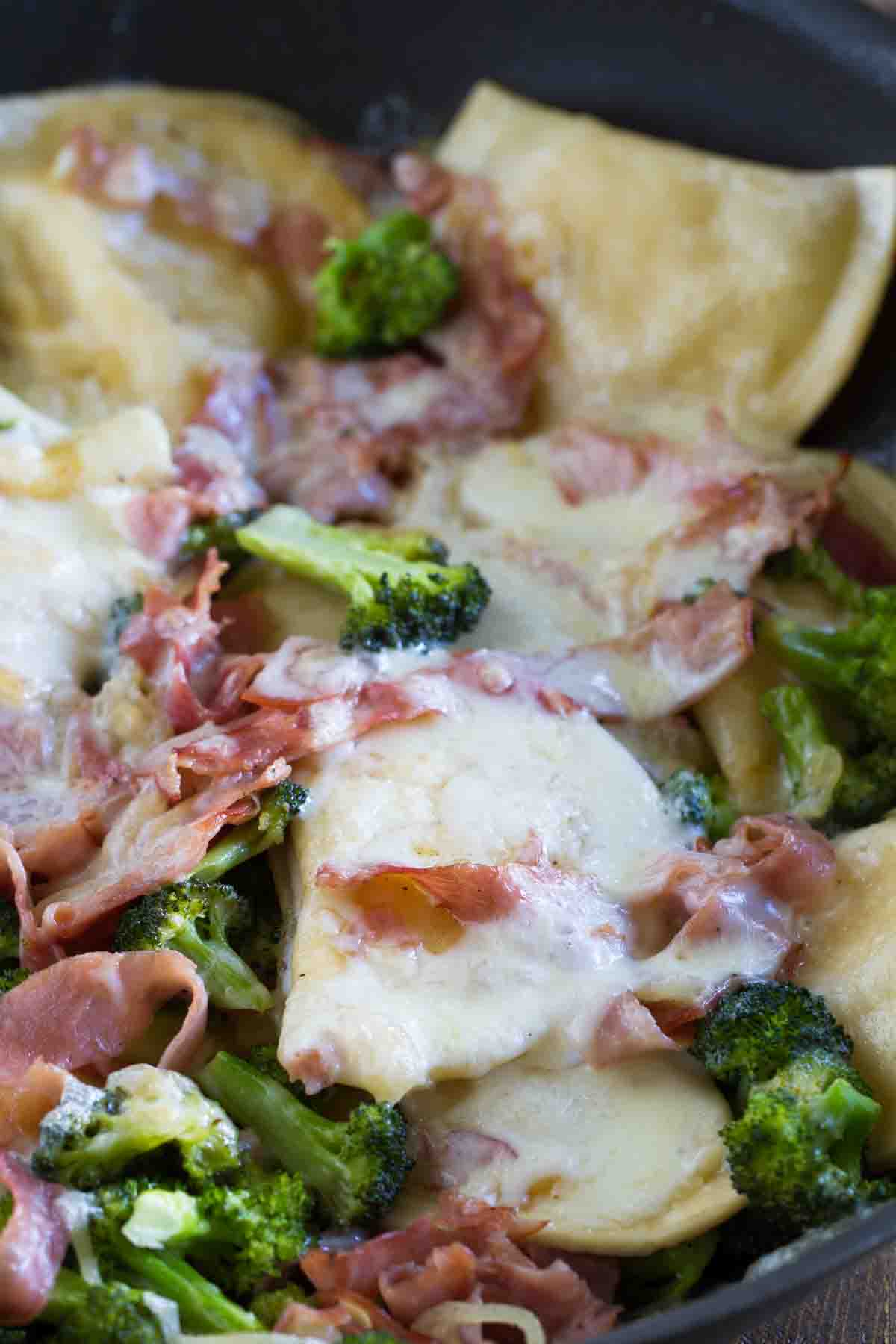 My husband loves pierogi. I tried to make these Pierogi with Brown Butter once, (and I really do have intentions of tackling them again one day), but my husband is always over the moon when I do happen to stock the freezer with store bought pierogi. And he wouldn't complain one bit if I just cooked up the pierogi and served them for dinner. But this is definitely a way to "fancy" up those store bought pierogi and turn them into a semi-homemade dinner.
Another thing I love about this recipe is that you don't even have to think about a side dish. I have also said (too many times) that I'm terrible about choosing side dishes to go with dinner. So recipes like this Easy Pierogi Recipe with Ham and Broccoli are winners, because the veggie is part of the main dish. You get two birds with one stone!
So stock up that freezer for an easy weeknight meal that fast, family friendly, and full of flavor!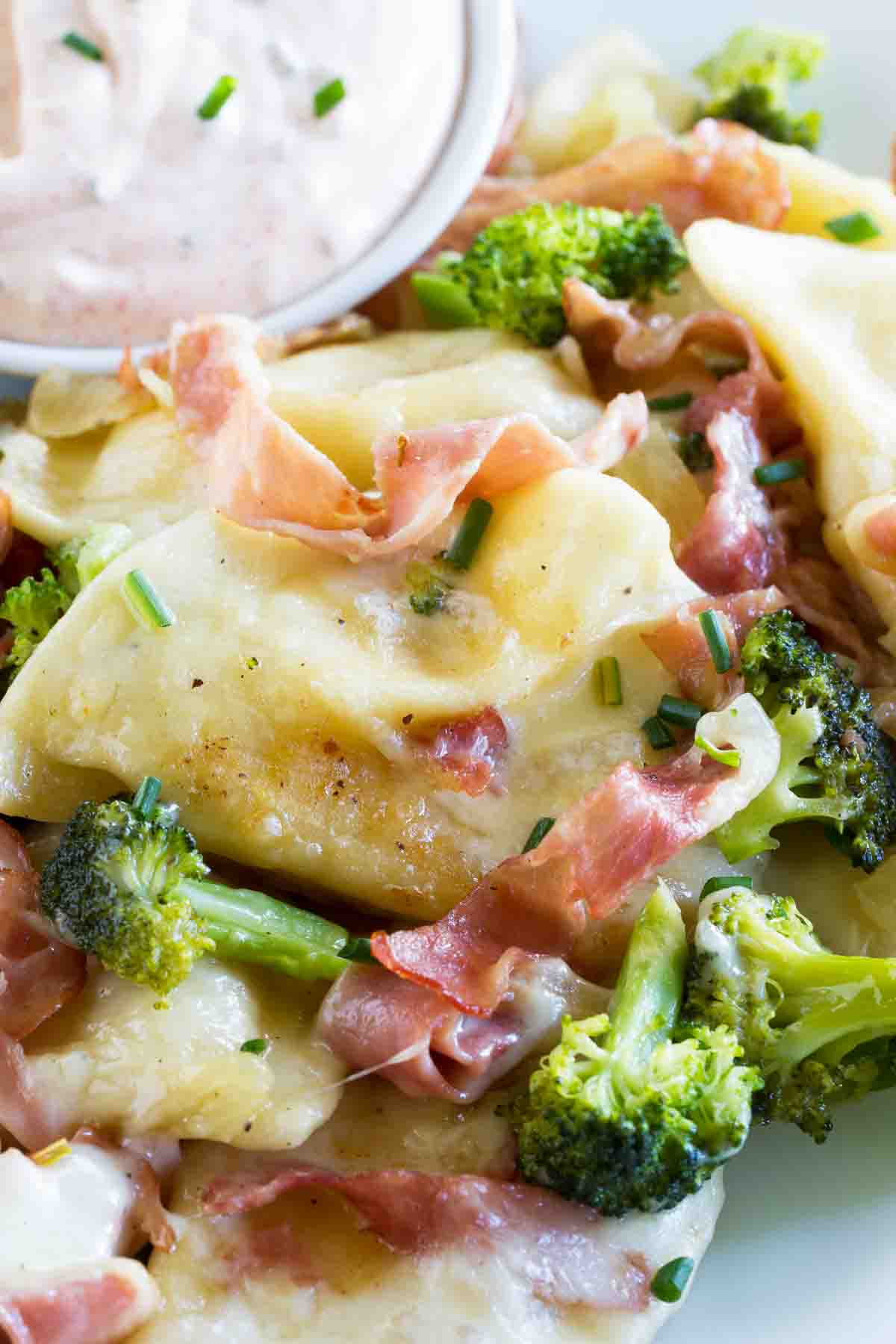 More Easy Weeknight Meals
Easy Chicken Teriyaki Wraps
Beef Satay Noodles
One Pot Ground Beef Stroganoff
Parmesan Crusted Tilapia
Teriyaki Chicken Bowls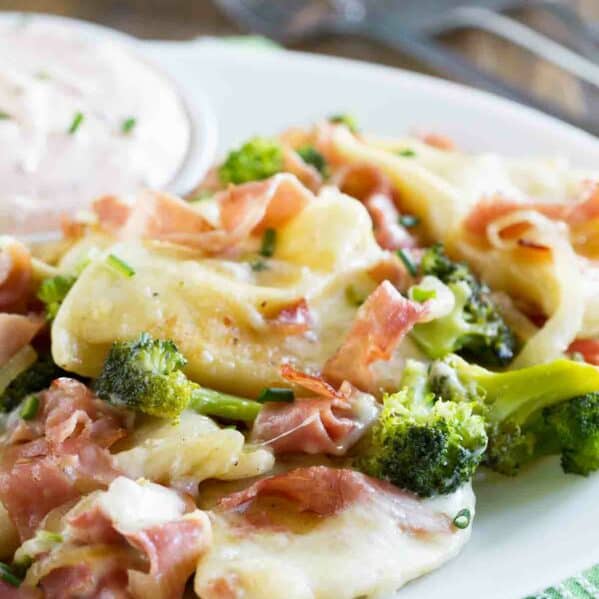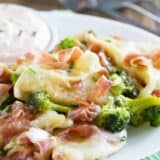 Pierogies with Ham and Broccoli
---
Author:
Prep Time: 10 minutes
Cook Time: 35 minutes
Total Time: 45 minutes
Yield: 4 servings 1x
Category: Main Dish
Method: Stove Top
Cuisine: Polish
Description
Starting with frozen pierogi makes these Pierogies with Ham and Broccoli an easy weeknight meal. It's a fun and tasty meal that the whole family will love!
---
Scale
Ingredients
3 tablespoons butter
1 small onion, halved and then thinly sliced into half moons
4 oz thinly sliced deli ham, cut into thin strips
1/2 cup chicken broth
1 (16 oz) package frozen potato-cheese pierogi
1 small head broccoli, cut into small florets
1/2 cup sour cream
2 tablespoons chopped chives
1/2 teaspoon paprika
3/4 cup shredded Monterey Jack cheese
---
Instructions
In a large broiler-proof skillet, heat the butter over medium-high heat. Add the onion and cook until softened, stirring occasionally. Add the ham and season to taste with salt and pepper. Cook until the onion starts to lightly brown, about 2 more minutes. Add the broth and cook until the onion softens, another 3 minutes.
Reduce the heat to medium-low. Add the pierogi and the broccoli. Cover the pan and cook until the broccoli is tender and the pierogi is cooked, about 15 minutes.
Meanwhile, combine the sour cream, chives and paprika, and season lightly with salt.
Turn on the broiler.
When the broccoli is tender and the pierogi is heated through, remove the lid from the pan and sprinkle in the cheese. Place the skillet under the broiler until the cheese is melted and the pierogi are browned, 2-3 minutes.
Serve with the sour cream sauce.
Keywords: Pierogies, pierogi recipe, pierogies with ham