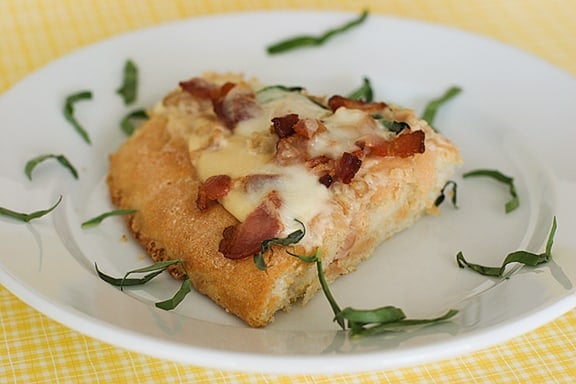 We didn't eat a lot of seafood or fish growing up. My dad loved to fish, so every once in awhile we'd have something like trout. But clams, shrimp or salmon? I don't ever remember having them as a child. But these days, I can't imagine living without them!! Clam chowder is a must and shrimp is so versatile, I would hate to go without it.
But although I love clams, I don't cook with them often at home. I'm really thinking I need to change that. I have never seen fresh clams here, but the canned ones work just fine for this recipe. And I'm betting this would be a great way to introduce clams to someone that is a bit leery of them, because when you cover anything with bacon and cheese, people are going to love it! I made this recipe as a main course, and it was super filling. I do have to say, though, that although I loved the topping, and I loved the focaccia, I probably wouldn't do them together again. The focaccia was just much too thick and it overpowered the flavor of the topping. I'd probably make this more into a pizza and use pizza dough. It might make the meal a bit faster that way, too!
Clam & Bacon Focaccia
from The Recipes of the Five Brothers
Serves 6
1/2 recipe baked focaccia bread (recipe below)
1/2 cup alfredo sauce
1/4 cup torn fresh basil leaves
4 ounces fresh mozzarella cheese, drained and sliced
1 can (6 1/2 oz.) minced clams, drained
3 strips bacon, cooked and crumbled
Preheat oven to 425F.
Prepare and bake focaccia as directed below. Spoon alfredo sauce over focaccia. Top with basil leaves, mozzarella slices, minced clams and crumbled bacon. Bake 8 to 10 minutes in preheated oven.
Focaccia
5 cups unbleached all-purpose flour
2 teaspoons salt
2 cup warm water
1 package dry yeast
3 tablespoons extra-virgin olive oil, plus additional for drizzling
In a large bowl, combine flour and salt; set aside. In another bowl, combine warm water with yeast; stir until yeast dissolves. Whisk in olive oil. Add yeast mixture to flour. Mix on low speed using an electric mixer about 2 minutes or until well combined. Remove dough from bowl; knead until a smooth ball of dough forms. Place dough in bowl; cover and let rise 60 to 90 minutes or until doubled.
Generously oil a 17×13 inch baking sheet with additional olive oil. Place dough in pan; press and stretch dough evenly with oiled fingers to fill pan. Pierce the dough with a fork at 1-inch intervals. Drizzle lightly with olive oil. Cover the focaccia dough and let rise about 45 minutes or until doubled. Preheat oven to 450F. Bake focaccia about 20 minutes or until golden brown. Place on a rack to cool.