This time of year, it's all about jumping from one holiday to the next. And as a food blogger, of course the food is the most important part of any holiday! And seeing that Thanksgiving is only weeks away, I'm feeling like I really need to get with it and get some good Thanksgiving recipes going. After all, I'm pretty sure that Thanksgiving is the biggest food holiday here in the US! So over the next few weeks, I'll be bringing you a recipe that I think would go great on your Thanksgiving table once or twice a week. And by the time Thanksgiving rolls around, hopefully you'll have some good ideas to add to your menu.
This bread would be fantastic for Thanksgiving, or on any day, for that matter. I actually made this for the first time many years ago. And when I made Butternut Squash Risotto, and had lots of squash left over, this bread was the first thing that popped into my mind.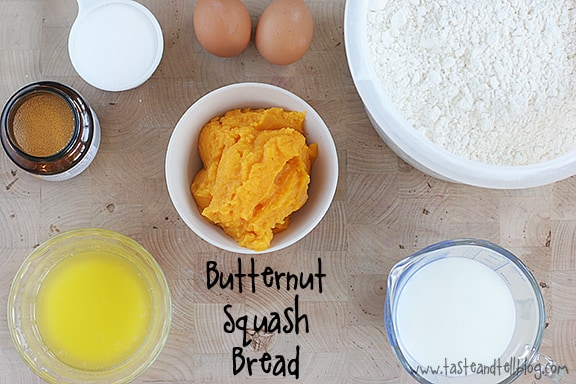 I was actually really tempted to try making this as rolls, but didn't end up trying. Although I really wish I would have. The recipe makes 3 loaves, and since I only have 2 loaf pans, I made the third into mini loaves. And surprisingly, I liked the mini loaves better than the regular loaves! So, because of that, I'm assuming that making this bread into rolls would turn out fabulous.
This is also a great way to sneak some extra veggies into your family members. As much as I'd love for Abbi to be a vegetable lover, she just isn't (yet). But she is a bread lover, so it made me feel a little bit better to give her a slice of this!
Do you have a favorite Thanksgiving bread recipe?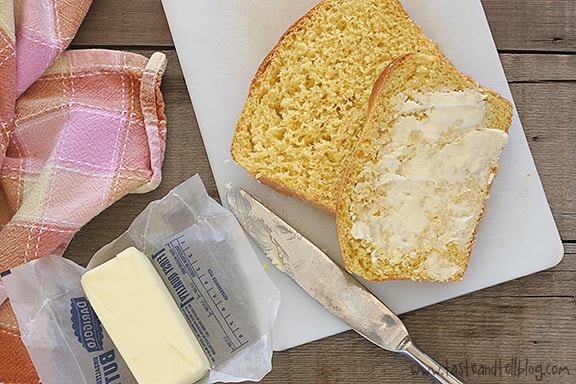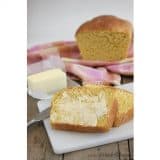 Butternut Squash Bread
---
Prep Time: 20 minutes
Cook Time: 20 minutes
Total Time: 3 hours
Yield: 3 loaves 1x
Description
A yeast-bread made from pureed butternut squash. This bread is a great way to add some extra veggies in!
---
Scale
Ingredients
2 packages active dry yeast
1/2 cup warm water
1 1/4 cups cooked, mashed butternut squash
1 cup warm milk
2 eggs, beaten
1/3 cup butter, melted
1/3 cup sugar
1 teaspoon salt
7 – 7 1/2 cups all purpose flour
---
Instructions
In the bowl of a stand mixer, dissolve the yeast in the water. Add in the squash, milk, eggs, butter, sugar and salt and mix until combined. Add in 3 1/2 cups of the flour and mix well. Continue adding flour until the dough comes together and pulls away from the sides of the bowl.
Turn the dough out onto a lightly floured surface and knead until smooth, 7-10 minutes.
Lightly grease a bowl and add the dough, turning once to coat. Cover with plastic wrap that has been sprayed with non-stick spray and allow the dough to rise until doubled, about 1 hour.
Punch the dough down and divide into 3 equal portions. Shape into loaves and place in 3 greased loaf pans. Cover with plastic wrap that has been sprayed with non-stick spray, and allow to double again, 30-45 minutes.
Preheat the oven to 375F. Bake the loaves until golden brown, about 20 minutes. Allow to cool for 15 minutes, then remove from pans and allow to cool completely on a wire rack.
——————-
From Dine and Dish
————————————
Check out these other butternut squash recipes:
Butternut Squash Gratin from Simple Bites
Buttermilk Butternut Squash Bundt from Food Librarian
Roasted Butternut Squash Orzo Salad from Two Peas and Their Pod
Butternut Squash Soup from Brown Eyed Baker
Roasted Butternut Squash with Rosemary and Balsamic Vinegar from Kalyn's Kitchen