This easy stove-top dinner brings together potato gnocchi with a hearty meat sauce for an easy dinner recipe that the whole family will love.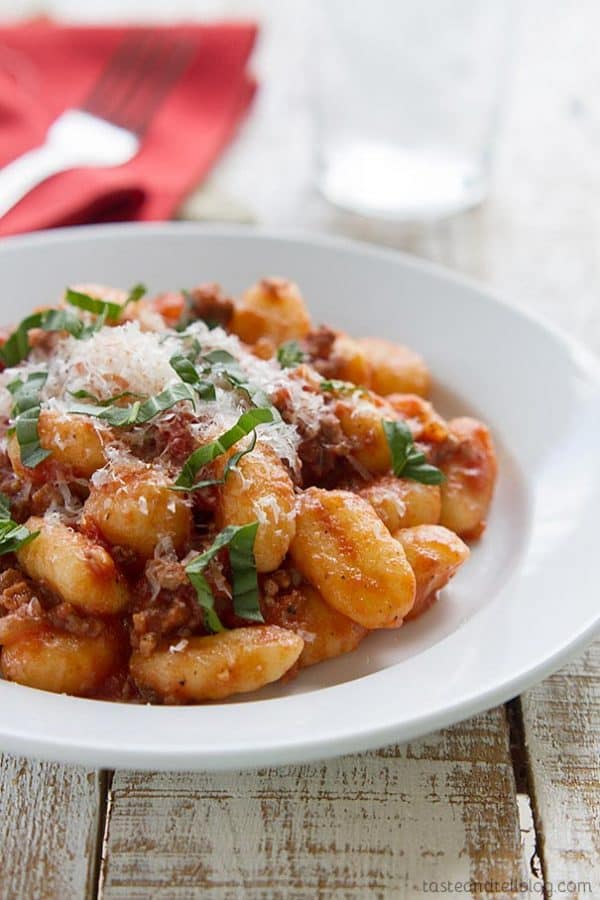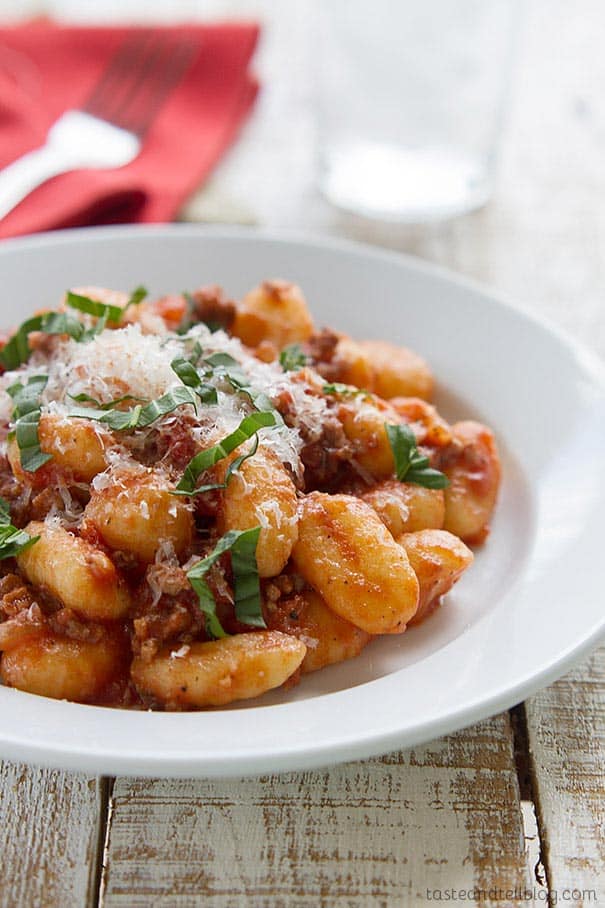 I have been blogging for a long time. It's been an ever evolving thing – blogging today is definitely not the same as it was 7 years ago. Which is great – because if things weren't changing and improving, it would get pretty boring.
My focus has pretty much remained the same over the past 7+ years, though. I want to inspire people to get into the kitchen. Because not only is cooking at home cheaper than eating out, and better for you than eating out, I think it's pretty fun. Over 1,975 posts later, I still get excited to get in the kitchen and cook.

But I have to admit that I sometimes feel like a fraud. There are days that are crazy or busy or days that I haven't planned well, and I don't practice what I preach. Instead of making sure I have a plan, or making sure I have a well stocked pantry, I have relied on the dreaded d-word.
Drive through.
I feel like I shouldn't even admit to this as a food blogger, but it's true. It's real life. And as much as I love to cook, sometimes it just doesn't happen.
And you know what? I don't normally beat myself up over it. I'm human, and I know that the majority of the time, my family gets a homemade meal on the table. A couple of weeks ago, though, I realized that our every once in awhile trips to pick up food were becoming more and more common. I don't even like fast food that much, but other commitments were taking so much of my time that I just didn't have the energy to cook. I knew I had to do something to hold myself accountable for what I was feeding my family. When the kids could tell me exactly which kids meal they wanted at which restaurant, I knew we had had enough.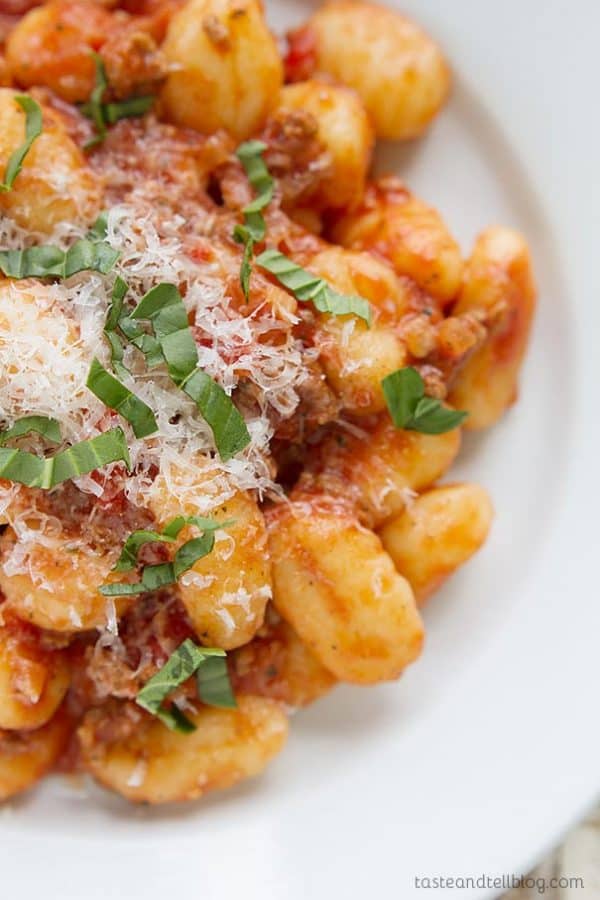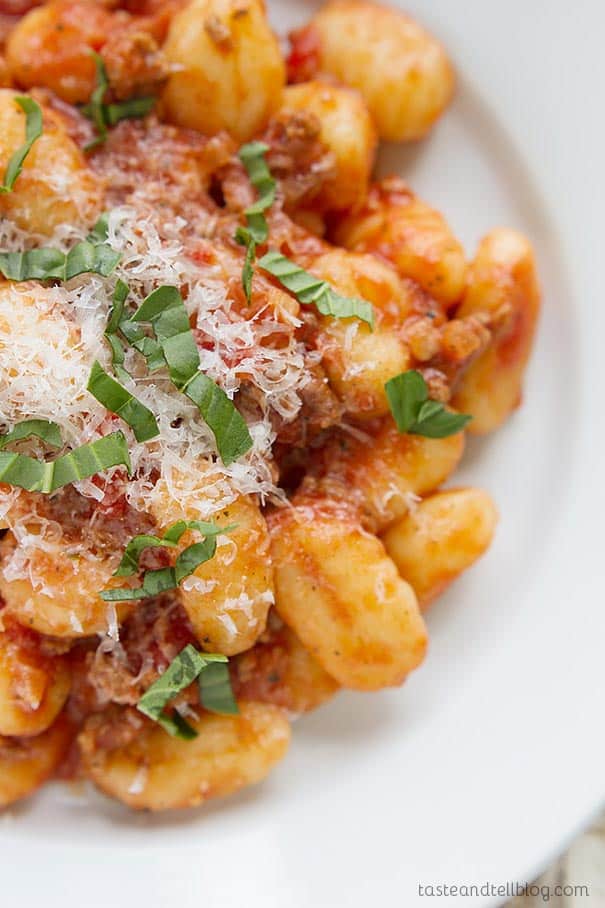 If you follow me on Instagram, you may have noticed more frequent postings from me, posting what we have been eating for dinner. I had decided that this would be my accountability system. Because if I was reporting what we were eating to the world, (ok, just the Instagram world, but still…), I would be a lot less likely to pick up those tacos or those burgers.
I am still far from perfect. And I'm not naive enough to think that I will always have a home cooked meal on the table. But if I can cut those drive through nights from once a week to once a month, I'd say that's winning. 🙂
Now onto the food. After all that talk, I knew I had to share a recipe with you all that is easy and is made from pantry staples. This is one of those recipes that I need to remember on those crazy busy days, because it's an easy meal that doesn't require much thought. Or planning.
We have become real gnocchi fans lately. It's easy, it's fast, and the whole family loves it. Ok, if you were making your gnocchi from scratch, it may not be easy and fast, but we take the shortcut and use packaged gnocchi. 🙂
This Gnocchi with Meat Sauce is so easy, and if your kids like spaghetti and meat sauce like mine do, they will also love this change. An easy meat sauce is made from ground beef, onions, tomato sauce, diced tomatoes, and lots of spices. The sauce cooks down a bit on the stovetop, and then you add in some boiled gnocchi. Finish it off with some fresh basil, and you're good to go. It's so simple, yet so delicious. And it's perfect now that the weather has cooled down, as a big bowl of this Gnocchi with Meat Sauce is definitely comfort food!!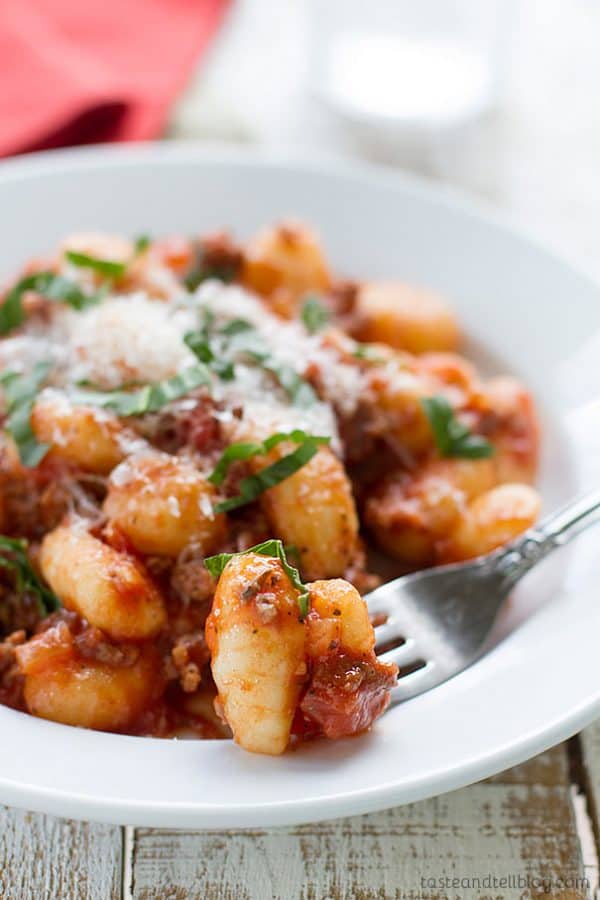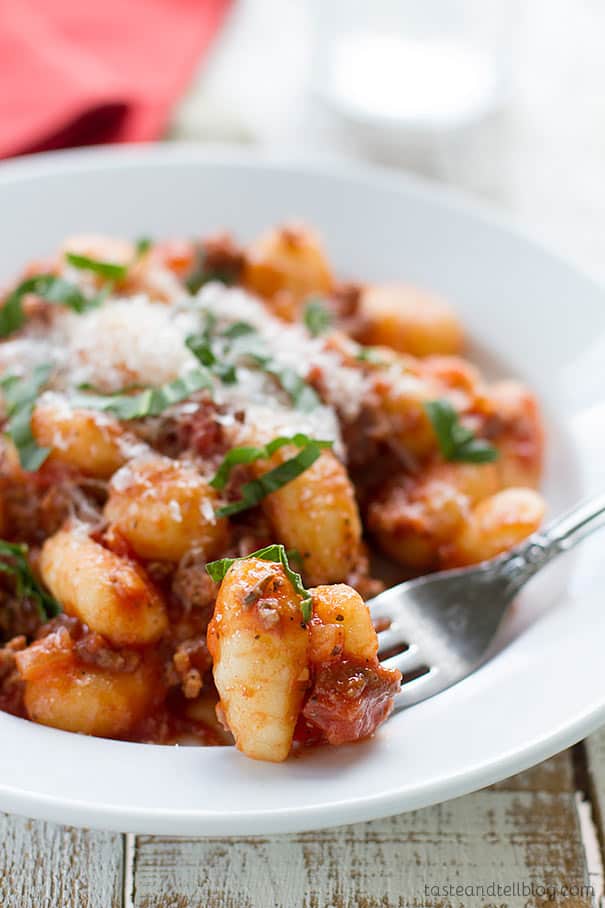 More Gnocchi Favs:
Baked Gnocchi with Ricotta
Chicken and Gnocchi Soup
Italian Chicken and Dumplings
Creamy Slow Cooker Tomato Soup with Gnocchi
Gnocchi with Pesto, Shrimp and Asparagus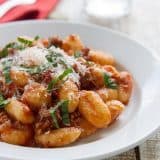 Gnocchi with Meat Sauce
---
Prep Time: 10 mins
Cook Time: 30 mins
Total Time: 40 mins
Yield: 6 servings 1x
Description
This easy stove-top dinner brings together potato gnocchi with a hearty meat sauce for an easy dinner recipe that the whole family will love.
---
Scale
Ingredients
1 lb ground beef
1 1/2 cups diced onion
2–3 cloves garlic, minced or grated
3 cans (8 oz each) no salt added tomato sauce
1 can (14.5 oz) no salt added diced tomatoes
2 teaspoons sugar
1 teaspoon dried oregano
1 teaspoon dried basil
1 teaspoon salt
1/2 teaspoon pepper
2 lb gnocchi
freshly grated parmesan cheese, for serving
shredded basil, for serving
---
Instructions
Heat a large skillet over medium-high heat. Add the ground beef, onion and garlic and cook until the beef is cooked through, breaking up the beef as it cooks. Add in the tomato sauce, diced tomatoes, sugar, oregano, basil, salt and pepper. Bring to a boil, then reduce the heat and simmer for 15-20 minutes.
Meanwhile, bring a large pot of salted water to a boil. Add the gnocchi and cook until the gnocchi rises to the surface of the water. Remove with a slotted spoon. Add the cooked gnocchi to the meat sauce and stir to combine. Serve topped with freshly grated parmesan cheese and shredded basil, if desired.