Flank steak is marinated in a mixture of balsamic vinegar, mustard and spices and then grilled to perfection in this Balsamic Grilled Flank Steak.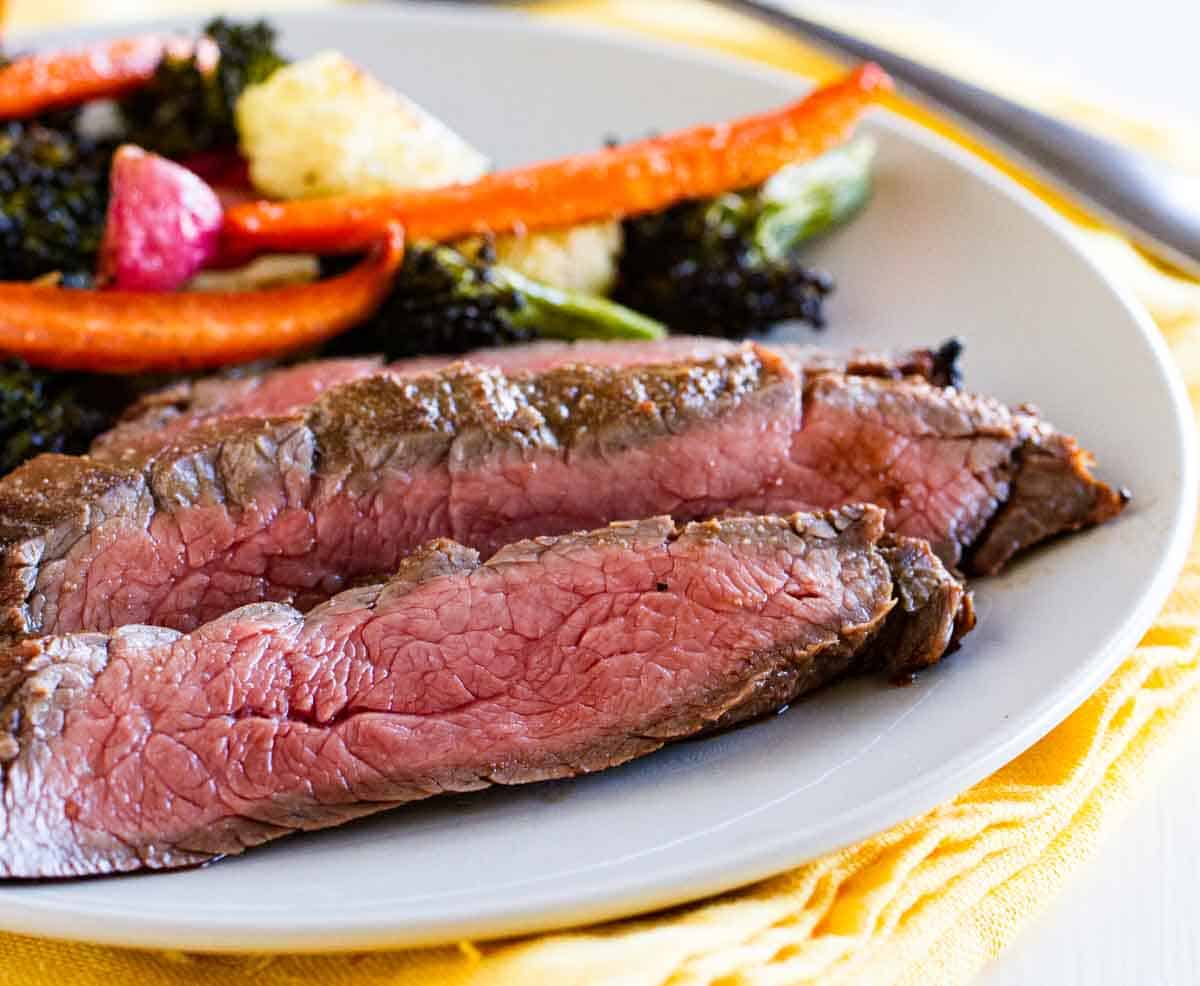 I think I am sensing a theme with my cookbook reviews this year. Today's review is #12 for the year, and the 7th "light" cookbook. I think I must be trying to make up for a cookbook collection that was lacking in the light-themed cookbooks before. But I sure have found some gems this year so far – this book included.
I have been a long time fan of Virginia Willis. In fact, several years ago, I reviewed one of her previous books, Basic to Brilliant, Y'all. (That is one that belongs in your collection as well!!) Since I was already a fan, I knew I had to have her newest book, Lighten Up, Y'all. (affiliate link)
I am not a dieter, but I do practice everything in moderation. Which may be another reason why I'm into the lightened up cookbooks right now, because lighter dinners mean dessert, right? 😉 This book is exactly what I look for when I am looking for a light cookbook. Real ingredients – not a whole bunch of low-fat/nonfat ingredients, a variety of recipes – not just salads or boring chicken recipes, and recipes full of flavor. And I love that there are many southern favorites, made a little healthier. In the introduction, Virginia says something that really struck a chord with me. She says "this is not a book about saying "no." This is a book about saying "yes!" This book is about what you can have, not what you can't." I'm all about making smart choices, and this book is just that!
Here are the details:
Number of Photos: many There is not a photo of every recipe, but probably one for every 3 to 4 recipes. The photos are very well done and definitely draw you in.
Difficulty Level of Recipes: easy to medium If you cook on a regular, or even a semi-regular basis, you will have no problem at all in the kitchen with this book. The instructions are well written and easy to follow.
Availability of Ingredients: easy to medium You should be able to find most of the ingredients at your local grocery store. I only say medium because there is a decent sized seafood chapter, and some seafood is a little more difficult for me to find.
Other recipes I want to try:
Quinoa Cobb Salad with Green Goddess Dressing
Summer Squash "Lasagna"
Sweet Potato Gratin with Herb Crumble
Chicken, Apple and Cheddar Burgers
Creamy Broccoli-Parmesan Soup
Multigrain Pecan Waffles
Baked Apple Hand Pies with Salted Caramel Sauce
Buy Lighten Up, Y'all on Amazon.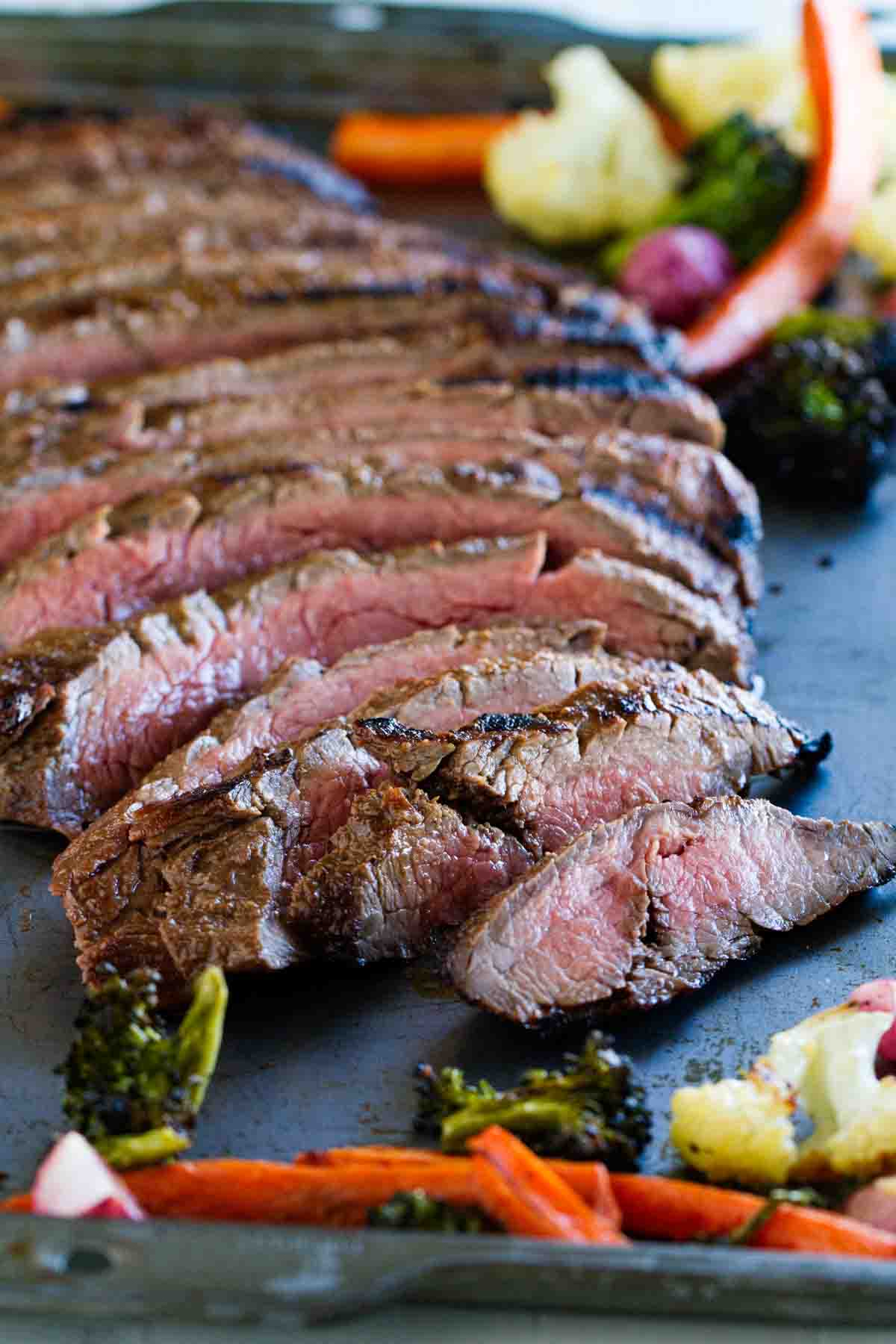 If you follow me on Instagram, you know that I spent last week on a week-long cruise through the Caribbean on Princess Cruises. I ate. And ate. And ate well. So needless to say, I am definitely needing a dose of lighter recipes in my life right now. I think that I was mostly drawn to this recipe because I knew it would feel super filling and hearty, even though it's lower in calories.
And it doesn't get much easier than this Balsamic Grilled Flank Steak. I'm a flank steak lover, and I love that all you need are a few ingredients, a quick marinade in the fridge, and then a few minutes on the grill. (And yay for weather that is actually conducive to grilling!) And of course, anything with "balsamic" in the title gets my attention!!
This grilled flank steak was so super simple and fast. I think that flank steak is one of the easiest things to grill, and I love that it only takes minutes. I served it up with some simple roasted vegetables, and then devoured my dinner. This recipe was definitely a 5-star hit!!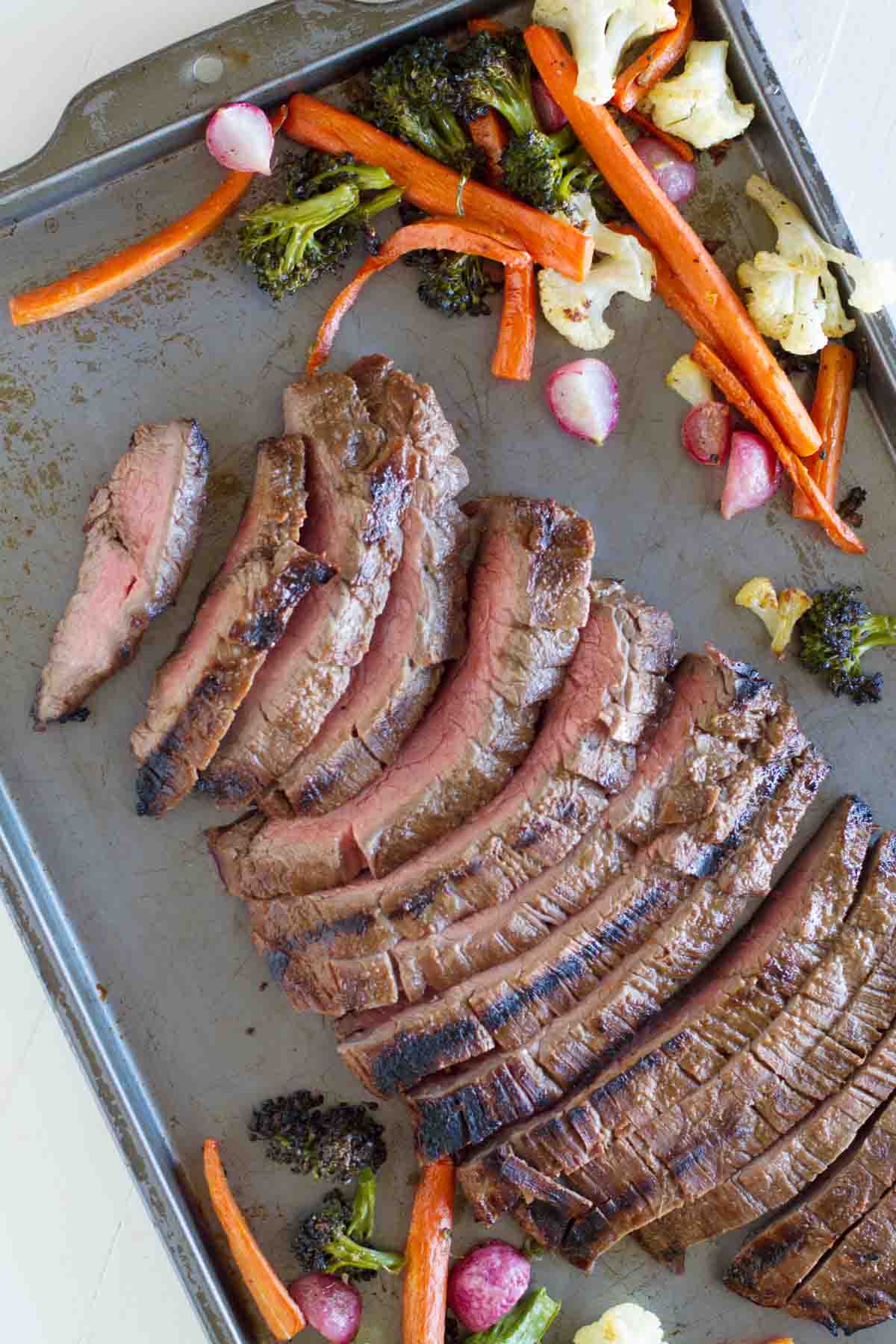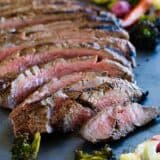 Balsamic Grilled Flank Steak
---
Author:
Prep Time: 5 minutes
Cook Time: 10 minutes
Total Time: 2 hours 15 minutes
Yield: 6 servings 1x
Category: Main Dish
Method: Grilled
Cuisine: American
Description
Flank steak is marinated in a mixture of balsamic vinegar, mustard and spices and then grilled to perfection in this Balsamic Grilled Flank Steak.
---
Scale
Ingredients
1/4 cup balsamic vinegar
2 tablespoons Dijon mustard
1 tablespoon olive oil
1/2 teaspoon onion powder
1/2 teaspoon garlic powder
1 (1 1/2-lb) beef flank steak
coarse kosher salt and freshly ground black pepper
---
Instructions
Combine the balsamic vinegar, Dijon mustard, olive oil, onion powder and garlic powder in a large resealable zip-top bag. Add the flank steak and seal the bag. Refrigerate for 30 minutes to 2 hours, turning the bag over several times during the marinating time.
Remove the steak from the marinade and discard the remaining marinade. Season the steak with salt and pepper.
Heat a grill on high for 10-15 minutes.
Grill the steak to your desired doneness, about 4 minutes per side for medium rare (depending on your grill).
Let the steak rest for 5-10 minutes, then against the grain and serve immediately.
Nutrition
Serving Size: 1/6 of recipe
Calories: 233
Sugar: 1 g
Sodium: 200 mg
Fat: 14 g
Saturated Fat: 5 g
Unsaturated Fat: 2 g
Trans Fat: 0 g
Carbohydrates: 2 g
Fiber: 9 g
Protein: 22 g
Cholesterol: 60 mg
Keywords: grilled flank steak, balsamic grilled flank steak