The perfect way to get in some extra veggies – this Korean Cucumber Salad is easy, fast, and full of flavor. Serve it alongside an EatingWell™ frozen entrée for an easy and satisfying lunch.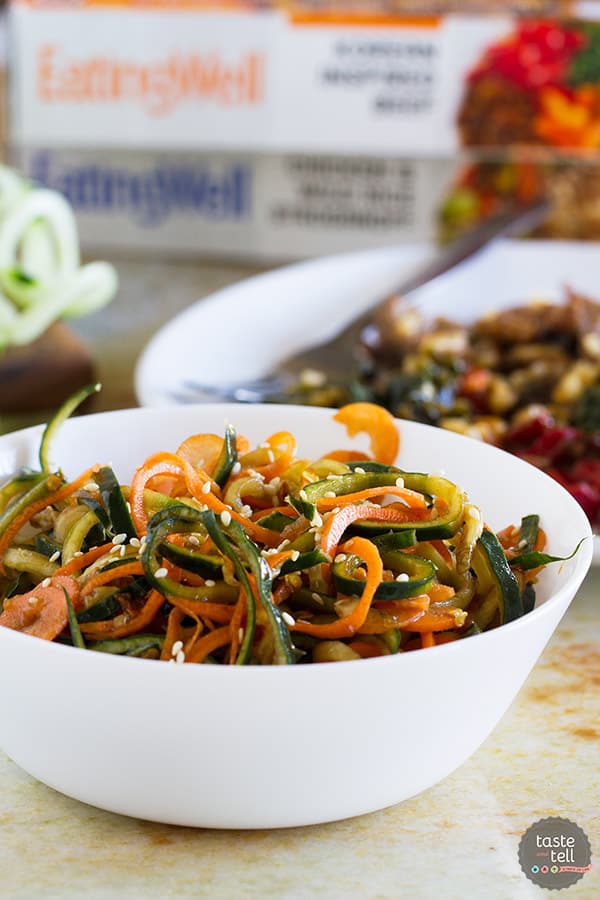 The lunch struggle…
You guys – I know I sometimes sound like a broken record. But the struggle is real. I've talked about it over and over again.
When I worked in an office, I thought lunch was hard. I had to prepare ahead of time, make something that reheated well or didn't need heating at all.
Now that I work from home, you would think that lunchtime would be easier. A fridge full of food, all the time in the world for a relaxed, fulfilling lunch. Do you sense the sarcasm? Yeah – that's not quite how it goes. Instead it's the leftover square of pb&j from my kids, or the last 2 bites of mac and cheese on their plates. Not quite the glamorous way to eat lunch as I had envisioned it.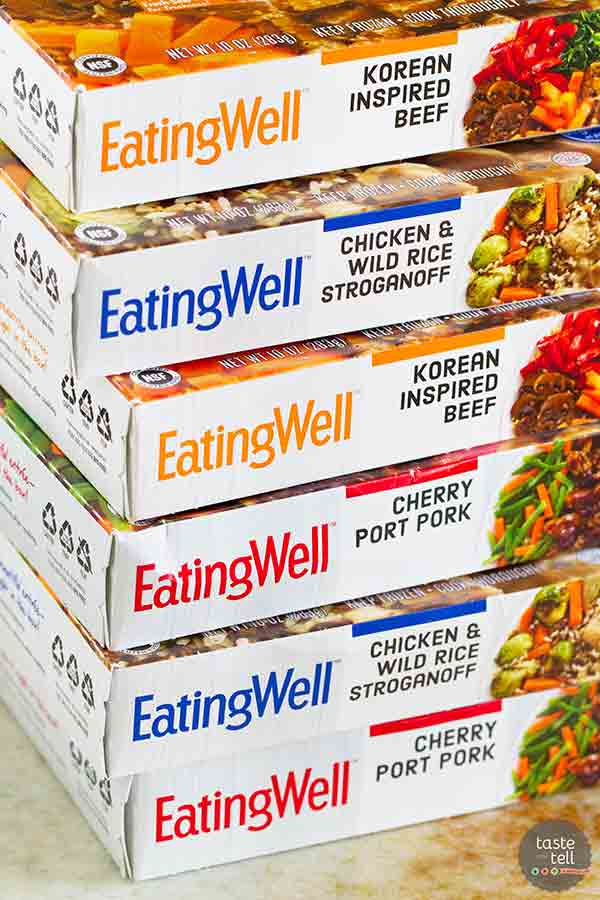 But I cannot function without lunch, and 10 minutes to spend on lunch isn't normally impossible to find.
So since leftovers are often boring and eating off of my kids' plates isn't filling, I am glad to have found EatingWell™ frozen entrées. Not only do they taste great (with flavors like Korean Inspired Beef, Chicken and Wild Rice Stroganoff, Creamy Pesto Chicken and more), but they have no preservatives, no artificial flavors or colors, and contain 1 cup of vegetables in each package. I always struggle to eat enough vegetables, so I really love that I can check some of those veggies off for the day. And I love that the meals are made from simple, nourishing ingredients.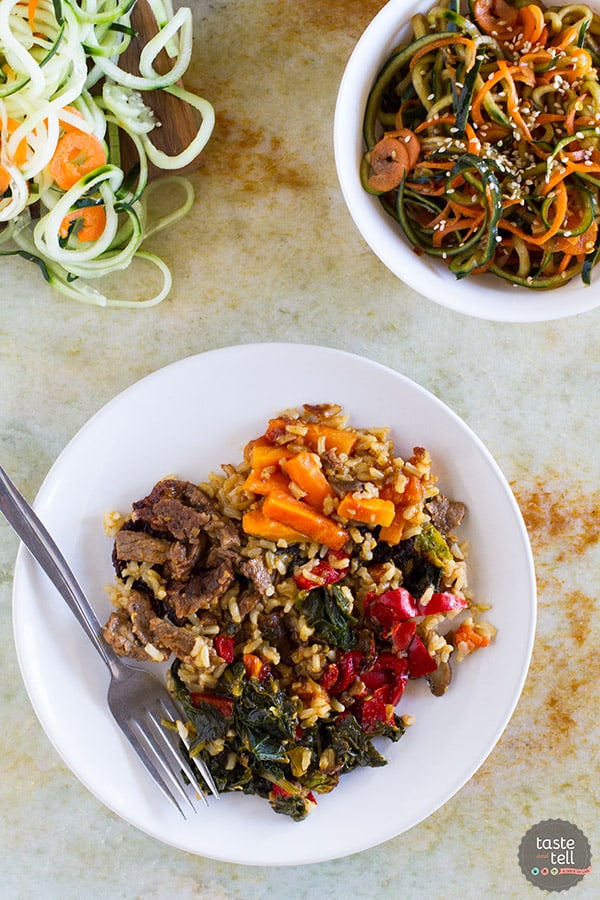 Like I mentioned above, I have a hard time getting all of my veggies in for the day. So I try to get as many in earlier in the day, if possible. So I thought it would be fun (and delicious!) to make a salad to serve alongside my EatingWell™ frozen entrée. That way, I'm doubling up on those veggies! The frozen entrée takes under 10 minutes to cook in the microwave, so I needed something that could be done quickly – in the time I was waiting for the meal to cook. This Korean Cucumber Salad was the winner!! The dressing takes only a minute or two to whip up, and then all you do is add some spiralized cucumber and carrot. If you don't have a spiralizer, don't worry! You could turn the cucumber and carrot into ribbons by using a vegetable peeler, or you could use your knife to julienne the vegetables. But I'm pretty sure if you invested in a spiralizer, you'd use it all the time to make this Korean Cucumber Salad!
This salad is so simple and pretty straightforward and paired perfectly with the EatingWell™ Korean Inspired Beef entrée. The recipe makes enough for 2 side dish servings, but you can package the second half and eat it later. A great afternoon snack!
You can find where to buy the EatingWell™ frozen entrées at EatingWell.com/frozenfresh. Make sure to follow EatingWell™ Frozen on Facebook and Twitter for more information.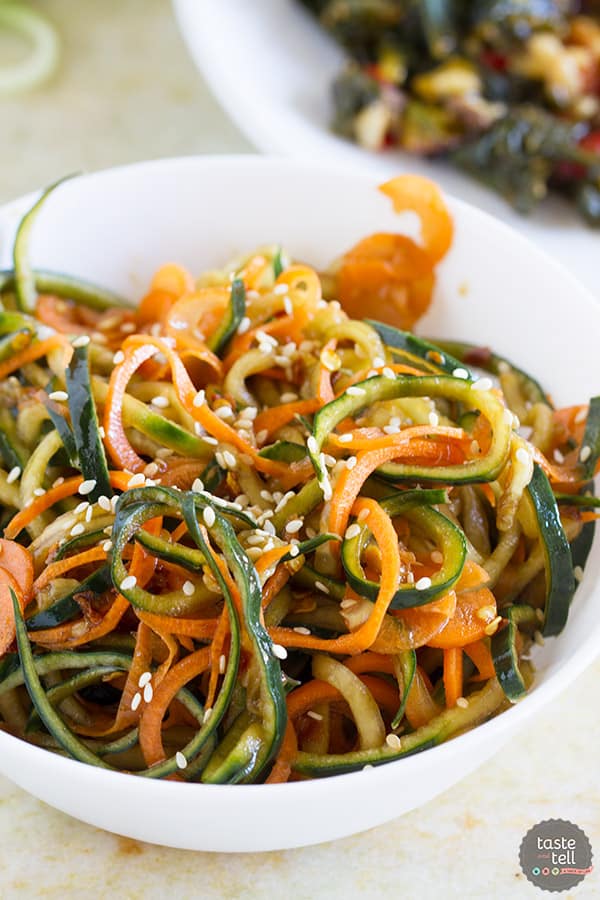 Like what you see here? Make sure you are following Taste and Tell for more recipes and ideas!
Facebook | Pinterest | Instagram | Twitter | Google+ | Weekly Newsletter | Feedly | Bloglovin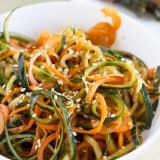 Korean Cucumber Salad and EatingWell™ Frozen Entrees
---
Author:
Prep Time: 5 mins
Total Time: 5 mins
Yield: 2 side dish servings 1x
Description
The perfect way to get in some extra veggies – this Korean Cucumber Salad is easy, fast, and full of flavor.
---
Scale
Ingredients
1 tablespoon soy sauce
1 tablespoon rice vinegar
1 teaspoon sesame oil
1/2 teaspoon sugar
1/2 teaspoon red pepper flakes, or to taste
1 medium cucumber, spiralized
1 medium carrot, peeled and spiralized
---
Instructions
In a bowl, combine the soy sauce, rice vinegar, sesame oil, sugar and red pepper flakes. Add the cucumber and carrot and toss to combine.
Can be served right away, or refrigerated and served later.
Don't miss a thing! Follow me on Pinterest to see what I'm pinning!
Visit Taste and Tell's profile on Pinterest.



This post has been sponsored by EatingWell™ and Bellisio Foods, Inc. I have received compensation and all opinions are my own.