This French Lemon Cream Tart with Meringue starts with a sweet crust filled with a silky lemon cream. Topped off with meringue, this tart can't be beat!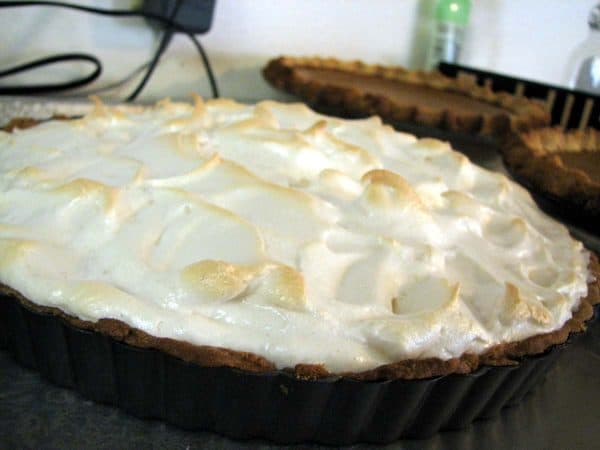 Before I (finally) finish talking about Thanksgiving, I have a question for anyone that has an opinion – my husband and I are going to Las Vegas (to see Celine!!) in a week and a half, and we want to go out to one nice dinner. Although Vegas is just a quick 5 hour drive away, I haven't been since my single days. So, we're looking for good suggestions for somewhere that we wouldn't have to have reservations forever in advance, and somewhere that isn't too pricey. Let me know what you think!
I'm so mad that I didn't get a better picture of this tart. I was running behind on Thanksgiving morning, and it was crazy enough in the kitchen at my in-laws to even snap this one photo. And I didn't even take it out of the tart pan yet – and the crust looks really dark in the picture, but it wasn't that dark. But let me tell you, this was so good. Of course it was – it was (mostly) a Dorie recipe!!
When I first got this cookbook, this was one of the first recipes that I saw and that I really wanted to make. Well, every time I went to make a dessert, I kept putting this off because you have to refrigerate the cream for at least 4 hours. Well, I guess I just don't plan very well, because I never had the extra 4 hours of refrigeration time!! Before Thanksgiving, I decided that this would be the perfect dessert to make. I love lemon meringue pie, and my family usually has it at Thanksgiving. I decided to use the only meringue recipe I've ever made, though, because I know that sometimes meringues can be temperamental, and I knew this recipe works for me.
I set out the night before Thanksgiving to start the tart. First was the shell. I've made this recipe before, so no problems there. The only difference this time was that I finally have a food processor, so it came together a lot faster than it usually does!! Then came the cream. It really only gave me one problem. The cream is supposed to thicken while you whisk it. She says that this can take up to 10 minutes to get the temperature up to 180 degrees F. Well, almost 40 minutes later, my temperature was only 165 F, and my arm felt like it was going to fall off!! It was thick, so I called it good and wrapped it to go into the fridge. I'm glad I didn't keep whisking, because when I put it into the cooked shell the next day, it was perfect. And so tasty. I'm seriously surprised that any of it made it into that tart. I want to make more of the cream and just eat it with a spoon. I might end up weighing 500 pounds, but this cream is worth it!!
My only other problem, which really wasn't a problem, is that I just now realized that most of these tart recipes I've been making are for a 9-inch tart. Well, I just realized that my tart pan is 11 inches. I don't have any problems with the dough fitting my tart pan. My lemon cream was a little bit thin, but it was still good. I ended up doubling the meringue after I realized that it was for a 9-inch pie as well. I didn't need that much meringue – in the future, I'll make 1 1/2 of the recipe if I'm doing a tart.
This was probably my best received recipe at the Thanksgiving table. In fact, my husband told me that when we were getting ready to leave and packing up some of the leftover food, and my sister-in-law got mad at him for taking a few pieces of the tart. I keep saying that I probably wouldn't make this again, just because it was so much work, but the more I think about it and the more I talk about it – the more I want to go home tonight and make another one!!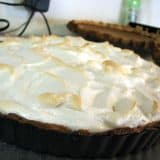 French Lemon Cream Tart with Meringue
---
Author:
Category: Dessert
Method: Baked
Cuisine: French
Description
This French Lemon Cream Tart with Meringue starts with a sweet crust filled with a silky lemon cream. Topped off with meringue, this tart can't be beat!
---
Scale
Ingredients
Crust:
1 1/2 cups all purpose flour
1/2 cup confectioners' sugar
1/4 teaspoon salt
1 stick plus 1 tablespoon very cold unsalted butter, cut into small pieces
1 large egg yolk
Tart:
1 cup sugar
Finely grated zest of 3 lemons
4 large eggs
1/2 cup fresh lemon juice (from 4–5 lemons)
2 sticks plus 5 tablespoons (10–1/2 ounces)
unsalted butter, cut into tablespoon-size pieces, at room temperature
Meringue:
1 Tablespoon cornstarch
2 Tablespoons cold water
1/2 cup boiling water
1 teaspoon vanilla extract
3 egg whites
6 Tablespoons white sugar
1 pinch salt
---
Instructions
For the crust:
Put the flour, confectioners' sugar and salt in a food processor and pulse a couple of times to combine.
Scatter the pieces of butter over the dry ingredients and pulse until the butter is coarsely cut in – you should have some pieces the size of oatmeal flakes and some of the size of peas.
Stir the yolk, just to break it up, and add it a little at at time, pulsing after each addition.
When the egg is in, process in long pulses – about 10 seconds each – until the dough, which will look granular soon after the egg is added, forms clumps and curds. Just before you reach this stage, the sound of the machine working the dough will change.
Turn the dough out onto a work surface and, very lightly and sparingly, knead the dough just to incorporate any dry ingredients that might have escaped mixing.
(I did this without a food processor – just a pastry cutter. It worked – it just takes more time and some elbow grease!!)
Butter the tart pan. Press the dough lightly into the pan – be careful not to press too much – you want the dough to keep it's crumbly texture. Freeze for at least 30 minutes.
Preheat the oven to 375 F. Butter the shiny side of a piece of aluminum foil and press down into the tart crust. Bake the crust for 25 minutes. Remove the foil and return the crust to the oven for 8 minutes, or until golden brown.
Remove from the oven and allow to cool completely.
For the filling:
Getting Ready: Have an instant-read thermometer, a strainer and a blender (first choice) or food processor at hand. Bring a few inches of water to a simmer in a saucepan.
Put the sugar and zest in a large heatproof bowl that can be set over the pan of simmering water. Off the heat, rub the sugar and zest together between your fingers until the sugar is moist, grainy and very aromatic. Whisk in the eggs, followed by the lemon juice.
Set the bowl over the pan, and start stirring with the whisk as soon as the mixture feels tepid to the touch. Cook the lemon cream until it reaches 180 degrees F. As you whisk—you must whisk constantly to keep the eggs from scrambling—you'll see that the cream will start out light and foamy, then the bubbles will get bigger, and then, as it gets closer to 180 degrees F, it will start to thicken and the whisk will leave tracks. Heads up at this point—the tracks mean the cream is almost ready. Don't stop whisking or checking the temperature, and have patience—depending on how much heat you're giving the cream, getting to temp can take as long as 10 minutes.
As soon as it reaches 180 degrees F, remove the cream from the heat and strain it into the container of the blender (or food processor); discard the zest. Let the cream stand, stirring occasionally, until it cools to 140 degrees F, about 10 minutes.
Turn the blender to high (or turn on the processor) and, with the machine going, add the butter about 5 pieces at a time. Scrape down the sides of the container as needed as you incorporate the butter. Once the butter is in, keep the machine going—to get the perfect light, airy texture of lemon-cream dreams, you must continue to blend the cream for another 3 minutes. If your machine protests and gets a bit too hot, work in 1-minute intervals, giving the machine a little rest between beats.
Pour the cream into a container, press a piece of plastic wrap against the surface to create an airtight seal and refrigerate for at least 4 hours or overnight. (The cream will keep in the fridge for 4 days and, or tightly sealed, in the freezer for up to 2 months; thaw it overnight in the refrigerator.)
When you are ready to assemble the tart, just whisk the cream to loosen it and spoon it into the tart shell. Serve the tart, or refrigerate until needed, or top with meringue.
For the meringue:
Blend cornstarch and cold water in a saucepan. Add boiling water, and cook until thick and clear. Cool completely.
Beat egg whites till foamy. Gradually beat in sugar, beating until stiff and glossy. Add salt and vanilla, and slowly beat in cold cornstarch mixture. Beat quickly for several minutes. Spread meringue on filled, cooled 9 inch pie or tart.
Bake at 350 degrees F for 10 minutes.