A banana & chocolate chip cookie – made a little healthier!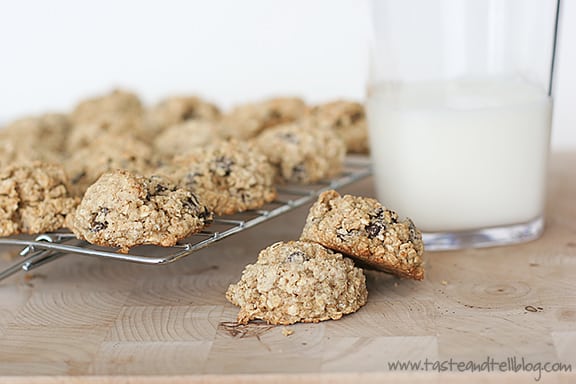 It seems like these days, we can't get through a bunch of bananas before they get too ripe. Granted – I only like them when they are just at that spot where they are no longer green, but not brown at all yet. It's all about the texture – I don't like them when they get mushy. My husband, on the other hand, only likes them when they've started to turn brown. But regardless, we always end up with a banana or two that get too ripe for either of us.
I've made my fair share of banana bread. (I actually have an amazing version coming up soon!!) And I've tried to make "healthy" banana cookies before. But it was a failure. So much of a failure that I haven't been tempted to try banana cookies again – until now. I saw this recipe and knew that I had to give banana cookies another try. And these are made with whole wheat flour and only 2 tablespoons of butter in the entire batch, so they are a bit more healthy than a normal chocolate chip cookie.
These were a hit. The only complaint I had was a personal one. I used bananas that were way ripe – like the completely black bananas – and they had that extra extra sweet banana taste to them. I think if I would have used a banana that was spotted brown, these would have been absolutely perfect!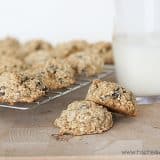 Chocolate Chip Banana Cookies
---
Prep Time: 15 minutes
Cook Time: 12 minutes
Total Time: 45 minutes
Yield: about 30 cookies 1x
Description
Ripe bananas are combined with chocolate chips in these whole wheat cookies.
---
Scale
Ingredients
1 cup whole wheat flour
1 teaspoon baking powder
1/2 teaspoon baking soda
1/2 teaspoon salt
1/2 teaspoon ground cinnamon
2 tablespoons unsalted butter, softened
1/2 cup white sugar
1/2 up unpacked brown sugar
1 large egg
1/4 heaping cup mashed banana (about 1 small banana)
1/2 teaspoon vanilla extract
2 cups oats
3/4 cup semi-sweet chocolate chips
---
Instructions
Preheat the oven to 350F. Line a baking sheet with parchment paper or grease lightly.
In a medium bowl, whisk the flour, baking powder, baking soda, salt and cinnamon. Set aside.
In the bowl of a stand mixer, cream the butter and both sugars. Add the egg, followed by the banana and the vanilla.
Stir in the flour mixture and the oats, just until combined. Mix in the chocolate chips.
Drop by tablespoonfuls onto the prepared baking sheet. Bake in the preheated oven for 10-12 minutes, or until lightly brown on the edges. Do not overbake!
Let cool on the baking sheet for 3 to 4 minutes, then remove to a baking rack to cool completely.