These Banana Oatmeal Cookies are a hearty oatmeal cookie made with bananas for moisture and chocolate chips to take it to another level!
Save those over ripe bananas! After you've tried these Banana Oatmeal Cookies, also try this Banana Cake with Cream Cheese Frosting, Banana Oat Bread, and these Banana Waffles.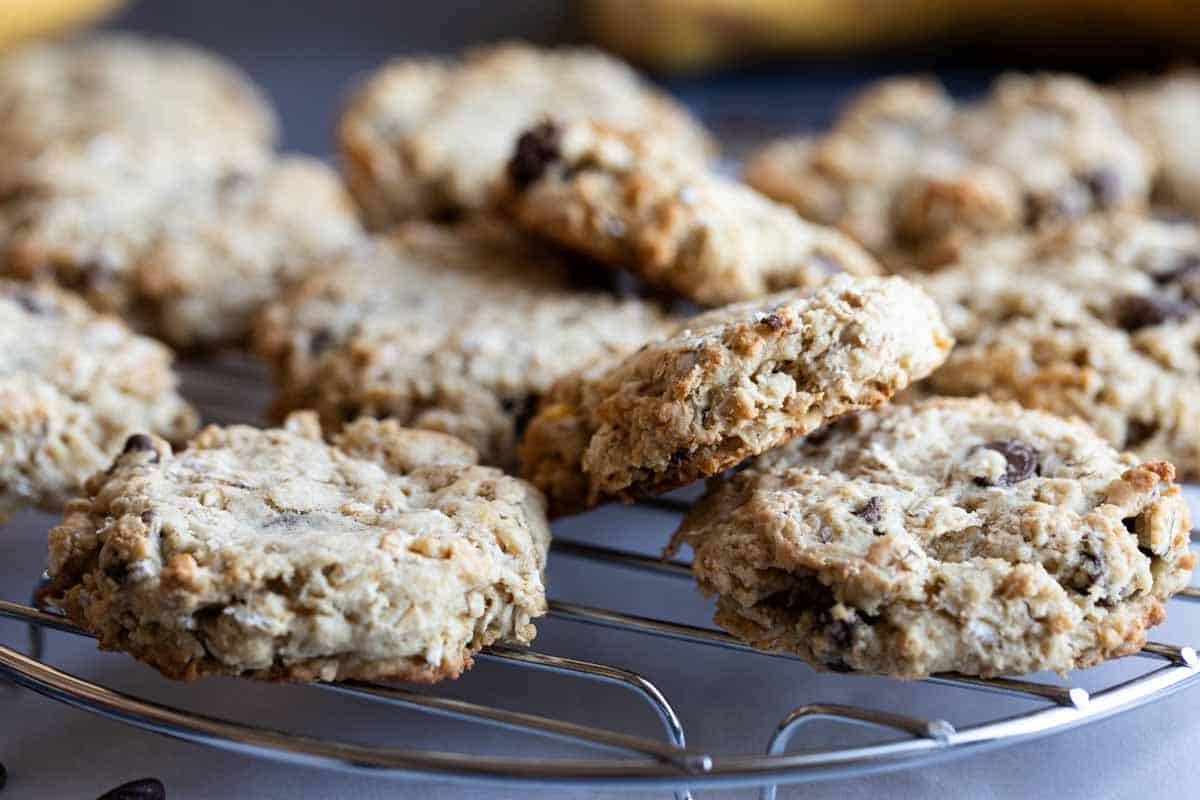 It seems like we can't get through a bunch of bananas before they get too ripe. Granted – I only like them when they are just at that spot where they are no longer green, but not brown at all yet. It's all about the texture – I don't like them when they get mushy. My husband, on the other hand, only likes them when they've started to turn brown. But regardless, we always end up with a banana or two that get too ripe for either of us.
And I like banana bread as much as the next person, but sometimes you need to change things up and make something fast and easy.
These Banana Oatmeal Cookies are your answer.
Why You'll Love These Cookies
There are a few reasons I love these cookies:
1 – They are fast and easy. You get freshly baked cookies in 30 minutes.
2 – These are not your typical banana cookies. The oatmeal makes them heartier, and while you can taste the banana, it's not a main flavor. (For a more cake-like banana cookie, try these Banana Chocolate Chip Cookies.)
3 – You only need one banana to make these. You only need 1/3 cup of mashed banana, which is about 1 medium banana. So these are perfect for when you have that one stray banana left over, going ripe on your counter.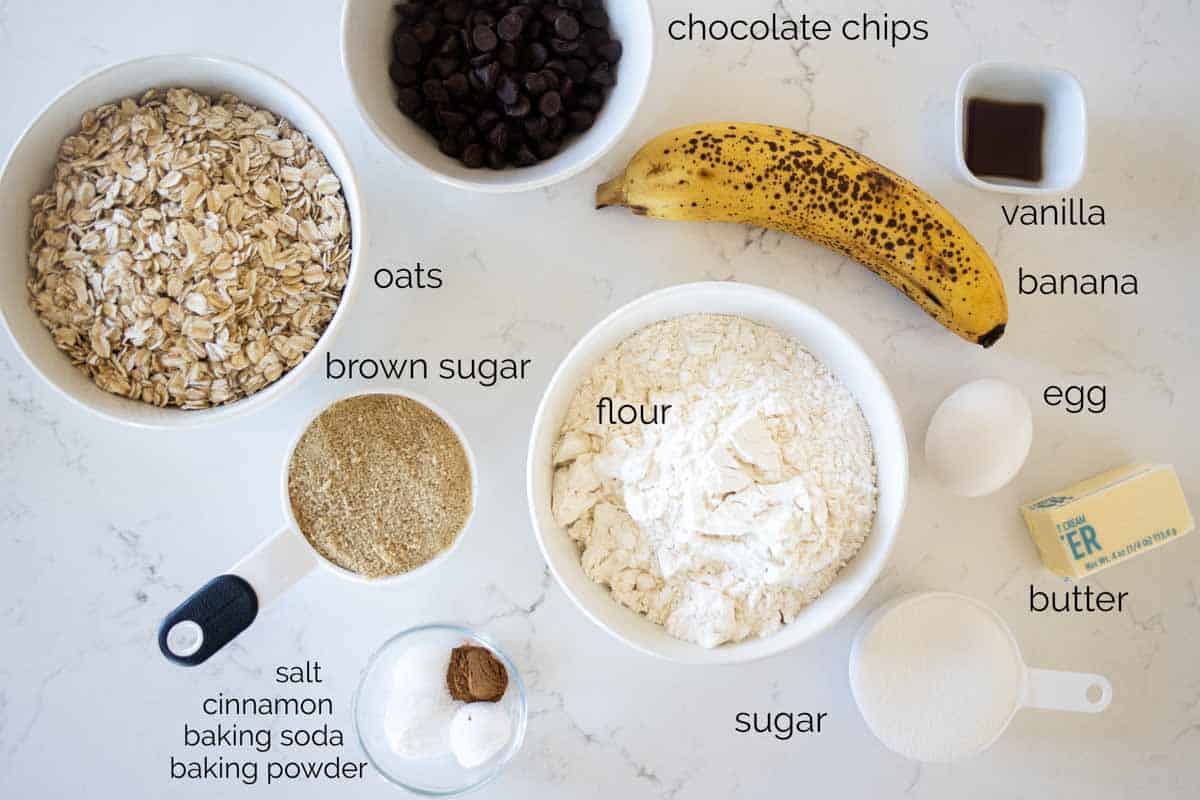 Ingredients
Here is what you'll need:
Flour: I use all-purpose flour, but you really could use half whole wheat and half all purpose.
Baking Powder, Baking Soda & Salt: The baking powder is what will give your cookies some lift, while the baking soda helps with browning and the tenderness of the cookies. The salt will accentuate the flavors in the cookies.
Cinnamon: This one is optional, but I love the warmness it brings. And oatmeal cookies are always better with cinnamon, in my opinion!
Butter: You'll need this for the fat element of your cookies. You'll want it softened to room temperature.
Sugar: I use a mixture of white and brown sugar for the cookies. I use light brown sugar.
Egg: The egg will help to bind everything together, and aid in the cookie's texture.
Banana: The riper the banana, the more sweetness they will bring.
Vanilla Extract: I like to use pure vanilla extract.
Old Fashioned Oats: The texture of the old fashioned oats is what I prefer for these cookies. If you only have quick oats on hand, they will work as well, but the texture will change.
Chocolate Chips: I use semi-sweet, but feel free to change it up and use whatever you have on hand!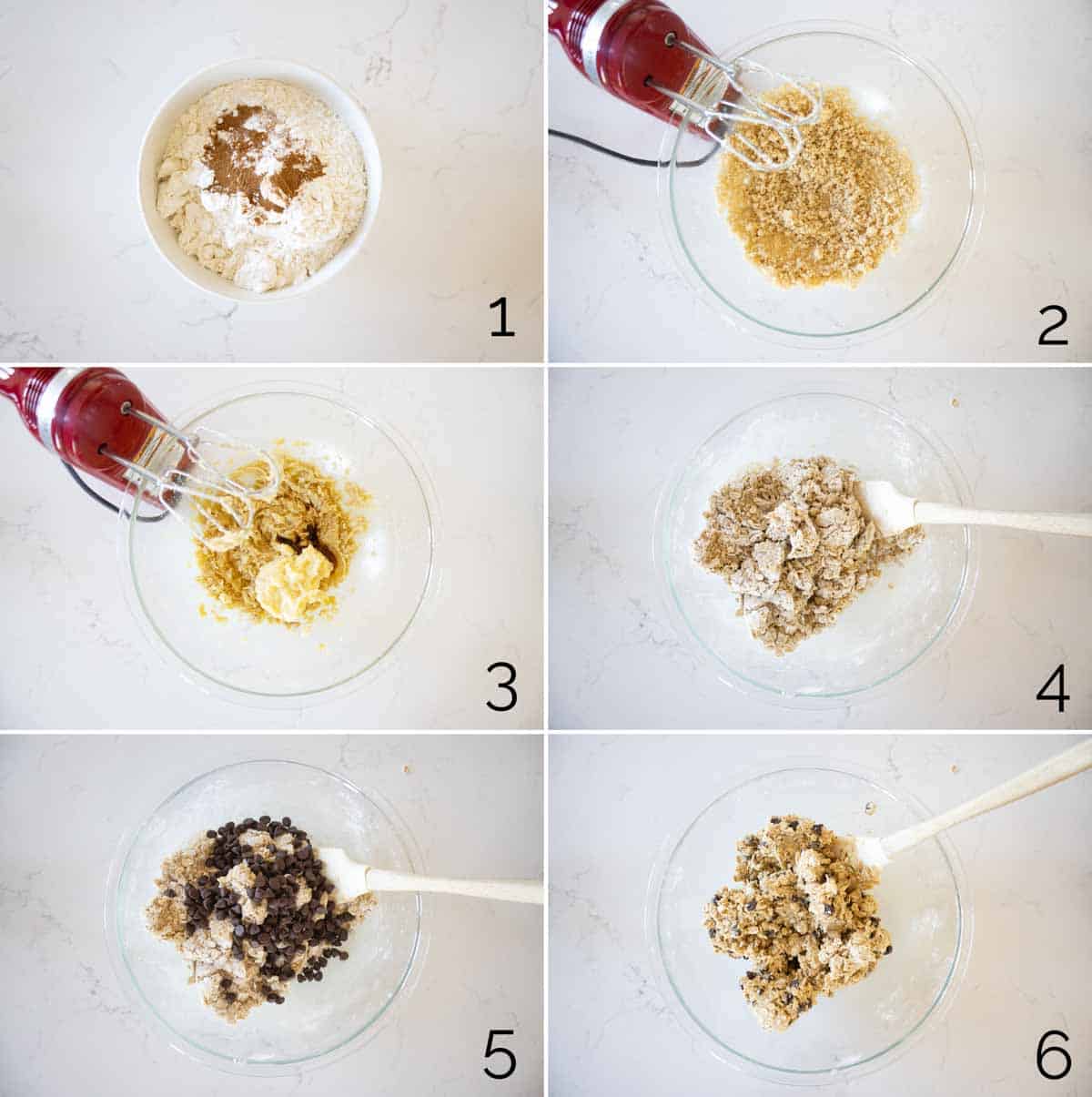 How to Make Banana Oatmeal Cookies
Start by whisking together your flour, baking powder, baking soda, salt, and cinnamon. This way it will incorporate easier into the cookie dough.
In a stand mixer or in a large bowl, mix together the butter and both sugars.
Mix in the egg, then add the banana and vanilla.
Add the flour mixture and the oats and start to combine everything. It may seem a bit dry at this point – that is normal.
When it's almost mixed together, add the chocolate chips.
Continue to mix the dough until it all comes together and there are no more dry parts.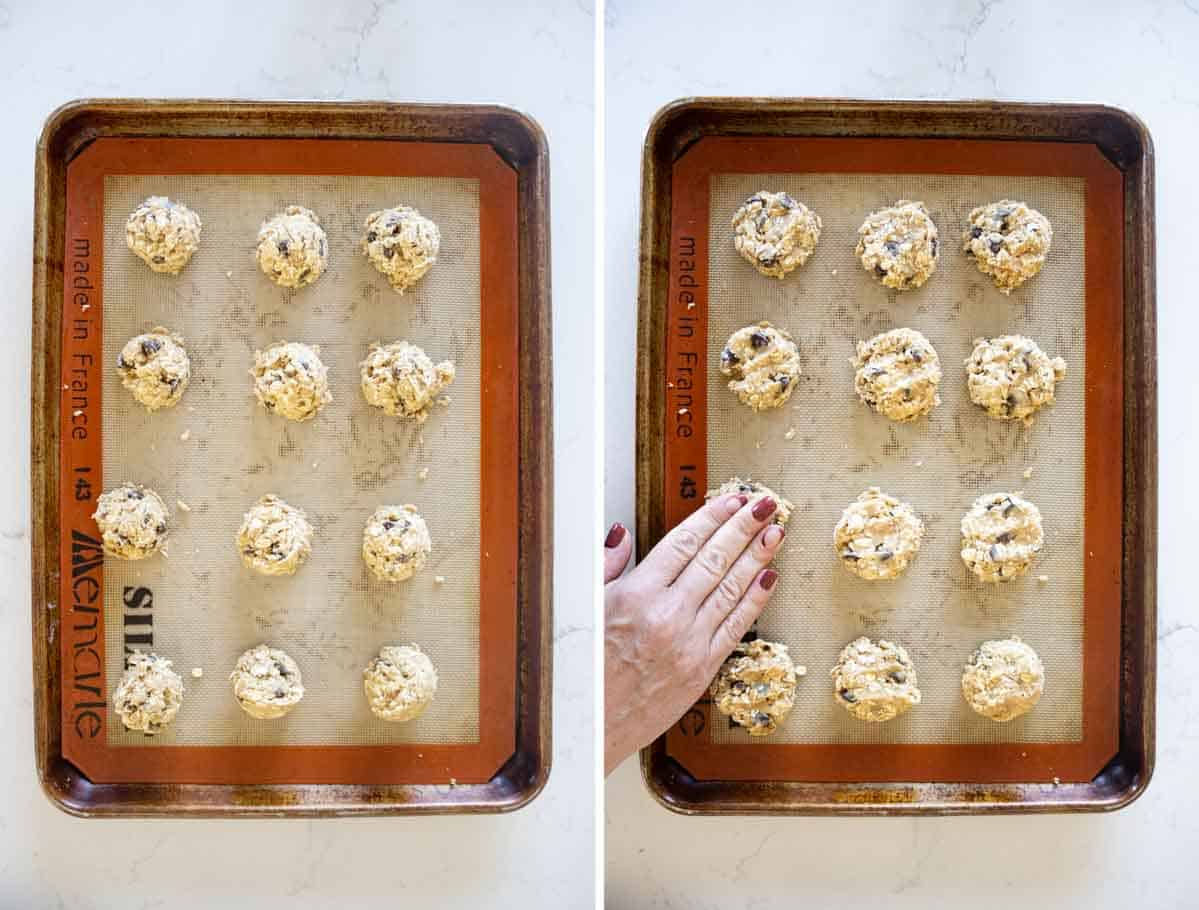 Roll the dough into even balls, (I like to use a cookie scoop to make them uniform), and place on a baking sheet that has been lined with parchment paper or a silpat liner.
These cookies don't flatten a lot on their own, so I like to take a slightly wet hand and press them down. Bake until they are golden brown around the edges.
Make Ahead and Storage Tips
These cookies can be stored at room temperature for up to 4 days. I like to put them in a ziplock bag or a container with a lid to keep them from drying out.
If you need longer than 4 days, you can store them in the refrigerator. Things do tend to get dried out a bit in the refrigerator, though, so make sure they are covered fully.
You can make the dough ahead of time and freeze the cookie dough balls. This is great for if you don't want to bake the whole batch at once, as well.
If freezing the dough, let it thaw in the refrigerator overnight, or at room temperature for a couple of hours. You can bake them from frozen, as well – I would suggest lowering the temperature to 325ºF and cooking the dough a bit longer.
You can also freeze fully baked cookies. To serve, let them thaw at room temperature for a couple of hours.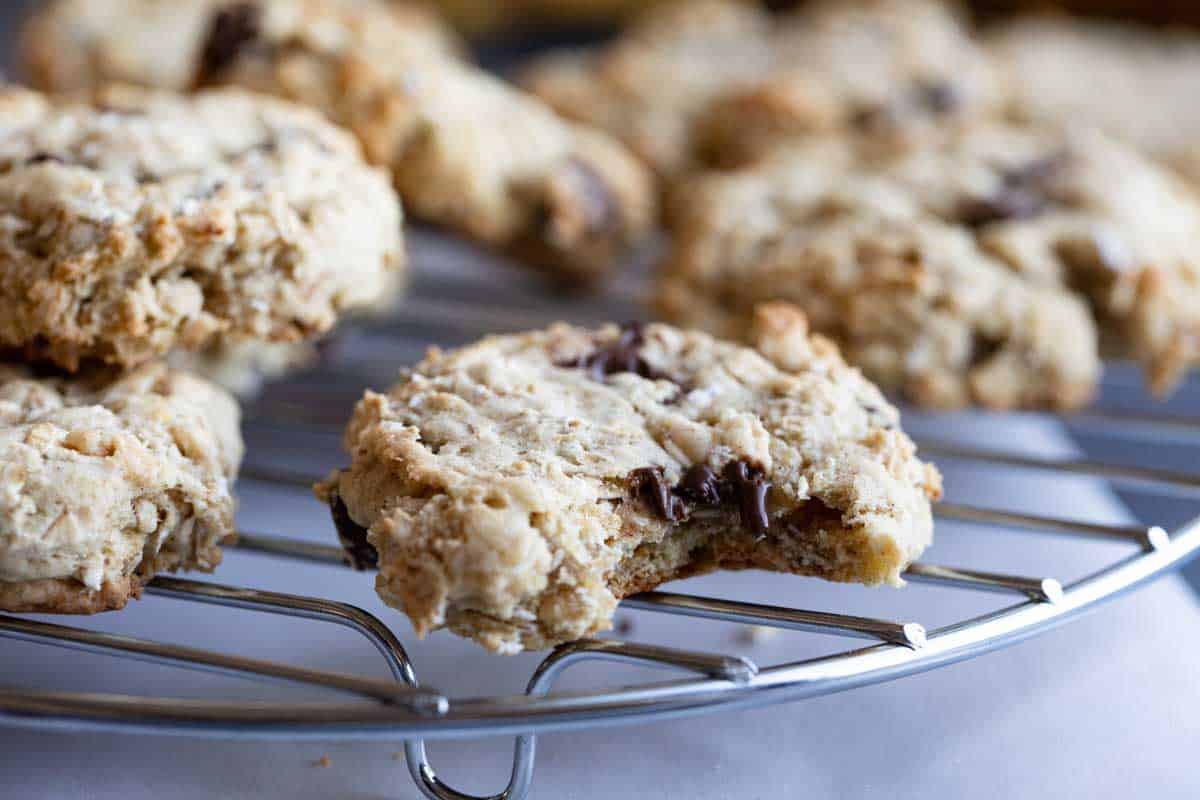 More Cookie Recipes
Peanut Butter Cookies
No Bake Cookies
Oatmeal Cookies
Cake Mix Cookies
The Best Sugar Cookie Recipe
Chocolate Crinkle Cookies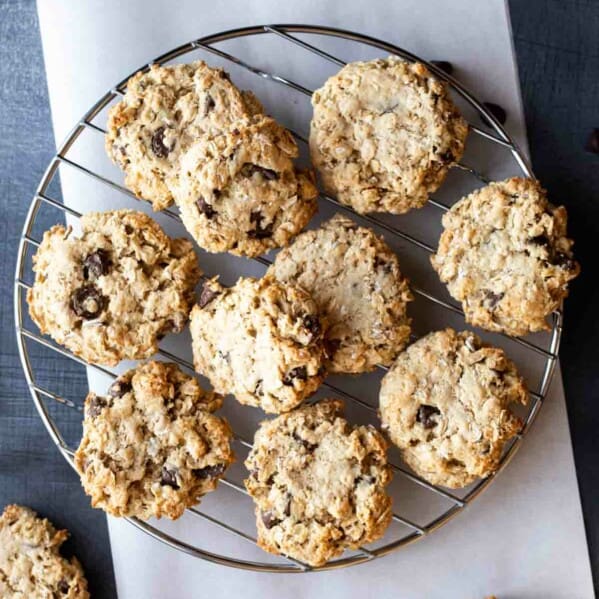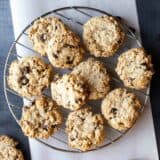 Banana Oatmeal Cookies
---
Author:
Prep Time: 15 minutes
Cook Time: 8 minutes
Total Time: 30 minutes
Yield: 24 cookies 1x
Category: Dessert
Method: Baked
Cuisine: American
Description
These Banana Oatmeal cookies are a hearty oatmeal cookie made with bananas for moisture and chocolate chips to take it to another level!
---
Scale
Ingredients
2 cups all-purpose flour
1 teaspoon baking powder
1/2 teaspoon baking soda
1/2 teaspoon salt
1/2 teaspoon ground cinnamon
4 tablespoons butter, at room temperature
1/2 cup white sugar
1/2 cup packed light brown sugar
1 egg
1/3 cup mashed banana
1/2 teaspoon vanilla extract
2 cups old fashioned oats
3/4 cup semi-sweet chocolate chips
---
Instructions
Preheat the oven to 350ºF. Line 2 baking sheets with parchment paper or silpat liners.
In a bowl, whisk together the flour, baking powder, baking soda, salt and cinnamon. Set aside.
In the bowl of a stand mixer, or in a large bowl, cream together the butter, white sugar and brown sugar. Add the egg, followed by the banana and the vanilla.
Stir in the flour mixture along with the oats. Mix just until it starts to come together. It will feel a bit dry at this point.
Add the chocolate chips and continue to mix until it all comes together into a ball.
Using a 1 1/2 tablespoon scoop, divide the dough into 24 balls. Place them about 2 inches apart – 12 cookies on each cookie sheet. With slightly wet hands, lightly press down on the cookies to make a flatter disc.
Bake in the preheated oven until browned along the edges, about 8 minutes.
Remove from the oven and let the cookies cool on the baking sheet for 3 to 4 minutes before removing to a cooling rack to cool completely.
Recipe Notes:
Cookie dough can be frozen before baking, and baked cookies can be frozen. Store them in the freezer for up to 6 months.
Nutrition information provided as an estimate only. Various brands and products can change the counts. Any nutritional information should be used as a general guide.
Nutrition
Serving Size: 1 cookie
Calories: 174
Sugar: 9 g
Sodium: 114 mg
Fat: 6 g
Saturated Fat: 3 g
Unsaturated Fat: 2 g
Trans Fat: 0 g
Carbohydrates: 25 g
Fiber: 2 g
Protein: 4 g
Cholesterol: 75 mg
Keywords: Banana oatmeal cookies, banana oatmeal chocolate chip cookies