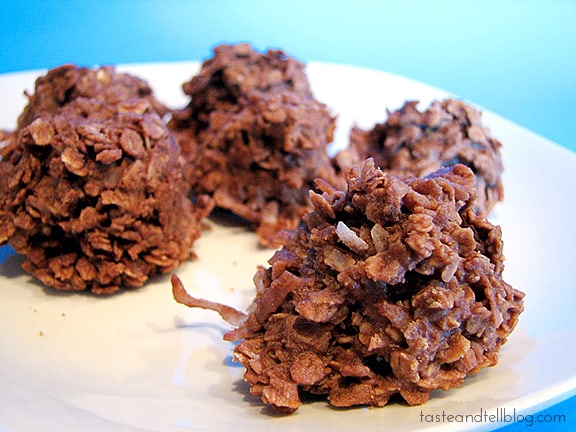 I saw these cookies on Janet's blog – Janet is Hungry – back in October. I actually made them a couple of days after seeing her post, but I am just now getting around to posting about them!!
I have made a similar cookie to these in the past. Janet calls them Mud Pies, but I grew up knowing them as no-bake cookies. I know there are several versions out there, and the one I am most familiar with has peanut butter added as well, but Janet's version sounded delicious so I gave them a try.
They were delicious!! What's not to love about chocolate, coconut and oats all rolled together?? I'm really glad I saw Janet's post!!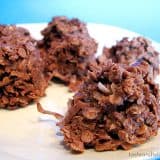 Mud Pies
---
Prep Time: 5 minutes
Cook Time: 10 minutes
Total Time: 45 minutes
Yield: about 2 dozen 1x
Description
Also known as No-Bake Cookies, these oat and coconut cookies aren't baked, but cooked on the stovetop.
---
Scale
Ingredients
2 cups white sugar
1/2 cup milk
1/2 cup shortening
5 tbsp cocoa
1/2 tsp salt
1 tsp vanilla
1 cup fine coconut
3 cups quick cooking oats
---
Instructions
In a saucepan, combine the sugar, milk, shortening, cocoa, salt adn vanilla. Bring to a boil and then remove from the heat.
Stir in the coconut and oats. Drop by tablespoonfuls onto a piece of waxed paper . Let sit until set.
———————
from Janet is Hungry