Cake Mix Cookies 12 Ways – So many varieties, you'll want to try them all! 4 ingredients, 20 minutes, and you can have soft, delicious cookies.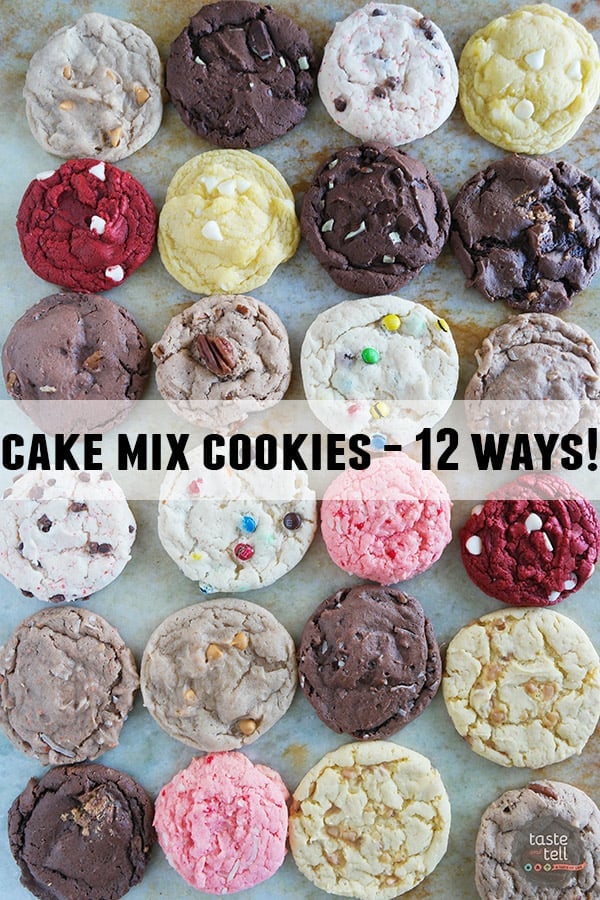 Sometimes I have ideas that take months to come to fruition. This post is one of those.
Well, I originally posted this recipe for Cake Mix Cookies back in 2007. And when Pinterest came around, it went crazy. That was back in the beginning, when you didn't need big, pretty pictures. And admittedly, those photos from 2007 were pretty atrocious.
The last couple years, I have been going back to old posts and re-photographing them, because there are seriously so many great recipes in the archives that are ignored because the photos are so ugly and the recipes are written so poorly. And it's been fun to cook from my own blog once or twice a week. And these cookies had been on my list to remake for quite some time.
These Cake Mix Cookies have become one of those go-to recipes over the years for when I want/need cookies, but am feeling a bit lazy. Seriously – only 4 ingredients and 20 minutes, and you have your cookies. And let's not lie – sometimes you just need a pink strawberry cookie. But instead of just re-photographing these cookies, I decided to take it a step further. Because while the strawberry/coconut combination for these cookies is one of my favorites, they can be turned into so much more. Really, the sky is the limit. You can use any flavor of cake mix that you want, then choose your add-in. Chocolate chips, candy pieces, nuts, coconut, toffee… go crazy!! So after the recipe, I have included 12 different flavors you can turn these cookies into. (I could have kept going with the flavor combinations, but we were pretty cookie-d out at this point!!)
A few notes on these cookies. First, different flavors of cake mixes act differently. The strawberry cake mix always makes thicker cookies for me, while yellow cake mixes will spread out more. I tried refrigerating dough to see if that would help with the cookies that spread more, but it didn't make a huge difference. But they are all delicious, I just didn't want you to expect them to all come out exactly the same. Second, I know that different brands of cake mixes are different sizes. I tried these with different sizes – from 15.25 oz to 18.25 oz and found that you don't need to alter any ingredients for different brands of cake mixes.
So next time that cookie craving hits, choose one of these Cake Mix Cookies to curb that craving. Have fun trying a different flavor each time!
And to show you just how easy these Cake Mix Cookies are, I have made a little video. Enjoy!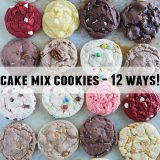 Cake Mix Cookies
---
Author:
Prep Time: 8 mins
Cook Time: 12 mins
Total Time: 20 minutes
Yield: 16 cookies 1x
Category: Dessert
Description
Cake Mix Cookies 12 Ways – So many varieties, you'll want to try them all! 4 ingredients, 20 minutes, and you can have soft, delicious cookies.
---
Scale
Ingredients
1 cake mix* (dry ingredients only)
1/2 cup vegetable oil
2 eggs
1/2 cup mix ins
---
Instructions
Preheat the oven to 350ºF. Line a baking sheet with a silpat liner or parchment paper.
In a bowl, mix together the cake mix, vegetable oil and eggs until combined. Stir in the mix ins.
Scoop the dough onto the prepared baking sheet, at least 2 inches apart. Bake just until the cookies are set in the middle, 10-12 minutes.
Cool for 2 minutes on the baking sheet then transfer to a cooling rack or a sheet of waxed paper.
Recipe Notes:
*I have used different cake mix sizes from 15.25 oz to 18.25 oz and they all seem to work just fine. You won't need to adapt the other ingredients.
Mix ins can be whatever you want to mix into the cookies – coconut, chocolate chips, chopped candy bars, etc. The possibilities are endless!
adapted from Columbus Foodie