The perfect taste of fall, these Oatmeal Pumpkin Chocolate Chip Cookies are filled with hearty oats, fall spices, and plenty of pumpkin flavor.
I love a good oatmeal cookie, but sometimes you need to change things up! These Oatmeal Pumpkin Chocolate Chip Cookies are a great way to do that, as well as these Iced Oatmeal Cookies or these Oatmeal Coconut Cookies.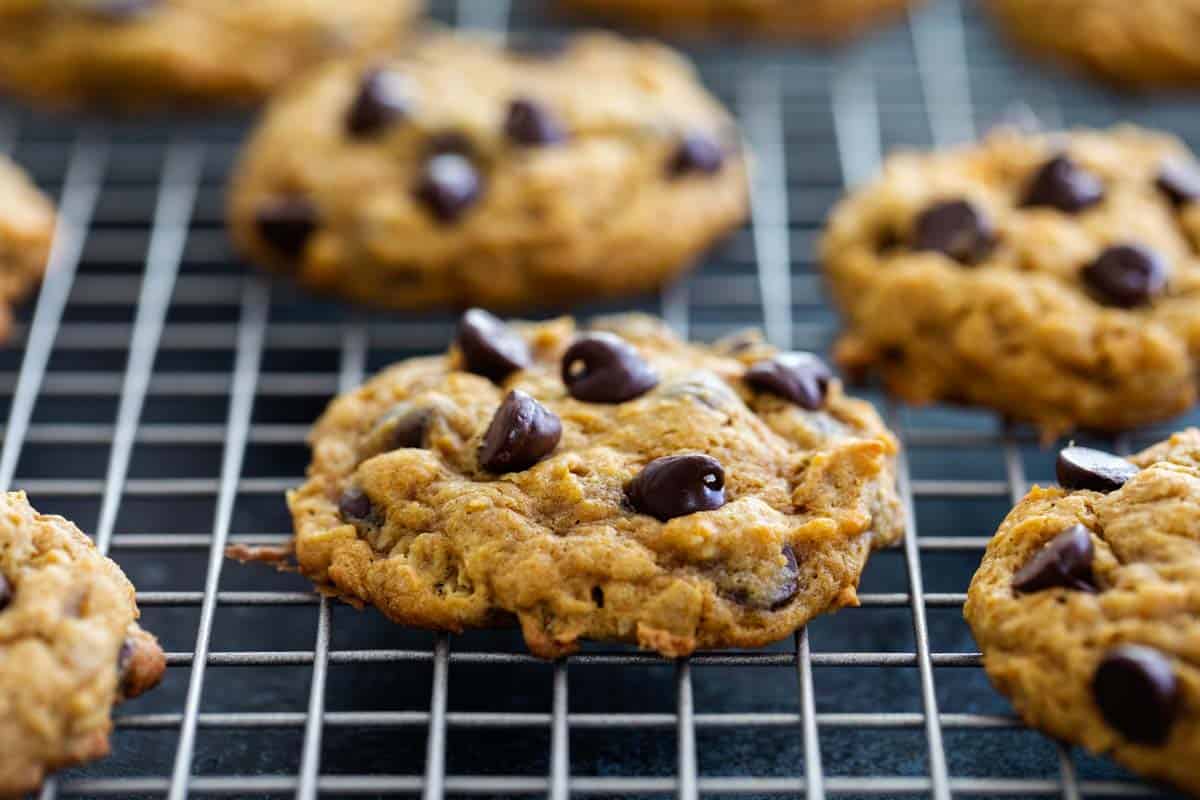 I think fall baking has got to be my favorite. The spices, the seasonal flavors – they all just come together perfectly to create the best treats.
And these Oatmeal Pumpkin Chocolate Chip Cookies are no exception.
I was going through the blog recently and remembered these Bakery-Style Soft Pumpkin Cookies, which are more of a pumpkin sugar cookie type cookie. There is nothing wrong with them at all – in fact, I think they are pretty amazing, but I wanted even more pumpkin cookies.
What I came up with is a little different than your typical pumpkin cookie, but I'm pretty sure I could have eaten a dozen of these myself if I didn't have plans to give them away. These are going to become a fall baking staple!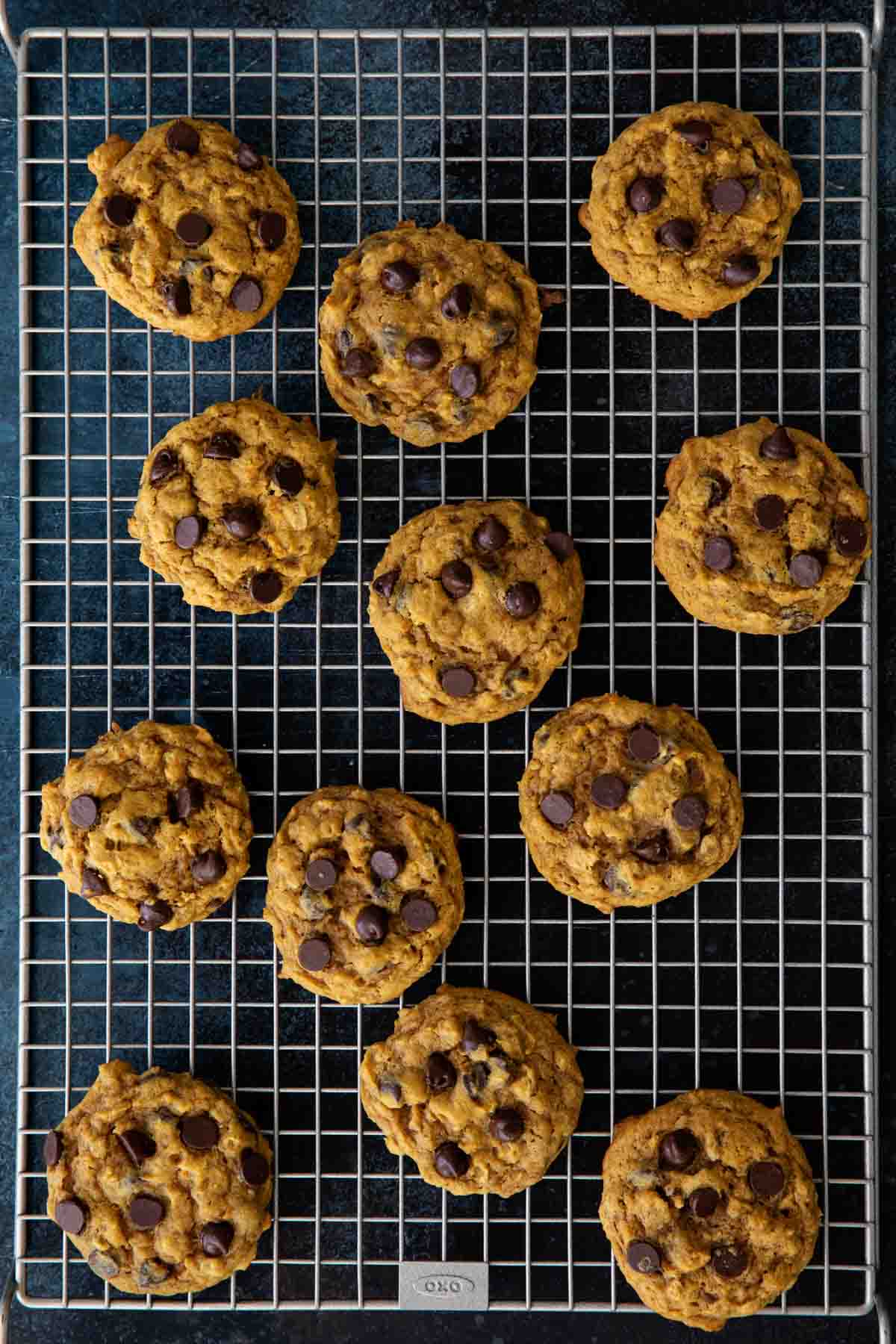 Ingredients
Butter: I use unsalted butter. Make sure it is softened.
Brown Sugar: You'll want light brown sugar, although dark brown sugar would give these some great flavor, too!
Pumpkin: If you are using canned pumpkin, you will need half of a 15 oz. can. You can use homemade pumpkin puree, but I'd suggest letting the pumpkin drain first, as it will sometimes be a lot wetter than canned pumpkin.
Egg: For best results, make sure your egg is at room temperature.
Vanilla: I like to use pure vanilla extract.
Flour: Make sure you spoon and level the flour when measuring. Do not just scoop. If you prefer to go by weight, you will need 300 grams of flour.
Oats: I like to use old fashioned oats. I have not tested this recipe using quick oats.
Cinnamon and Pumpkin Pie Spice: This might seem strange to call for both since pumpkin pie spice already has cinnamon in it. But I love to up the cinnamon flavor. Feel free to play with this, though, and make them your own!
Baking Powder and Baking Soda: Yes, you'll need both for this recipe!
Salt: Always important to balance the flavors.
Chocolate Chips: I will usually use semi-sweet chocolate chips, but milk chocolate or dark chocolate would be great, as well!
Frequently Asked Questions
What Makes These Pumpkin Chocolate Chip Cookies Different than Other Pumpkin Cookies?
I love the traditional puffier type pumpkin cookies, but I decided I wanted something a little bit more cookie-like. If you've had the traditional pumpkin cookies, you know they are more cake like. But I wanted a chewier pumpkin cookie.

And the solution? Oats! The oats bring in some more texture, some more chew, making these cookies a bit more sturdy. They are a perfect mix of pumpkin cookies and oatmeal cookies.
How Do You Know When Pumpkin Cookies are Done?
Most recipes will give you a baking time, but it's best to just look at this as a guideline. Many things can affect this number to be incorrect, including oven temperatures and size of the cookies.

I always make sure to watch the first batch of cookies carefully, taking them out when they are done and keeping track of that time for any additional batches.

But how do you know when they are done? With cookies, you can tell just by looking at them. They should be just slightly browned on the edges and the middle should look almost done, but not completely. The middle should look just slightly wet. The cookies will continue to set up and bake as they sit on the baking sheet after you take them out of the oven, so you'll want to take them out when they are just barely undercooked.

If the edges are too dark and the middle too undercooked, you'll want to adjust your temperature down just a bit. And if they still aren't cooked within the estimated time, you may need to turn your oven up a bit. This is a time when it might be a good idea to invest in an oven thermometer to see just how accurate your oven temperature is.
What if my cookies aren't spreading out at all?
This could be a flour issue, so try reducing the flour slightly next time. If you are already baking your cookies and they aren't spreading, try flattening out the ball of dough before you put them into the oven.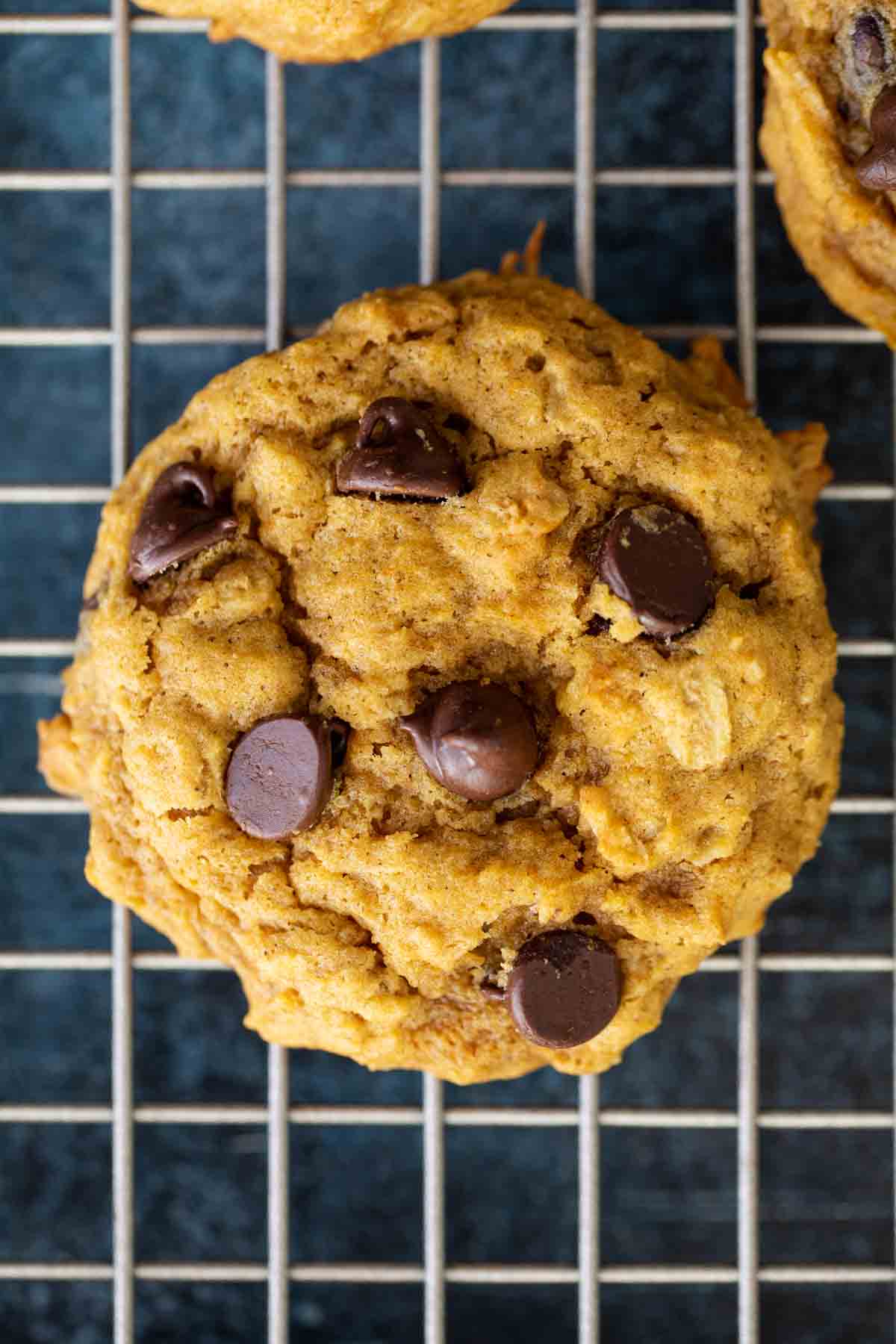 Storage and Freezing
This recipe makes a good amount of cookies, so if you don't need as many, you can freeze the cookie dough. To do this, scoop the dough out into balls and place them close together on a baking sheet. Place that baking sheet in the freezer until the balls are frozen, then you can transfer them to a ziptop bag. For all the details on freezing cookies and cookie dough (and how to thaw them after!), check out my post on How to Freeze Cookie Dough.
Any leftover cookies should be stored in an airtight container at room temperature for up to a week.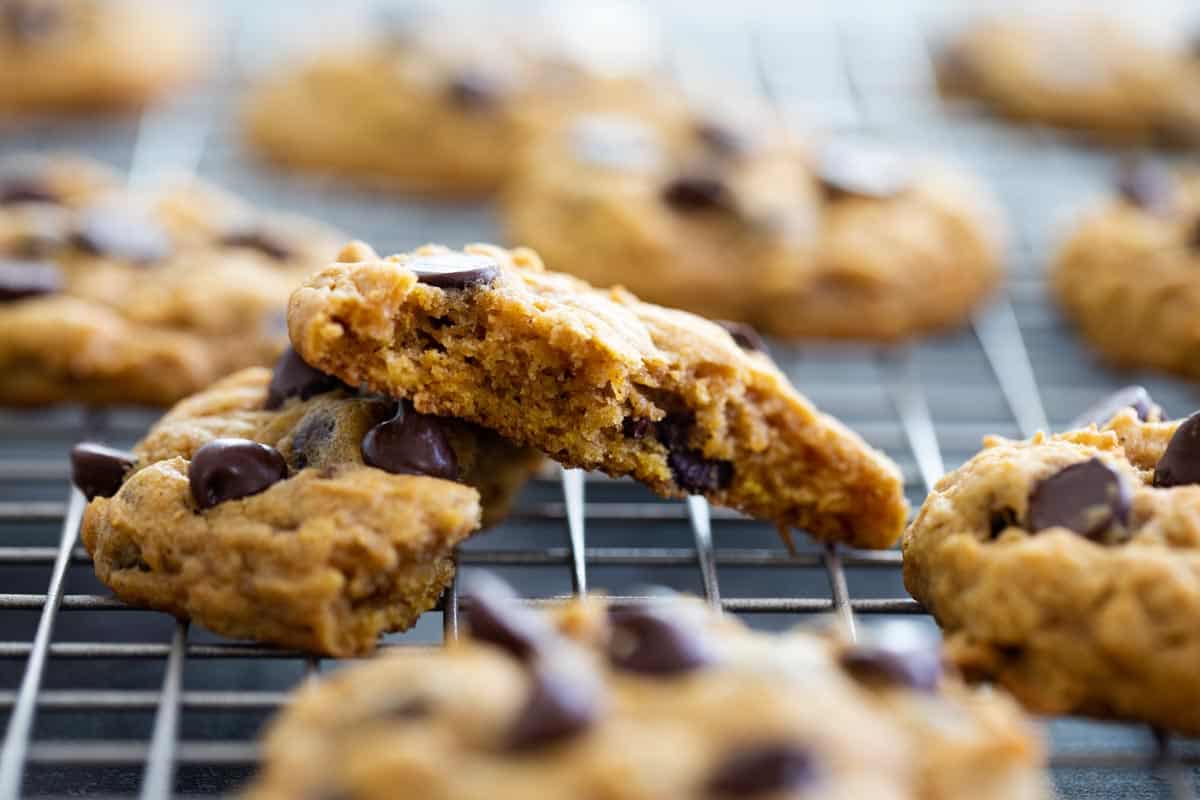 More Pumpkin Recipes You Need
Easy Pumpkin Muffins with Chocolate Chips
Quick and Easy Pumpkin Cupcakes
Pumpkin Cheesecake with Caramel Sauce
Pumpkin Cobbler
Pumpkin Cake with Cinnamon Cream Cheese Frosting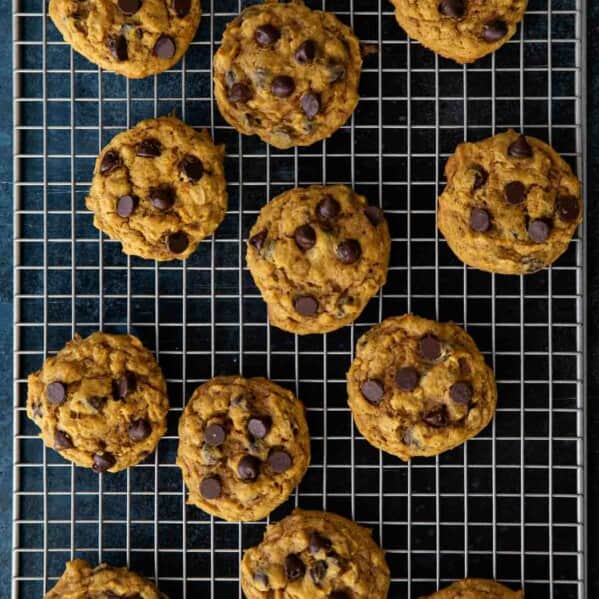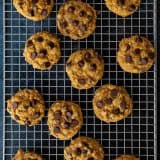 Oatmeal Pumpkin Chocolate Chip Cookies
---
Author:
Prep Time: 15 minutes
Cook Time: 10 minutes
Total Time: 35 minutes
Yield: 32 cookies 1x
Category: Dessert
Method: Bake
Cuisine: American
Description
The perfect taste of fall, these Oatmeal Pumpkin Chocolate Chip Cookies are filled with hearty oats, fall spices, and plenty of pumpkin flavor.
---
Scale
Ingredients
3/4 cup butter, softened
1 1/2 cups brown sugar
7.5 oz pumpkin puree (1/2 of a 15 oz can)
1 egg
1/2 teaspoon vanilla extract
2 1/2 cups all-purpose flour
1 cup old fashioned oats
1 teaspoon ground cinnamon
1 teaspoon baking powder
1/2 baking soda
1/2 teaspoon pumpkin pie spice
1/2 teaspoon salt
1 cup chocolate chips
---
Instructions
Preheat the oven to 350ºF.
In the bowl of a stand mixer, combine the butter and brown sugar and beat until creamy. (You can also do this by hand, but it will take a bit more work.)
Add the pumpkin, egg, and vanilla extract and beat until combined. It may look a little curdled at this point – just make sure it is all combined.
In another bowl, combine the flour, oats, cinnamon, baking powder, baking soda, pumpkin pie spice and salt.
Add the dry ingredients to the butter mixture and beat until combined. Add the chocolate chips and fold into the batter.
Drop 2 tablespoons of batter onto a baking sheet lined with parchment paper or a silpat liner, leaving at least 2 inches between each of the cookies.
Bake in the preheated oven until the edges are lightly browned and the middle is still a bit soft, about 8-10 minutes.
Remove from the oven and let them sit on the baking sheet for a couple minutes before removing to a cooling rack to cool completely.
Recipe Notes:
Nutrition information provided as an estimate only. Various brands and products can change the counts. Any nutritional information should only be used as a general guideline.
Nutrition
Serving Size: 1 cookie
Calories: 160
Sugar: 14 g
Sodium: 77 mg
Fat: 7 g
Saturated Fat: 4 g
Unsaturated Fat: 1 g
Trans Fat: 0 g
Carbohydrates: 24 g
Fiber: 1 g
Protein: 2 g
Cholesterol: 17 mg
Keywords: pumpkin chocolate chip cookies