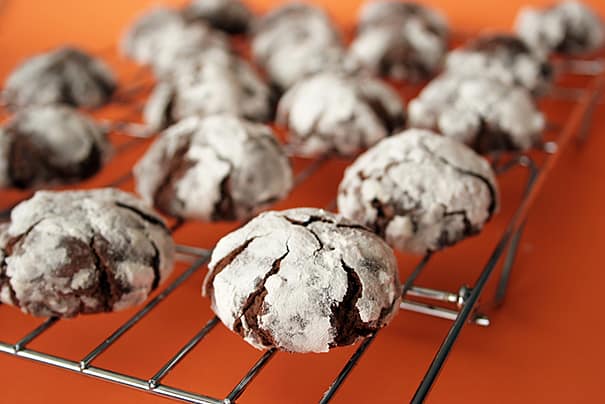 There are some cookies that I automatically associate with Christmas. Cookies like Stained Glass Cookies and Candy Cane Cookies. And I've always thrown Chocolate Crinkles into that category, too. I don't know why – maybe it's their "snowy" look. Well, the last couple of years, I've been really bad about making holiday cookies. I've had plenty on my list, but other things have always come up. Chocolate Crinkles have always been on my "want to make" list, but I never have gotten around to making them.
Until recently. It wasn't Christmas. In fact, the holidays were long gone and and I decided that these cookies didn't have to be reserved just for the holiday season! And I am so glad that I finally made these – they were delicious!!
And now that the weather has finally warmed up outside and the flowers are blooming, (and we even got our garden planted this past weekend!), I'm going to say that there really is no bad time of year for these cookies. I can guarantee that I'll be whipping up a batch of them to enjoy on a warm summer night!
Chocolate Crinkles
adapted from Field Guide to Cookies
makes about 4 dozen cookies
6 ounces semisweet chocolate, roughly chopped
1/4 cup plus 2 tablespoons unsalted butter, softened
1/2 cup sugar
2 eggs
1 teaspoon vanilla extract
1 1/2 cups all-purpose flour
2 tablespoons cocoa powder
3/4 teaspoon baking powder
1/4 teaspoon salt
confectioners' sugar, for rolling
Melt Chocolate and Butter in a bain marie/double boiler or a metal bowl over a pot of simmering water, stirring occasionally until evenly melted.
Remove from heat and set aside.
In a mixing bowl, beat sugar and eggs on medium speed for several minutes until thick and smooth.
Add the vanilla extract and melted chocolate mixture, and beat on medium-low until combined.
Sift flour, cocoa, baking powder and salt into a bowl.
Add flour mixture, and mix until combined.
Cover dough and chill in refrigerator for about 2 hours or until firm enough to scoop.
Preheat oven to 325°F.
Line cookie sheet with parchment paper or silicone baking mats.
Roll 1-inch balls of dough in confectioners' sugar, coating completely.
Bake for 8 to 10 minutes, rotating sheets halfway through, until they just start to feel firm.
Cool sheets on wire racks for about 5 minutes before transferring cookies directly to wire racks with a metal spatula to finish cooling.