Photo Updated February 2013
I've made my fair share of banana bread and banana muffins. I love them both, but sometimes you are just in the mood for something different. I had some overripe bananas, and for some reason, I couldn't get the thought of banana cookies out of my mind. Strange, because I don't think I have ever had a banana cookie before!! I searched the internet and found many, many recipes, and surprisingly, for the most part, they were all similar. I decided to go with a recipe from allrecipes.com (surprise, right?? since that is where so many of my recipes come from!!) From the reviews, I figured that these cookies would be more cake-like than regular cookies – kind of like the texture of a pumpkin cookie. I went for it – they were super easy, and although they are not something I would crave all of the time, they were very good. I cut the chocolate chips from 2 cups to 1 1/2 cups because I wanted the banana to be the star, but if I were to make these again, I would maybe even cut them back a little further but use mini chocolate chips so they would be more evenly distributed.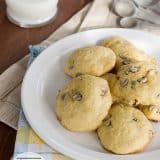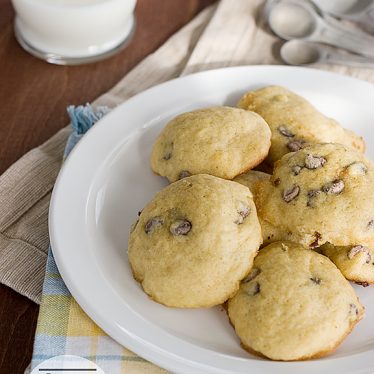 Banana Chocolate Chip Cookies
---
Prep Time: 15 minutes
Cook Time: 12 minutes
Total Time: 35 minutes
Yield: 2-3 dozen cookies 1x
Description
Easy banana cookies made from ripe bananas.
---
Scale
Ingredients
2 1/2 cups all-purpose flour
2 teaspoons baking powder
1/2 teaspoon salt
1/4 teaspoon baking soda
1 cup brown sugar
2/3 cup butter, softened
2 eggs
1 teaspoon vanilla extract
1 cup mashed bananas
1 1/2 cups semisweet chocolate chips
---
Instructions
Preheat the oven to 400F. Grease cookie sheets and set aside.
In a bowl, combine the four, baking powder, salt, and baking soda. Set aside.
In another bowl, cream together the sugar and butter. Add the eggs. Beat in the vanilla and mashed bananas. Stir in the dry ingredients until combined. Fold in the chocolate chips.
Drop the dough by spoonfuls onto the prepared cookie sheets. Bake for 10 to 12 minutes, or until starting to brown on the edges.
—————————
from allrecipes.com