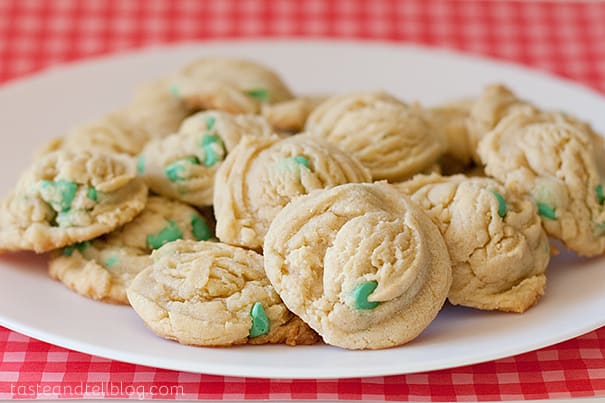 I hope all of you that celebrated the holiday last week had a wonderful Thanksgiving. I know mine was so good that I decided to take the rest of the week off from blogging! It was nice to have a little break, but now I'm back!!
Since I didn't post on Friday, I missed my Cookbook of the Month recipe for last week. I actually made a pie from this month's cookbook, but I didn't manage to take a picture on Thanksgiving. It was delicious, though, so I need to make another sometime to share with all of you.
We have been on a cookie kick lately. (Actually, I think we are always on a cookie kick!) I saw this recipe for these pudding cookies, and wanted to make them. I think that I have made a similar cookie in the past, and I remembered them being good, and they were easy, so I thought I'd give them a try. These are basically just a chocolate chip cookie, but the pudding mix really helps to soften the cookies. In fact, days later, these cookies were still not even close to hard! So if you like soft cookies over crispy cookies, these are definitely the cookie for you. My husband didn't care for the mint chips that I used, but I loved them! But beware if you make this recipe – it makes a TON of cookies. Luckily, I halved the recipe, but I still ended up with way too many cookies!
Recipe Rating: 4.25 out of 5
Pudding Cookies
from Recipes from River View
Makes about 8 dozen cookies
1 cup butter
1 cup shortening
1 1/2 cups sugar
1 1/2 cups brown sugar
3 eggs
3 teaspoons vanilla
5 1/2 cups flour
1 1/2 teaspoons salt
1 1/2 teaspoons baking soda
1 large box instant vanilla pudding, or 2 small boxes
1 pkg. chocolate chips or other chips
Preheat oven to 375F.
Cream together butter, shortening, sugars and eggs until well mixed. Add the vanilla, flour, salt, baking soda and pudding mix. Mix well. Add in the chocolate chips.
Bake for 8-10 minutes or until slightly browned on top.