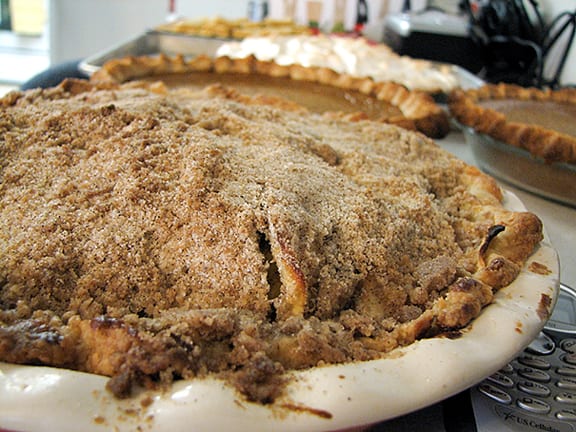 Instead of one big Thanksgiving post, this is actually going to turn into 3 posts!! See – I'm only busy at work for about 1 week every month. Well, that week happens to be this week. And I do about 90% of my blogging and reading of blogs while I am at work. Call me a bad employee, but really, I don't have a whole lot to do the other 3 weeks of the month. Combine the Daring Bakers Challenge post (trying to visit all of the 300+ posts) and my busyness at work, it's been hard to write my posts. And I like to try to stay off of the computer as much as possible when I am home at night, because a girl can only sit in front of a monitor so much every day before she goes crazy!! And I can't break NaBloPoMo, since this is the last week – so only one pie today – and I the other tomorrow.
So here's the first of 2 pies I made for Thanksgiving. This is my all-time favorite pie. One of the only ones that I have made multiple times. The only factor that changes every time is the crust – I am always trying new crusts. I'm not sure why – I really like my mom's recipe, but I have tried a few different ones to see if there is anything better out there. This year, I wanted to try the crust that seems to be all the rage this year – the foolproof vodka crust from Cook's Illustrated. I first saw it on Serious Eats, then Deb at Smitten Kitchen used it as well. What did I think of it?? Well, it tasted great. It was very flaky – the perfect pie crust in that sense. The downfalls, though – first of all, it really shrunk on me. You can barely see the crust peeking out in the photo above. Secondly, it is super sticky and hard to work with. If you were doing a double crust pie, this would be a really hard pie crust to do it with. Since I only had the bottom crust, it was manageable. I did par-bake it before adding the filling.
I found this recipe on allrecipes.com, and many of the reviewers seem to like the crumb topping to be less crumb and more melty-gooey-buttery. I like the crumb. So in order to make sure it keeps it crumbly texture and doesn't melt all over the place, make sure when you cut the butter in that you do it very fine. It should look pretty much the same going onto the pie as it does when the pie is finished baking. Oh yeah – I really like the crumb, so in my version, there's a lot more crumb on top than in the original version.
Sour Cream Apple Pie
adapted from allrecipes.com

1/2 recipe of Foolproof Pie Dough
2 tablespoons all purpose flour
1/4 teaspoon salt
3/4 cup sugar
1/4 teaspoon ground nutmeg
1 egg
1 cup sour cream
1 teaspoon vanilla
3 cups apples, peeled and sliced
1/2 cup all purpose flour
1/2 cup sugar
1 1/2 teaspoons cinnamon
3 tablespoons butter
Stir together 2 tablespoons flour, salt, 3/4 cup sugar and nutmeg in bowl. Combine egg, sour cream and vanilla in another bowl; mix well. Add egg mixture to dry ingredients; mix well. Stir in apples and spoon mixture into unbaked or par-baked pie shell (depending on preference).

Bake in a preheated 400 degree F (205 degrees C) oven 15 minutes.

Reduce temperature to 350 degrees F (175 degrees C) and bake 30 minutes more. Remove pie from oven. Increase temperature to 400 degree F (205 degrees C).

Prepare cinnamon topping and sprinkle over pie. Return to oven and bake 10 minutes more. Cool on rack.

To Make Cinnamon Topping: Combine 1/3 cup sugar, 1/3 cup flour and 1 teaspoon ground cinnamon in bowl. Cut in 2 tablespoons butter or regular margarine until crumbly, using a pastry blender.