Short on time? This Skillet Pasta with Sausage is made in one pan and is ready in no time at all.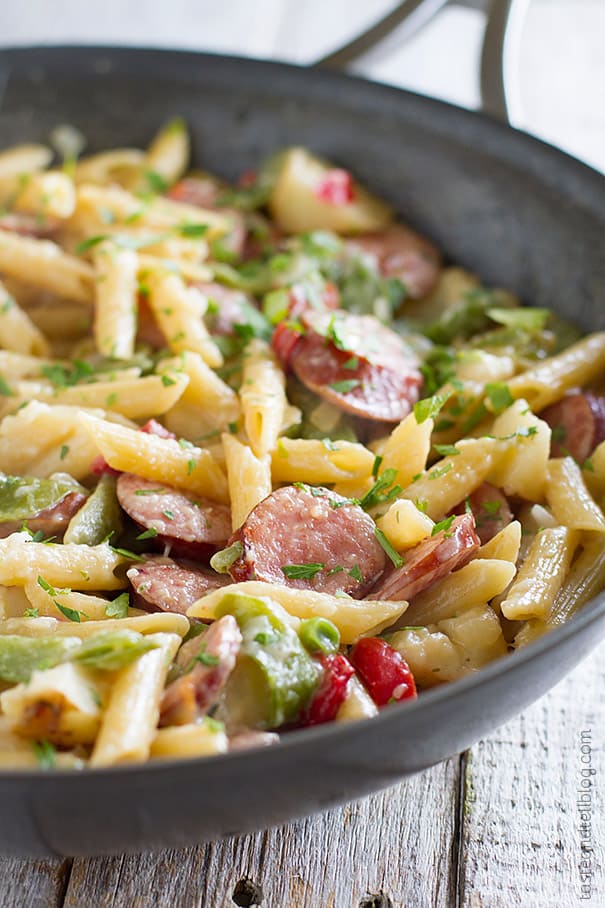 As I was making dinner last night, I just kept thinking to myself just how much I enjoy cooking. I'm pretty lucky that I get to cook for a living, doing what I love to do every day. And the majority of the time, that time in the kitchen is my favorite part of the day.
But there are definitely days when I just don't want to cook. Days when the kids are crazy (oh wait – that's every day!) or days when we have been out all day and are exhausted. And honestly – sometimes I just want to take a day off.
For those days, I like to have a few favorite recipes that come together in a snap and that take only a few ingredients. Recipes that I know my family will eat. Last week, I shared our favorite mac and cheese, and today, I'm back with another family favorite that I decided to add a little something special to.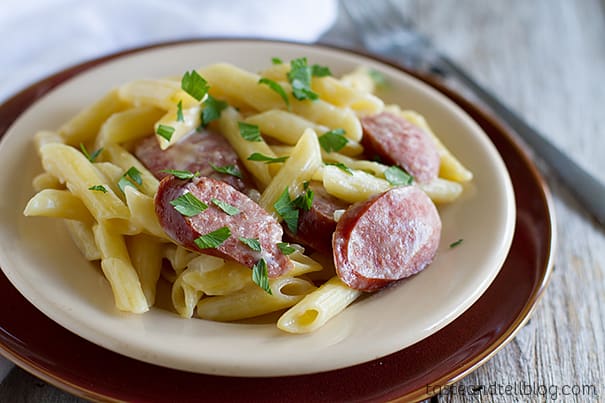 Skillet Penne with Sausage. My family actually loves this dish. And I love it because not only do they eat it, but it's made in one pan, which means less clean up for me. Winner!! But as you can see in the photo above, it's really not anything special.

Luckily, it's super easy to jazz up into something incredible. With the help of Green Giant Valley Fresh Steamers!! This time around, I chose the Green Giant Garden Vegetable Medley, but really, there are so many varieties of the Green Giant Valley Fresh Steamers that would work well in this dish.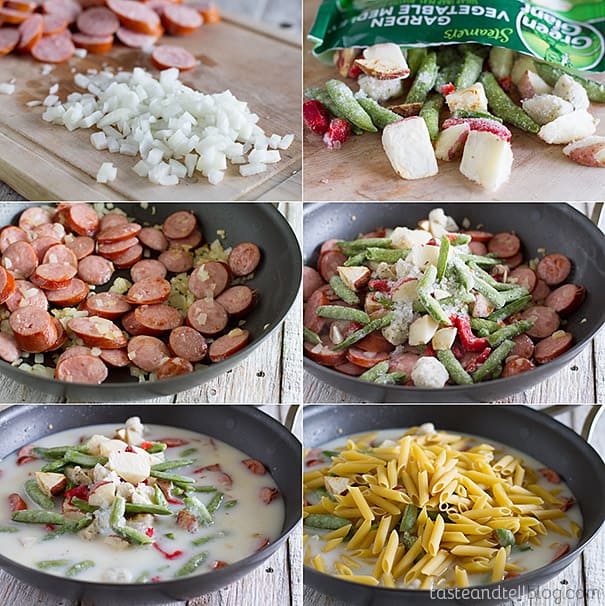 This dinner idea is so super simple. I use smoked sausage to make it fast, since it's already fully cooked. And yeah, I love the way it tastes!  All you do it brown it up, add in the veggies, some liquid and the pasta, and then cook it all together.  My family loves penne pasta, bur I really think any short cut pasta would work well.  You'll need to cover the pan that it cooks in, so if your pan doesn't have a lid (mine doesn't), you can just use a baking sheet as a lid.
Once all the liquid is absorbed, it forms just enough of a sauce to cling to the noodles and add lots of flavor.  The Green Giant vegetables add a whole new layer of flavors.  And I don't know who loved this more – my kids or my husband.  There wasn't a noodle left when dinner time was over!
You can get even more dinner inspiration on the Green Giant website.
Come and join me for a Twitter chat next Tuesday, September 16th at 8pm ET to discuss all kinds of time saving tips in the kitchen!! Gina Neely will be leading the chat, talking all about different ways to keep control of those busy nights, and giving some great ways to get some more veggies into your kids! And let me know in the comments if you have any questions you'd like Gina Neely to answer!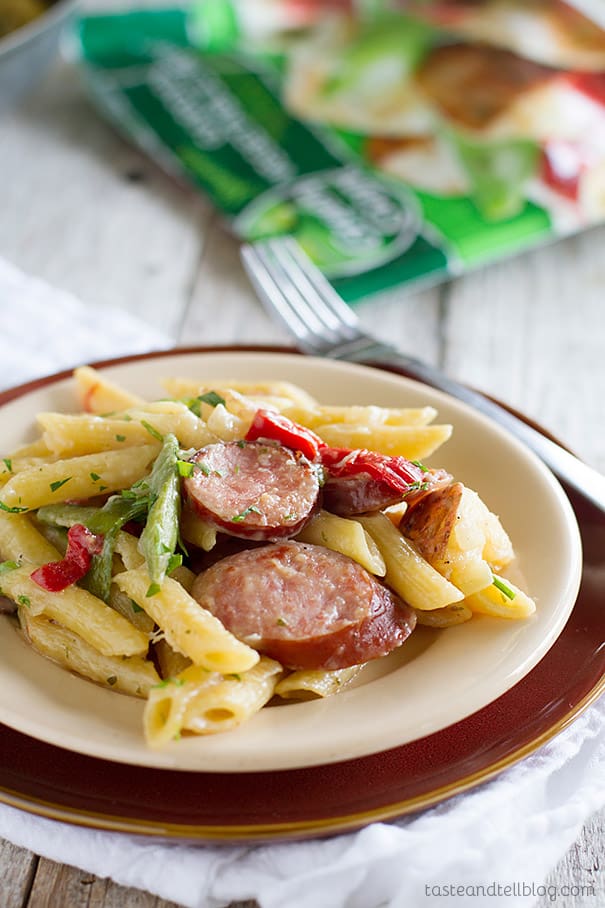 Like what you see here? Make sure you are following Taste and Tell for more great recipes and ideas!!

Facebook ** Pinterest ** Twitter ** Instagram ** Google+
or you can subscribe to my newsletter or Feedly or Bloglovin


Skillet Pasta with Sausage
Short on time? This Skillet Pasta with Sausage is made in one pan and is ready in no time at all.
Ingredients
1 tablespoon olive oil
14-16 oz fully cooked smoked sausage
½ cup diced onion
1(12 oz) package Green Giant Garden Vegetable Medley
2½ cups chicken broth
½ cup milk
8 oz dry penne
salt and pepper
½ cup grated parmesan cheese
chopped parsley
Instructions
Heat the olive oil in a large skillet over medium-high heat. Add the sausage and onion and cook until browned and softened, about 3-5 minutes. Add in the Green Giant Vegetables, chicken broth and milk, then stir in the penne.
Cover and cook until the pasta is al dente, about 15 minutes. Stir and season to taste with salt and pepper. Sprinkle the top with parmesan cheese and parsley.
I am in a working relationship with Green Giant, and this post has been sponsored. I'm so glad to be able to work with companies and organizations that I truly believe in. Thank you for supporting them, too.