Fresh basil and pimientos make up the basil cream sauce that is served over crispy chicken. This Chicken with Basil Cream Sauce is a great end of summer supper!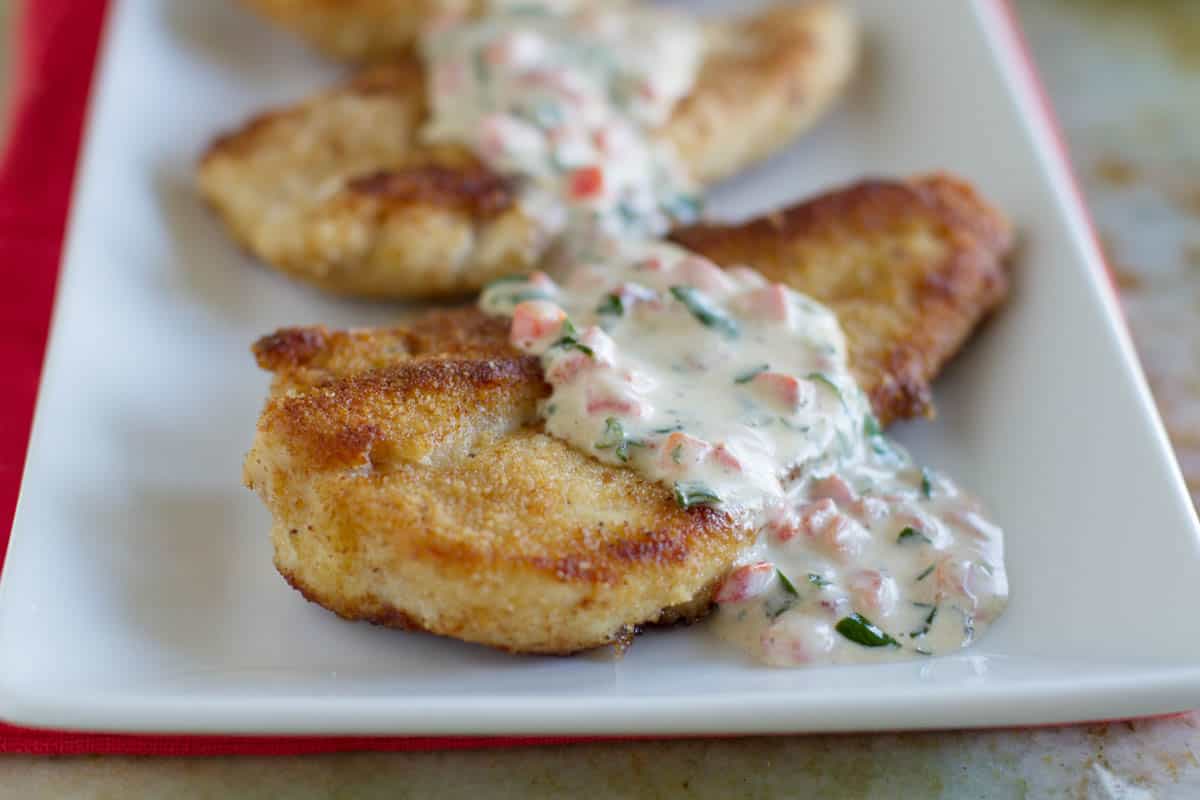 So, we have a snail problem. It's crazy. They are all over the place here where we live. For the most part, they stay in the dirt, but sometimes they will venture out over the driveway or onto the patio. I know that they aren't good for plants (I guess it's one time when it's good that we don't have a garden), and they have wreaked havoc on a few of our plants and a spot in the grass.
The kids like to play with them sometimes, but they gross me out, so I stay away. No thank you.
Although I don't have a garden, I do have a few herbs in pots in the backyard. I had this Chicken with Basil Cream Sauce on the menu, so I went and cut off some from my plant. I wasn't paying too much attention to the basil because I had a child in one arm and was trying to gather basil with the other hand. I took the basil inside, set it in the kitchen sink, and went back to cooking.

The cooking went off without a hitch. I cleaned the basil for the dish, leaving the extra in the sink. As I cook, I have to clean up after myself because I have so little counter space, and whenever I clean a cutting board, I set it standing up behind the sink to dry.
I was just about finished when I looked up, and there it was. A snail. In my kitchen. On my clean cutting board.
At first, I was really confused about how it got there – thinking that maybe one of the kids brought it in somehow, even though they had never done that before. But then I looked down and saw that basil in the sink. I'm pretty sure that little guy hitched a ride in on my basil. Ewww.
Luckily, my daughter was willing to get rid of the snail for me, and luckily the snail didn't make it onto any of the food. Because I would have been quite disappointed to miss out on this meal.
With the official start of fall right around the corner, (only a week left of summer, people!), this is a great way to transition from summer to fall. I'm trying to enjoy my herbs as much as possible before the frost hits and takes them all from me.
This chicken is simple – thin chicken breasts coated in breadcrumbs and then cooked until golden brown. But the real magic is in the basil cream sauce. Only a few ingredients, but it really packs a punch of flavor. And I'd have to say that it's a beautiful dish, as well – perfect for end of summer entertaining. We ate every single bite of this meal – not a crumb left over!
Just make sure you don't have any hitchhikers from the garden!
More Uses for your Fresh Basil:
Turkey Sub with Artichoke and Basil
Tomato and Basil Bake
Margherita Chicken
Tomato Basil Soup
Grilled White Pizza Recipe with Basil and Bacon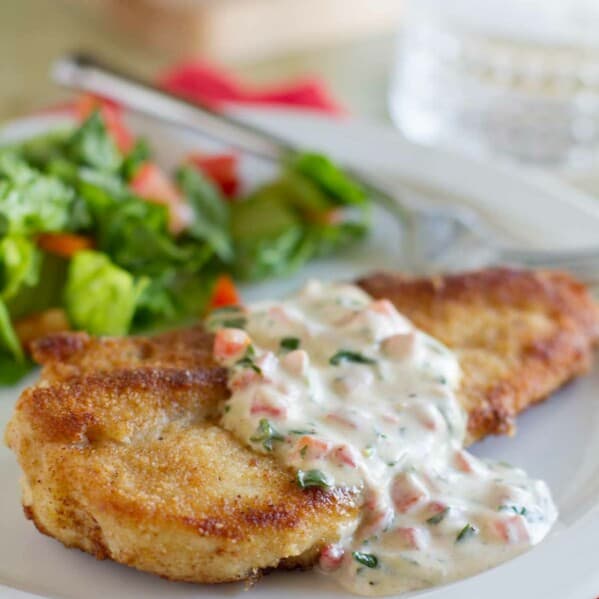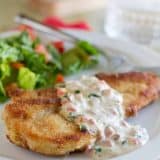 Chicken with Basil Cream Sauce
---
Author:
Prep Time: 10 minutes
Cook Time: 20 minutes
Total Time: 30 minutes
Yield: 4 servings 1x
Category: Main Dish
Method: Stove Top
Cuisine: American
Description
Fresh basil and pimientos make up the basil cream sauce that is served over crispy chicken. This Chicken with Basil Cream Sauce is a great end of summer supper!
---
Scale
Ingredients
2 tablespoons butter
1/4 cup milk
1/2 cup plain bread crumbs
2 boneless, skinless chicken breasts, 8-12 oz each, cut open lengthwise into 4 thinner pieces
1/2 cup chicken broth
1 cup heavy whipping cream
1 jar (4 oz) chopped pimientos, drained
1/2 cup grated Parmesan cheese
1/4 cup minced fresh basil
freshly grated pepper
---
Instructions
Preheat the oven to 170°F.
Melt the butter in a large saucepan over medium heat.
Place the milk in a shallow dish. Place the breadcrumbs in a second dish. Dip each of the pieces into the milk, then into the breadcrumbs. Transfer to the skillet and allow to cook until browned on both sides and cooked through, about 5 minutes per side. Transfer the chicken to a cooling rack placed over a baking sheet and keep warm in the oven.
Add the broth to the skillet. Bring to a boil and whisk to bring up the browned bits off the bottom of the pan. Add in the cream and the pimientos. Cook until slightly thickened. Reduce the heat, then add the Parmesan cheese and basil. Season to taste with pepper.
Serve the basil cream sauce over the chicken.
Keywords: basil cream sauce, crispy chicken