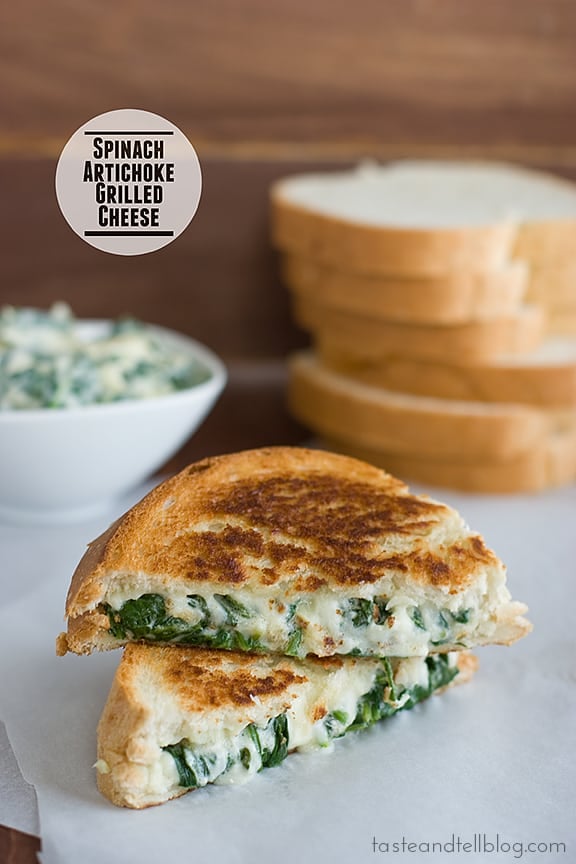 Someone please tell me that the calendar is wrong and that it isn't already the last week of April. Because, seriously. It can't be.
I can't believe it's the end of National Grilled Cheese Month, and I haven't even shared one single grilled cheese sandwich this month. It's a travesty.
Thank goodness we still have a few days left, and I've got 2 grilled cheese sandwich recipes up my sleeve. I almost forgot about them, because I created them a little while back for Grate. Pair. Share. – an amazing online magazine put out by my friends at the Wisconsin Milk Marketing Board. This sandwich, along with another that I will share with you tomorrow, are in this online issue that is stuffed full of amazing grilled cheese sandwiches. Seriously – the creativity is off the charts.
And this sandwich – well, I could probably eat it every day and still get excited about it. It really was the perfect combination of flavors. Kind of like spinach artichoke dip, but warmed in between two slices of buttered, toasted bread. Pure heaven, I tell ya.
So excuse me while I go off and make myself a sandwich for lunch. Grilled. With cheese. All in the name of celebrating!

Read the rest of this entry >>