An easy and versatile marinara sauce that is done in under 30 minutes. A great base for many other recipes!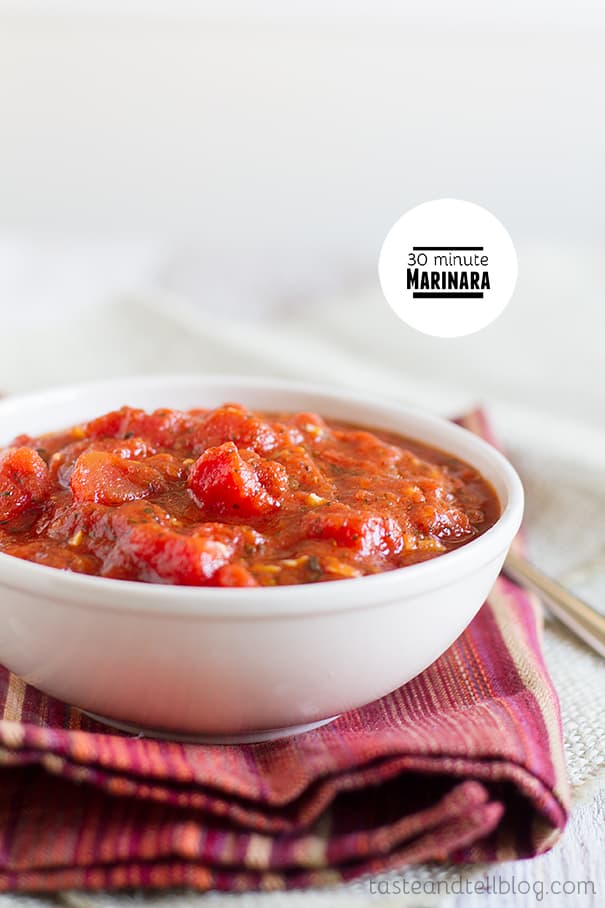 I could never be one of those extreme couponers. It just doesn't work for me. I tried doing the whole coupon thing many years ago, but I ended up buying a bunch of stuff that I don't normally use, and ended up having to throw a bunch of it out years later, after it expired and I realized I wasn't ever going to use it.
But I think that there is a deeper issue there. I don't like having a lot of stuff. This is going to sound totally crazy, but I don't like having my cupboards stuffed full and the pantry over flowing. It stresses me out. I'm a menu planner, and I have to have my meals planned out ahead of time. I'm not good at the whole – let's see what we have in the pantry and make something from there. I buy what I need, and by the time the week is over, I like for the shelves to be empty – ready for a new week.
But – that being said, I do have a few staples that I know I will always use up. Flour, sugar, chocolate chips, canned tomatoes, canned beans… I know I will always get through these things well before their expiration dates come up.
Read the rest of this entry >>