This simple white pizza recipe is made on the grill and topped with mozzarella, ricotta, and lots of salty bacon.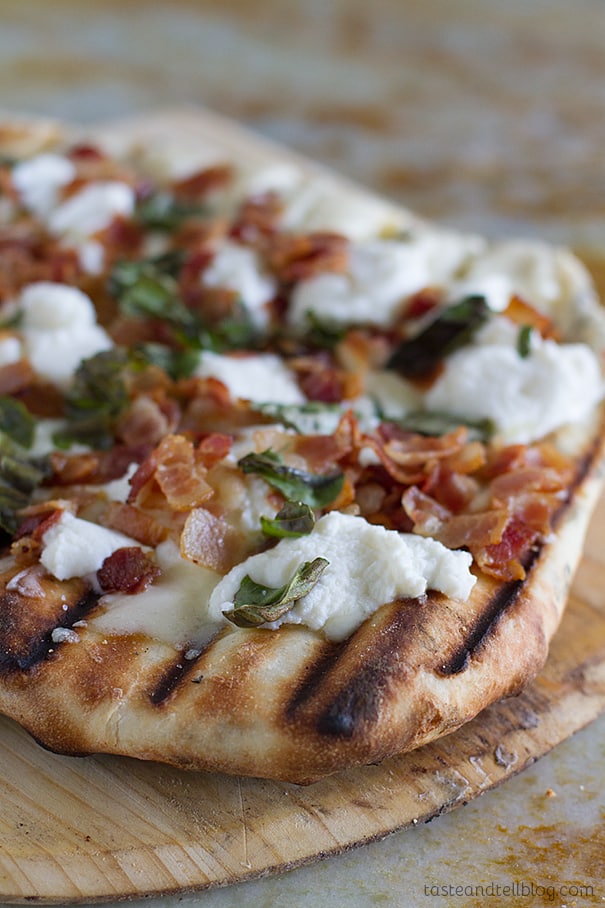 This post has been sponsored by Jones Dairy Farm.



We are to that time of year when you start hearing complaints about the heat. And it's true. It's hot outside.
I will be completely honest and tell you that most of the time, it doesn't really bother me. I'm inside most of the time, avoiding the heat as much as I can. But when I do have to venture outside, I know that it's hot.
I will also admit that I totally turn the oven on all summer. I'm lucky. I live in a house with central air, and that air conditioner works pretty amazingly well, and normally, it's not that bad when I turn the oven on. I know. I'm spoiled. 🙂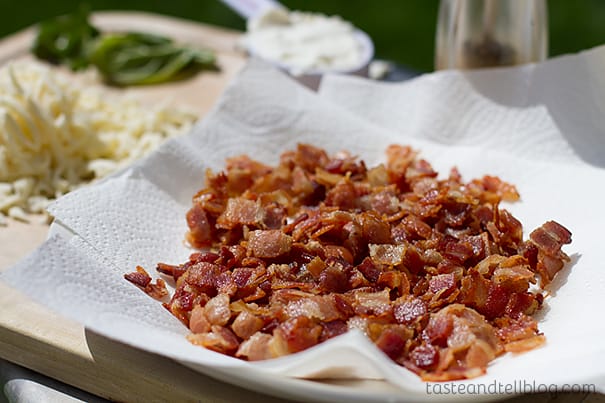 But I hear lots of complaints about turning on the oven in the summer, and I hear you. So I decided that I would bring you all a recipe that you could take outside and leave the oven off. I love grilled pizza, I know a lot of people do, and it's been quite some time since I've brought you all a grilled pizza recipe.
So I prepared my ingredients for this white pizza recipe. And then I went outside to grill this baby.
And it was hot.
Not only was it in the upper 90s outside, but the grill was hot. The whole process was just hot. I didn't have any shoes on, and I even burned the bottom of my foot on a metal part of the door as I was going inside. At the time, I was thinking to myself that I was crazy. This whole grilling pizza in the middle of summer was just too hot.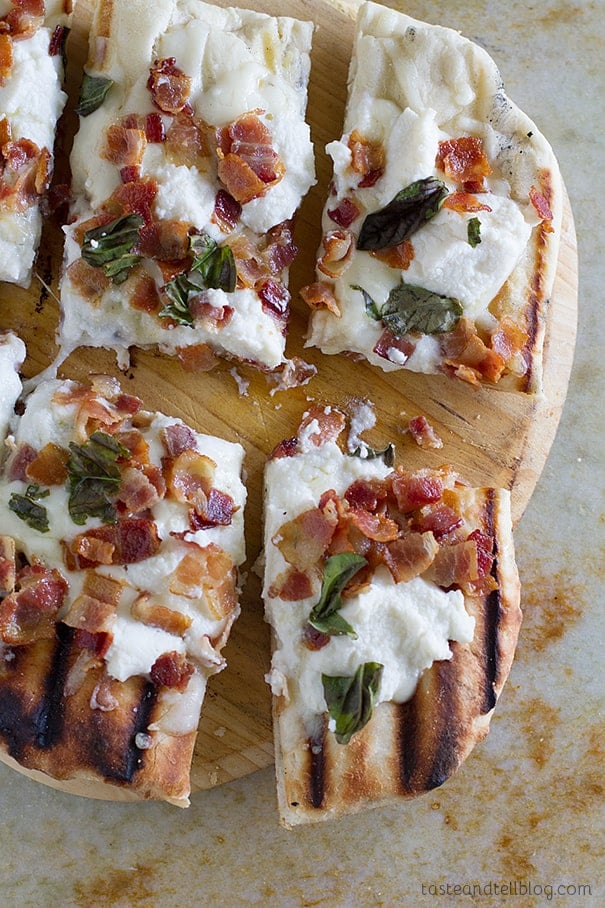 And then I went to make pizza for my kids. They are boring, and like plain cheese pizza, so I turned on the oven to let the pizza stone preheat. And let it heat up for 30 minutes like I always do. And then I baked pizza. It was at this point that I realized that even good central air is no match for a 500F oven.
My house was hot. And I was totally regretting not grilling their pizza as well.
I realized then that the 5 minutes in the heat outside definitely beat heating up the house. A complete lesson learned.
I will now be grilling all of my pizza from now until September.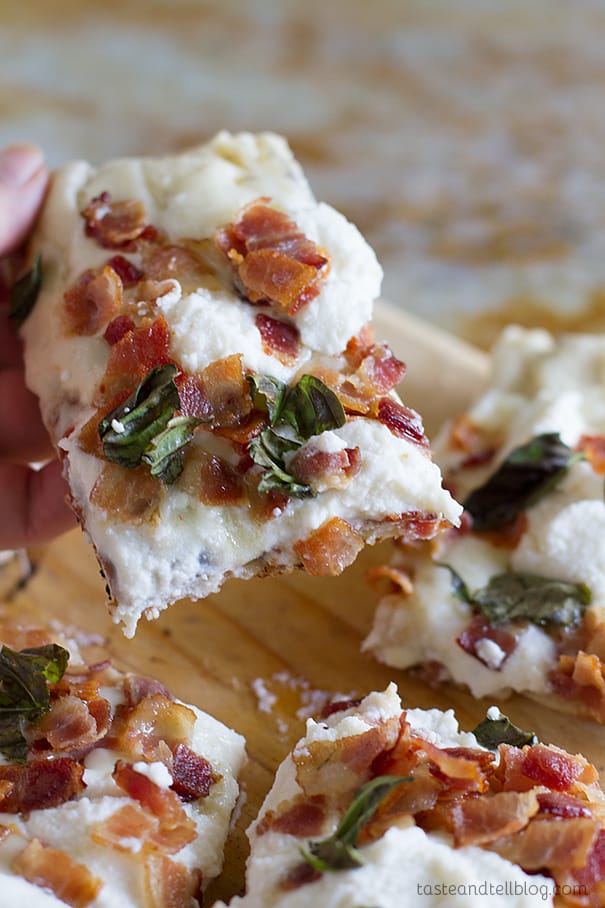 But really, there is something special about a grilled pizza recipe. Grilling pizza at home is the only way to try to replicate that pizzeria charred crust. And honestly, when it comes down to it, you are really only standing in the heat for minutes. Those minutes are totally worth it.
This is my favorite way to make a grilled pizza. You start by rolling out your dough on a piece of foil that has been sprayed with nonstick cooking spray. That way, it's easy to turn the dough out onto the grill. My biggest piece of advice is to make sure you have all of your ingredients prepped and ready, because this pizza cooks fast. When it's time to top the pizza, you need to be able to work quickly.
This pizza is a simple pizza. No sauce. But lots of cheese. (I love a good white pizza recipe!) And my favorite ingredient? The Jones Dairy Farm bacon. Cooked until crispy before it's added to the pizza, this bacon adds so much to this pizza – you don't want to skip it. In fact, I don't think you could ever go wrong adding Jones Dairy Farm bacon to your pizza!! Top it off with a little bit of fresh basil, and you have the perfect summer pizza. This is a white pizza recipe that you'll be glad to have!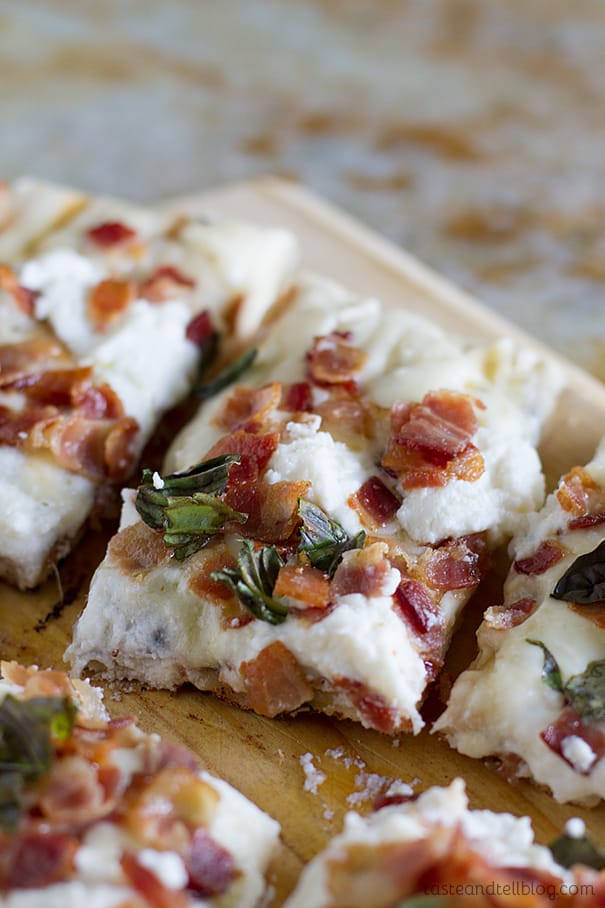 Like what you see here? Make sure you are following Taste and Tell for more great recipes and ideas!!

Facebook ** Pinterest ** Twitter ** Instagram ** Google+
or you can subscribe to my newsletter or Feedly or Bloglovin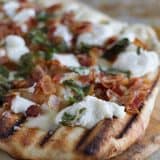 Grilled White Pizza Recipe with Bacon and Basil
---
Prep Time: 15 minutes
Cook Time: 15 minutes
Total Time: 30 minutes
Yield: 4-6 servings 1x
Description
This simple white pizza recipe is made on the grill and topped with mozzarella, ricotta, and lots of salty bacon.
---
Scale
Ingredients
1 lb pizza dough
1 tablespoon extra virgin olive oil
4 oz mozzarella cheese, shredded
1/2 cup ricotta cheese
handful of fresh basil leaves, torn
---
Instructions
Dice the bacon into 1/4-inch pieces. Heat a large skillet over medium-high heat and add the bacon. Cook until crisp. Drain on a paper-towel lined plate.
Heat a grill to medium heat. (All grill temperatures cook differently. Mine cooks very hot, so I put mine on low. With the lid closed, it shows a temperature of about 400F.) Grease the grates well.
Spray a piece of foil with nonstick cooking spray. Roll the pizza dough out on top of the foil. Use the foil and carefully flip the dough over onto the grill, removing the foil. Close the lid and grill until the bottom is browned and lightly charred, 3-5 minutes. Using tongs or a spatula, flip the crust over. Drizzle the olive oil over the crust and layer the mozzarella cheese, ricotta cheese, bacon and then basil leaves. Close the grill and continue to cook until the cheese is melted, another 3-4 minutes. Carefully remove from the grill and let sit for a couple minutes before slicing and serving.
**Thank you to Jones Dairy Farm for sponsoring this post. Because of sponsors like Jones Dairy Farm, I am able to bring you all of the recipes I feature here.**