Fast and easy – these French Dip Tortilla Roll Ups have all the flavors of a French Dip Sandwich, but rolled up into a tortilla instead! These are perfect for those weeknight dinners when you need to get something tasty on the table quickly.
Want more easy summer dinner ideas? I love these easy recipes – like Creamy Mac and Cheese, Taco Salad, and Chicken Lettuce Wraps. Because who wants to spend lots of time in the kitchen when there is so much fun to be had?!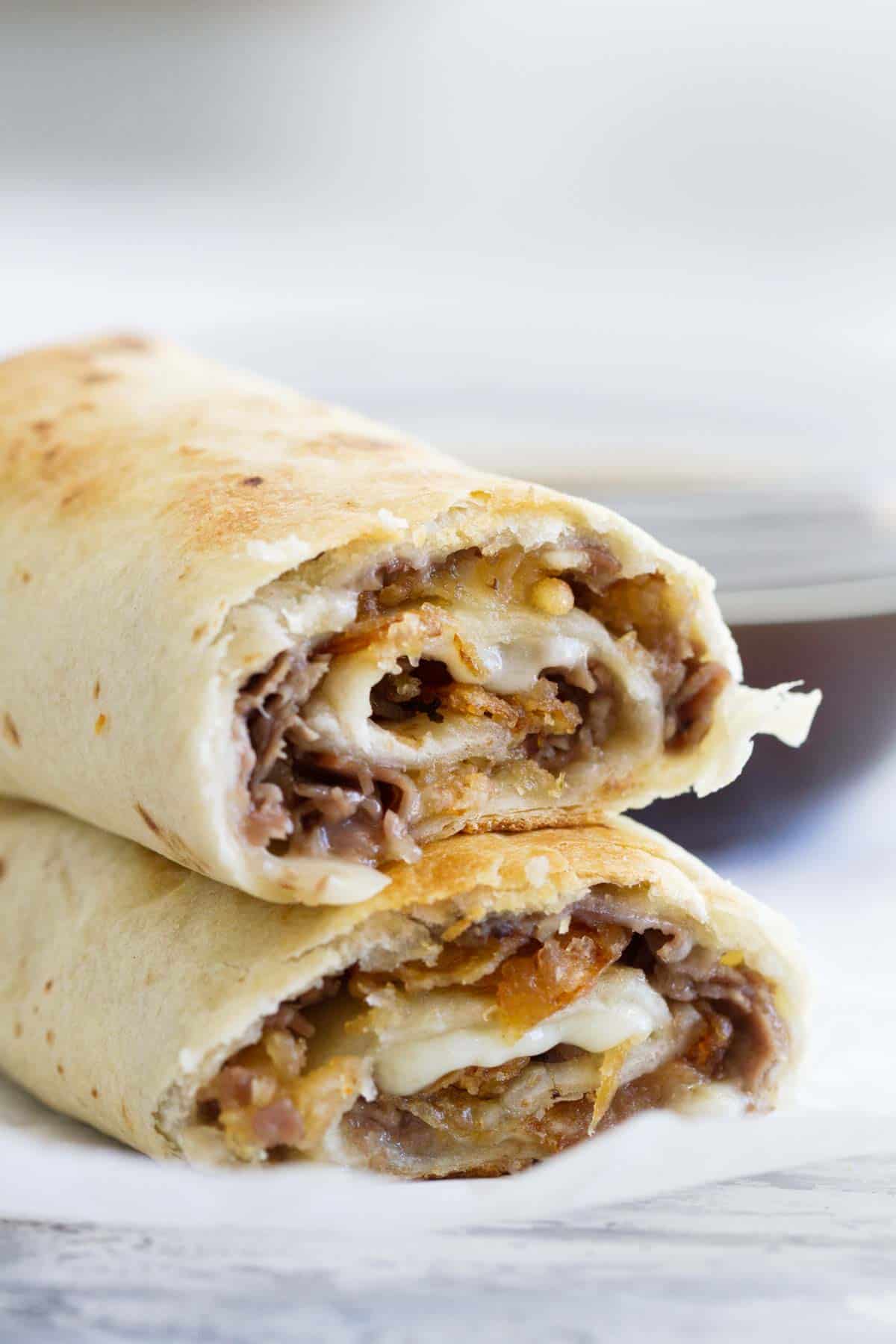 French Dip Tortilla Roll Ups
Easy summer recipes – that's all I'm allowing in my life lately. I'm trying really hard right now to make sure I have a home cooked dinner on the table most nights. Sometimes that means hot dogs, sometimes that means BLTs. And lately, that has also meant French Dip Tortilla Roll Ups.
I found a recipe for roll ups in an old cookbook quite some time ago (so long ago that I don't even remember where I saw it). Since then, I have been trying all kinds of different tortilla roll up recipes, looking for the perfect filling. Ladies and gentlemen, I think I found it with these French Dip Tortilla Roll Ups. They may not look like much, but they sure do pack some flavor. And any dinner that is under 30 minutes is a summer winner for me!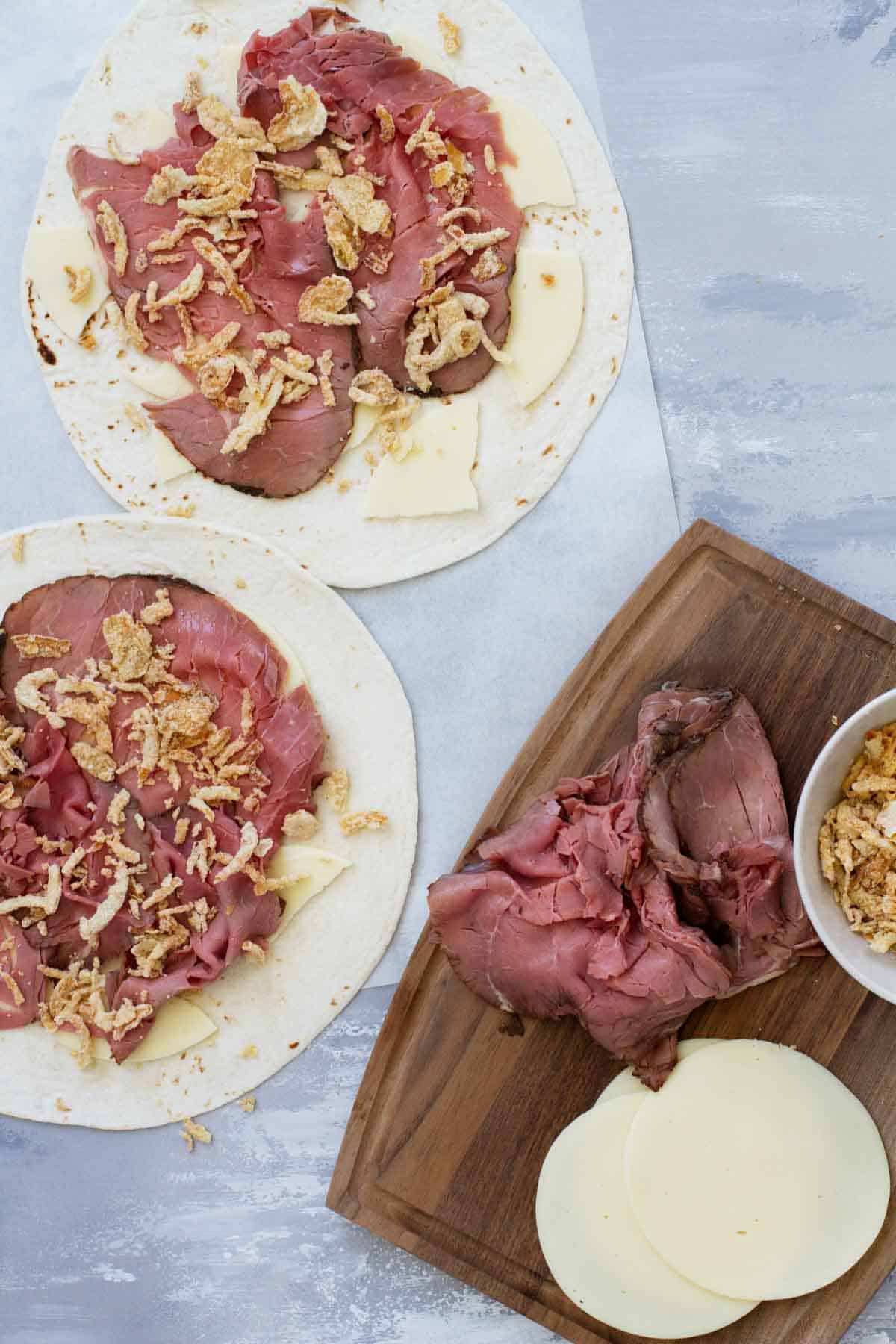 Ingredients
Tortillas: You want a large tortilla (look for the burrito sized tortillas). I have only tried this with regular flour tortillas.
Cheese: I like provolone, but you could also sub in swiss, mozzarella, or another cheese of your choice.
Roast Beef: You could get the roast beef that comes already pre-sliced, but I like to get it freshly sliced from the deli.
French Fried Onions: These are the onions that come in a container at the grocery store – the same ones you would put on top of a green bean casserole. They are usually located near the canned vegetables.
Olive Oil: You will use the oil to seal the tortillas, and you'll also brush it over the outsides of the tortilla to help it crisp up. I always use olive oil, but another neutral oil will work.
Beef Consomme: You should be able to find this in the soup aisle. Beef consomme has a deeper, richer flavor than beef broth. If you can't find it, you can substitute in beef broth, but it's not quite as good in my opinion.
Worcestershire Sauce and Soy Sauce: This is for flavoring the au jus. I think the combination of flavors is perfect!
Onion Powder & Garlic Powder: This is also for flavor.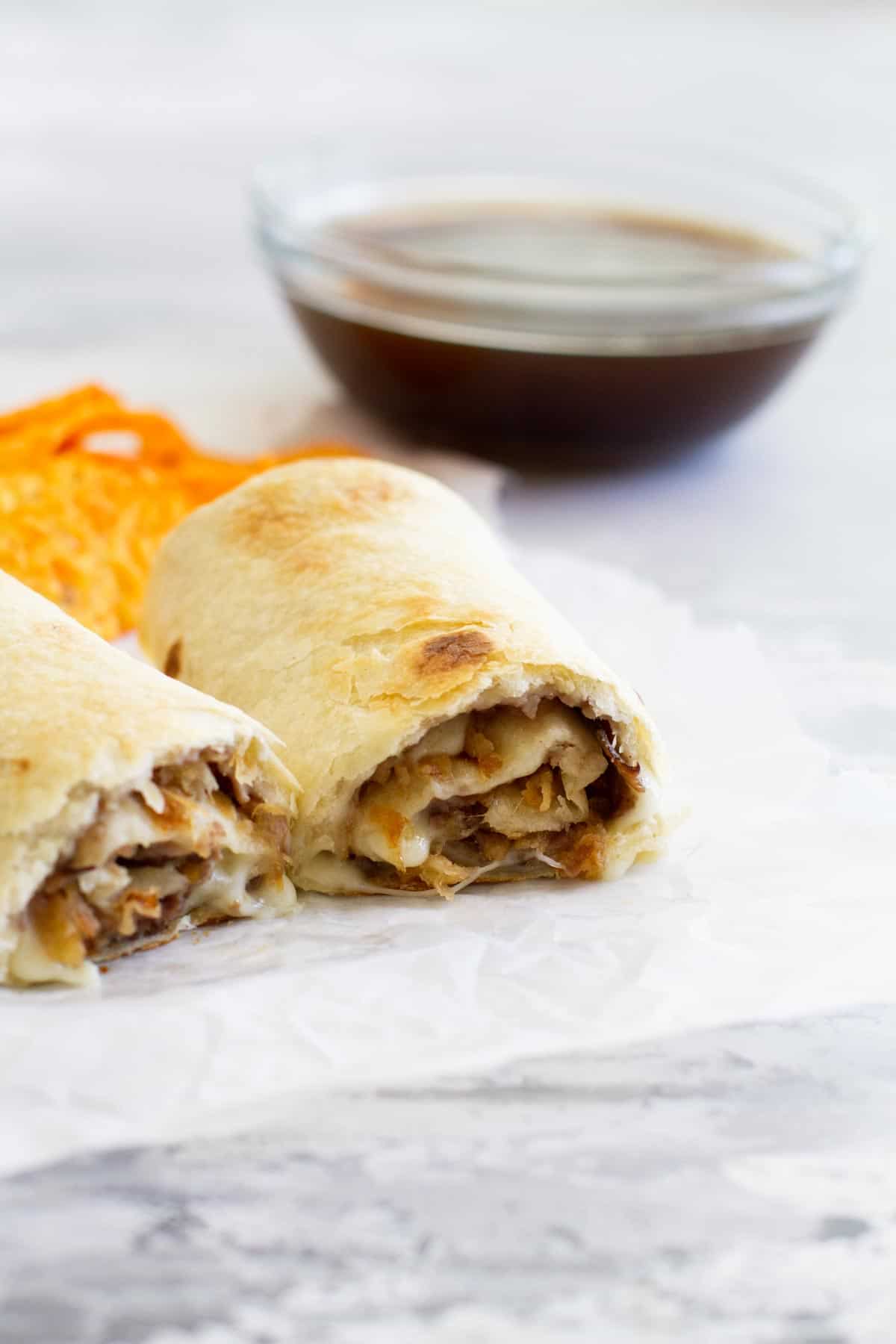 Tips for making French Dip Tortilla Roll Ups:
These are pretty simple to make, but I do have a few tips for you to make sure they come out perfectly.
Use a large tortilla. Don't try to stuff all of this in a smaller tortilla.
If the tortillas are not super fresh, warm them up in the microwave for a few seconds before assembling the tortilla roll ups so that the tortillas are pliable.
I can only find provolone cheese pre-sliced where I live. So to distribute the cheese evenly, you'll need to tear it into pieces. If you can find it in a block and shred it, that would be easier, but tearing the slices works just fine!
You want the thinnest sliced roast beef that you can get. I just have the deli counter slice it on the smallest setting. If the slices are too thick, it's hard to roll the tortilla.
Roll the tortillas the tightest you can for the best results.
Don't skip the au jus! Not only is that what gives these tortilla roll ups the flavors of a French dip sandwich, but it makes it so much more fun to eat!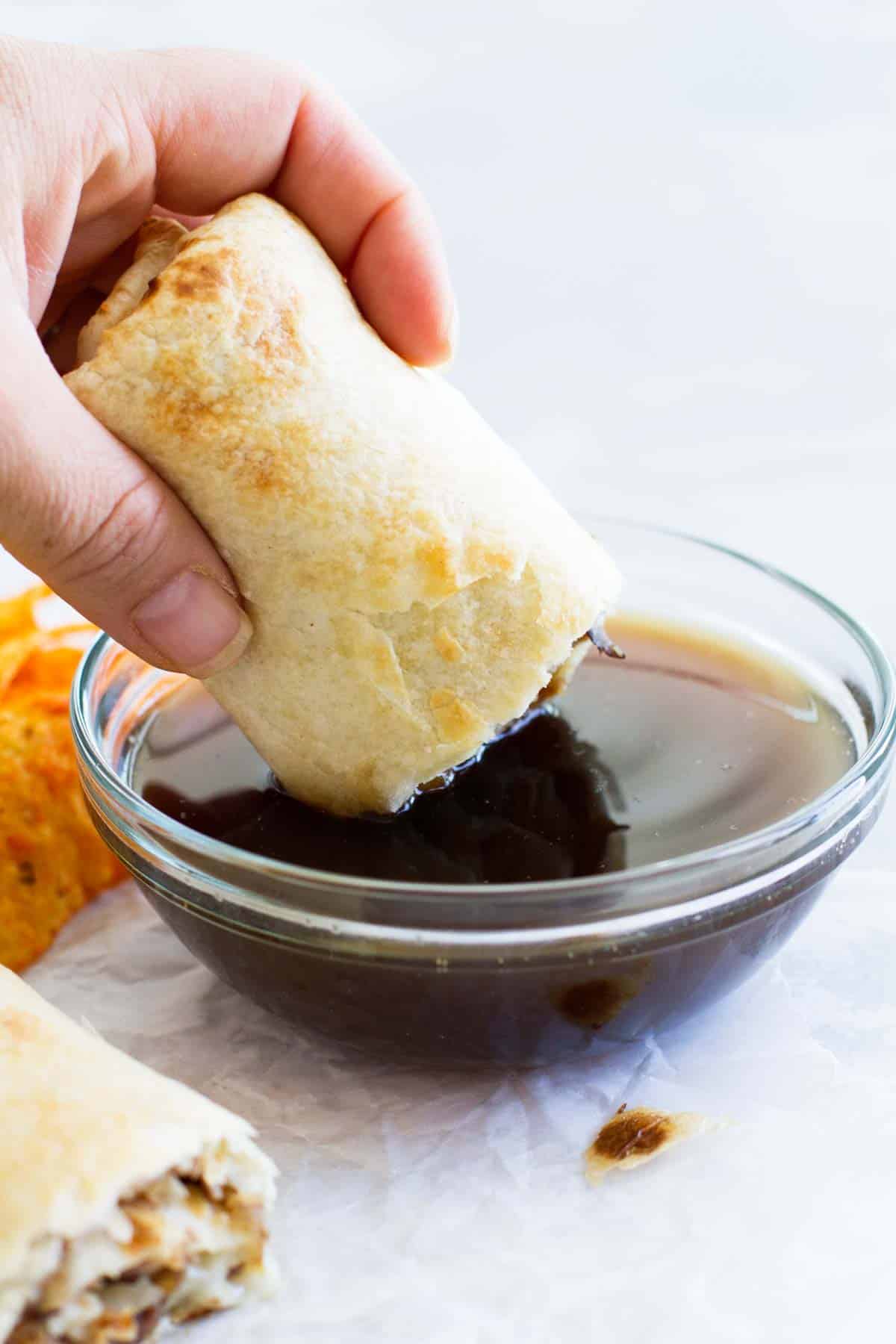 Frequently Asked Questions
Can I add more cheese or roast beef?
Of course! Some readers have said that they like it with more cheese. Just be careful to not fill your tortilla so much that you won't be able to wrap it tightly closed.
Can I caramelize onions instead of using the French Fried Onions?
That would be delicious! It would for sure take you out of your 30 minute recipe time, but I think it would taste great!
Can you make French Dip Tortilla Roll Ups ahead of time?
Technically you could make the roll ups and refrigerate them, and then bake them just before serving, but the onions will get soggier than if you made them fresh. So you could, but for best results, they are best made, baked, and eaten.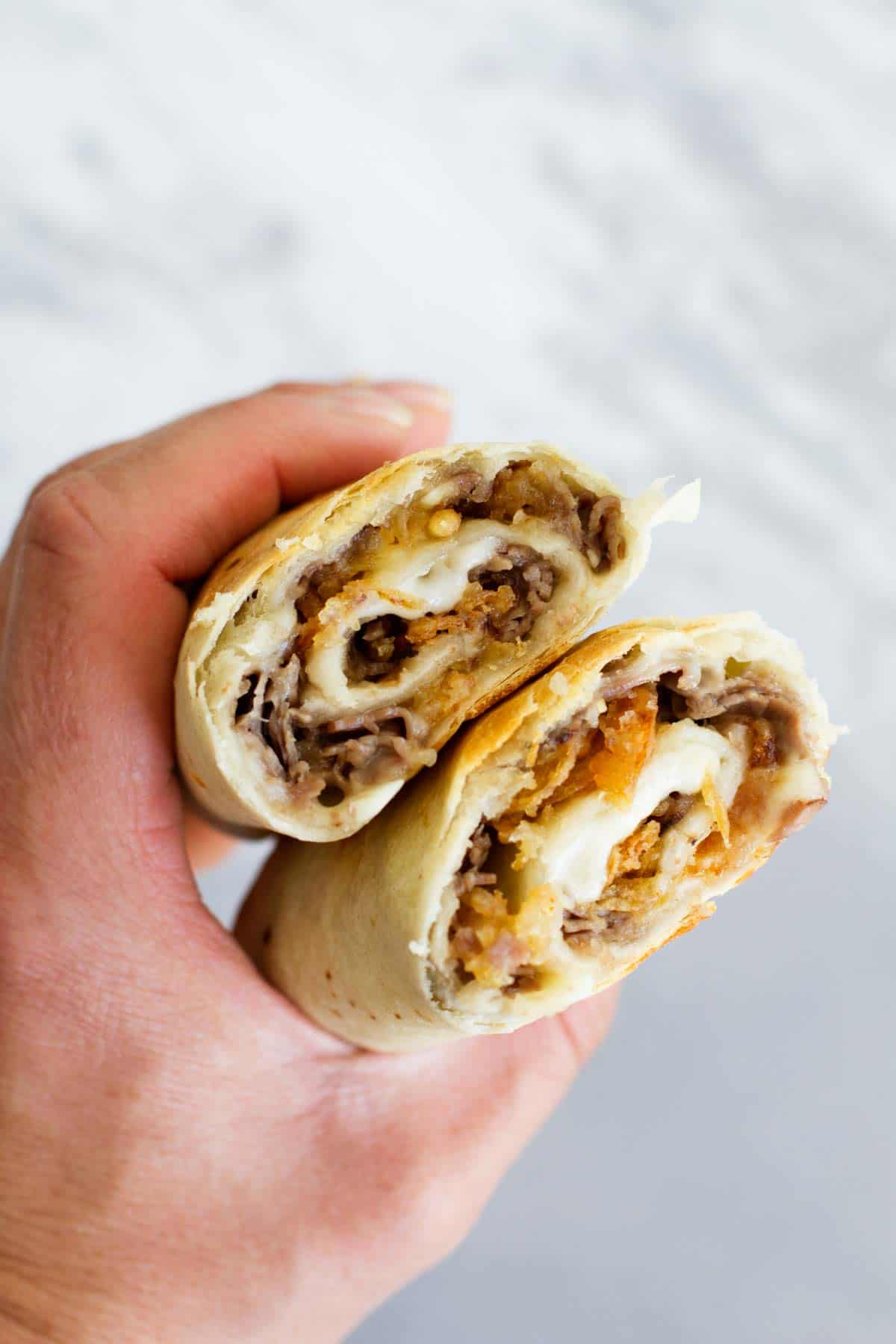 More Tortilla Wrap Recipes
BLT Ranch Chicken Wraps
Chicken Caesar Wraps
Vegetarian Wraps with Beans and Cheese
California Club Chicken Wrap
Grilled Chicken Cordon Bleu Wraps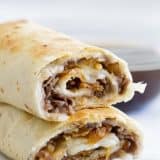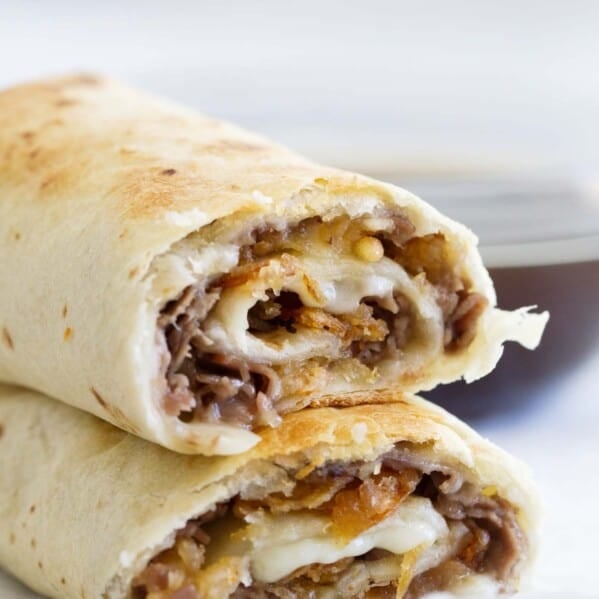 French Dip Tortilla Roll Ups
---
Author:
Prep Time: 15 minutes
Cook Time: 10 minutes
Total Time: 25 minutes
Yield: 4 servings 1x
Category: Main Dish
Method: Bake
Cuisine: American
Description
Fast and easy – these French Dip Tortilla Roll Ups have all the flavors of a French Dip Sandwich, but rolled up into a tortilla instead! These are perfect for those weeknight dinners when you need to get something tasty on the table quickly.
---
Scale
Ingredients
4 (12-inch) flour tortillas
4 slices Provolone cheese (about 5 ounces)
1/2 lb deli sliced roast beef
3/4 cup French fried onions
1 tablespoon olive oil
1 can (10.5 oz) beef consomme
3/4 cup water
1 teaspoon Worcestershire sauce
1 teaspoon soy sauce
1/2 teaspoon onion powder
1/2 teaspoon garlic powder
---
Instructions
Preheat the oven to 425ºF.
Lay the 4 tortillas on a counter or work surface. Tear the provolone up into smaller pieces and distribute evenly over each of the 4 tortillas. Place the deli roast beef evenly over the cheese, then sprinkle the French fried onions over the roast beef.
Working with one tortilla at a time, fold the sides of the tortillas in, then tightly roll the tortilla into a roll. Brush a little bit of the olive oil on the edge of the tortilla to help it stick closed, and place seam side down on a baking sheet. Repeat with the remaining tortillas.
Brush the remaining olive oil over the tops of the roll ups.
Bake in the preheated oven until the roll ups are browned, about 10 minutes.
While the roll ups are baking, combine the beef consommé, water, Worcestershire sauce, soy sauce, onion powder and garlic in a medium saucepan over medium heat.  Cook until warmed through.
To serve, cut the roll ups in half and serve with the warm sauce for dipping.
Recipe Notes:
Nutrition information provided as an estimate only. Various brands and products can change the counts. Any nutritional information should be used as a general guide.
Nutrition
Serving Size: 1 roll up
Calories: 513
Sugar: 3 g
Sodium: 1845 mg
Fat: 23 g
Saturated Fat: 11 g
Unsaturated Fat: 8 g
Trans Fat: 0 g
Carbohydrates: 44 g
Fiber: 2 g
Protein: 30 g
Cholesterol: 54 mg
Keywords: tortilla roll up