Rich, comforting and flavorful, this Chicken Paprikash is based off of a popular Hungarian recipe. It's easy enough to make on a weeknight and is loved by both adults and children.
If you love a good comfort food dinner, also try this Chicken and Biscuits or Slow Cooker Beef Noodle Soup.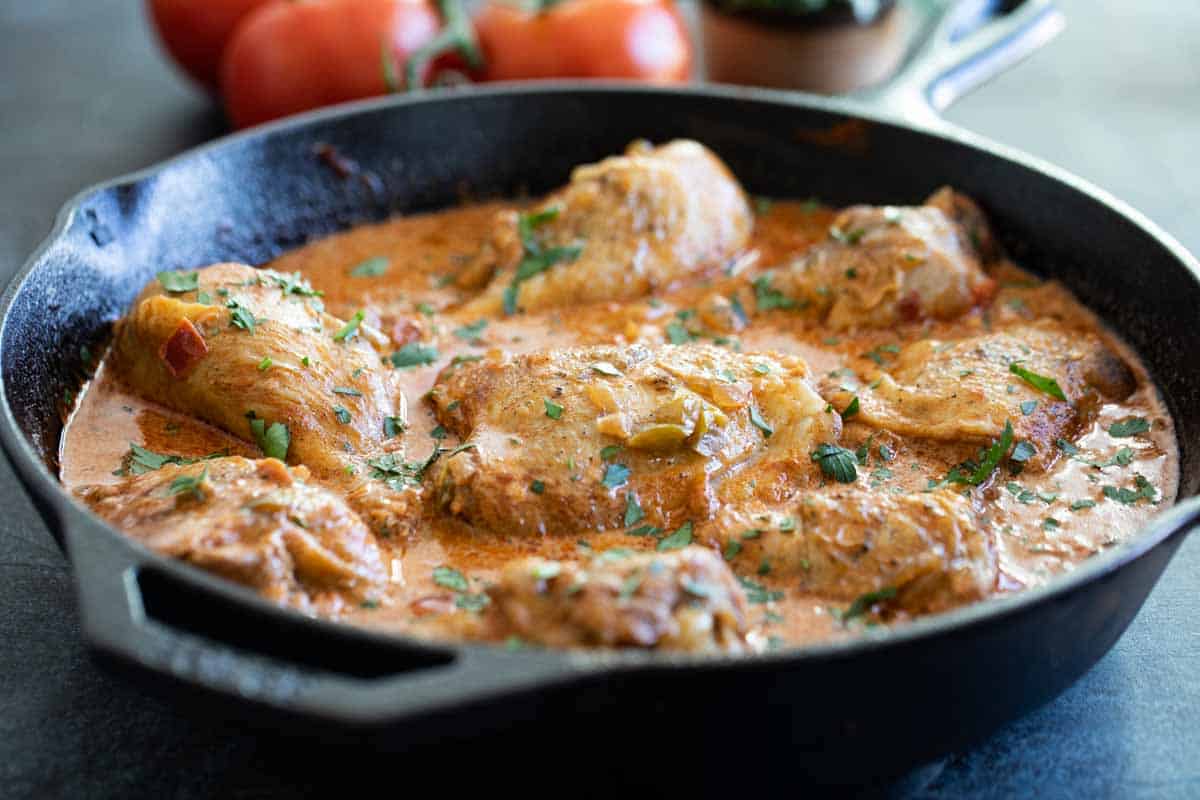 I have dreams of traveling the world and experiencing different cultures through their food.
But in the meantime, I'm grateful that we can make versions of other cultures' foods at home!
I am not Hungarian, and have never been to Hungary. I have never had authentic Chicken Paprikash from a 5th generation Hungarian.
But oh, how I love Chicken Paprikash.
We've had it often in our house, and have had fun making our own version.
What is Chicken Paprikash?
Chicken Paprikash, at the basic level, is a Hungarian dish that cooks chicken in a paprika infused sauce for an extended amount of time.
I think this is one of the dishes that Hungary is best known for here in the US. And I have seen so many versions, so I'm sure it is one of those recipes that will vary depending on region and how the recipe was passed down through the generations.
In most versions, you will find onions and chicken in sauce with lots of paprika. Other versions will add in tomatoes, sometimes chopped, crushed, or even tomato sauce. You will often see diced peppers, but not always. I use green bell pepper, but if you can get your hands on any Hungarian peppers, that is even better.
I think all will agree that this is the best kind of comfort food, though. Tender chicken, a flavorful creamy sauce, all over noodles or dumplings. Such a perfect, comforting meal.

How to Make Chicken Paprikash
Start by seasoning your chicken with salt and pepper. I like to use bone-in chicken with the skin still on.
Heat some oil in a large skillet or Dutch oven. I like to use my cast iron skillet. Add the chicken to the hot skillet in a single layer and cook until browned. Remove it from the skillet.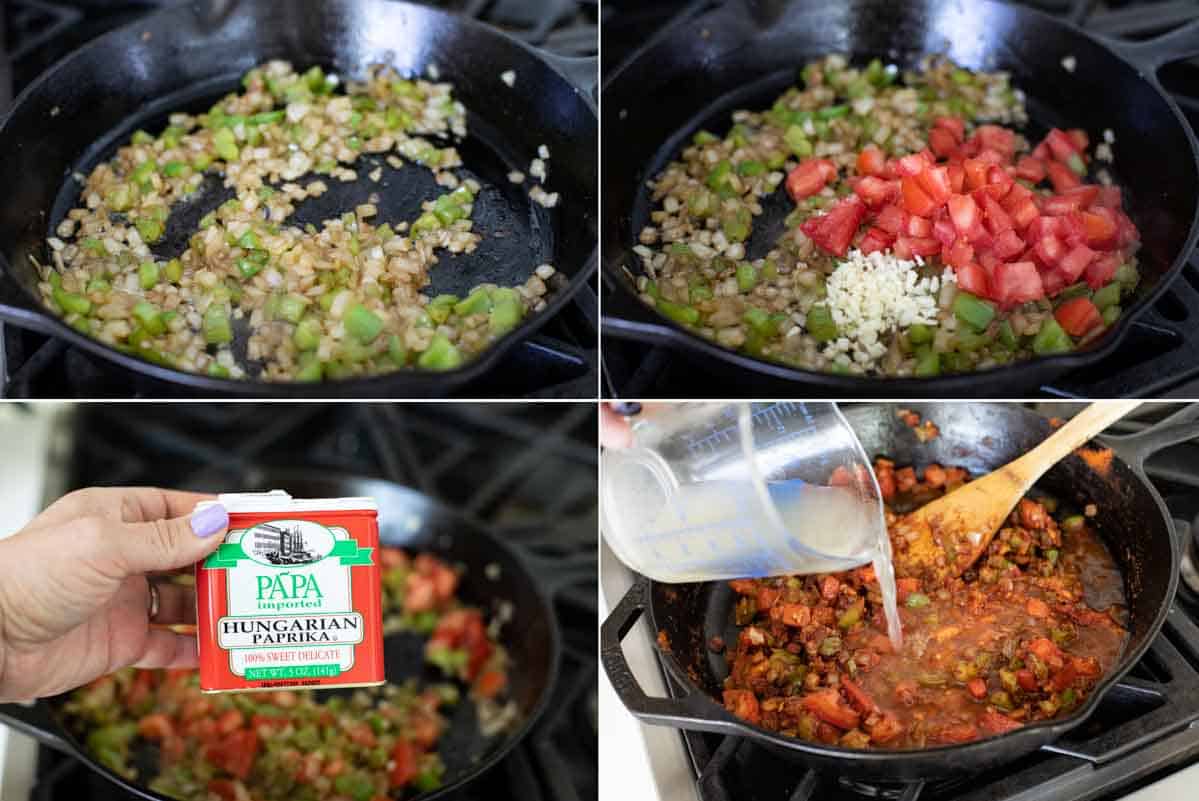 Next cook your onion and pepper.
Once they are soft, add the tomatoes and garlic.
Then add the paprika, but don't let it sit on the heat at this point for too long, as the paprika can scorch pretty easily.
Add in your chicken broth and stir everything together.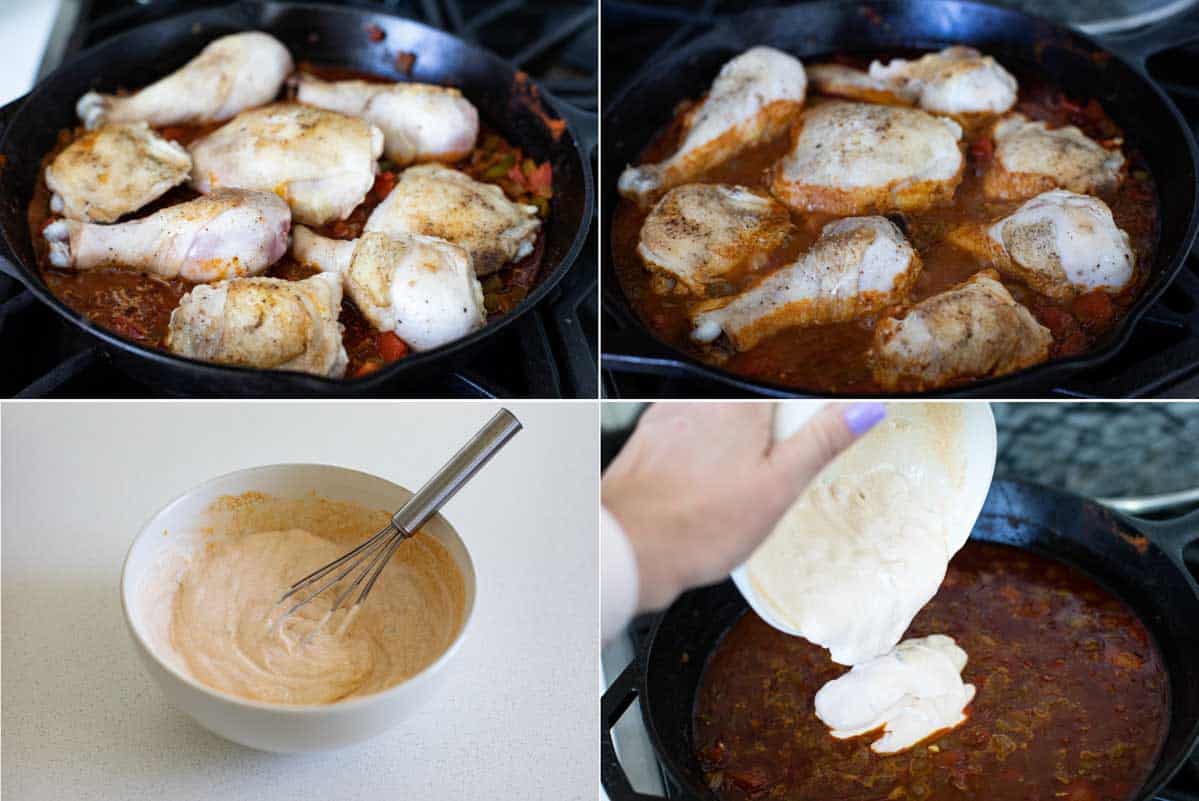 Nestle your chicken back into the sauce in a single layer.
Cover the skillet and simmer until the chicken is cooked through.
Remove the chicken. Stir some of the warm sauce into the sour cream to temper it.
Add the sour cream mixture to the skillet, stir to combine, then return the chicken to the skillet to cover in the sauce. Serve!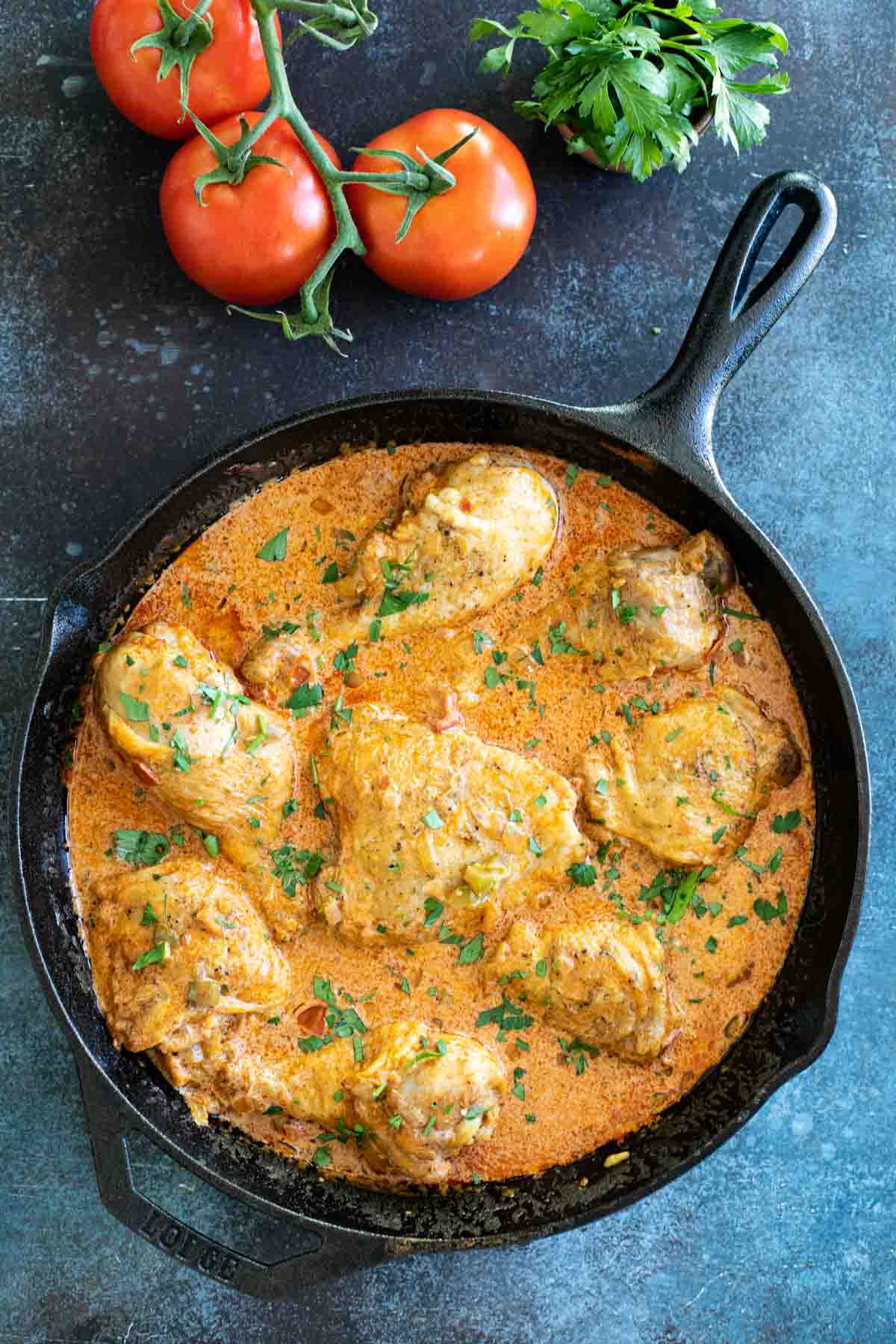 What is Hungarian Paprika?
I'm a paprika fan, and use both the regular and smoked versions quite often. But this recipe calls for Hungarian paprika.
How is that different?
Paprika is a spice that is made from pulverized peppers. The typical paprika you'll get on most grocery store shelves here in the US is a very mild, non-assertive spice.
On the other side, Hungarian paprika is a lot more complex, usually made of a mix of more peppers. Of course the pungency and flavor will depend on the brand you use, but the big thing to watch for with Hungarian paprika is if it is sweet or hot. I have only ever used the sweet version, but it is perfect for this family friendly Chicken Paprikash. I would also love to try a mix of sweet and hot one of these day. (I do like things spicy!)
One of my local grocery stores did not carry Hungarian paprika, but another did. You can also order it online (this Papa brand is what I have aff link).
Tips and Tricks
You can really do any mix of chicken here that you want. You could do a whole chicken that has been cut into pieces, or just choose the one cut that you like the best and stick with it.
Chicken cook times will differ depending on the cut and the size of your chicken. As you can see from my photos, even my thighs have some very different sizing. If needed, you can remove the chicken that is done and let the rest cook until it is cooked through.
If you don't have fresh tomatoes, you can used canned, but I would drain the liquid. You'll need about 1 cup of diced tomatoes. You can also leave the tomatoes out, as many versions don't have them.
We serve this over buttered egg noodles. Traditionally, it is served with Hungarian Nokedli, which is a homemade dumpling noodle, otherwise known as spaetzle. One day I will try to make the Hungarian Nokedli, but egg noodles make it super easy. I think it would be delicious over mashed potatoes, as well.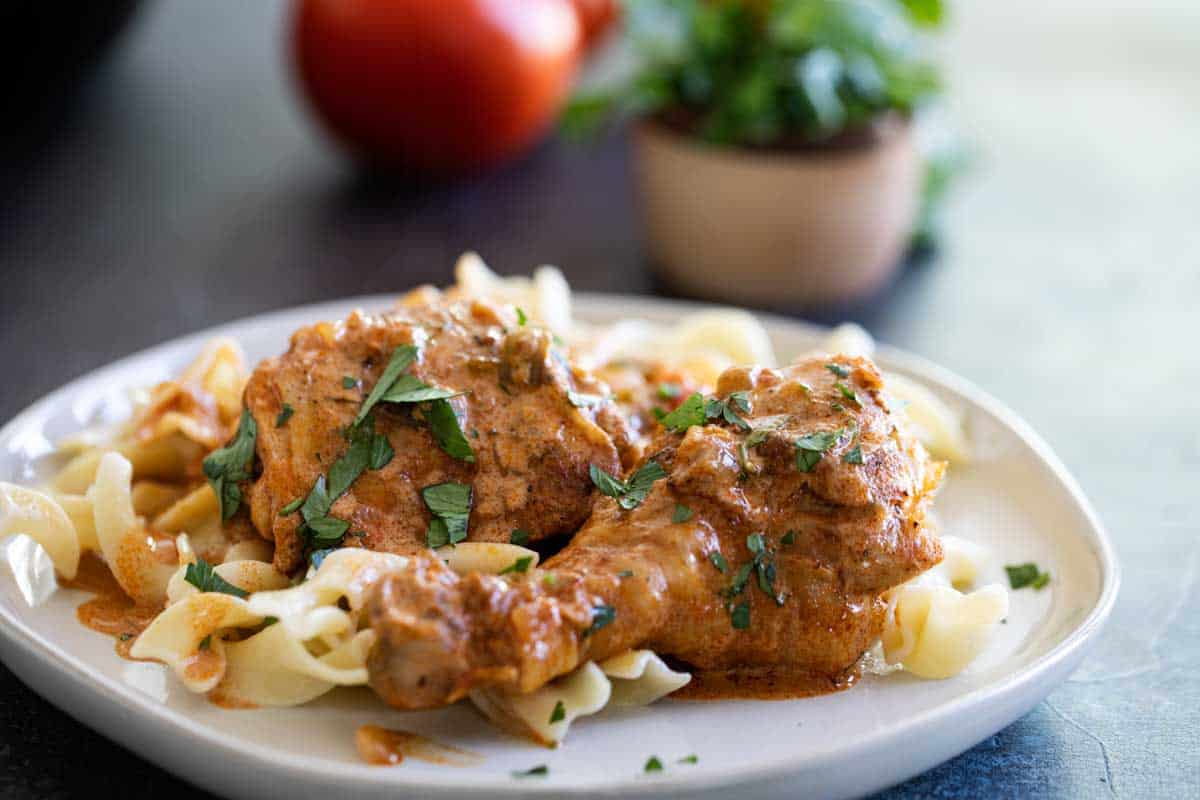 More Skillet Chicken Dinners
Chicken with Parmesan Cream Sauce
Shoyu Chicken
Skillet Chicken with Garlic and Herbs
Chicken in Caper Cream Sauce
Creamy Artichoke Chicken
Cast Iron Teriyaki Chicken Thighs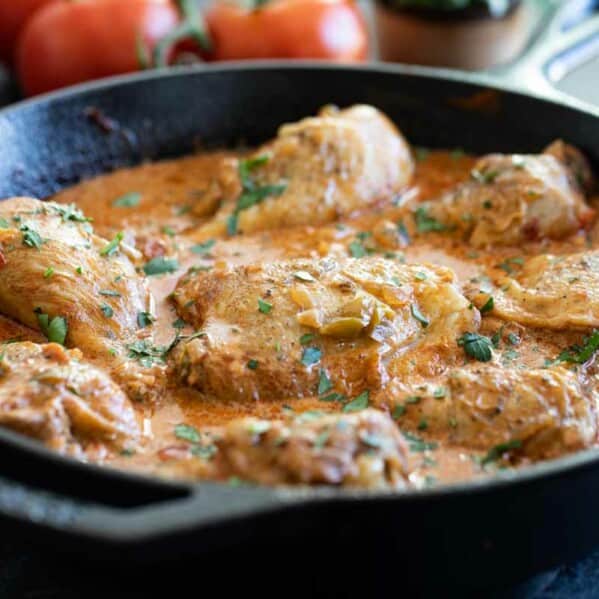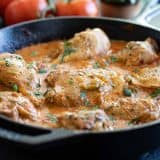 Chicken Paprikash
---
Author:
Prep Time: 15 mins
Cook Time: 1 hour
Total Time: 1 hour 15 minutes
Yield: 6 servings 1x
Category: Main Dish
Method: Stove Top
Cuisine: Hungarian
Description
Rich, comforting and flavorful, this Chicken Paprikash is based off of a popular Hungarian recipe. It's easy enough to make on a weeknight and is loved by both adults and children.
---
Scale
Ingredients
3 lbs chicken drumsticks and thighs, bone in
Salt and pepper
1 tablespoon neutral oil (like vegetable or canola)
1 tablespoon butter
1 medium yellow onion, finely chopped
1/2 green bell pepper, seeded and chopped
3 cloves garlic, minced
3 tablespoons Hungarian paprika
2 medium tomatoes, seeded and chopped
1 cup chicken broth
3/4 cup sour cream
Egg noodles, for serving
---
Instructions
Lay the chicken in a single layer and salt and pepper both sides. Let it sit for a couple minutes.
Meanwhile, heat the oil in a large skillet or Dutch oven over medium-high heat.
When the oil is hot, add the chicken in a single layer, skin side down. Let it cook until browned and crisped, about 5 minutes, then gently turn the chicken to the other side. Let the second side cook until browned, another 5 minutes, then remove from the skillet.
To the same skillet, add the butter and let it melt. Add the onion and bell pepper and saute, stirring often, until softened, about 5 minutes.
Add the garlic and tomato and stir for 30 seconds.
Add the paprika and stir it into the vegetables. Be careful not to burn the paprika, as it will get bitter.
Stir in the chicken broth.
Add the chicken back into the skillet, nestling it into the mixture, skin side up. You don't want to submerge it because you want the skin to stay crispy.
Reduce the heat to a simmer and cover the skillet with a lid. Let the chicken cook until it reaches an internal temperature of 165ºF or until the juices run clear, about 30 minutes.*
Once the chicken is cooked through, remove it from the skillet.
In a bowl, take a few spoonfuls of the sauce that has been cooking and whisk it into the sour cream. Then stir the sour cream mixture back into the rest of the sauce in the skillet. Mix until combined.
Return the chicken back to the skillet, turning to coat in the sauce if serving right away.
Serve the chicken with buttered noodles or Hungarian Nokedli.
Recipe Notes:
*The cook time will differ depending on the cut of chicken and the sizes. It's best to have an instant read thermometer to check the chicken.
Nutrition information provided as an estimate only. Various brands and products can change the counts. Any nutritional information should only be used as a general guideline. Nutrition information does not include noodles for serving.
Nutrition
Serving Size: 1/6 of recipe
Calories: 577
Sugar: 4 g
Sodium: 85 mg
Fat: 37 g
Saturated Fat: 15 g
Unsaturated Fat: 3 g
Trans Fat: 0 g
Carbohydrates: 6 g
Fiber: 1 g
Protein: 54 g
Cholesterol: 7 mg
Keywords: chicken paprikash, chicken paprikash recipe