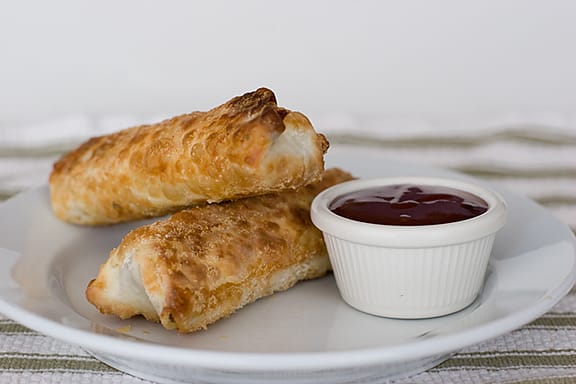 I don't know why, but egg rolls are a bit intimidating to me. But after last month's Cookbook of the Month, I had some egg roll wrappers on hand that I didn't end up using. And I didn't want them to go to waste! I'm sure I could have found something else to use them on, but I had egg rolls on my mind one night, and I decided to go for it. I don't know why I was intimidated. This recipe is so super easy. You do have to fry the egg rolls, but that's easy. And these were actually quite tasty – even though there's not much to them. Definitely better than the Chinese takeout restaurant closest to me!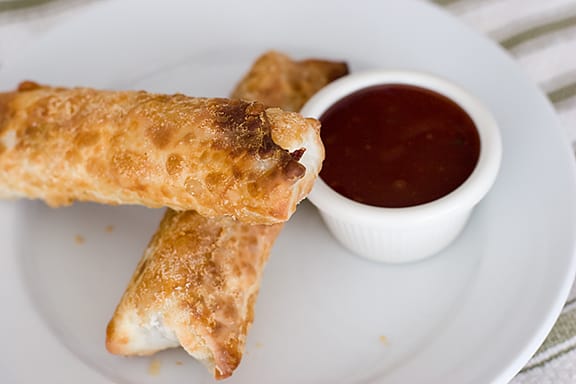 Easy Egg Rolls
adapted from allrecipes.com
Makes 12 egg rolls
total time: about 40 minutes
1 pound ground pork
1 teaspoon ground ginger
1 teaspoon garlic powder
1 quart oil, for frying
1 tablespoon all-purpose flour
1 tablespoon water
3 cups coleslaw mix
12 egg roll wrappers
Season pork with ginger and garlic powder and mix thoroughly. Heat mixture in a medium skillet, stirring, until pork is cooked through and no longer pink. Set aside.
In another large skillet, heat oil to 375F or medium high heat. While oil is heating, combine flour and water in a bowl until they form a paste. In a separate bowl combine the coleslaw mix and reserved pork mixture. Mix all together.
Lay out one egg roll skin with a corner pointed toward you. Place about a 1/4 to 1/3 cup of the cabbage, carrot and pork mixture on egg roll paper and fold corner up over the mixture. Fold left and right corners toward the center and continue to roll. Brush a bit of the flour paste on the final corner to help seal the egg roll.
Place egg rolls into heated oil and fry, turning occasionally, until golden brown. Remove from oil and drain on paper towels or rack.