Skip the take out – this Chinese chicken recipe is a little bit sweet and a lot of delicious!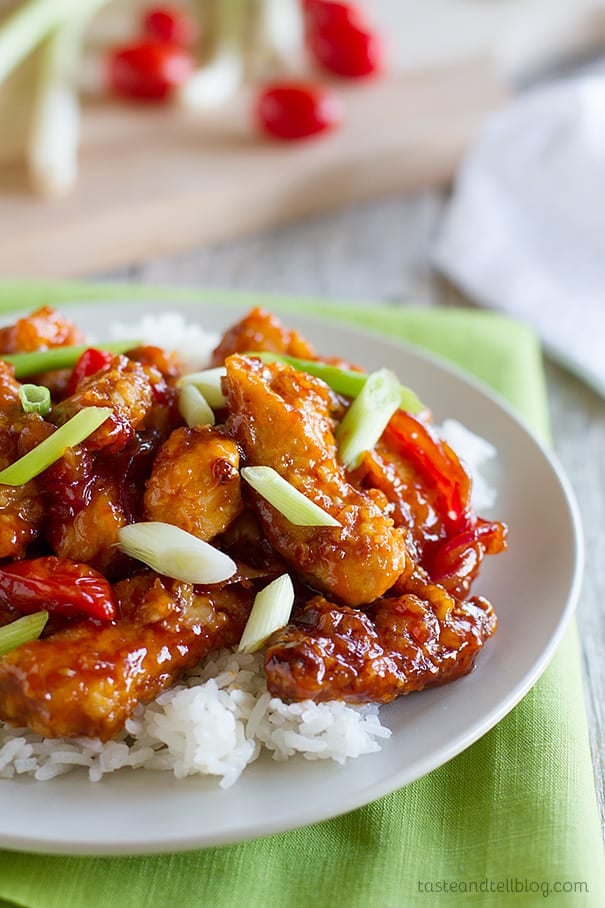 I've got lists and lists of recipes that I want to try. When it comes to dinnertime, inspiration is never a problem. We all know I have a cookbook addiction, but then you throw in other recipes I come across and the list is just too long to ever completely tackle.
This is great sometimes – it's nice to never really feel like I don't have anything that I want to make, but sometimes there is just so much that some recipes get lost in the shuffle.
Like this Chinese chicken recipe.

I actually remember watching this episode of The Rachael Ray Show and immediately writing this recipe in my list of RR recipes to make. But now here we are, over a year later, and I'm just now making it. Which is a shame.
Because this recipe is A-MAZ-ING.
If you are a lover of the make your own take out at home types of recipes, (and really, who isn't??), then you will absolutely love this. Crispy chicken coated in a sweet and sticky sauce. What's not to love?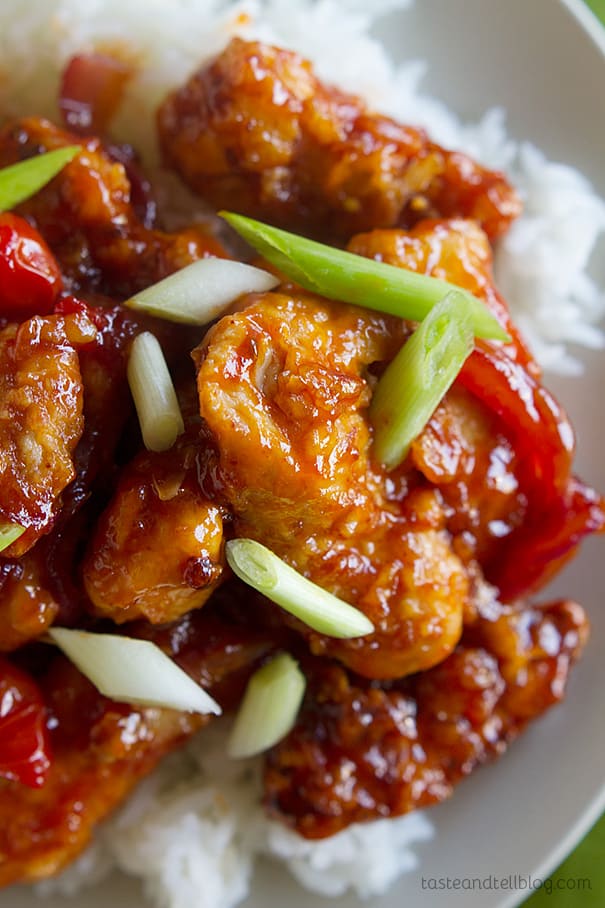 This recipe does have a few steps, and you do have to remember to marinate the chicken, but it's totally worth it. I actually put the chicken in the marinade one day, planning on making the recipe the next night, and then life got in the way. So my chicken actually marinated for 2 whole days. I'm not sure if it's because it marinated so long, but that chicken was so good.
In case you are wondering about the name, this recipe comes from one of Rachael Ray's staff. If you watch the show, you'd recognize Tina Wu, and this recipe is from her dad. (And if you haven't seen the episode, you should watch this clip – I totally teared up!)
In the original recipe, Rachael Ray deep fries the chicken. I had just made some doughnuts earlier that day, and didn't really feel like completely deep frying again (which really – I just should have done it because the house already smelled like frying!), so I just pan fried the chicken. It totally worked, and although I'm sure deep frying the chicken would make it even tastier, pan frying it is the way to go. The only thing I would do differently next time would be to double the sauce to have sauce to go on the rice, as it really only makes enough sauce to coat the chicken. But I still managed to clean my plate!
This Chinese chicken recipe will knock your socks off. Next time you are craving a little bit of Chinese goodness, give this recipe a try, because I'm sure you'll love it as much as we did!!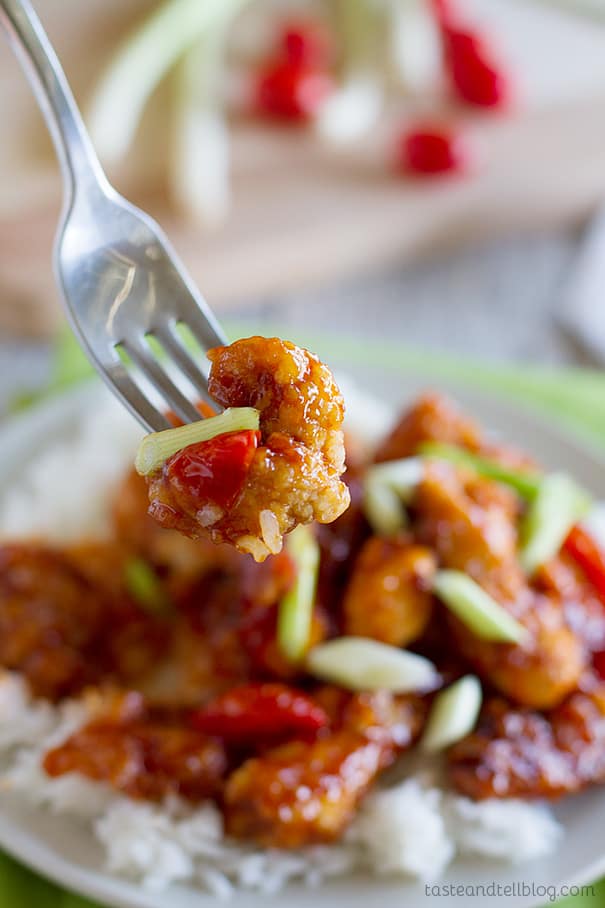 Like what you see here? Make sure you are following Taste and Tell for more great recipes and ideas!!

Facebook ** Pinterest ** Twitter ** Instagram ** Google+
or you can subscribe to my newsletter or Feedly or Bloglovin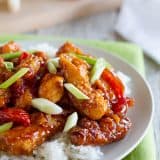 Daddy Wu's Chinese Chicken
---
Prep Time: 30 minutes
Cook Time: 30 minutes
Total Time: 5 hours
Yield: 4 servings 1x
Description
Skip the take out – this Chinese chicken recipe is a little bit sweet and a lot of delicious!
---
Scale
Ingredients
2 lbs boneless, skinless chicken breasts, cut into 1-inch cubes
Marinade
2 tablespoons dry sherry
2 tablespoons oyster sauce
1 tablespoon soy sauce
1 teaspoon grated fresh ginger
1 teaspoon grated fresh garlic
1 teaspoon sesame oil
Chicken
vegetable oil (for frying)
3 eggs
1 cup all-purpose flour
1/4 cup cornstarch
Sauce
2 tablespoons vegetable oil
1/2 red onion, thinly sliced into half rings
1/2 cup cherry or grape tomatoes, halved
1/2 cup ketchup
1/4 cup chicken broth
3 tablespoons brown sugar
2 tablespoons oyster sauce
1 teaspoon sesame oil
1/4 teaspoon grated fresh ginger
zest and juice of one lemon
For serving
prepared Jasmine rice
3 green onions, cut on a bias
---
Instructions
Place the chicken in a large ziptop bag. Add the sherry, oyster sauce, soy sauce, ginger, garlic and sesame oil to the bag for the marinade. Zip the bag securely closed, then mix the chicken and the marinade together. Refrigerate and marinate for at least 4 hours, but preferably 24 hours.
Remove the chicken from the refrigerator and let it sit out for 30 minutes to come to room temperature.
Crack the eggs into a shallow bowl or dish and lightly whisk. In another bowl or dish, combine the flour and the cornstarch.
Heat about 1/4-inch of oil in a large skillet over medium heat. Working in batches, coat some of the chicken in the eggs, then coat with the flour mixture. Add to the oil and cook until golden brown and cooked through, about 5 minutes. Remove to a plate and continue until all of the chicken is cooked.
In a wok or another skillet, heat the 2 tablespoons of vegetable oil over high heat. Add the onion and stir fry for one minute. Add in the tomatoes and cook for one additional minute. Add in the ketchup, chicken broth, brown sugar, oyster sauce, sesame oil, ginger, lemon juice and zest. Cook until the sauce is thickened, a few minutes. Add the chicken in and stir to coat.
Serve the chicken over the rice and top with sliced green onions.