Skip the take out – this Chinese Chicken recipe is a little bit sweet and a lot of delicious! Serve it over rice for the perfect make your own take out dinner.
If you love recreating Chinese takeout at home, you are in the right spot! This Chinese Chicken is so delicious, but you'll also want to check out this Sweet and Sour Chicken or Beef and Broccoli.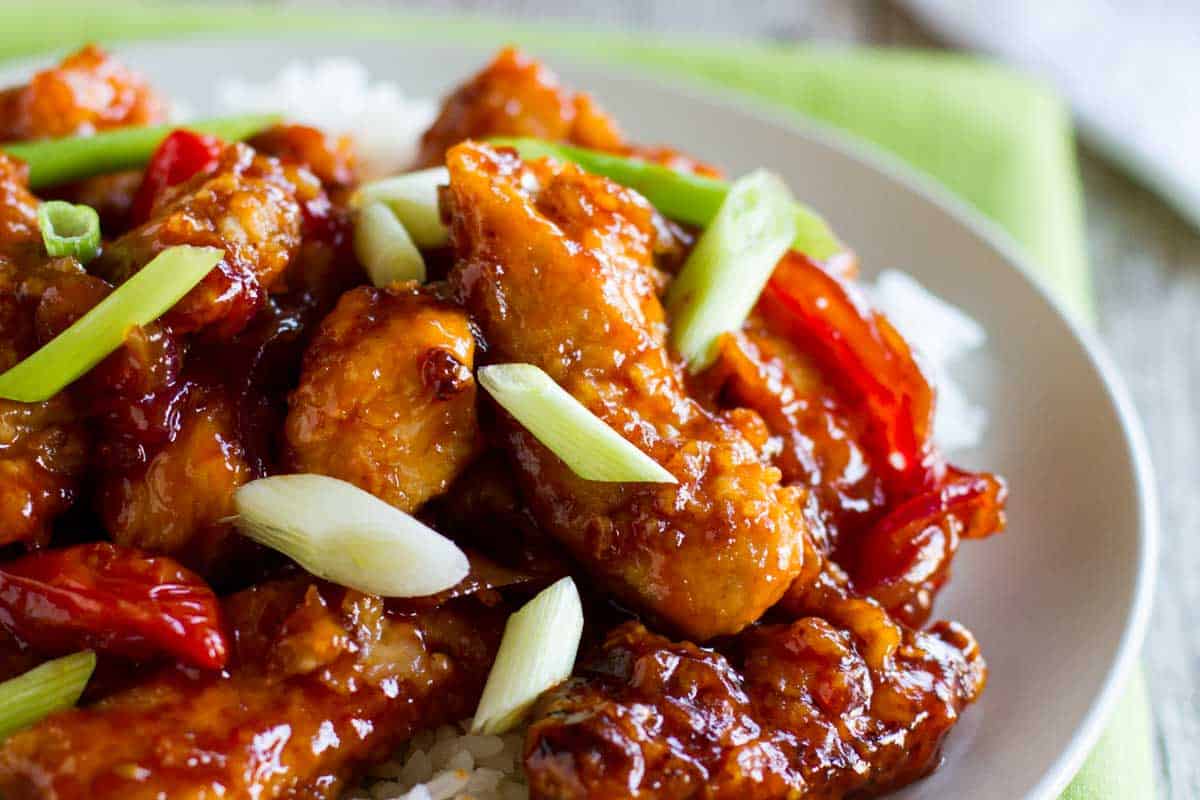 If you are a lover of the make your own take out at home types of recipes, (and really, who isn't??), then you will absolutely love this Chinese Chicken. Crispy chicken coated in a sweet and sticky sauce. What's not to love? Skip the Chinese restaurant and make something better at home!
In case you are wondering about the name, I saw the original recipe on The Rachael Ray Show. The recipe was from one of her staff members, Tina Wu, who got this recipe from her dad. (And if you haven't seen the episode, you should watch this clip – I totally teared up!)
This Chinese chicken recipe will knock your socks off. Next time you are craving a little bit of Chinese goodness, give this recipe a try, because I'm sure you'll love it as much as we did!!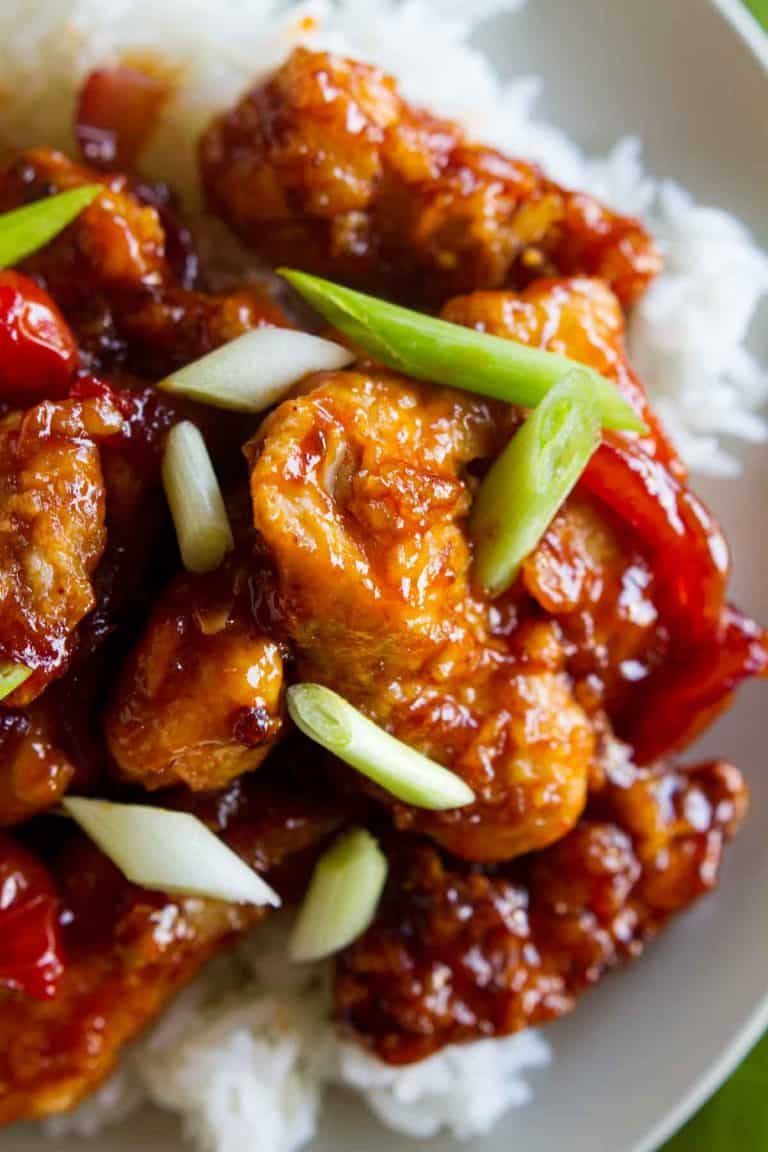 What You'll Need
For the Marinade:
Dry Sherry – I don't drink. So I don't usually have any alcohol on hand. The sherry does bring a distinctive depth and flavor, but you are using so little of it in this recipe that I wouldn't buy it just for this recipe. If you don't already have some on hand, I would sub in apple cider (if you have it) or chicken broth. It is best with the flavor from the sherry, but it won't break the recipe if you don't use it.
Oyster Sauce – I do always have oyster sauce on hand, as I think it's a flavor that is hard to substitute. But if you want to skip the oyster sauce, you can add in extra soy sauce.
Soy Sauce – I always use low sodium. Feel free to use liquid aminos, as well.
Fresh Ginger – fresh ginger is a lot better than powdered ginger in this recipe. It freezes well, so I usually have it on hand.
Fresh Garlic – another that is better fresh than powdered.
Sesame Oil – a little bit of this goes a long way. You really don't need (or want) more than the 1 teaspoon.
For the Chicken:
Boneless, Skinless Chicken Breasts – you could also use chicken thighs for more flavor, but I think the breasts hold up well in this recipe.
Vegetable Oil – this is just to pan fry the chicken so you can use any neutral cooking oil that you want.
Eggs – This is the binder to keep the breading on the chicken.
Flour & Cornstarch – This recipe uses a mixture of flour and cornstarch that makes this breading perfect. It helps to keep the breading crispy, yet still fairly light. It also helps to thicken the sauce once you stir the chicken into the sauce.
For the Sauce
Vegetable Oil – this is for cooking the onions and tomatoes, so you could sub in another oil if you'd like. I like that vegetable oil is neutral and doesn't alter the flavor.
Red Onion and Cherry Tomatoes – both slightly sweet, these are a perfect vegetable to mix in.
Ketchup – don't worry – the end product doesn't taste like ketchup. This is a shortcut ingredient that will save you having to add a lot more ingredients.You need both the tomato flavor and the vinegar so don't skip this.
Chicken Broth – you need this to loosen up the sauce. Feel free to add more if you need to, but wait until the sauce is done to add any. You can also use chicken stock.
Brown Sugar – this is a sweet sauce, and much of the sweetness comes from the brown sugar. I use light brown sugar. You could also use honey, although I wouldn't use as much.
Oyster Sauce – you need this here in the sauce. And again, I wouldn't substitute this.
Sesame Oil – also the same as in the marinade – don't go overboard on this as it can overwhelm the flavors if you do.
Ginger – Again, I use fresh.
Lemon – this brings some needed acidity to the dish.
How to Make Chinese Chicken
MARINATE: Combine the marinade ingredients, add the chicken, and let it marinate for at least 4 hours. Overnight is best, though.
CHICKEN: To make the chicken, place the eggs in one shallow dish and the flour and cornstarch in another. Heat some oil in a wok or in a heavy skillet. Dip the chicken pieces into the eggs, then coat with the flour mixture, then add to the oil. Cook until crispy, then remove to a plate. (You can line it with paper towels if you want to dab off the excess oil.) Continue in batches until the chicken is done.
SAUCE: In another skillet or wok, cook the onion, then add the tomatoes, followed by the rest of the sauce ingredients.
SERVE: When the sauce is thickened, add in the cooked chicken and stir to coat. Serve topped with sliced green onions.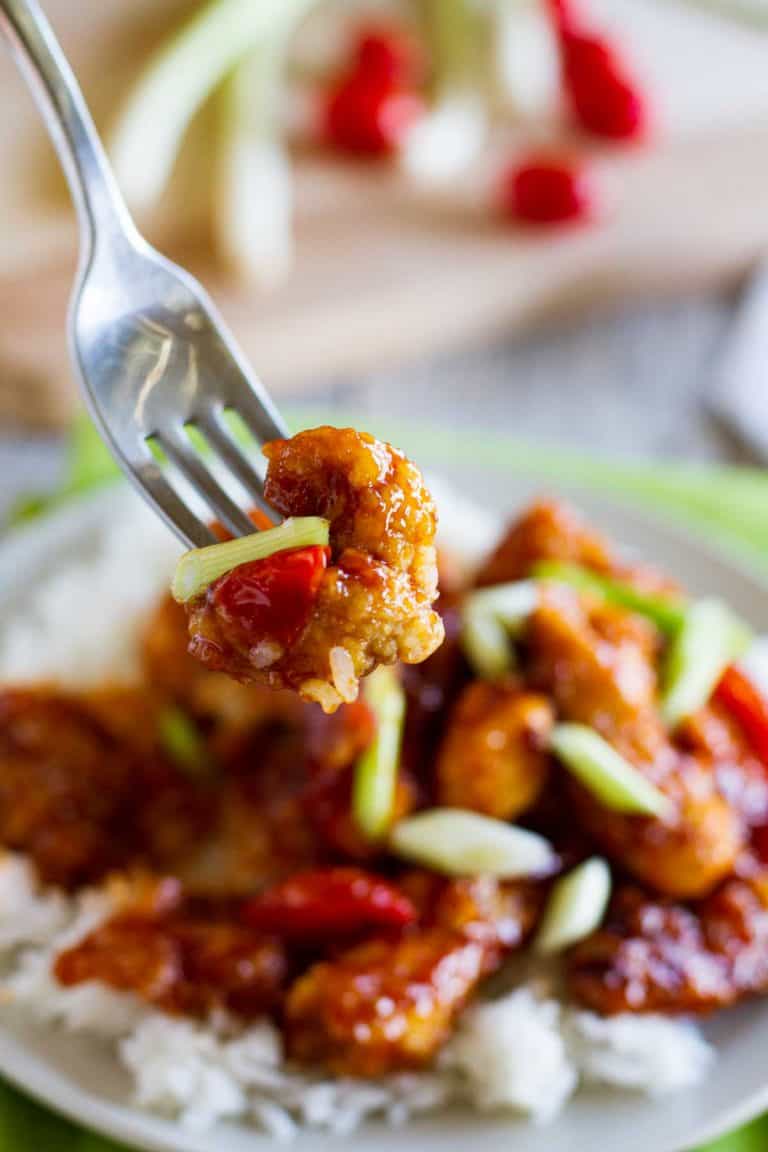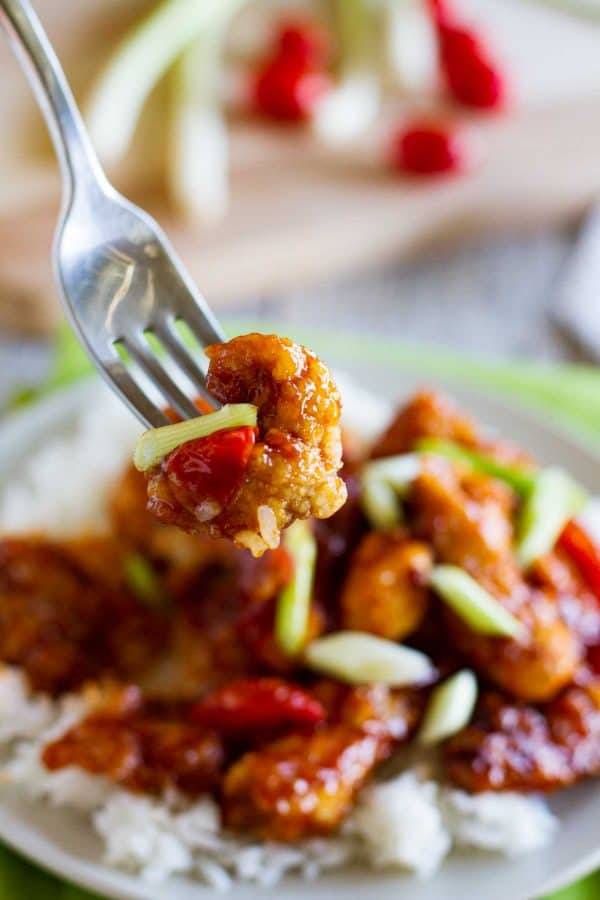 Chinese Chicken Tips and Tricks
This recipe does have a few steps, and you do have to remember to marinate the chicken, but it's totally worth it.
I like to serve this over rice, but it doesn't make a ton of extra sauce to serve as well. So if you like it really saucey, feel free to up the sauce ingredient amounts. You could also serve it over noodles.
Want to add some vegetables? Go for it! You could saute some mushrooms or peppers and stir them into the final dish. Once again, though, if you are adding anything, I would make extra sauce.
While I think this is best written as is, you could always skip the pan frying and just use chunks of cooked chicken with the sauce.
More Asian Inspired Recipes
Pressure Cooker Cashew Chicken
General Tso's Chicken
Orange Chicken
Easy Egg Roll Recipe
Kung Pao Chicken Recipe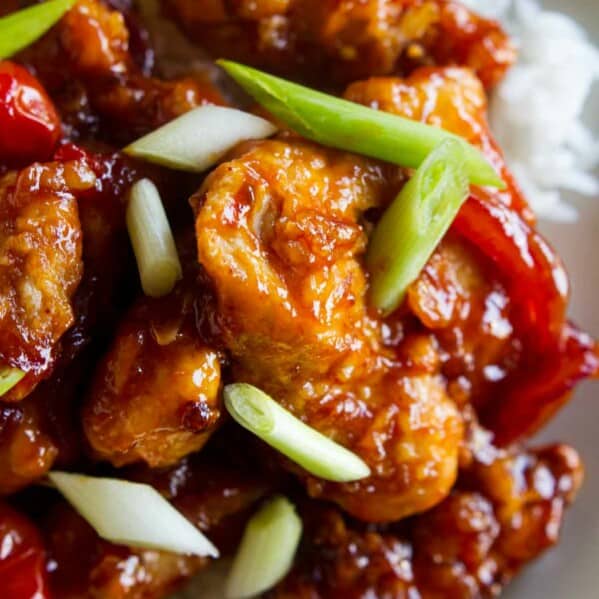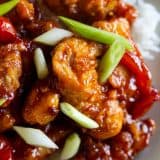 Chinese Chicken
---
Author:
Prep Time: 30 minutes
Cook Time: 30 minutes
Total Time: 5 hours 30 minutes
Yield: 6 servings 1x
Category: Main Dish
Method: Stove Top
Cuisine: Asian
Description
Skip the take out – this Chinese chicken recipe is a little bit sweet and a lot of delicious! Serve it over rice for the perfect make your own take out dinner.
---
Scale
Ingredients
Marinade:
1 tablespoon dry sherry
2 tablespoons oyster sauce
1 tablespoon soy sauce
1 teaspoon grated fresh ginger
1 teaspoon grated fresh garlic
1 teaspoon sesame oil
Chicken:
2 lbs boneless, skinless chicken breasts, cut into 1-inch cubes
Vegetable oil, for frying
3 eggs
1 cup all-purpose flour
1/4 cup cornstarch
Sauce:
2 tablespoons vegetable oil
1/2 red onion, thinly sliced into half rings
1/2 cup cherry or grape tomatoes, halved
1/2 cup ketchup
1/4 cup chicken broth
3 tablespoons brown sugar
2 tablespoons oyster sauce
1 teaspoon sesame oil
1/4 teaspoon grated fresh ginger
Zest and juice of one lemon
For serving:
Prepared Jasmine rice
3 green onions, cut on a bias
---
Instructions
Combine all of the marinade ingredients in a large ziplock bag. Add the chicken and zip the bag securely closed, then mix the chicken and the marinade together.
Refrigerate and marinate for at least 4 hours, but preferably 24 hours.
Remove the chicken from the refrigerator and let it sit out for 30 minutes to come to room temperature.
Crack the eggs into a shallow bowl or dish and lightly whisk. In another bowl or dish, combine the flour and the cornstarch.
Heat about 1/4-inch of oil in a large skillet over medium heat.
Remove the chicken from the marinade, discarding any marinade, if needed.
Working in batches, coat some of the chicken in the eggs, then coat in the flour mixture. Add to the oil and cook until golden brown and cooked through, about 5 minutes, turning as needed. Remove the chicken to a plate and continue until all of the chicken is cooked.
In a wok or another skillet, heat the 2 tablespoons of vegetable oil over high heat. Add the onion and stir fry for one minute. Add in the tomatoes and cook for one additional minute. Add in the ketchup, chicken broth, brown sugar, oyster sauce, sesame oil, ginger, lemon juice and zest.
Cook until the sauce is thickened, a few minutes. Add the chicken and stir to coat.
Serve the chicken over rice and top with green onions.
Recipe Notes:
slightly adapted from The Rachael Ray Show
Nutrition information provided as an estimate only. Various brands and products can change the counts. Any nutritional information should only be used as a general guideline. The nutritional value for the frying oil is based on a retention of 1/4 cup oil. Cooking time and temperature can cause this number to change.
Nutrition
Serving Size: 1/6 of recipe
Calories: 487
Sugar: 14 g
Sodium: 1051 mg
Fat: 22 g
Saturated Fat: 4 g
Unsaturated Fat: 16 g
Trans Fat: 0 g
Carbohydrates: 38 g
Fiber: 2 g
Protein: 36 g
Cholesterol: 167 mg
Keywords: chinese chicken