A popular Utah casserole, these Funeral Potatoes are good for more than just funerals! This classic potato casserole is comforting and crowd-pleasing.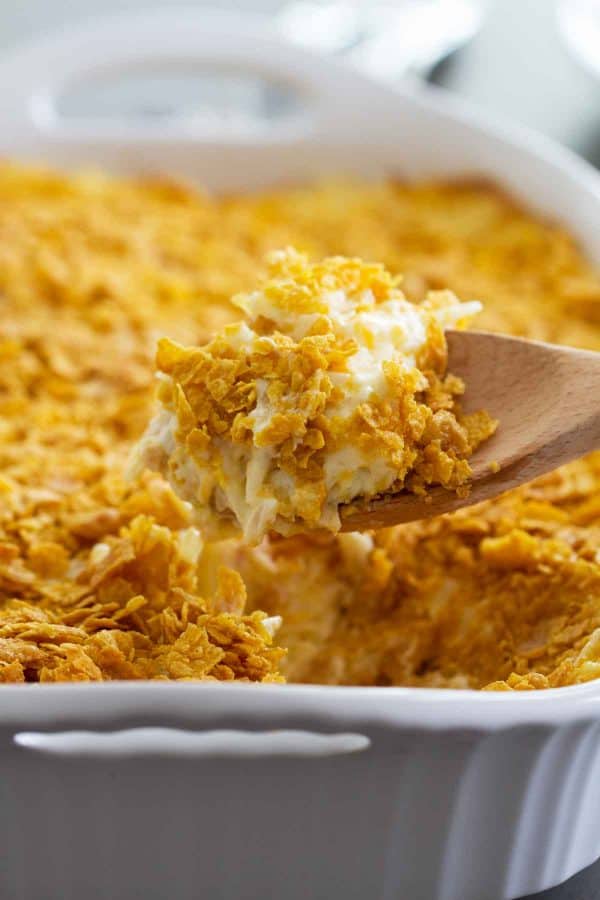 Yes – you read the title right – Funeral Potatoes.  If you don't live in Utah, you may be wondering if that was a typo.  But it's not!!  This side dish gets its name because it is a popular dish for luncheons after LDS funerals here in Utah.  And in fact, I made these potatoes that I am blogging about for a funeral last month!  I think they are so popular after funerals because they are super comforting, crowd friendly, and easy to make in large amounts. But don't worry, you can eat these anytime – not just following a funeral, thank goodness.
Ingredients in Funeral Potatoes
If you are a regular reader of my blog, you'll know that I'm not normally a big fan of "cream of…" soups.  I probably only have a handful of recipes (out of hundreds) here on this blog that have them as an ingredient.  But in staying true to this recipe, I stuck with the most well-known ingredients, which includes some cream of chicken soup.  Feel free to substitute cream of mushroom, or any other cream soup you'd like.  Or if you are feeling ambitious, try making the casserole from scratch!
Besides the cream of chicken soup, you will also need butter, sour cream, shredded cheddar cheese, diced onions, frozen hash browns and cornflakes.
For the hashbrowns, you can use either shredded or cubed. The shredded hash browns will cook faster than the cubed, so make sure you keep that in mind.
What do you put on top of Funeral Potatoes?
I have only ever made the the way that they are in this recipe – topped with corn flakes. (And no – I'm not talking about Frosted Flakes! The first time I posted this video, people were confused why there were Frosted Flakes on top. These are just regular corn flakes!) I have heard of people topping their Funeral Potatoes with crushed potato chips, french fried onions, Panko breadcrumbs, or even just extra cheddar cheese!
See how to make Funeral Potatoes here
More decadent side dish recipes:
The BEST Sweet Potato Casserole
Brussels Sprouts Gratin
Mashed Potato Skin Recipe
Scalloped Sweet Potatoes
Slow Cooker Cheesy Potatoes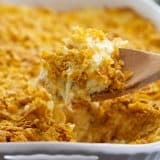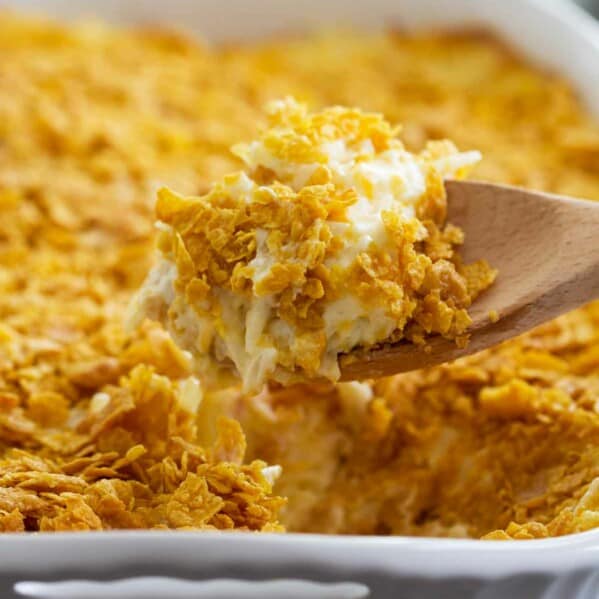 Funeral Potatoes
---
Author:
Prep Time: 10 mins
Cook Time: 30 mins
Total Time: 40 minutes
Yield: 12 servings 1x
Category: Side Dish
Method: Bake
Cuisine: American
Description
A popular Utah casserole, these Funeral Potatoes are good for more than just funerals! This classic potato casserole is comforting and crowd-pleasing.
---
Scale
Ingredients
1/2 cup butter
2 cans cream of chicken soup
2 cups sour cream
1 1/2 cups shredded Cheddar cheese
1/2 cup chopped onions
32 oz package frozen shredded or cubed hash browns
3 cups coarsely crushed corn flakes
2 tablespoons melted butter
---
Instructions
Preheat the oven to 350º.  Spray a 9×13 inch baking dish with nonstick cooking spray.
Melt the 1/2 cup butter in a large bowl.  Add the cream of chicken soup, sour cream, cheese and onions and mix to combine.  Stir in the hash browns.  Spread into the prepared baking dish.
Sprinkle the corn flakes evenly on top of the potatoes.  Drizzle the 2 tablespoons butter over the top.
Bake in the preheated oven.  For shredded hash browns, bake about 30 minutes.  For cubed hash browns, bake for 55-60 minutes.
Recipe Notes:
Nutrition information provided as an estimate only. Various brands and products can change the counts.
Nutrition
Calories: 339
Sugar: 2 g
Sodium: 760 mg
Fat: 23 g
Saturated Fat: 14 g
Unsaturated Fat: 6 g
Trans Fat: 0 g
Carbohydrates: 27 g
Fiber: 3 g
Protein: 9 g
Cholesterol: 66 mg