A popular Utah casserole, these Funeral Potatoes are good for more than just funerals! This classic potato casserole is comforting and crowd-pleasing.
I pretty much love any potato side dish! These Funeral Potatoes are right at the top of the list with these Scalloped Potatoes and The Best Sweet Potato Casserole!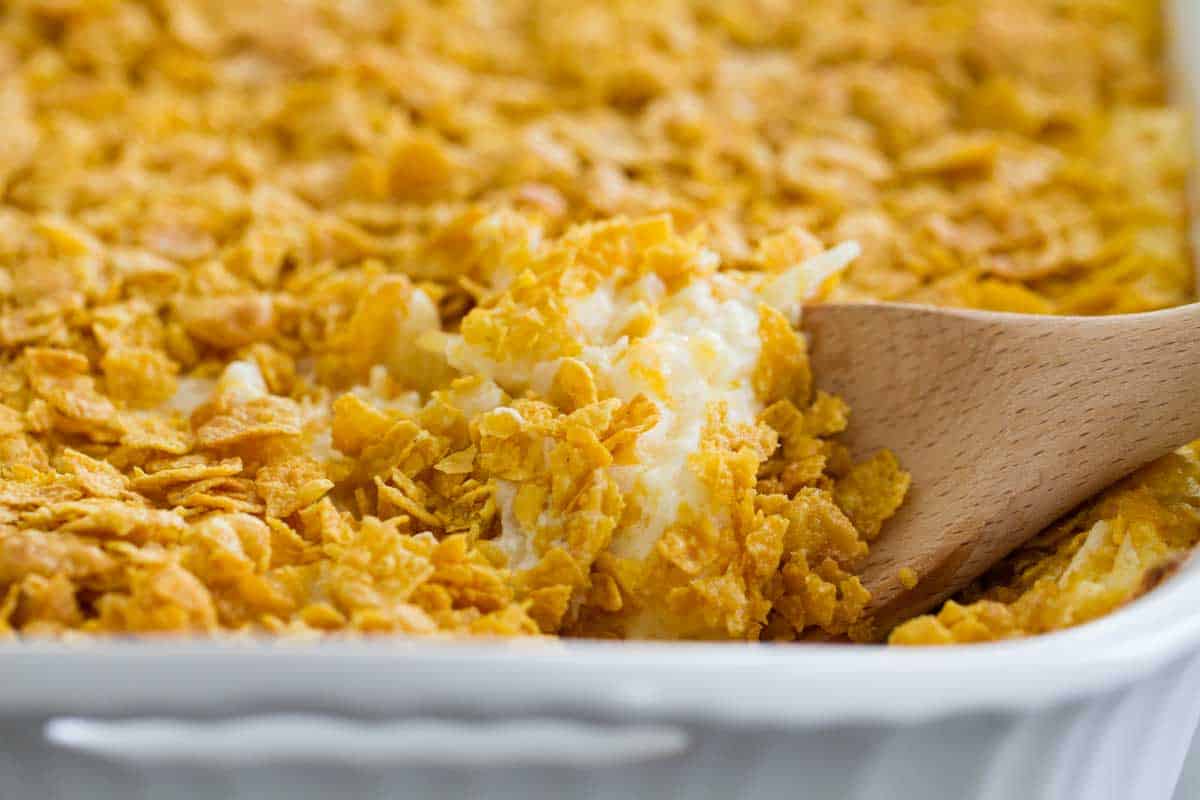 Are you looking for the perfect holiday side dish?
This cheesy potato casserole is great for holidays – we have them a lot on Easter, but they are great for Thanksgiving or Christmas as well. Actually – they are really perfect for any holiday!
Why Are They Called Funeral Potatoes?
Yes – you read the title right – Funeral Potatoes. If you don't live in Utah, you may be wondering if that was a typo. But it's not!! This side dish gets its name because it is a popular dish for luncheons after funerals here in Utah. And in fact, I made these potatoes that I am blogging about for a funeral last month! I think they are so popular after funerals because they are super comforting, crowd friendly, and easy to make in large amounts. But don't worry, you can eat these anytime – not just following a funeral, thank goodness.
They are known by many other names, as well, like Cheesy Potato Casserole, Company Potatoes, Comfort Potatoes, Holiday Potatoes, Hash Brown Casserole, and Heart Attack Casserole.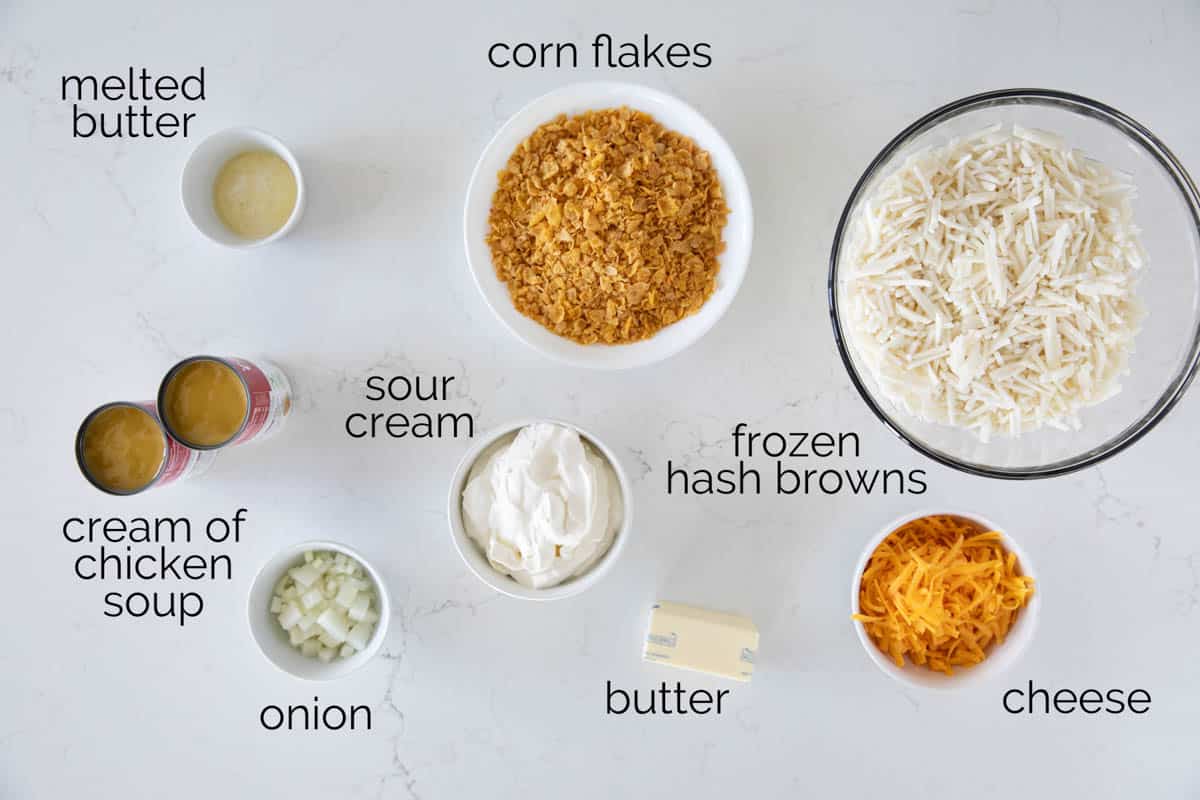 Ingredients:
Butter: I use unsalted butter. I am actually a salt addict, but find these plenty salty with just the other ingredients, so I would stick with unsalted butter.
Cream of Chicken Soup: If you are a regular reader of my blog, you'll know that I'm not normally a big fan of "cream of…" soups.  I probably only have a handful of recipes (out of hundreds) here on this blog that have them as an ingredient.  But in staying true to this recipe, I stuck with the most well-known ingredients, which includes some cream of chicken soup.  Feel free to substitute cream of mushroom, or any other cream soup you'd like.  Or if you are feeling ambitious, try making the casserole from scratch!
Sour Cream: This is not a low fat dish, so I would stick with full fat for the best outcome.
Cheddar Cheese: I always suggest freshly grating the cheese because it will melt the best.
Chopped Onions: I like yellow or white onions the best.
Frozen Hash Browns: I have used both shredded potatoes and cubed potatoes. The shredded hash browns will cook faster than the cubed, so make sure you keep that in mind.
Corn Flakes and Butter: I've had some confusion with people thinking that you put Frosted Flakes on top. These are just regular, not-sweet corn flakes. If you don't like the idea of the cornflakes, I've had people use panko bread crumbs, crushed potato chips, french fried onions, or even just more shredded cheese. The melted butter on top of the corn flakes makes it so that the corn flakes get nice and crispy.
How to Make Funeral Potatoes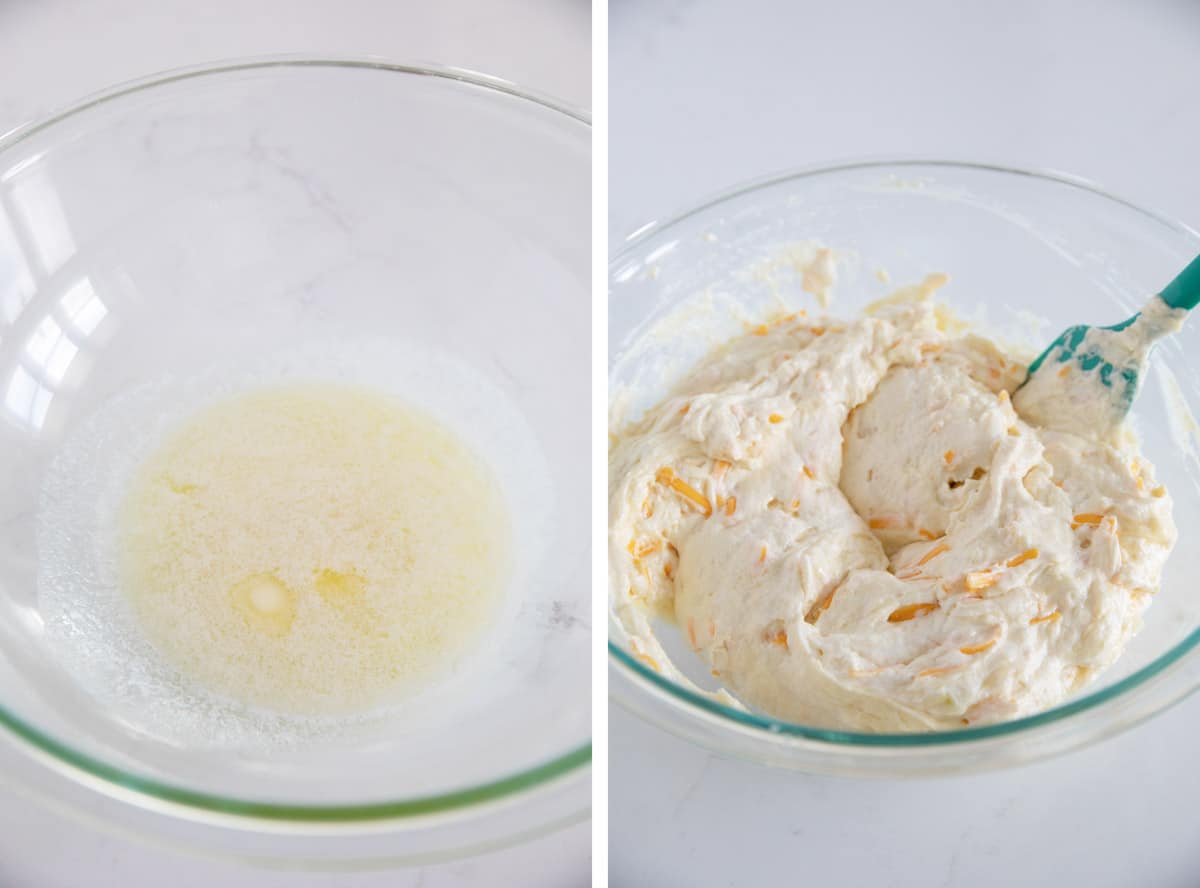 Start by melting the butter in a large bowl. (Make sure the bowl is really big so you have room to stir everything together!) I just do this in the microwave, but you can melt it on the stove and then add it to the large bowl.
Stir in the cream of chicken soup, sour cream, cheese, and onions. Stir it well.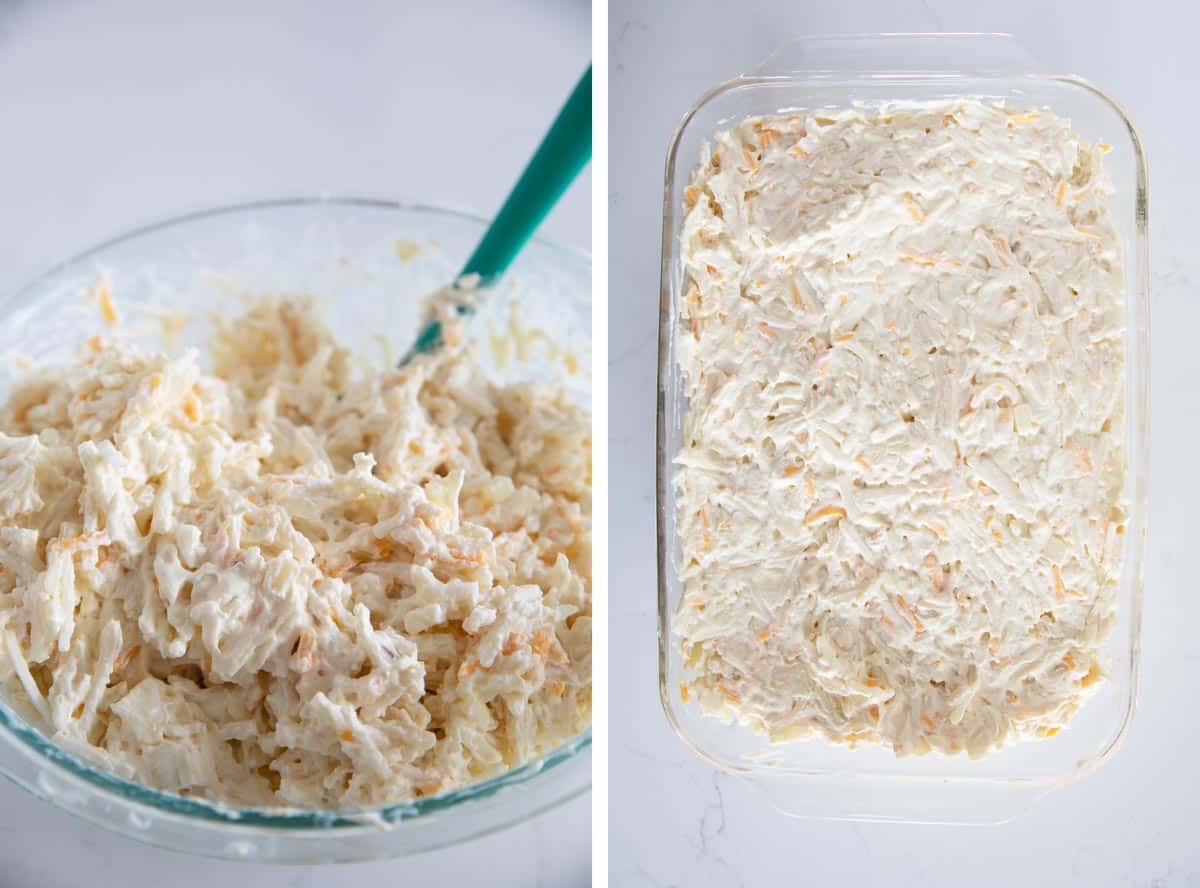 Add in the hashbrowns and stir.
Spread the mixture into a 9×13-inch baking dish that has been sprayed with nonstick cooking spray.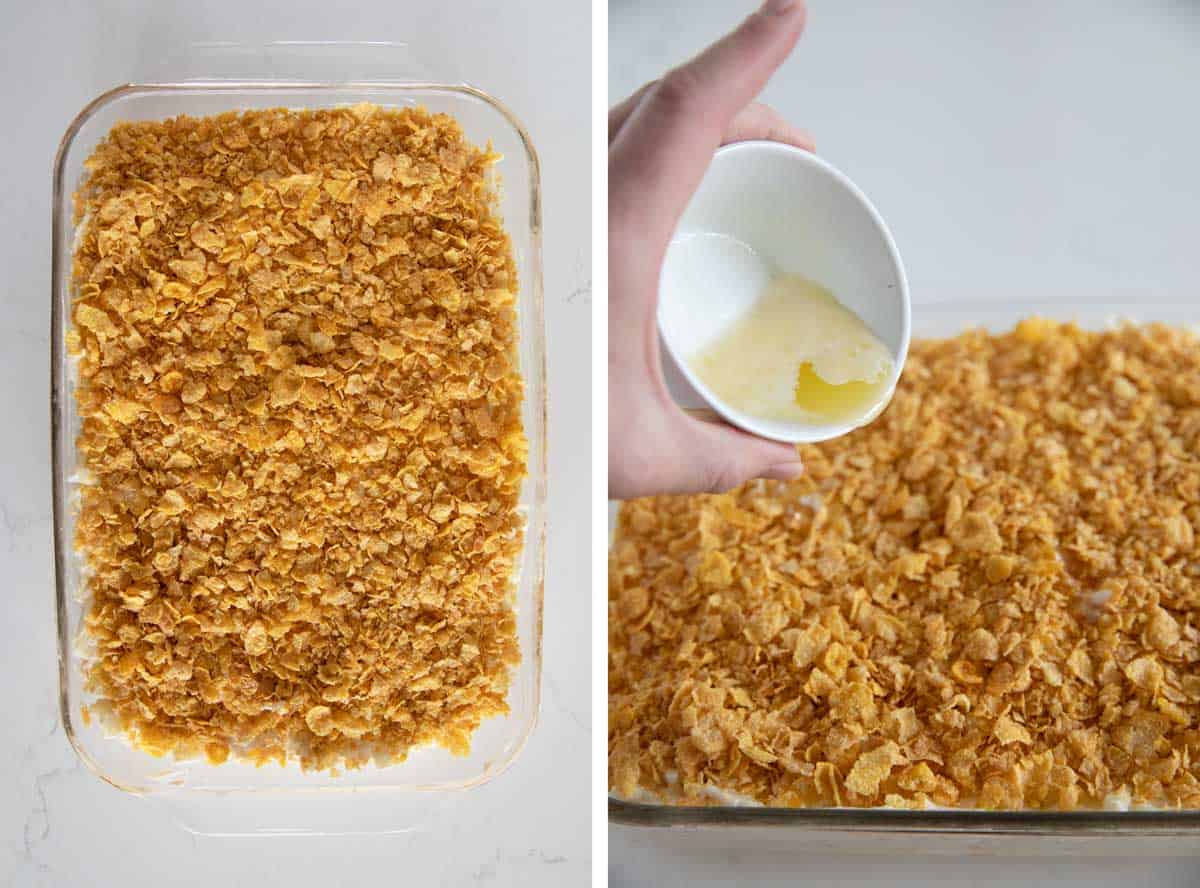 Spread the crushed cornflakes on top.
Then drizzle the butter over the cornflakes.
Bake until everything is heated through and bubbling!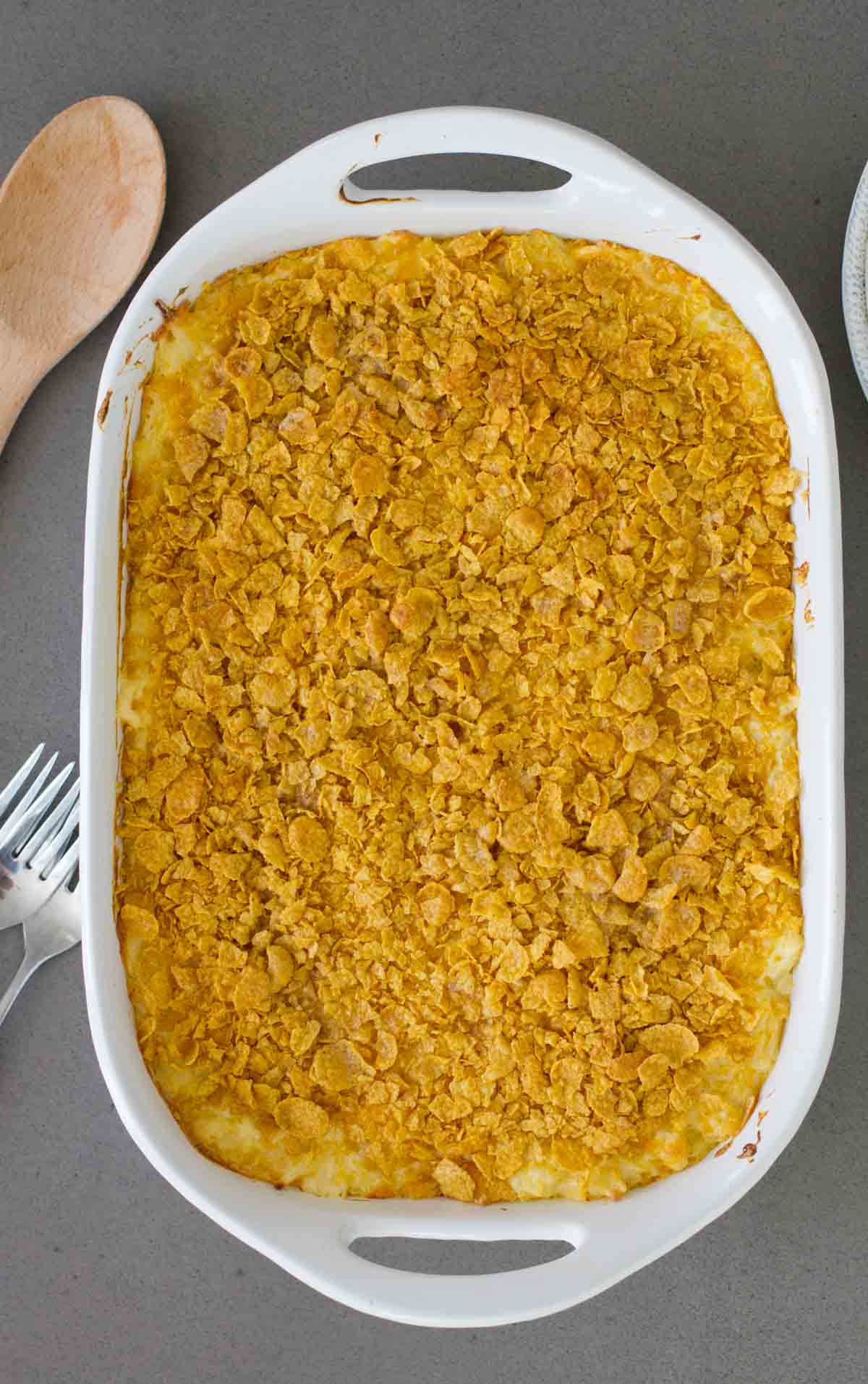 Tips and Tricks
These Funeral Potatoes can be made ahead of time. Just don't top them with the corn flakes until right before you bake them.
If you want to make them even further ahead of time and freeze them, again, assemble the casserole, leaving the corn flakes off. Wrap it tightly and freeze. Thaw completely before baking, topping with the cornflakes and butter before you put them in the oven.
Technically, you can double the recipe, but you would need a *very* large bowl. I would suggest just making the recipe twice.
No need to defrost the hashbrowns before adding them to the mix. If they are thawed, your potatoes will be finished baking 10-15 minutes faster.
Funeral Potatoes Video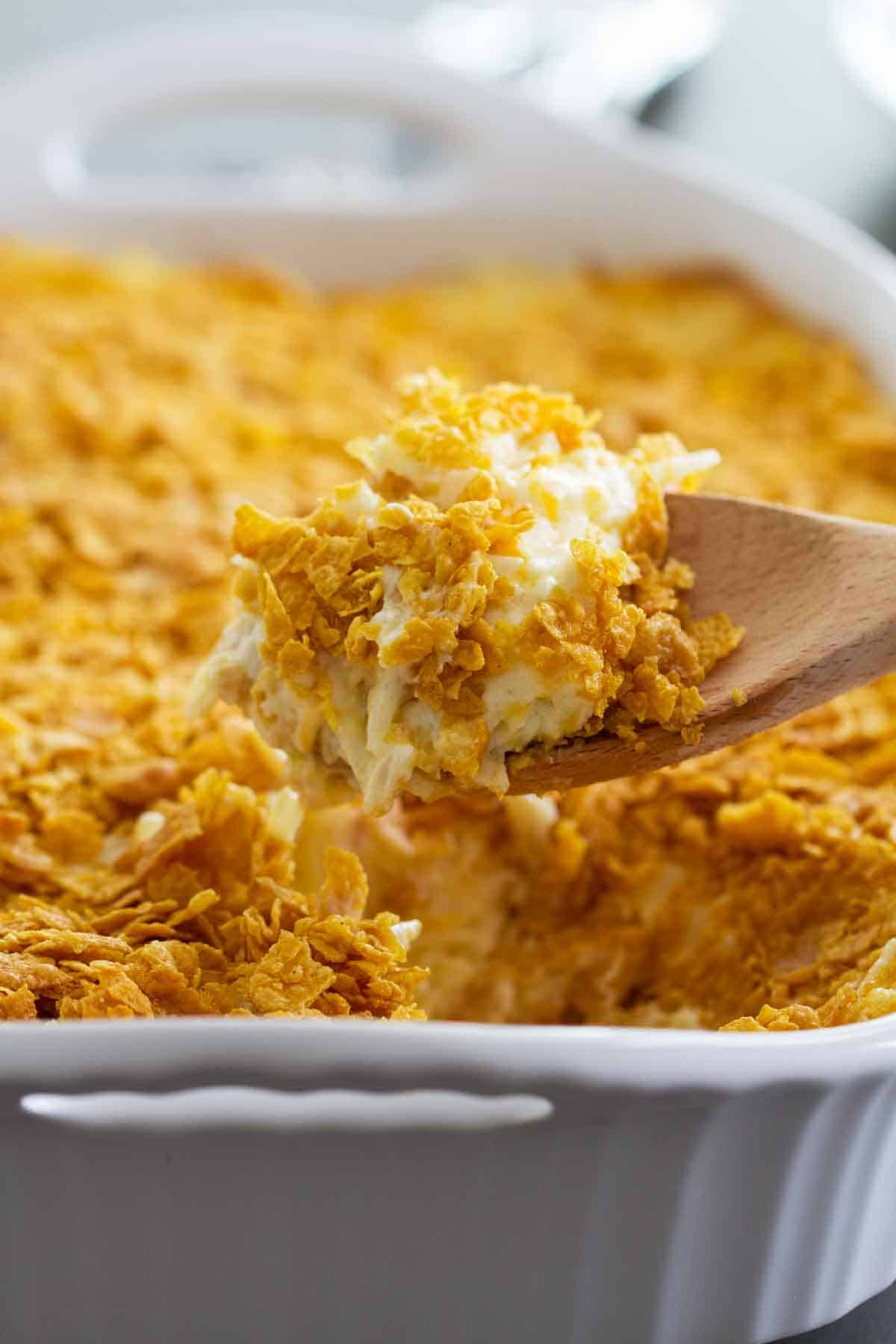 More delicious side dish recipes:
Scalloped Sweet Potatoes – if you are looking for something familiar, but different, this is a great way to change things up without going too crazy.
Glazed Carrots – this is such an easy side dish, and it gets devoured every time.
Scalloped Corn and Broccoli – this one has become a holiday staple for us.
Corn Casserole – this side dish is easy enough for a weeknight, but tasty enough for a holiday!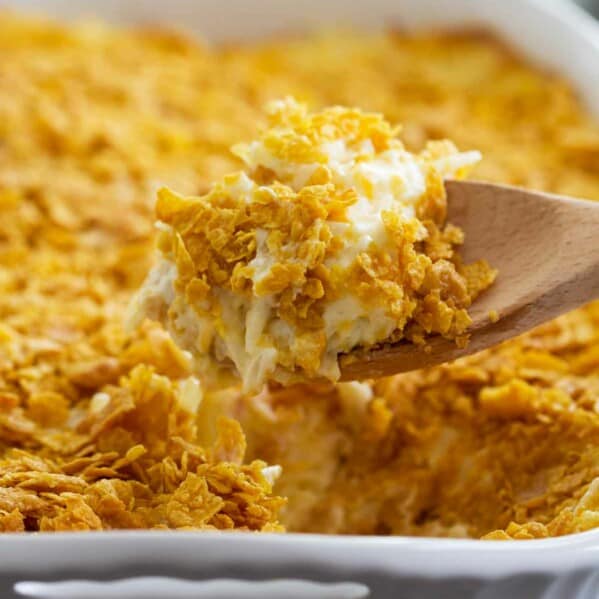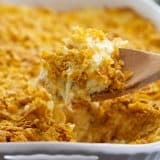 Funeral Potatoes
---
Author:
Prep Time: 10 minutes
Cook Time: 30 minutes
Total Time: 40 minutes
Yield: 12 servings 1x
Category: Side Dish
Method: Bake
Cuisine: American
Description
A popular Utah casserole, these Funeral Potatoes are good for more than just funerals! This classic potato casserole is comforting and crowd-pleasing.
---
Scale
Ingredients
1/2 cup butter
2 cans cream of chicken soup
2 cups sour cream
1 1/2 cups shredded Cheddar cheese
1/2 cup chopped onions
32 oz package frozen shredded or cubed hash browns
3 cups corn flakes, coarsely crushed
2 tablespoons melted butter
---
Instructions
Preheat the oven to 350º.  Spray a 9×13 inch baking dish with nonstick cooking spray.
Melt the 1/2 cup butter in a large bowl.  Add the cream of chicken soup, sour cream, cheese and onions and mix to combine.  Stir in the hash browns.  Spread into the prepared baking dish.
Sprinkle the corn flakes evenly on top of the potatoes.  Drizzle the 2 tablespoons butter over the top.
Bake in the preheated oven.  For shredded hash browns, bake about 30 minutes.  For cubed hash browns, bake for 55-60 minutes.
Recipe Notes:
Nutrition information provided as an estimate only. Various brands and products can change the counts.
Nutrition
Serving Size: 1/12 of recipe
Calories: 339
Sugar: 2 g
Sodium: 760 mg
Fat: 23 g
Saturated Fat: 14 g
Unsaturated Fat: 6 g
Trans Fat: 0 g
Carbohydrates: 27 g
Fiber: 3 g
Protein: 9 g
Cholesterol: 66 mg
Keywords: funeral potatoes, funeral potatoes recipe, holiday potatoes