Faster than take-out – this Kung Pao Chicken recipe is spicy and full of flavor. Simple ingredients come together to make this easy weeknight dinner recipe.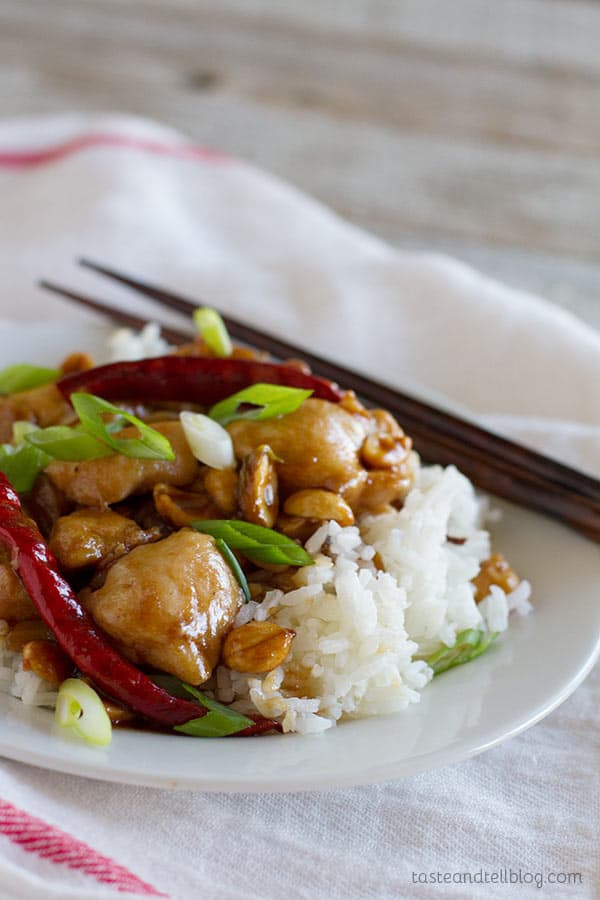 Photos Updated November 2014



Originally posted February 12, 2010 – We love make your own take out night at my house. Which usually means some sort of Chinese food. This Kung Pao Chicken recipe is one of my favorites. The first time I made it and blogged about it, I said that it wasn't very spicy. But I have found that if I split open a chile or two, that definitely adds to the heat level. If I'm making this for the kids, I like to keep it on the mild side, but if it's just for the adults, you can bet I'll be breaking apart some chiles! This is a super easy recipe – and way better than take out!!



For this week's recipe from the Cookbook of the Month – The Shun Lee Cookbook – I decided to go with something I'm sure all of us have had at one time or another – a Kung Pao Chicken recipe. This isn't something I would normally make simply because my husband isn't a fan of spicy, and usually, Kung Pao Chicken is quite spicy. But I decided to go for it anyway, and just made it 2 batches – one without chilies and peanuts for him, and one batch with them for me. But honestly, the chilies didn't add any heat to this. And it could very well be the type of chilies I used, because I had some in my pantry and just went with them. Maybe I should have broken one or two of them open to release some of the heat, and maybe I'll try that if I make this again. Or I'll actually go to an Asian market. But really, even without the heat, this meal was quickly devoured. By both me and my husband!
Recipe notes:
The original recipe calls for hot bean sauce, but I'm not sure where to find it. I've looked quite a few places, and haven't found anything. I've been substituting hoisin sauce, because I always have it, and honestly – I don't know how much of a difference it makes since I've never had hot bean sauce!
Once again, I didn't use a wok, simply because I don't have one. I just used a saute pan, which worked fine, but I'm sure it's much quicker and more efficient with a wok.
Make sure you have all your ingredients ready to go before you start cooking. This comes together very fast once it starts going on the stove!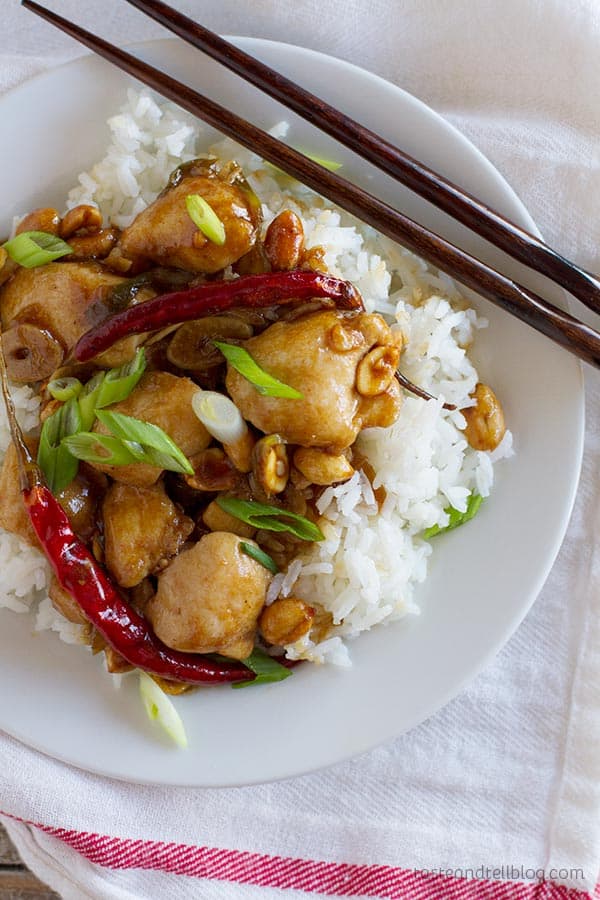 Like what you see here? Make sure you are following Taste and Tell for more great recipes and ideas!!

Facebook ** Pinterest ** Twitter ** Instagram ** Google+
or you can subscribe to my newsletter or Feedly or Bloglovin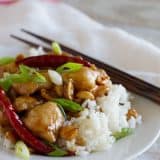 Kung Pao Chicken Recipe
---
Author:
Prep Time: 15 mins
Cook Time: 15 mins
Total Time: 30 mins
Yield: 4 servings 1x
Description
Faster than take-out – this Kung Pao Chicken recipe is spicy and full of flavor. Simple ingredients come together to make this easy weeknight dinner recipe.
---
Scale
Ingredients
1 lb boneless, skinless chicken breasts, cut into 3/4-inch pieces
1 large egg white, beaten until foamy
1 teaspoon cornstarch
1 teaspoon salt
1/4 cup rice wine or dry sherry
2 tablespoons soy sauce
2 tablespoons red wine vinegar
1 tablespoon sugar
1 teaspoon cornstarch
vegetable oil
6 green onions, sliced into 1/4-inch pieces
3 cloves garlic, sliced thinly
10 small dried hot chiles
1 1/2 teaspoons hoisin sauce
1/2 cup salted roasted peanuts
1 teaspoon dark sesame oil
---
Instructions
In a bowl, combine the chicken, egg white, cornstarch and salt. Cover and refrigerate for 30 minutes.
In a small bowl, combine the rice wine, soy sauce, vinegar and sugar. Set aside. In another small bowl, dissolve the cornstarch in 2 teaspoons of cold water and set this mixture aside.
Heat a large wok or skillet over high heat. Add a thin layer of vegetable oil to the hot skillet. Add the chicken pieces, all at the same time, and stir gently, keeping the pieces of chicken separated. Cook until they turn white, about 45 seconds. Remove from the skillet, and wipe down the skillet with a paper towel.
Return the wok or skillet to medium- high heat. Add 2 tablespoons of vegetable oil and heat until it is shimmering. Add the green onions, garlic, chiles and hoisin. Stir fry until the green onions wilt, about 45 seconds. Return the chicken to the pan, the add the rice wine vinegar. Stir fry until the chicken cooked through. Add the cornstarch mixture and stir until the sauce thickens. Add the peanuts and sesame oil and stir to combine. Serve as desired.
Recipe Notes:
*time listed does not include 30 minute marinating time.
*We like to serve this over rice
slightly adapted from The Shun Lee Cookbook

**This post contains affiliate links. If you purchase an item from Amazon from the link Taste and Tell receives a small commission. Thank you for supporting Taste and Tell through your purchases!**