Better than take-out – this Kung Pao Chicken is spicy and full of flavor. Simple ingredients come together to make this easy weeknight dinner recipe.
Make it a take out night at home with this Kung Pao Chicken, some Easy Egg Rolls, and some Easy Lo Mein.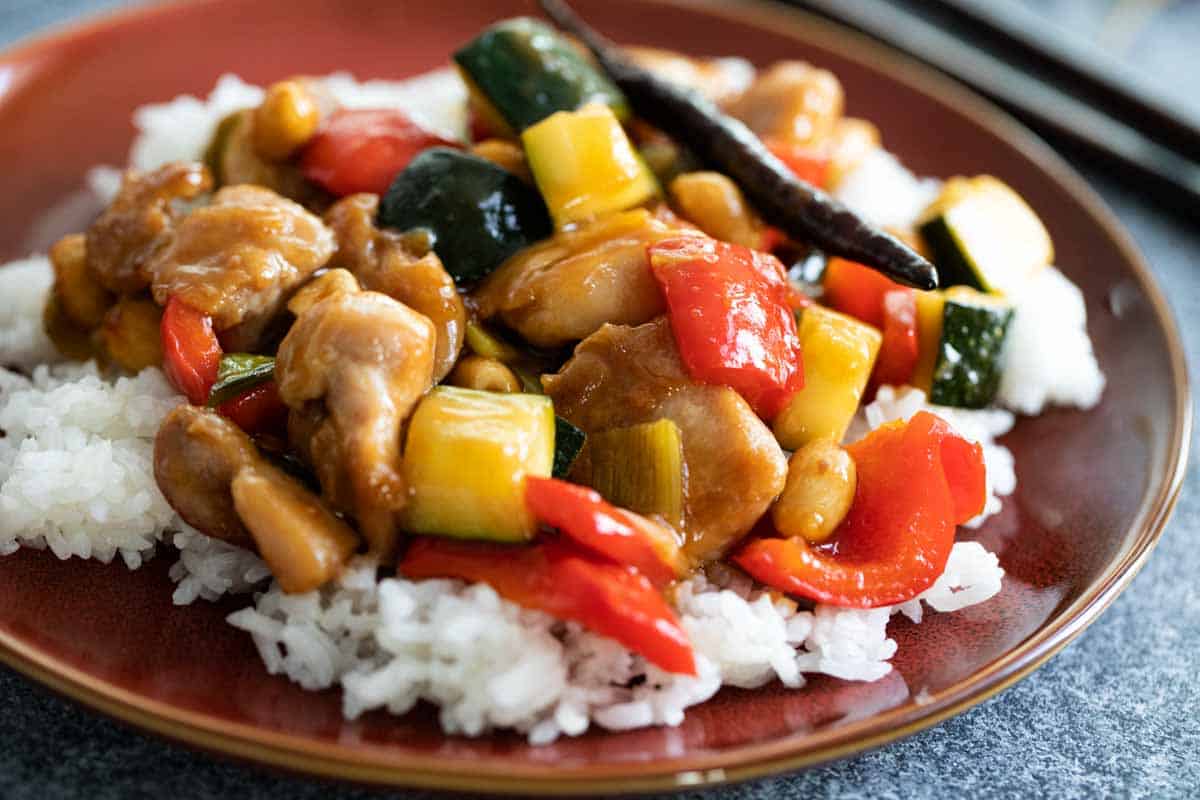 We love make your own take out night at my house. Which usually means some sort of Chinese food. This Kung Pao Chicken recipe is one of my favorites. This is a super easy recipe – and way better than take out!!
What is Kung Pao Chicken?
Kung Pao Chicken is a spicy stir fry chicken dish with peanuts and vegetables. The sauce is known for being made with soy sauce, vinegar, and some sugar, giving it a salty, sweet and sour flavor.
The base of this recipe originally came from the version of Kung Pao Chicken in The Shun Lee Cookbook, (affiliate link), which has recipes based off of the food served in the Shun Lee Palace restaurant in New York City. I did make some changes based on what ingredients are easy for me to find, and added in some additional vegetables.
In the cookbook, it is written that this dish originated in the 19th century when a governor's chef was cooking a dish and accidentally burned the red chilies. Not wanting to offend, the governor's guests remarked on how much they liked the dish. The dish got its name because in Mandarin, "kung pao" means "court official".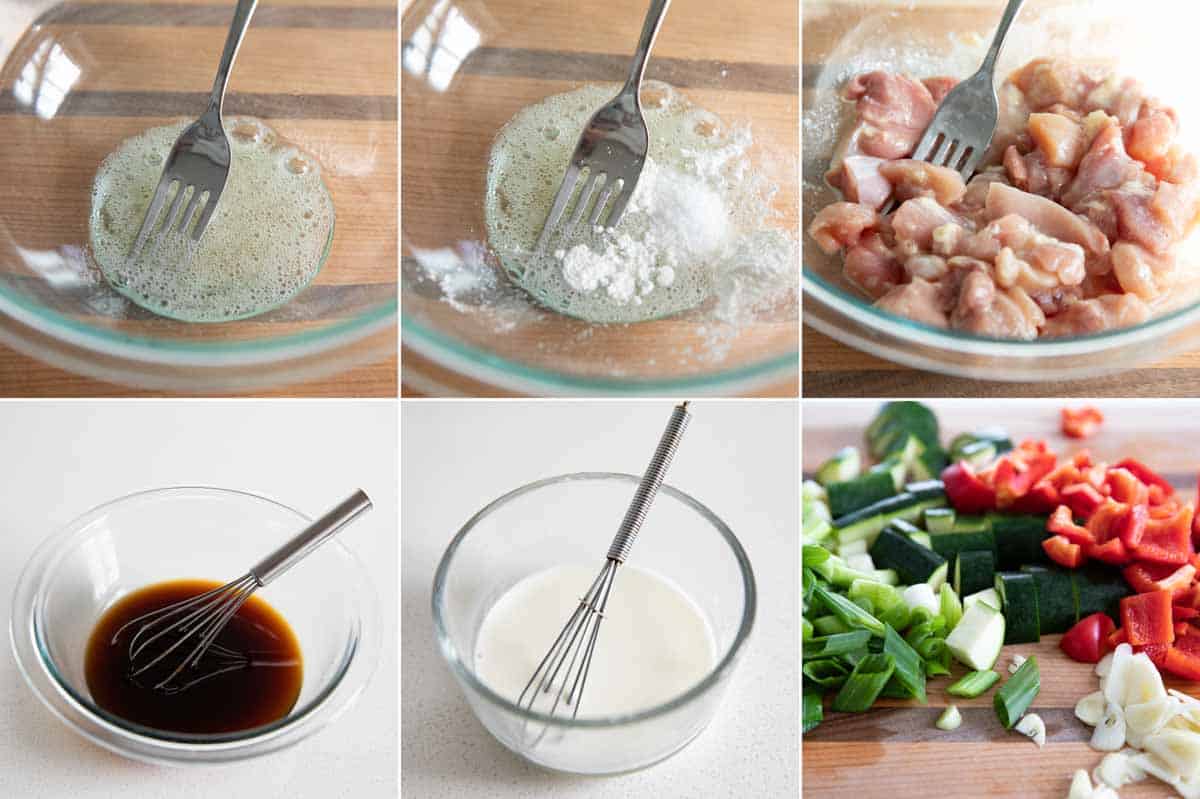 How to Make It
PREP: You'll first need to prep the chicken by mixing together a whisked egg white, cornstarch and salt, and then letting your chicken marinate in this for about 30 minutes. While the chicken is marinating, make your sauce, as well as a mixture of cornstarch and water. This is a good time to cut your vegetables as well, as you'll want all of this done before you start cooking.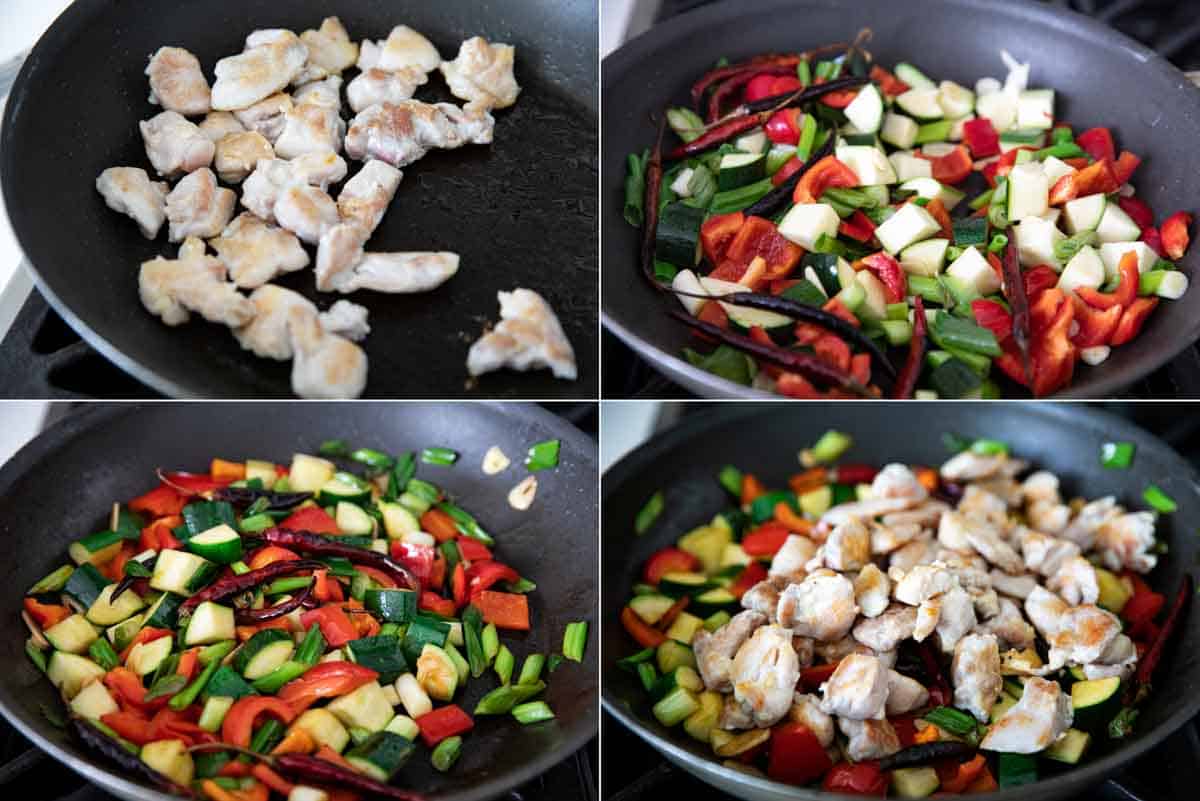 COOK: After 30 minutes, cook your chicken in 2 batches until it is cooked through. Next cook the chiles, then the vegetables until crisp tender. Add the chicken back into the skillet or wok.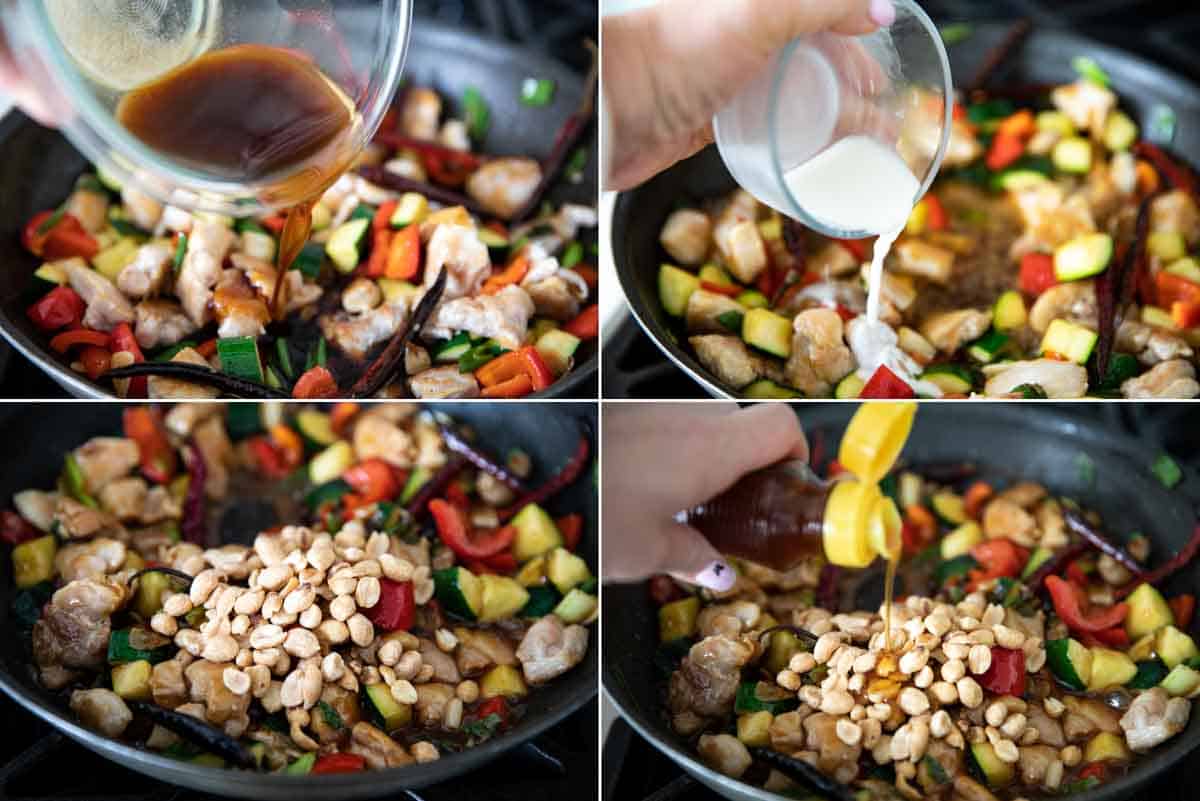 SAUCE: Once everything is cooked, add in the sauce, as well as the cornstarch mixture. Cook this all a couple of minutes until it is thickened. Lastly, stir in your peanuts and sesame oil.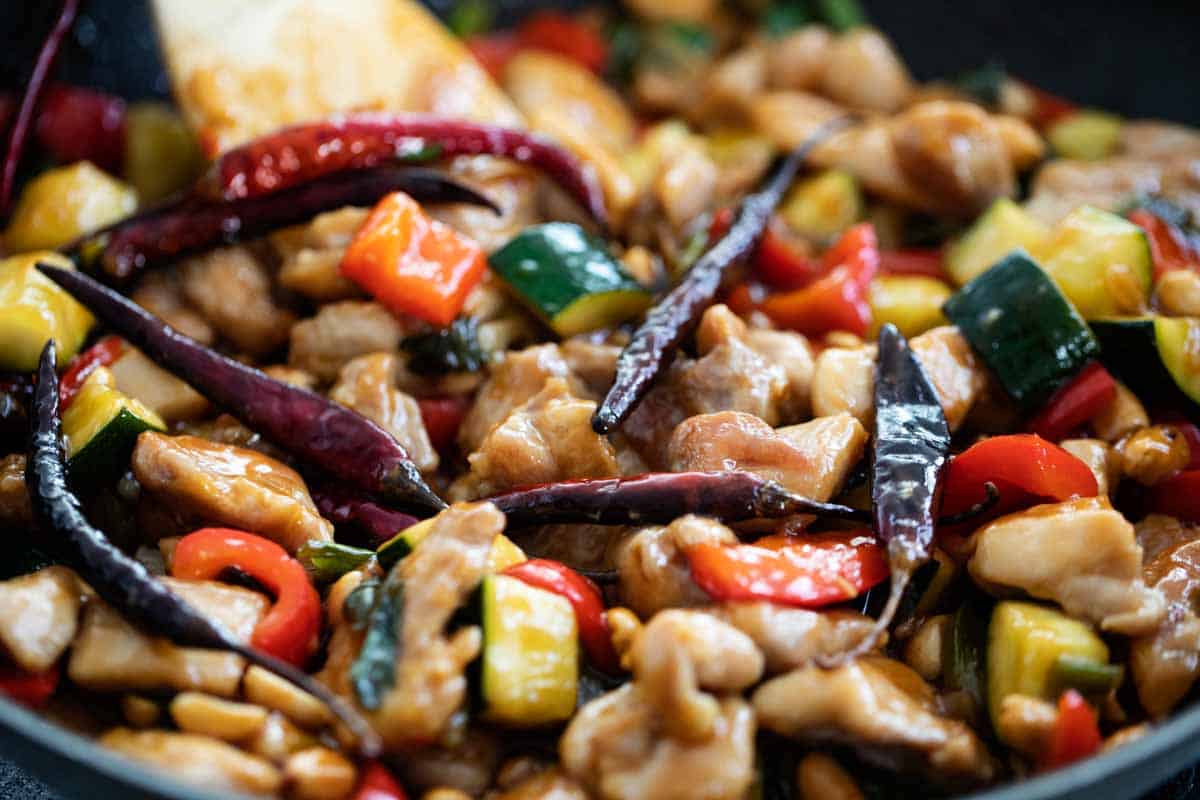 Tips and Tricks
The first time I made it and blogged about this Kung Pao Chicken, I said that it wasn't very spicy. But I have found that if I split open a chile or two, that definitely adds to the heat level. If I'm making this for the kids, I like to keep it on the mild side, but if it's just for the adults, you can bet I'll be breaking apart some chiles!
Make sure you have all your ingredients ready to go before you start cooking. This comes together very fast once it starts going on the stove!
The original recipe uses chicken breasts, but I prefer thighs because they have more flavor. Feel free to use either, though.
The original recipe also did not have red bell pepper or zucchini. I love the extra vegetables, but feel free to leave these out as well.
I don't like to share recipes that have hard to find ingredients, so all of these should be easy to find at most grocery stores. The chiles that I use are actually found in the Mexican section with the other dried chiles. There may be a different, more authentic chile, but I value the ease of using something easy to find.
If you double the recipe, be aware that you'll need 2 skillets (or one very large skillet). I used a 12-inch deep skillet, and would definitely not be able to fit twice as much in it.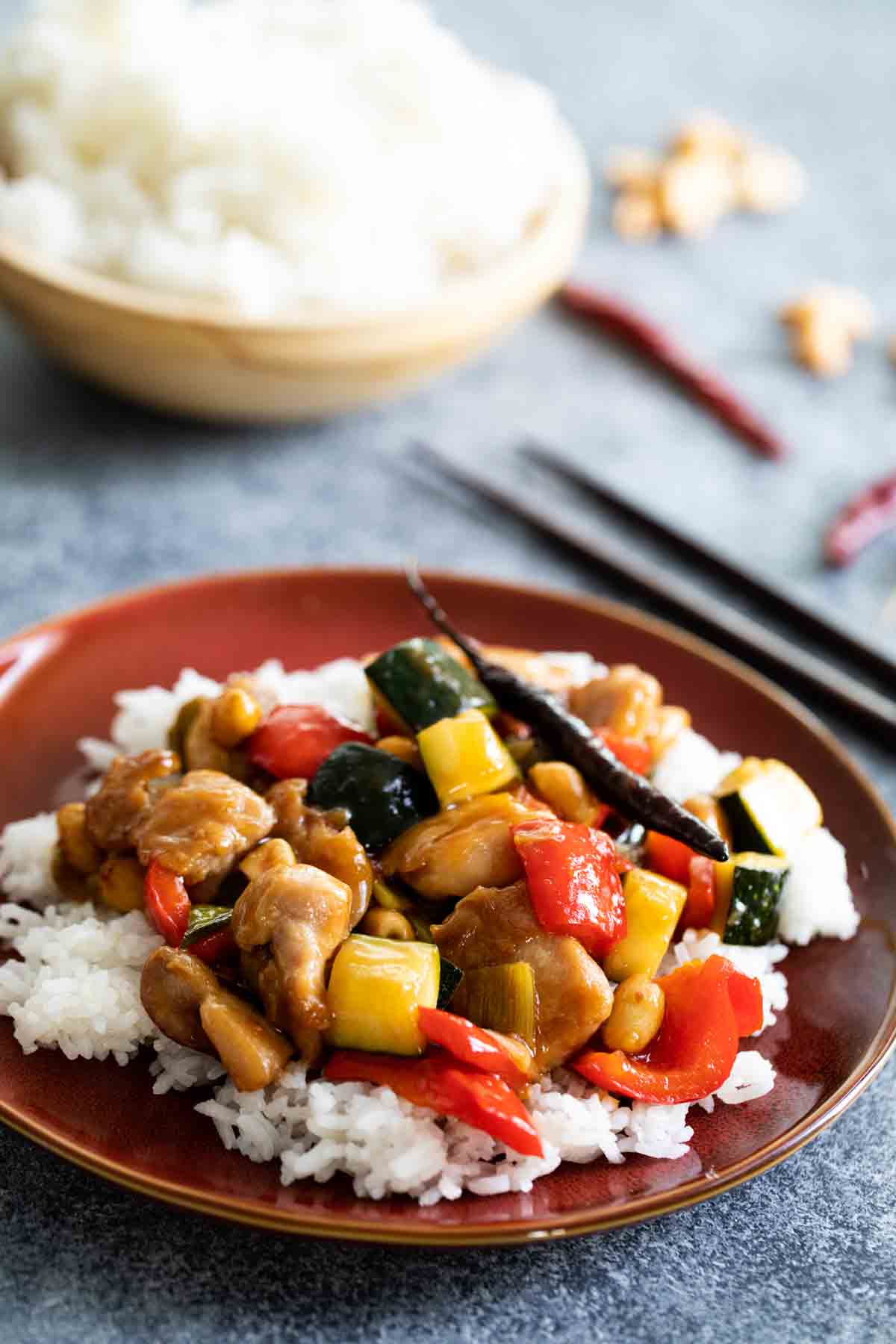 More Asian Inspired Recipes
Sweet and Sour Chicken – one of the most popular here on Taste and Tell for a reason. Everyone loves this dish!
Homemade Teriyaki Sauce – you won't believe how easy it is to make this at home! I never even buy it anymore because this is so much better.
Beef and Broccoli – another make your own take out favorite, this Beef and Broccoli comes together super fast.
Chinese Chicken – if you like it a little sweet, this one is for you!
General Tso's Chicken – if you've had this dish, you will love this version!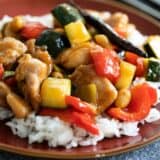 Kung Pao Chicken
---
Author:
Prep Time: 15 mins
Cook Time: 15 mins
Total Time: 1 hour
Yield: 4 servings 1x
Category: Main Dish
Method: Stove Top
Cuisine: Asian
Description
Better than take-out – this Kung Pao Chicken recipe is spicy and full of flavor.  Simple ingredients come together to make this easy weeknight dinner recipe.
---
Scale
Ingredients
1 large egg white
1 teaspoon cornstarch
1 teaspoon salt
1 lb boneless, skinless chicken thighs, cut into 3/4-inch pieces
1/4 cup mirin
2 tablespoons soy sauce
2 tablespoons red wine vinegar
1 tablespoon hoisin
1 tablespoon sugar
1 tablespoon cornstarch
2 tablespoons vegetable oil
10 small dried hot chiles*
1 red bell pepper, cut into chunks
1 small zucchini, cut into chunks
6 green onions, sliced into 1/4-inch pieces
3 cloves garlic, sliced thinly
1/2 cup salted roasted peanuts
1 teaspoon dark sesame oil
---
Instructions
Place the egg white in a medium bowl and whisk until foamy. Add the cornstarch and salt and whisk to combine. Add the chicken and stir to coat. Cover and refrigerate for 30 minutes.
In a small bowl, combine the mirin, soy sauce, red wine vinegar, hoisin, and sugar. Set aside.
In another small bowl, whisk together the cornstarch with 1 tablespoon of water. Set aside.
Heat 1/2 tablespoon of oil in a large skillet or wok over high heat. Working in 2 batches, add half of the chicken in a single layer, trying not to crowd the pan. Cook until browned, then turn and cook until the chicken is cooked, through. Remove the chicken to a plate. Add another 1/2 tablespoon of oil and cook the second half of the chicken. Remove to the plate.
In the same skillet, heat the remaining 1 tablespoon of oil. Add the chiles and toss to coat for 30 seconds. (Be careful, because they can burn easily.) Add the red bell pepper, zucchini, green onions and garlic. Cook until the vegetables are crisp tender, 2-3 minutes.
Add the chicken back into the pan, then pour in the sauce mixture. Pour the cornstarch mixture in next, making sure to re-whisk it before adding it.
Cook until the sauce has thickened up slightly, 2-3 minutes.
Stir in the peanuts and the dark sesame oil.
Serve.
Recipe Notes:
We like to serve this over rice
adapted from The Shun Lee Cookbook
*We don't like to actually eat the chiles, but love the flavor and spice that they bring. For more spice, you can cut the peppers into 2-3 pieces when adding them.
Nutrition information provided as an estimate only. Various brands and products can change the counts. Any nutritional information should be used as a general guide. Nutrition information does not include rice for serving.
Nutrition
Serving Size: 1/4 of recipe
Calories: 406
Sugar: 16 g
Sodium: 1422 mg
Fat: 25 g
Saturated Fat: 5 g
Unsaturated Fat: 12 g
Trans Fat: 0 g
Carbohydrates: 27 g
Fiber: 5 g
Protein: 23 g
Cholesterol: 75 mg
Keywords: kung pao chicken, kung pao chicken recipe, what is kung pao chicken, how to make kung pao chicken