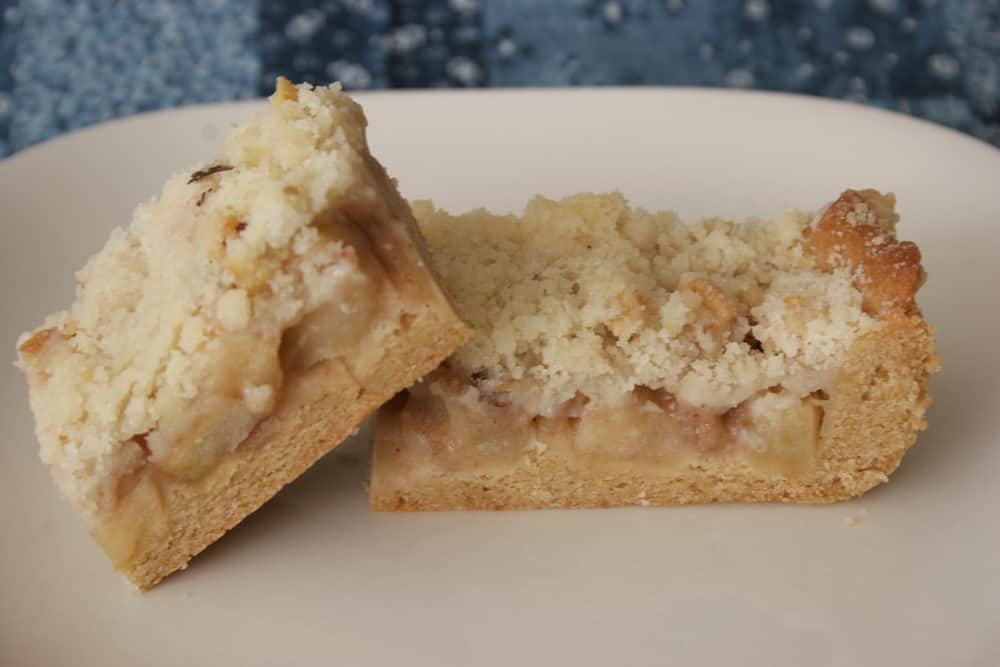 Head over to the Daring Bakers site to check out my review on this cookbook!!
There is one thing that I can't resist – a good crumb topping. And pairing a crumb topping with apples is like a match made in heaven for me. In fact, I've blogged about my favorite apple pie that has a crumb topping. I love Thanksgiving just so I can make that pie!!
But what can you do when you don't want to go to the trouble of making a pie? How about cookie bars that have all the same flavors?? I knew I had to make these bars when I saw the recipe. And you don't have to wait for Thanksgiving! I actually made these when I was 10 days away from giving birth, so you know that they can't be too complicated.
I'm sensing an apple craving coming on now…
Apple Crumb Bars
from Field Guide to Cookies
Filling:
3 large tart apples, such as Granny Smith
3 tablespoons unsalted butter
1/2 cup sugar
2 tablespoons lemon juice
2 tablespoons all-purpose flour
1/4 teaspoon cinnamon
Crust:
2 cups all-purpose flour
1 teaspoon baking powder
1/2 teaspoon salt
6 tablespoons unsalted butter, softened
3/4 cup light brown sugar
1 egg
Streusel:
1/2 cup sugar
2/3 cup plus 2 tablespoons all-purpose flour
1/8 teaspoon salt
6 tablespoons unsalted butter, cold, diced
1/4 cup chopped walnuts
For the filling: Peel, core and chop the apples in 1/2-inch cubes. Set aside in a bowl.
Melt butter in a large saute pan over medium heat. Add the apples and saute for about 8 minutes until apples are semi-soft.
Add the sugar, lemon juice, flour and cinnamon to the apples and stir to combine.
Cook until the mixture begins to bubble, then turn the heat to low and cook for another 3 minutes, stirring constantly. Transfer the filling to a bowl and let cool while you make the crust.
For the crust: Line a 13 x 9 inch pan with foil, leaving enough to hang over the edges to make a handle for removing the bars after baking. Grease foil with cooking spray.
Whisk flour, baking powder and salt together in a bowl and set aside.
In a stand mixer, cream butter and sugar together on medium speed for several minutes until light and fluffy. Add eggs and mix to combine.
Add flour mixture and mix to combine.
Pour the dough into the prepared pan and gently press into the bottom of the pan and about 1/4 inch up the sides, making sure it is level. Set pan aside while you make streusel.
Preheat oven to 350F.
For the streusel: in a stand mixer, combine the sugar, flour and salt and mix to combine. Add the butter, mix until crumbly and the butter pieces are very small. Add the walnuts and mix just to combine.
Spread the cooled apple mixture evenly over the crust, leaving about 3/4 inch between the pan sides and the filling. Sprinkle the streusel evenly over the filling.
Bake for about 35 minutes, until the top layer is golden.
Cool completely on a wire rack before removing. Cut into 1-inch by 3-inch bars.