For a different take on a peach pie, try these Peaches and Cream Bars that have a shortbread crust, a creamy peach filling and a crumble topping.
Summertime recipes are the best, right? For even more dessert recipes using fresh fruit, try this Peach Frozen Yogurt, Fresh Blueberry Crisp, or Fruit Pizza.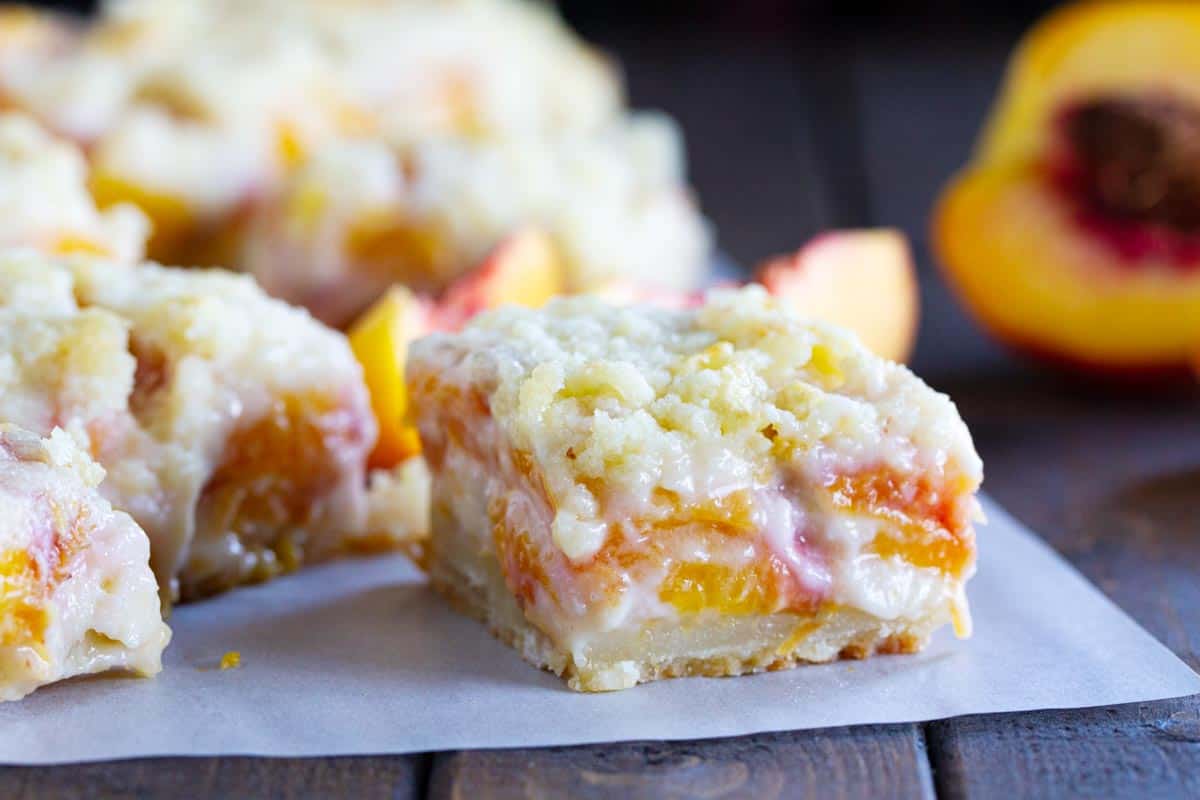 If there is one food that I can't wait to come in season here in Utah, it's peach season. I LOVE Utah peaches. Now, I've never been to Georgia before, and I know that they are known for their peaches, but I'm guessing that a Utah peach would rival a Georgia peach!
And while I'll eat my weight in fresh peaches, there is one recipe I have to make every peach season – these Peaches and Cream Bars. They are super rich, buttery, and gooey, and a little bar goes a long way – but I l-o-v-e these things. The buttery crust with the sweet peaches – this is my idea of taking advantage of peach season!
I actually have another version of these bars here on Taste and Tell – the Blackberry Pie Bars. I loved those so much that I had to try them with peaches, and they were a match made in heaven. I couldn't choose my favorite between the two – just give me one of each!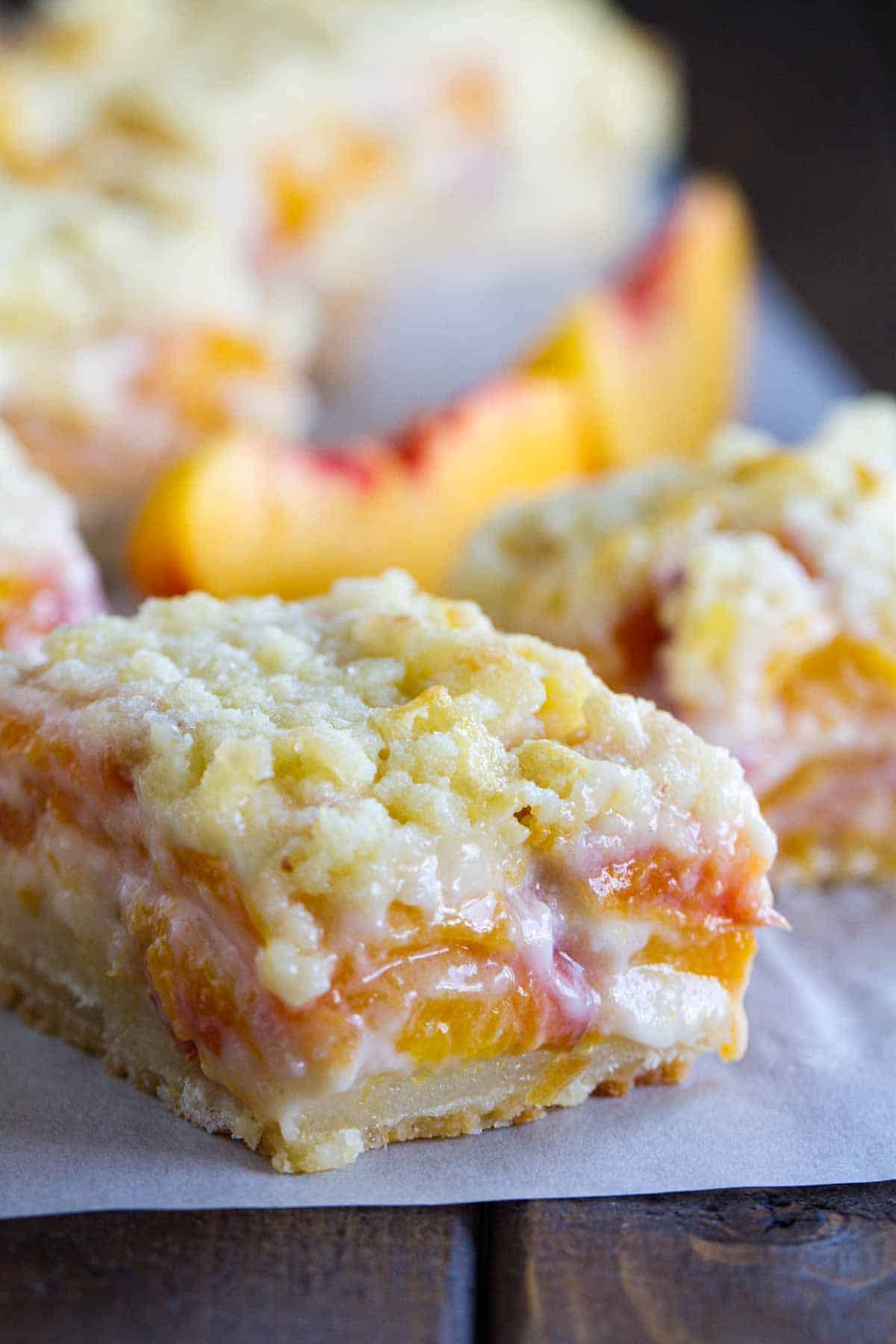 Tips for Making These Peaches and Cream Bars
You can use a mixer (like a KitchenAid Mixer) or use a pastry cutter to make the crust/crumble mixture. Don't try to use a food processor for this, as it won't fit in most – there is too much of the mixture.
I usually leave the peels on the peaches because I like to keep it simple and because I like the extra texture, but if you don't like the skins, you can definitely remove them.
These bars can be ready to be eaten in as little as 1 hour, but I prefer them after they have been refrigerated for several hours. In fact, I like them the best straight out of the refrigerator.
These are very rich, very buttery, and very sweet. Feel free to cut them into smaller pieces!
Peach Substitutions
One of the questions I get the most on this recipe is if you can substitute either frozen peaches or canned peaches for the fresh peaches. I have to say that I have not tried any substitutions personally, (I reserve this recipe for fresh peach season!), but if you do need to make a substitution, here is what you'll need to do to make them successfully.
Frozen Peaches – thaw the peaches and drain, then use as directed in the recipe.
Canned Peaches – use a peach that is canned in juice instead of syrup. Drain the peaches before weighing.
A Different Fruit – like I mentioned above, the first version of this recipe was made with blackberries instead of peaches, and both worked well and are delicious. (I'm always a sucker for peaches and cream!) If you want to sub in a different fruit, just make sure it isn't something that will be too wet or juicy (I think strawberries might end up too wet) but you should be able to use many other berries, like raspberries or even cherries.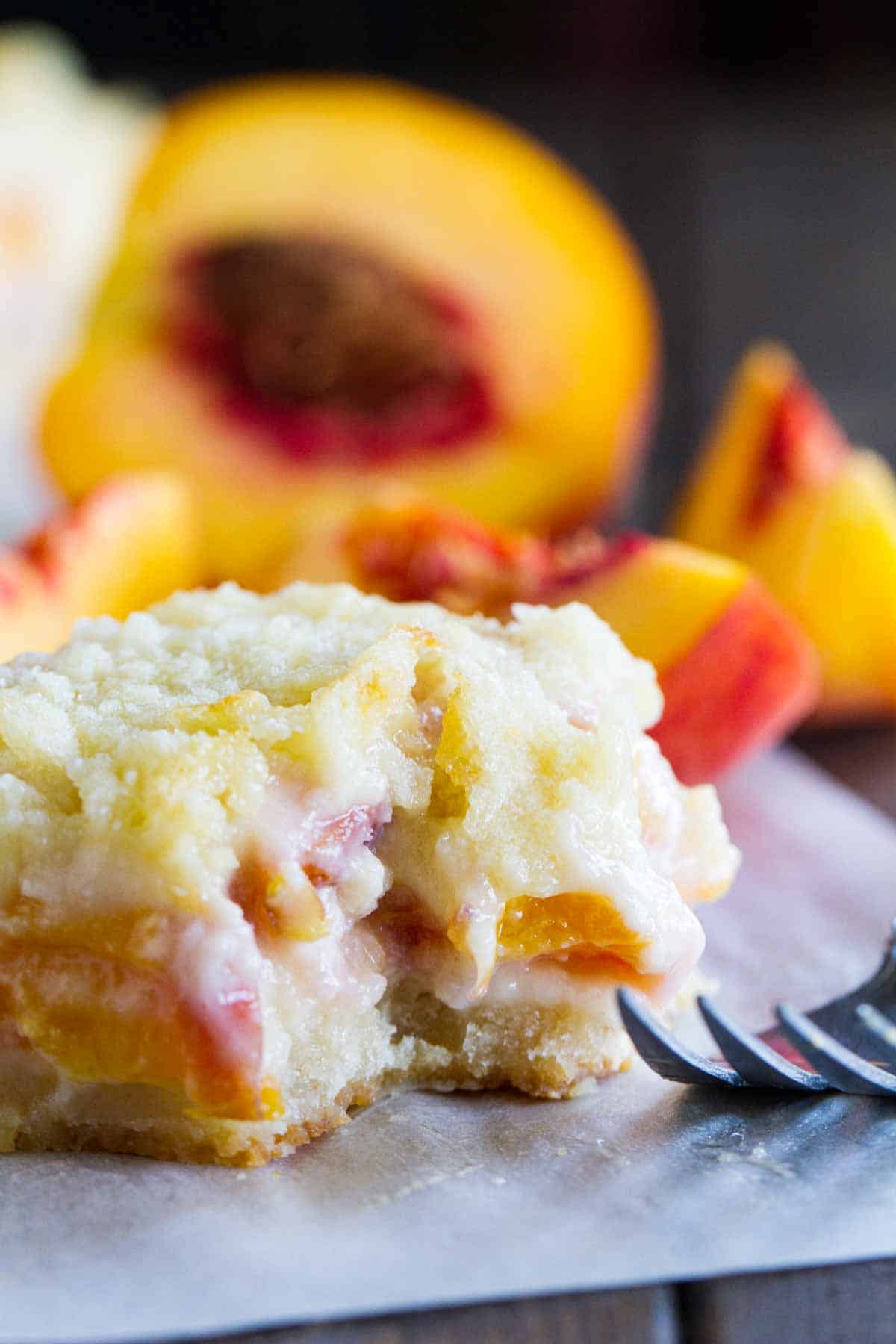 More Fresh Peach Recipes
Cast Iron Peach Crostata Recipe
Simple Crepe Recipe with Peaches and Cream
Coconut Peach Cobbler Recipe
Peach Melba Pie
Sour Cream Peach Pie
Peach Cupcakes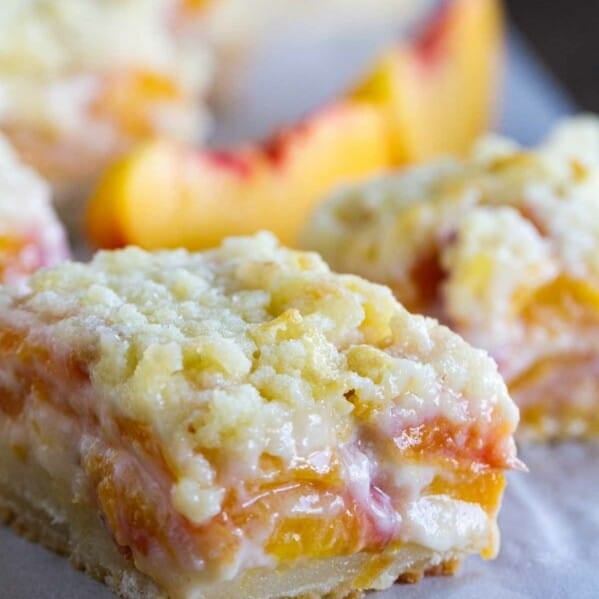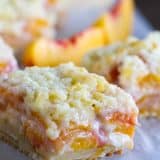 Peaches and Cream Bars
---
Author:
Prep Time: 30 minutes
Cook Time: 65 minutes
Total Time: 2 hours 35 minutes
Yield: 24 bars 1x
Category: Dessert
Method: Bake
Cuisine: American
Description
For a different take on a peach pie, try these Peaches and Cream Bars that have a shortbread crust, a creamy peach filling and a crumble topping.
---
Scale
Ingredients
Crust and Topping
3 cups all purpose flour
1 1/2 cups sugar
1/4 teaspoon salt
1 1/2 cups (3 sticks) unsalted butter, chilled
Filling
4 large eggs
2 cups sugar
1 cup sour cream
3/4 cup all purpose flour
pinch of salt
2 pounds peaches, pitted and sliced thin*
---
Instructions
Preheat the oven to 350ºF. Grease a 9×13-inch pan with cooking spray; set aside.
In the bowl of a mixer, combine the flour, sugar, and salt. Mix with the paddle attachment until combined. Cut the butter into small pieces and add in a few at a time. Mix until the butter is evenly combined and the mixture appears crumbly. (This can also be done by hand with a pastry cutter or with a fork.)
Take out 1 1/2 cups of the mixture and set aside. Press the remaining mixture into the prepared pan. Bake in the preheated oven until golden brown, 12 to 15 minutes. Let cool for at least 10 minutes.
In a large bowl, whisk together the eggs and sugar. Add in the sour cream, flour and salt. Fold in the sliced peaches. Pour over the cooked crust. Take the remaining 1 1/2 cups of the dry mixture and sprinkle over the top of the peaches. Bake until the top is lightly browned and the filling is set, 45 to 50 minutes. Cool at least 1 hour before cutting into bars. (I find that these slice much better after they have been refrigerated for a couple of hours.)
Store in the refrigerator.
Recipe Notes:
*I leave the skins on the peaches because I like to keep it simple, but you could take the peels off if desired.
adapted from THE PASTRY QUEEN
Nutrition
Serving Size: 1 bar
Calories: 330
Sugar: 33 g
Sodium: 54 mg
Fat: 15 g
Saturated Fat: 9 g
Unsaturated Fat: 4 g
Trans Fat: 0 g
Carbohydrates: 47 g
Fiber: 1 g
Protein: 4 g
Cholesterol: 62 mg
Keywords: peaches and cream