A shortbread base is topped with a creamy blackberry layer and then a streusel top in these Blackberry Pie Bars that you won't be able to keep your hands out of!
Photos Updated August 2016
Originally posted April 18, 2008 – I know berry season is coming to an end, but I found myself with a half flat of beautiful blackberries last week, and after eating way too many, these Blackberry Pie Bars came to my mind. The recipe calls for frozen berries, so I thought it would be good to see if fresh berries would work as well. And I'm happy to report that they work perfectly!! These bars are super ooey and gooey, not to mention sweet and buttery. They are definitely not diet friendly. 🙂 But they are oh, so good. I've made a peach version, too, that is amazing in its own right. If you can get your hands on some late summer berries, these Blackberry Pie Bars would be the perfect way to finish off the summer!
The original post follows:


Ever since I saw Emiline's Wild Blueberries and Cream Tart, I haven't been able to get it out of my head. So for some reason, when I was reading through my copy of The Pastry Queen, these Blackberry Pie Bars stood out as a substitution for Emiline's tart, or at least to get over my craving for that tart. I don't know why they reminded me of one another, because they really aren't anything alike, but I'm glad that the craving for Emiline's tart brought me to these bars.
These bars are described as an easier way to make pie. No worrying about rolling out a crust. But to me, they didn't really resemble a pie all that much. The base tasted more like a shortbread base to me. And it was much to thick to be considered anything like a pie, in my opinion. But really – I don't care what you compare them to, because these we so delicious!! I made them as dessert for the spaghetti dinner I took my in-laws last weekend. Luckily we saved plenty at home for my husband and I, because I couldn't get enough of them. My husband liked them best straight out of the refrigerator with a dollop of whipped cream because the bottom crust was so thick and chewy when they are cold. I preferred them at room temperature. And I ate WAY too many of these. But even now that they are gone, I still find myself wanting more.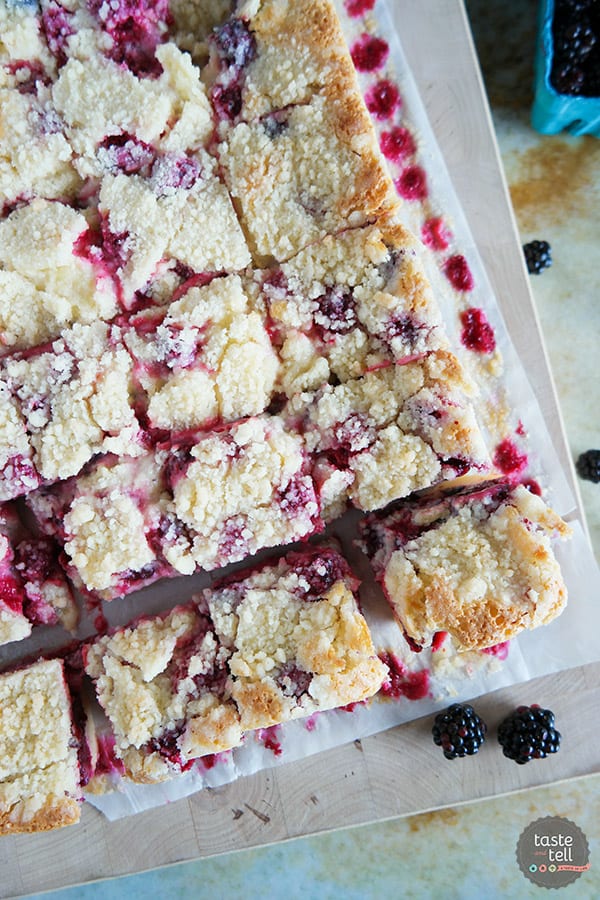 I almost forgot to add – this was way too much for my food processor -it got way to full and wouldn't mix completely. I ended up finishing it off by hand with a pastry cutter, which worked just fine!
This would be a great recipe to switch up as well. Don't like blackberries? Use blueberries, or cherries, or a mix of berries. I bet it would even be good with apples. And despite the fact that it doesn't taste like pie to me, they are much easier to eat and share than a pie is. So they would be perfect for a backyard bbq, or a neighborhood get-together. I can guarantee I'll be making them again!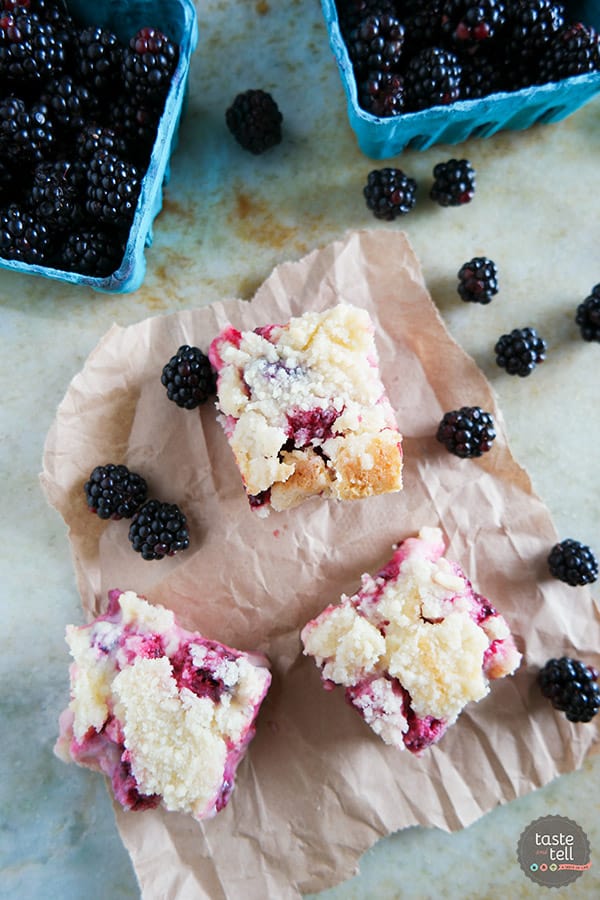 Like what you see here? Make sure you are following Taste and Tell for more recipes and ideas!
Facebook | Pinterest | Instagram | Twitter | Google+ | Weekly Newsletter | Feedly | Bloglovin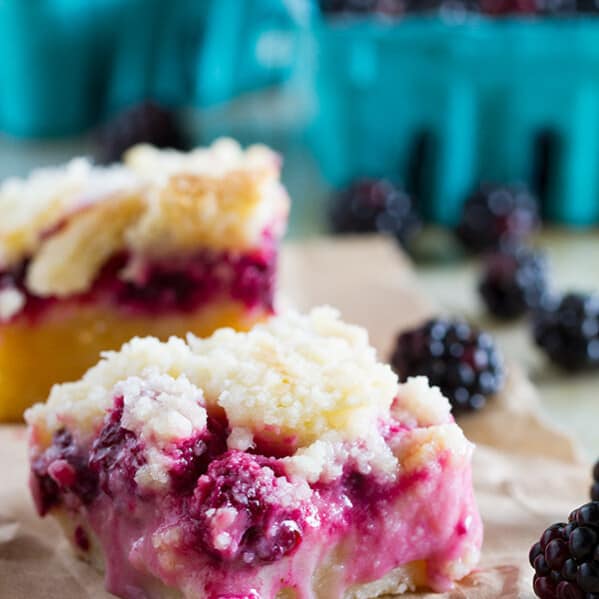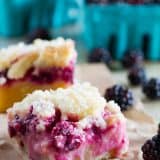 Blackberry Pie Bars
---
Author:
Prep Time: 20 mins
Cook Time: 1 hour 10 mins
Total Time: 1 hour 30 mins
Yield: 24 bars 1x
Description
A shortbread base is topped with a creamy blackberry layer and then a streusel top in these Blackberry Pie Bars that you won't be able to keep your hands out of!
---
Scale
Ingredients
Crust & Topping
3 cups all purpose flour
1 1/2 cups sugar
1/4 teaspoon salt
1 1/2 cups chlled unsalted butter, cut into 1/2-inch cubes
Fruit Filling
4 large eggs
2 cups sugar
1 cup sour cream
3/4 cup all purpose flour
Pinch of salt
2 (16-ounce) packages frozen blackberries, defrosted and drained (fresh berries can be substituted)
---
Instructions
Preheat the oven to 350ºF. Grease a 9×13-inch baking dish.
To make the crust: In a food processor, combine the flour, sugar and salt and pulse to combine. Add the butter and continue to pulse, just until the mixture comes together but is still crumbly.
Reserve 1 1/2 cups of the crust for the topping. Press the remaining mixture into the bottom of the prepared baking dish. Bake in the preheated oven for 12-15 minutes, then allow to cool for at least 10 minutes.
To make the filling: Whisk together the eggs and the sugar. Stir in the sour cream, flour and salt. Gently fold in the blackberries. Spread the mixture over the crust, and sprinkle the reserved crumbs over the top.
Bake for 45-55 minutes, or until the crust is lightly browned. Cool for at least one hour before cutting into bars.
SHOP THIS POST!
More Summer Berry Desserts: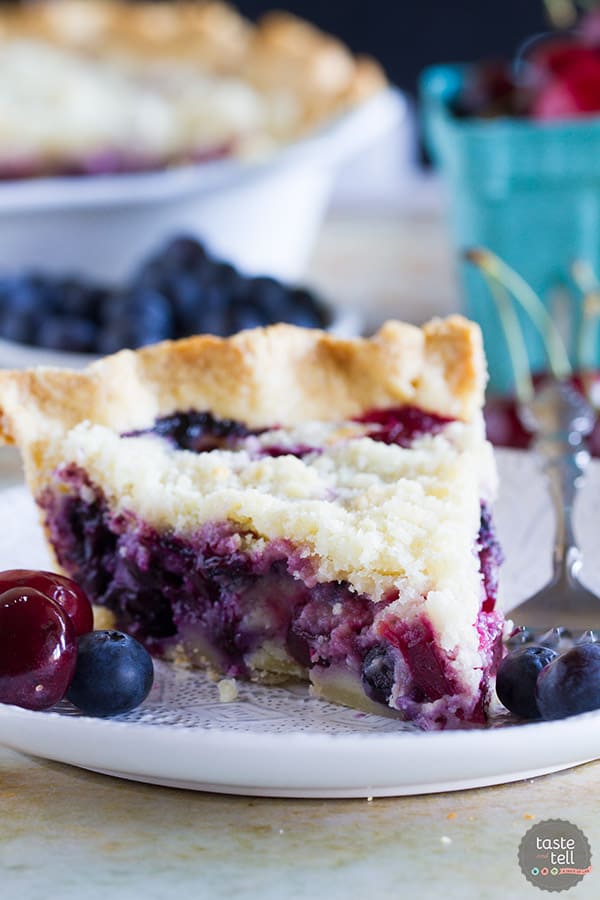 Cherry and Blueberry Cream Pie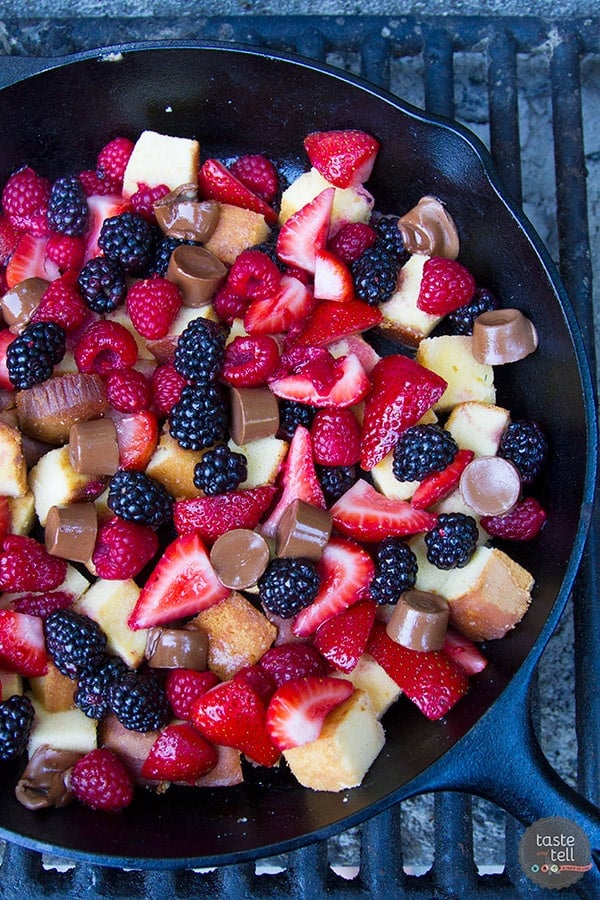 Pound Cake and Berry Campfire Skillet Dessert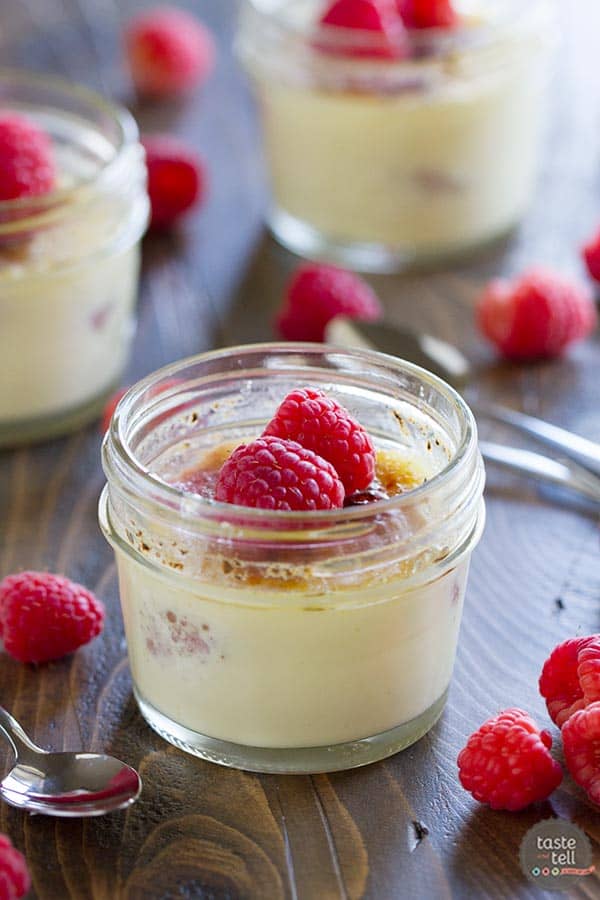 Around the Web:
Mixed Berry Galette with Buttermilk Cornmeal Crust from Sally's Baking Addiction
Berry Cookie Cups from My Baking Addiction
Berry Skillet Cake from Foodie with Family
Don't miss a thing! Follow me on Pinterest to see what I'm pinning!
Visit Taste and Tell's profile on Pinterest.