These Pumpkin Cheesecake Bars are festive bars that are made from pumpkin cheesecake on top of a cookie crust. For Halloween, garnish with whipped cream ghosts for a ghoulish touch.
Pumpkin and cheesecake are a match made in heaven! If you are looking for a straight up pumpkin cheesecake, this Pumpkin Cheesecake with Caramel Sauce is an all-time favorite. Or you could try this Pumpkin Cheesecake Pie, or this Cream Cheese Pumpkin Bread Recipe.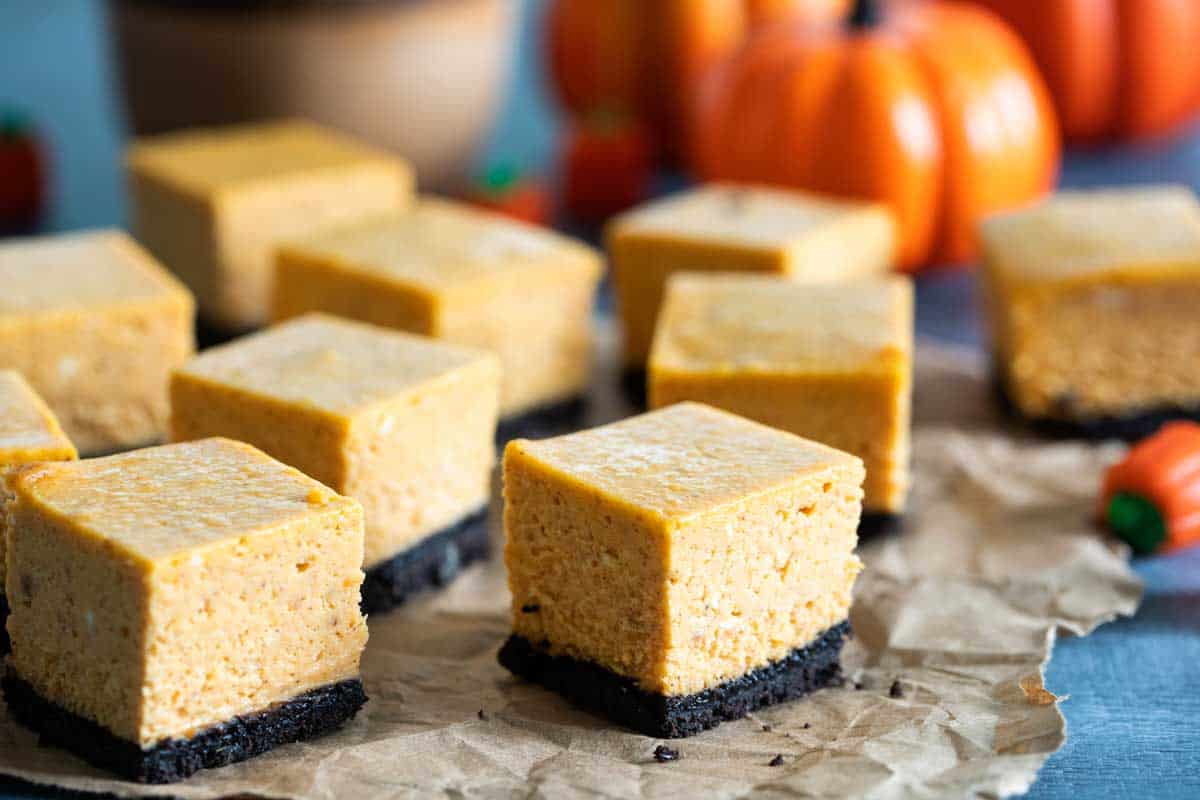 Cheesecake is one of my very favorite desserts. And I love to make cheesecakes.
But the problem is that I usually have to wait until a holiday or special occasion, because they are just not that easy to share. And yes – I could eat a whole cheesecake myself, but we all know that would not be the most responsible thing to do.
Enter the cheesecake bar. Just as delicious, even easier than a cheesecake, and super easy to share!
These pumpkin cheesecake bars have a chocolate cookie crust topped with a creamy pumpkin cheesecake. And scroll to the bottom to see how to make these perfect for Halloween!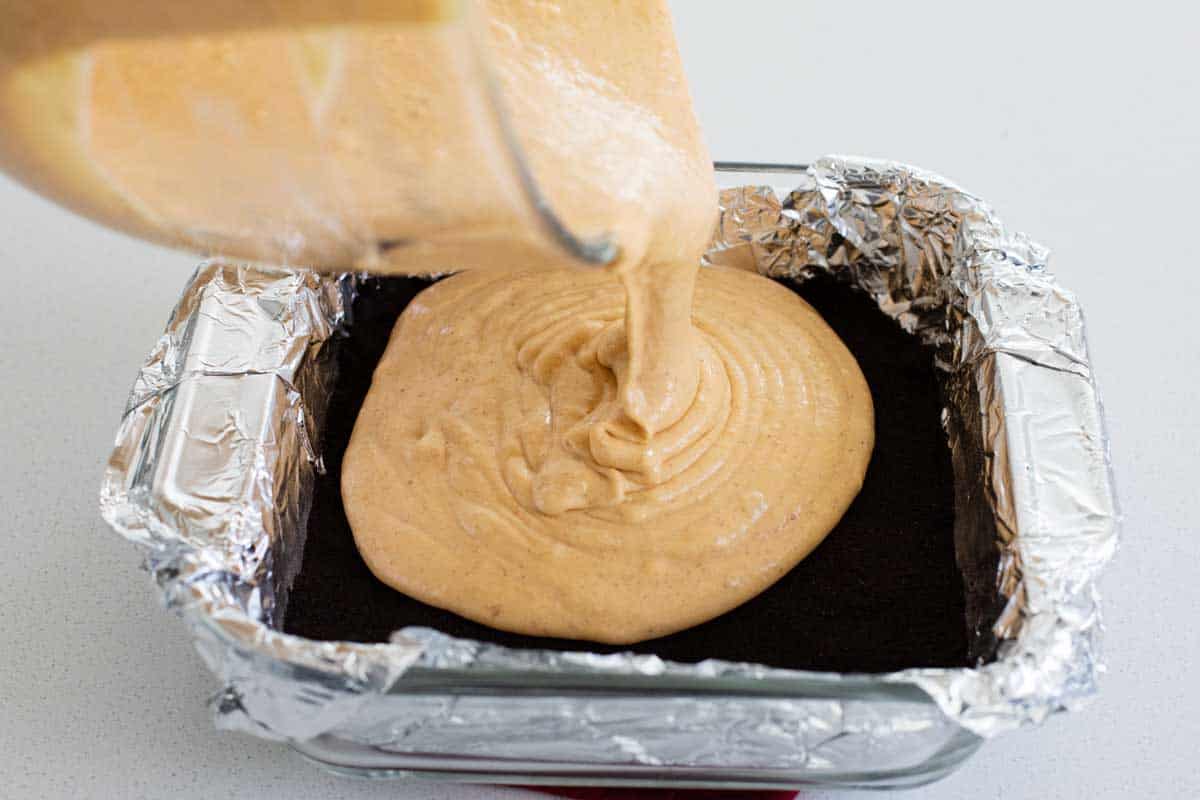 How to Make Pumpkin Cheesecake Bars
Make the Crust: This is made simply from crushed cookies and butter. If you don't have a food processor, use a blender. If you don't have a blender, you can put the cookies in a bag and smash them, but just know that you'll probably have some bigger chunks. Then you'll bake this.
Make the Filling: You use all of the typical cheesecake ingredients – sugar, cream cheese, eggs, and pumpkin. You'll also need vanilla, flour, pumpkin pie spice and salt. You want this filling to be as smooth as possible, but don't beat it too much or else the extra air will cause cracks.
Bake It: Cheesecakes are usually best baked in a water bath. But since we aren't using a springform pan, we do something that is even easier and place the baking dish on a pan, and fill that pan with water. You don't have to worry about leaking with this one!
Tips and Tricks
Don't forget to line the dish with foil. This makes it so that you are easily able to get the bars from your baking dish.
I usually start these the day before I need them because they need not only time to cool down, but at least 3 hours to firm up in the refrigerator.
Feel free to change up the recipe to make it your own, but I recommend full fat cream cheese. The serving size is small so I say go all out!
The whipped cream ghosts are super cute for Halloween, but even if I'm not making these for Halloween, I will often serve them with a dollop of whipped cream. Not required, but delicious!
Store any leftovers covered in the refrigerator. They will last at least 3-4 days.
I have never frozen these particular cheesecake bars, (they always disappear to quickly!), but cheesecake in general freezes well. Wrap tightly with plastic wrap and then with foil.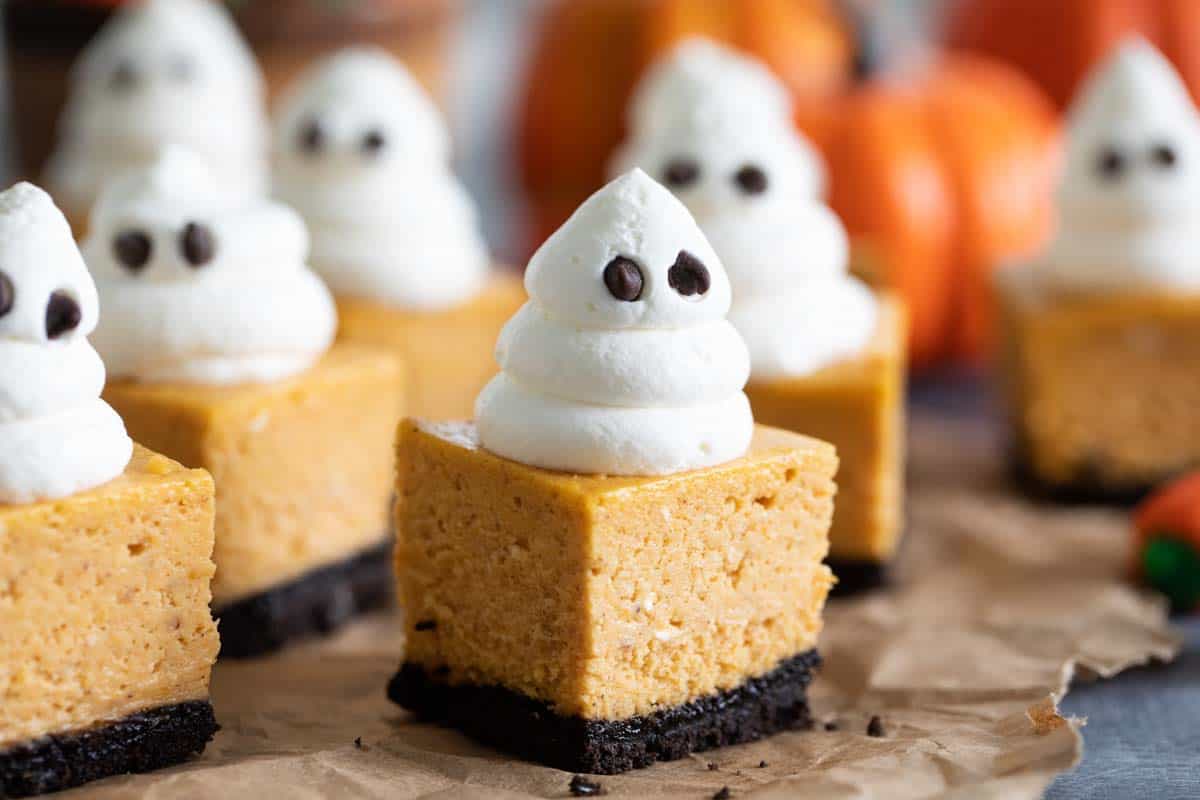 A Great Halloween Dessert
These whipped cream ghosts are so cute, and so easy! This is the perfect way to turn these cheesecake bars into a Halloween Dessert.
All you need is some sweetened whipped cream and mini chocolate chips.
Just place the whipped cream in a piping bag fitted with a large round tip. You can also use a ziplock bag and cut the corner off.
You can either swirl the whipped cream around, or press down and lift up 3 times to make the ghosts.
More Pumpkin Dessert Recipes
Pumpkin Roll Recipe
Pumpkin Sugar Cookies
Pumpkin Cupcakes with Cream Cheese Frosting
Pumpkin Cake with Cinnamon Cream Cheese Frosting
Oatmeal Pumpkin Chocolate Chip Cookies
Pumpkin Pie Cake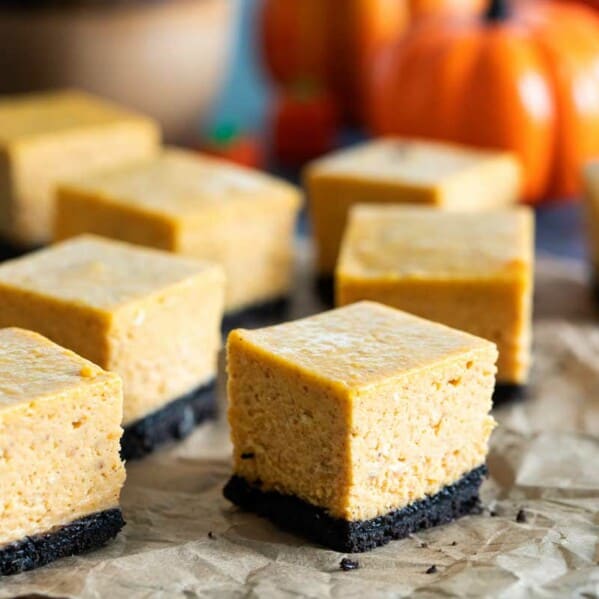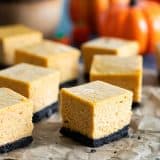 Pumpkin Cheesecake Bars
---
Author:
Prep Time: 15 minutes
Cook Time: 55 minutes
Total Time: 5 hours 10 minutes
Yield: 16 servings 1x
Category: Dessert
Method: Baked
Cuisine: American
Description
These Pumpkin Cheesecake Bars are festive bars are made from pumpkin cheesecake on top of a cookie crust. For Halloween, garnish with whipped cream ghosts for a ghoulish touch.
---
Scale
Ingredients
Crust:
10 chocolate creme filled cookies (such as Oreos)
2 1/2 tablespoons butter, melted
Filling:
2 (8 oz) packages cream cheese, at room temperature
1 cup sugar
1 cup pumpkin puree (homemade or store bought)
3 eggs, at room temperature
1 teaspoon vanilla extract
3 tablespoons flour
1 teaspoon pumpkin pie spice
1/4 teaspoon salt
Topping (optional):
Sweetened whipped cream
Mini chocolate chips
---
Instructions
Preheat the oven to 350ºF. Line an 8-inch baking dish with foil. Spray with nonstick cooking spray.
Place the cookies in a food processor and process until you have fine crumbs. Add in the butter and pulse until combined.
Pour out into the prepared dish and pat into the bottom of the dish with your hands. Bake in the preheated oven for 10-12 minutes. Set aside to cool.
Beat the cream cheese and the sugar in a mixer on medium speed until smooth and fluffy, about 2 minutes.
Beat in the pumpkin, then add the eggs, one at a time, scraping down the sides of the bowl after each addition.
Beat in the vanilla, flour, pumpkin pie spice and salt, just until combined.
Pour the cream cheese mixture over the crust. Place the baking dish on top of a rimmed baking sheet. Place in the oven. Pour water onto the baking sheet until it is nearly filled.
Bake the cheesecake until it is set at the edges and barely jiggles in the center, about 45 minutes.
Remove from the oven and cool completely.
Cover with plastic wrap and refrigerate until firmed, at least 3 hours.
If desired, garnish with whipped cream ghosts by placing the whipped cream in a piping bag or ziplock bag with corner cut off. Pipe the cream onto the individual bars, then place mini chocolate chips for eyes.
Recipe Notes:
Recipe source: America's Favorite Food 
Nutrition information provided as an estimate only. Various brands and products can change the counts. Any nutritional information should only be used as a general guideline. Nutritional counts do not include the whipped cream ghost.
Nutrition
Serving Size: 1 bar
Calories: 219
Sugar: 17 g
Sodium: 169 mg
Fat: 14 g
Saturated Fat: 8 g
Unsaturated Fat: 5 g
Trans Fat: 0 g
Carbohydrates: 21 g
Fiber: 1 g
Protein: 3 g
Cholesterol: 68 mg
Keywords: pumpkin cheesecake bars