This easy, yet impressive looking Caramel Apple Bundt Cake is perfect to serve to holiday guests. Don't skip the caramel icing – it totally makes this cake!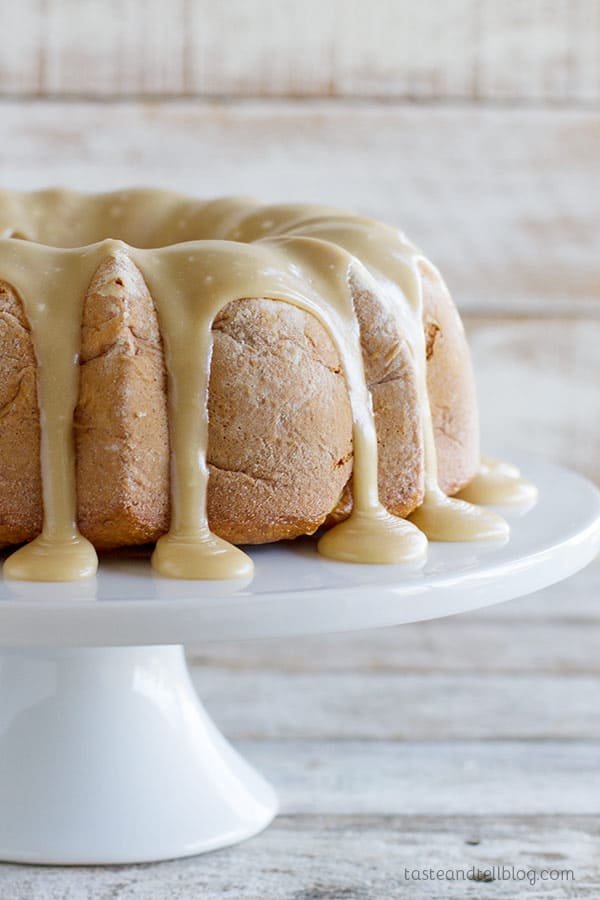 Today, I'm excited to sharing a new holiday mini book from Laura Powell – Christmas Desserts – Sweets of the Season. Laura is the author of the Real Mom Kitchen cookbook, as well as another holiday mini book called Warm Up Your Winter: Holiday Hot Chocolate and Cider Recipes.

This mini book is filled with 20 recipes that are perfect for the holiday season. With everything from Chocolate Peppermint Twist Cupcakes to Maple Glazed Pumpkin Cookies to Foolproof Peanut Butter Fudge. One of my favorite things about this book is that the recipes are no-fuss recipes. They are recipes that you could whip up easily for holiday guests or if you need to throw together something easy for a holiday party. And I love that it is a small book that you could easily give as a gift.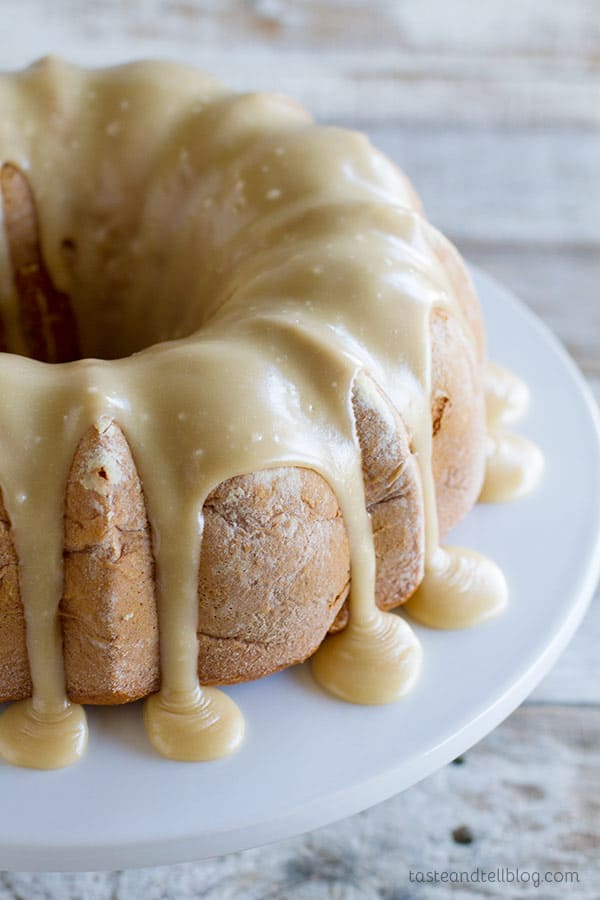 As I was sitting and reading through the book for the first time, trying to decide what to make, my husband was sitting on the couch next to me. I couldn't make a decision (I'm indecisive like that), so I let my husband choose. (I've been doing that a lot lately, haven't I??) We had it narrowed down to the Dulce de Leche Filled Pumpkin Cupcakes, the Gingerbread Cheesecake Squares and the Caramel Apple Bundt Cake. I think my husband is done with pumpkin for the year ;), and he's not the biggest gingerbread fan (but I am!), so he easily decided on this Caramel Apple Bundt Cake. I was happy with his decision, as I'm always up for a good bundt cake!!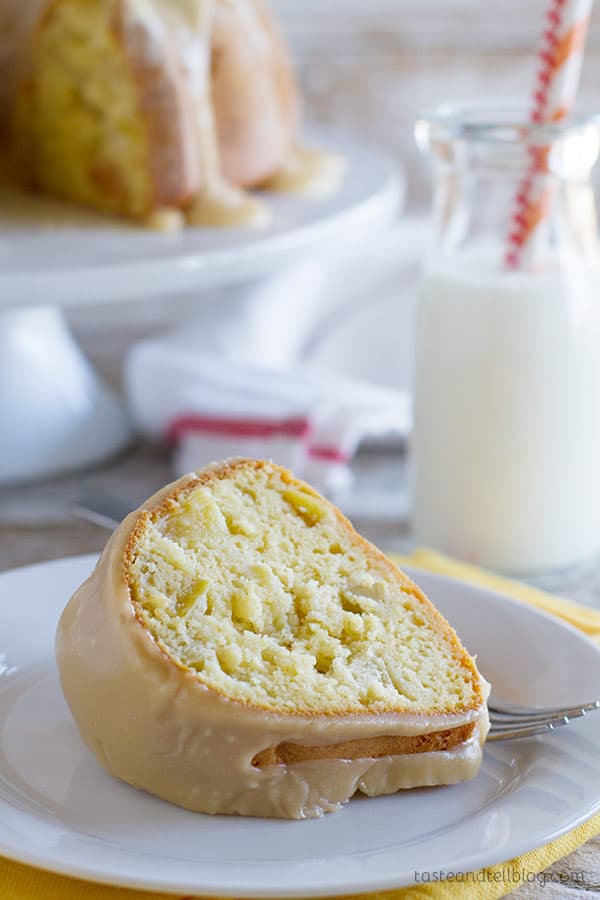 This bundt cake is filled with the flavors of a caramel apple – with an apple bundt cake topped with a delicious caramel icing. The cake is super easy, as it starts with a cake mix. Both apple sauce and fresh apples help give it it's apple flavor. I just used apples that I already had on hand, so I ended up with one golden delicious apple and two fuji apples. If I had made it to the store beforehand, I would have chosen granny smith, because I think they work well for baking, but my apples worked as well.
Then there is the icing. The caramel icing totally makes this Caramel Apple Bundt Cake. I have made a similar icing several times before, so I already knew I'd be a fan. But I definitely wouldn't skip it, because I think that is what gives this cake it's wonderful caramel apple flavor.
Now I can't wait to make more from Christmas Desserts – tis the season!!
Buy your own copy of Christmas Desserts on Amazon – it's less than $5!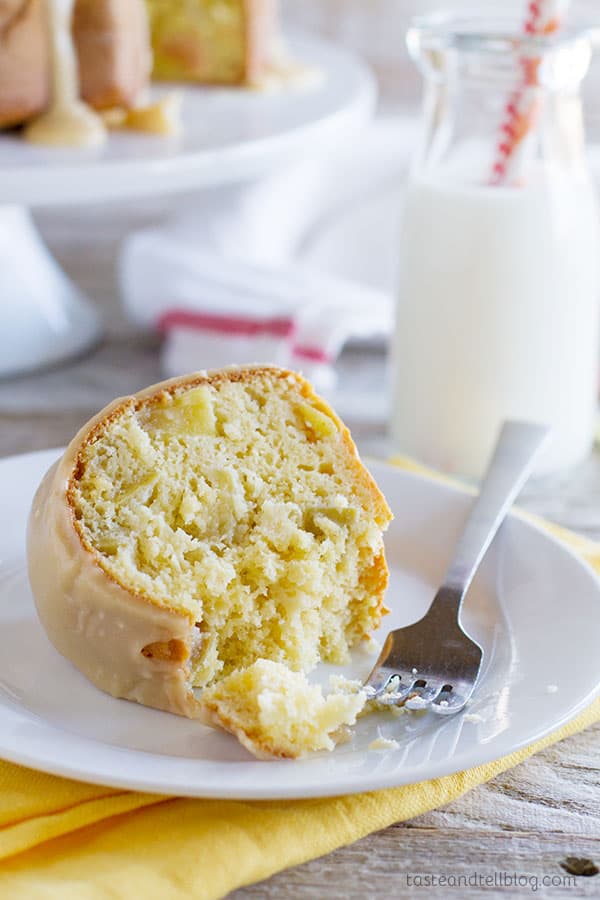 Like what you see here? Make sure you are following Taste and Tell for more great recipes and ideas!!

Facebook ** Pinterest ** Twitter ** Instagram ** Google+
or you can subscribe to my newsletter or Feedly or Bloglovin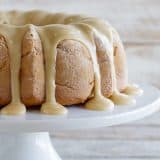 Caramel Apple Bundt Cake | Christmas Desserts Review
---
Prep Time: 20 mins
Cook Time: 55 mins
Total Time: 1 hour 30 mins
Yield: 12 servings 1x
Description
This easy, yet impressive looking Caramel Apple Bundt Cake is perfect to serve to holiday guests. Don't skip the caramel icing – it totally makes this cake!
---
Scale
Ingredients
Cake
1 (18.5-oz) package yellow cake mix
1 (3.4-oz) package white chocolate instant pudding mix
1 cup water
4 eggs, slightly beaten
1/3 cup applesauce
3 apples, peeled and diced (I had about 3 cups of diced apples)
Icing
1/4 cup butter
1/4 cup brown sugar
1/4 teaspoon salt
1/3 cup whipping cream
1 cup powdered sugar*
---
Instructions
Preheat the oven to 350ºF. Grease and flour a 12-cup bundt pan. Alternately, spray with baking spray (not nonstick cooking spray).
In a large bowl, combine the cake mix, pudding mix, water, eggs and apple sauce. Beat with a hand mixer for 2 minutes. Fold in the apples.
Pour the cake batter into the prepared pan. Bake until a tester inserted in the center comes out clean, about 55 minutes.
Remove the cake from the oven and allow it to cool for 10-20 minutes, then turn out to cool completely.
Once cool, make the icing: in a medium saucepan over medium heat, combine the butter, brown sugar, salt and whipping cream. Cook, stirring constantly, until the butter melts and the mixture comes to a boil. Allow the mixture to boil for one minute, then remove from the heat and let it sit for 5 minutes.
Gradually whisk in the powdered sugar until smooth. Immediately pour the icing over the cake and allow it to sit for at least 10 minutes before serving.
Recipe Notes:
*I would sift the powdered sugar to avoid any clumps in the icing.
recipe from Christmas Desserts by Laura Powell
I was provided a free copy of this book for review purposes, but was not compensated in any way. All opinions are my own. This post contains affiliate links. If you purchase an item from Amazon from the link Taste and Tell receives a small commission. Thank you for supporting Taste and Tell through your purchases!