Simple and classic – this tender Apple Cinnamon Cake has a cinnamon sugar ribbon running through it. The cinnamon whipped cream and caramel topping turn this into a special dessert.
If you love cinnamon, you also need to try this Chocolate Cinnamon Bread or these Cinnamon Roll Muffins.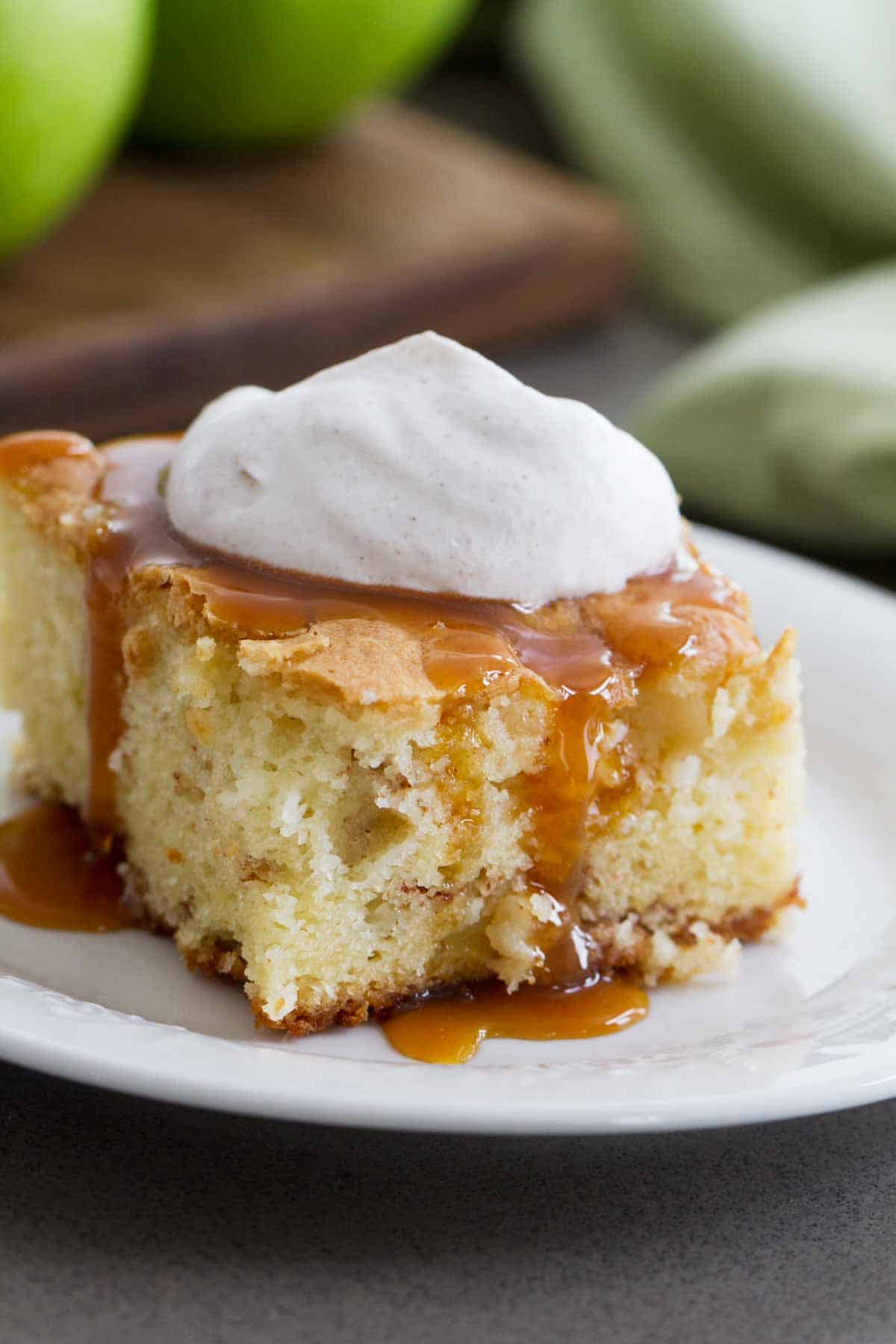 Hooray for fall! I do love summer, and I'm sad to see it go, but there is something about the cooling weather and the changing leaves that gets me every year. I spent last week in Florida at Disney World (more on that to come) and it was a million degrees with a million percent humidity. That may be exaggerating a bit, but it was hot. And muggy.
So when I came home to cooler temperatures and even snow in the mountains, I couldn't help but be excited. I'm not quite ready for that snow yet, but I immediately lit a fall candle and put on a sweatshirt and reveled in the cooler temps.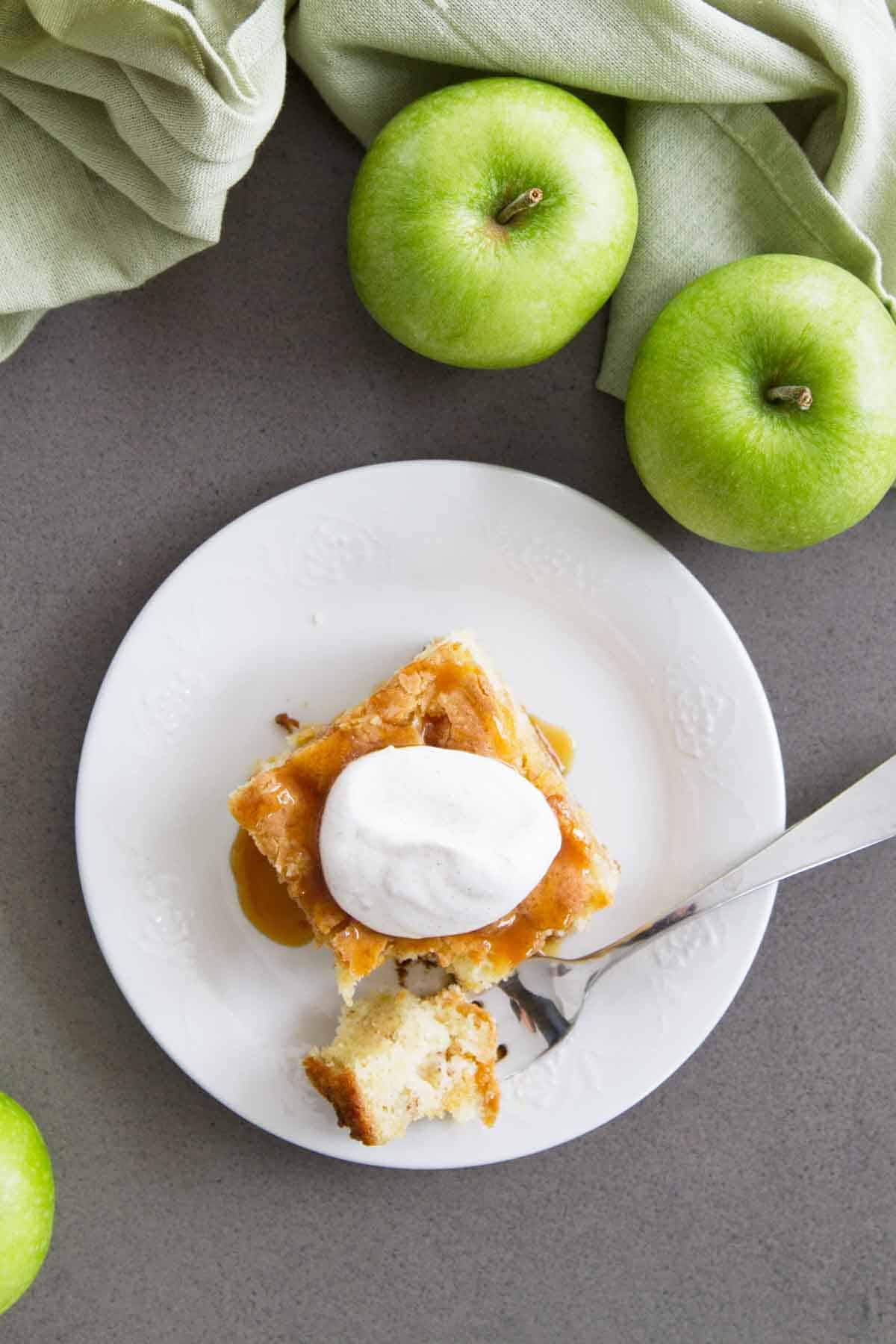 I know that once fall hits (or even weeks before these days) pumpkin makes a huge comeback. I'm ok with that, because I really do love pumpkin. But I often feel like apples get the short end of the stick. They are just as much a part of fall as pumpkin, but they don't ever really get to stand in the spotlight.
But today, apple is the center of that well deserved spotlight.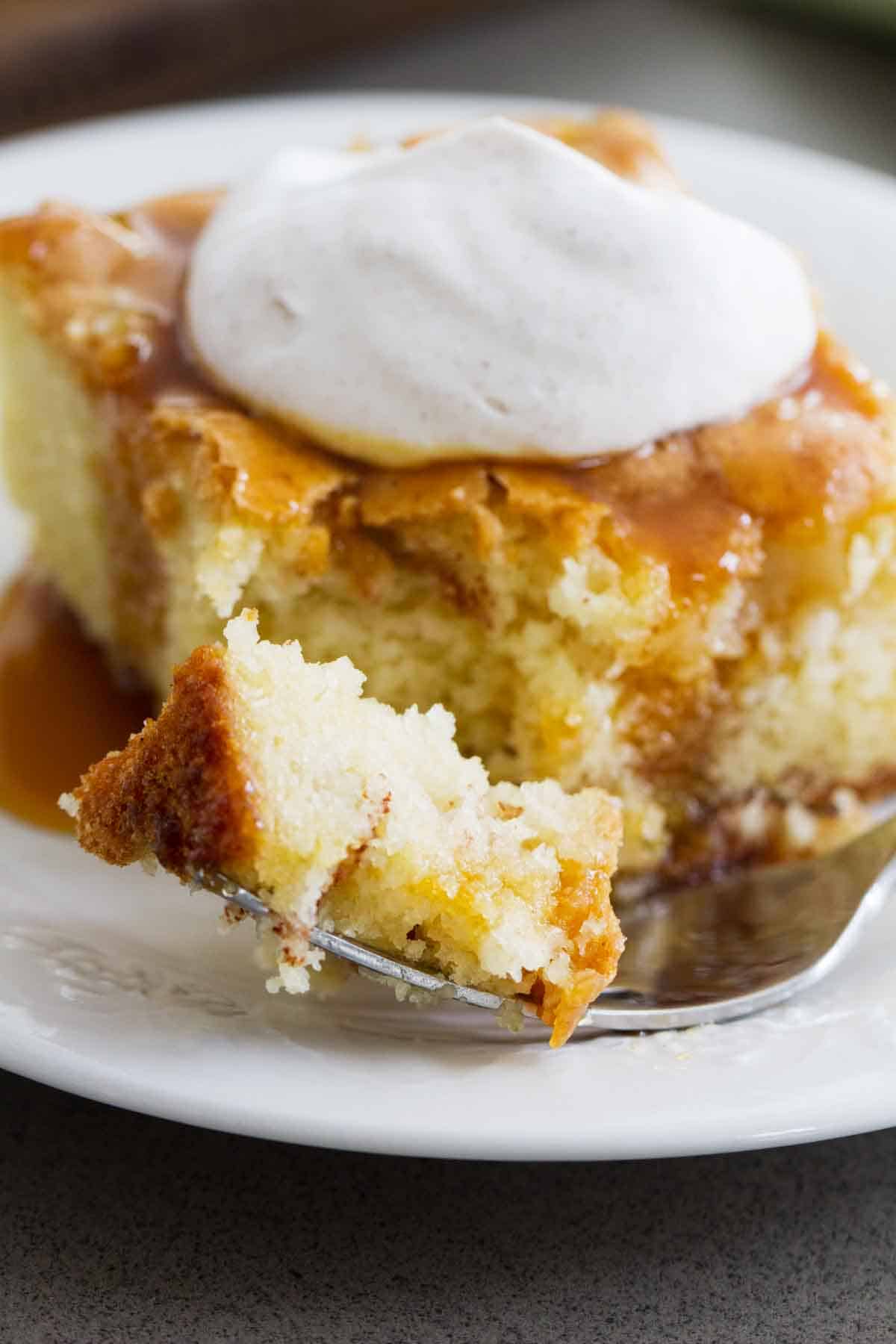 This Apple Cinnamon Cake with Cinnamon Whipped Cream isn't anything fancy. I actually think that is where this cake gets its charm. Simple and a bit homely – but then taken up a level or two with a good drizzling of caramel sauce and a big dollop of cinnamon whipped cream. Yes, yes and yes. The cake is from scratch, but it's practically as easy as a box mix. Just a few ingredients (that you probably already have at home) and you have an irresistible Apple Cinnamon Cake on your counter for dessert.
This cake on its own is quite delicious, but I definitely recommend adding that extra caramel sauce and whipped cream. They are what really takes this Apple Cinnamon Cake from good to great.
Now I just need to go apple picking so I can make this cake again!
See how to make this Apple Cinnamon Cake here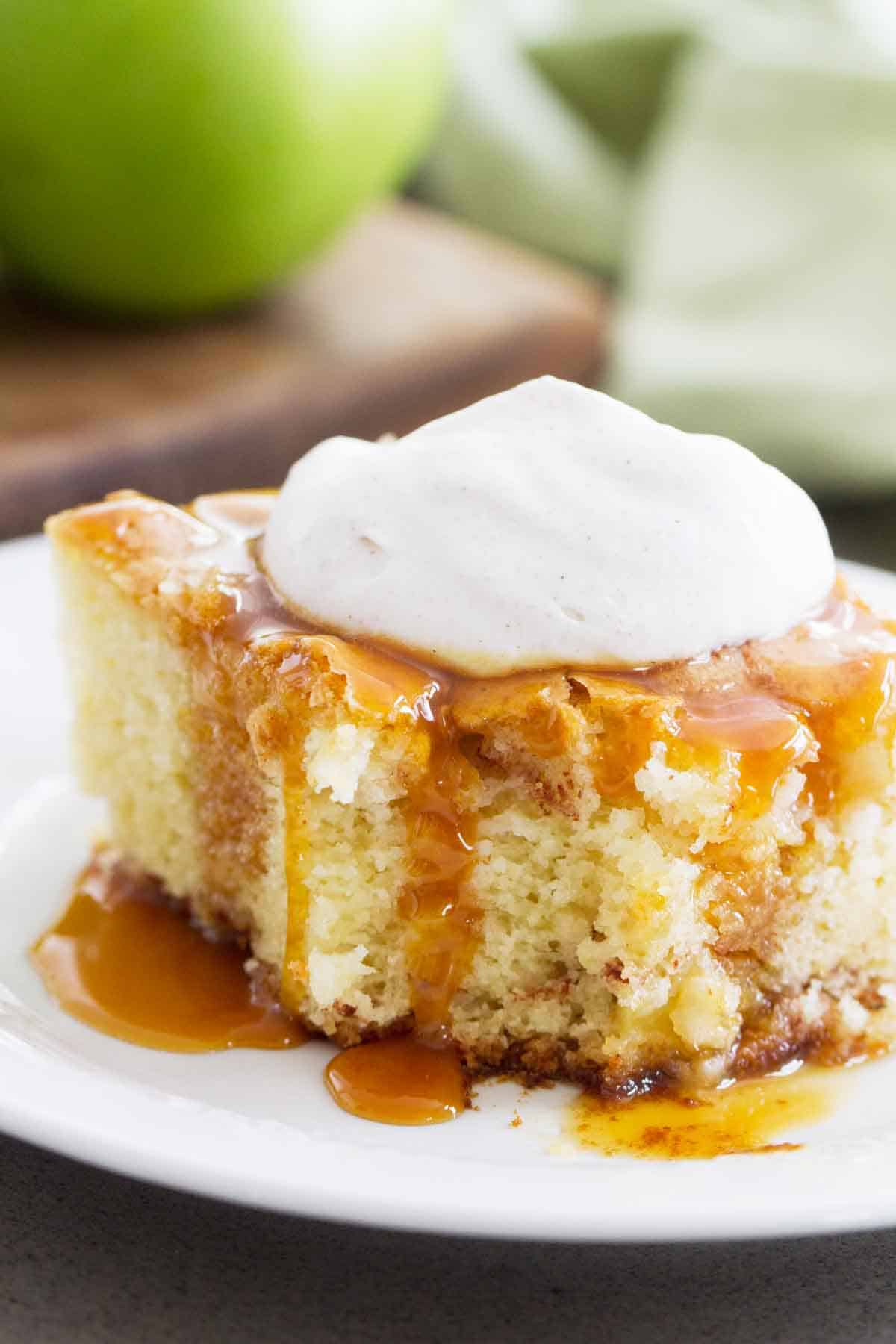 Looking for more apple desserts?
Apple Cinnamon Sheet Cake
Apple Cider Doughnuts
Apple Bundt Cake with Caramel Icing
Apple Crisp
Sour Cream Apple Pie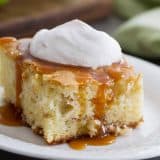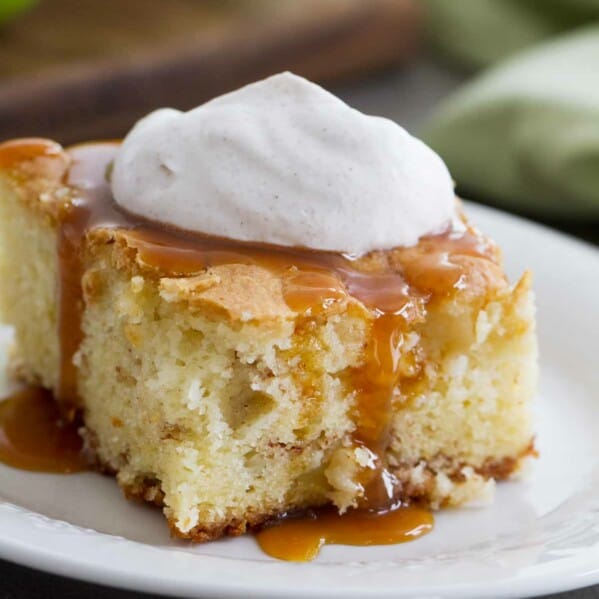 Apple Cinnamon Cake with Cinnamon Whipped Cream
---
Author:
Prep Time: 20 minutes
Cook Time: 60 minutes
Total Time: 1 hour 20 minutes
Yield: 15 servings 1x
Category: Dessert
Method: Bake
Cuisine: American
Description
Simple and classic – this tender Apple Cinnamon Cake has a cinnamon sugar ribbon running through it. The cinnamon whipped cream and caramel topping turn this into a special dessert.
---
Scale
Ingredients
Cake:
2 1/4 cups sugar, divided
1 cup vegetable oil
4 eggs
1/4 cup orange juice
2 teaspoons vanilla extract
3 cups all-purpose flour
3 teaspoons baking powder
1/2 teaspoon salt
4 medium apples, peeled and cubed (I used 2 golden delicious and 2 granny smith)
2 teaspoons ground cinnamon
Topping:
1 cup heavy whipping cream
2 tablespoons powdered sugar
1 teaspoon ground cinnamon
1/2 cup prepared caramel ice cream topping
---
Instructions
Preheat the oven to 350ºF. Grease a 13×9-inch baking dish. Set aside.
Combine 2 cups of the sugar, the oil, eggs, orange juice and vanilla in a large bowl. Beat to combine.  In another bowl, combine the flour, baking powder, and salt.  Add one-third of the flour mixture to the wet mixture and beat just until combined. Add half of the remaining flour mixture and beat to combine, then beat in the remaining flour mixture.  Add the apples and stir to combine.
In a small bowl, mix together the remaining 1/4 cup sugar and the 2 teaspoons of ground cinnamon.
Spread half of the batter into the prepared pan.  Sprinkle the cinnamon sugar mixture over the batter, then add the remaining batter in dollops, carefully covering the top of the cake.
Bake the cake until a tester inserted in the center comes out clean, about 60 minutes. If the cake starts to get too dark, cover with foil.  Cool the cake completely.
To make the whipped cream, place the heavy whipping cream in a bowl and beat until soft peaks form.  Slowly start to add the powdered sugar, then the cinnamon. Continue to beat until stiff peaks form.
To serve, place a slice of the cooled cake on a plate and top with a dollop of the whipped cream. Drizzle with the caramel sauce.
Nutrition
Serving Size: 1 piece
Calories: 460
Sugar: 41 g
Sodium: 143 mg
Fat: 22 g
Saturated Fat: 6 g
Unsaturated Fat: 15 g
Trans Fat: 0 g
Carbohydrates: 63 g
Fiber: 2 g
Protein: 4 g
Cholesterol: 71 mg
Keywords: apple cinnamon cake