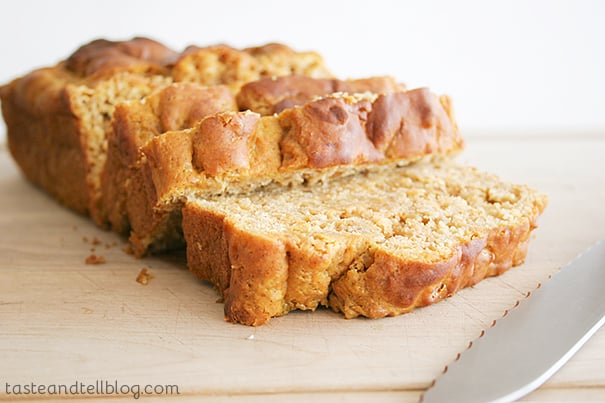 My husband and I were talking yesterday, and he asked me what it meant when I say that I'm not a food snob. I told him that what I meant by that is that I don't claim to only eat the best of foods and the best of ingredients. I was thinking about this weeks back when I was watching Top Chef. It was an episode where for the Quick Fire challenge, the chefs had to make something with what I would call "pantry staples." There were canned goods and boxed goods, and needless to say, the chefs were not happy. They all made comments about only using the freshest of ingredients, and one of the chefs even made a comment about how these are ingredients that a housewife would use, not a chef. Well, I am that housewife, and will fully admit that I'm not one to turn away a canned good. In fact, I'm quite fond of many of them!
Take this bread for example. I'll tell you right now that the recipe wasn't my favorite, but without canned goods, there would be no way for me to make a pumpkin apple bread in February. So if it means getting my taste of pumpkin year round, I'm all for the canned goods!!
Like I said, though, this recipe wasn't my favorite. It tasted "diet" to me, and I guess coming from a weight conscious cookbook, it should have been expected. But I figure that if I'm going to splurge and eat sweets, I might as well make it worth it. I think this could have been made delicious with a little more sugar. It wasn't horrible, but just not something I would make again.
What canned foods could you not live without?
Recipe Rating – 2.5 out of 5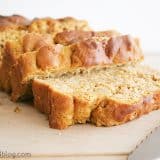 Pumpkin-Apple Bread
---
Prep Time: 15 minutes
Cook Time: 1 hour 15 minutes
Total Time: 1 hour 45 minutes
Yield: 1 loaf 1x
Description
Pumpkin and apple combine in this better-for-you quick bread.
---
Scale
Ingredients
2 cups all-purpose flour
1/4 cup granulated sugar
1 teaspoon baking powder
1/2 teaspoon baking soda
1/2 teaspoon salt
1 teaspoon pumpkin pie spice
1 large egg
1 cup low-fat buttermilk
1 apple, peeled, cored and grated
1/2 cup canned pumpkin
---
Instructions
Preheat oven ot 350F. Spray a 9×5 inch loaf pan with cooking spray.
In a large bowl, combine the flour, granulated sugar, baking powder, baking soda, salt and pumpkin pie spice. In a small bowl, beat the egg; add the buttermilk, apple, and pumpkin. Pour over the flour mixture; stir until just blended. (Do not overmix.)
Spoon into the pan. Bake until a toothpick inserted in the center comes out clean, 1-1 1/4 hours. Cool the pan on a rack for 10 minutes, remove from the pan and cool completely on the rack.