Sunday supper has never been so delicious! This Slow Cooker Pot Roast gives you perfectly tender beef, tasty (not mushy!) vegetables, and the most delicious gravy ever.
I am always looking for more Sunday supper ideas, and nothing screams sitting around the table on Sunday evening more than a pot roast! For even more ideas, check out this Beef Tips and Gravy, Chicken Pot Pie, Braised Country Style Ribs, or this Traditional Meatloaf with Brown Sugar and Ketchup Glaze.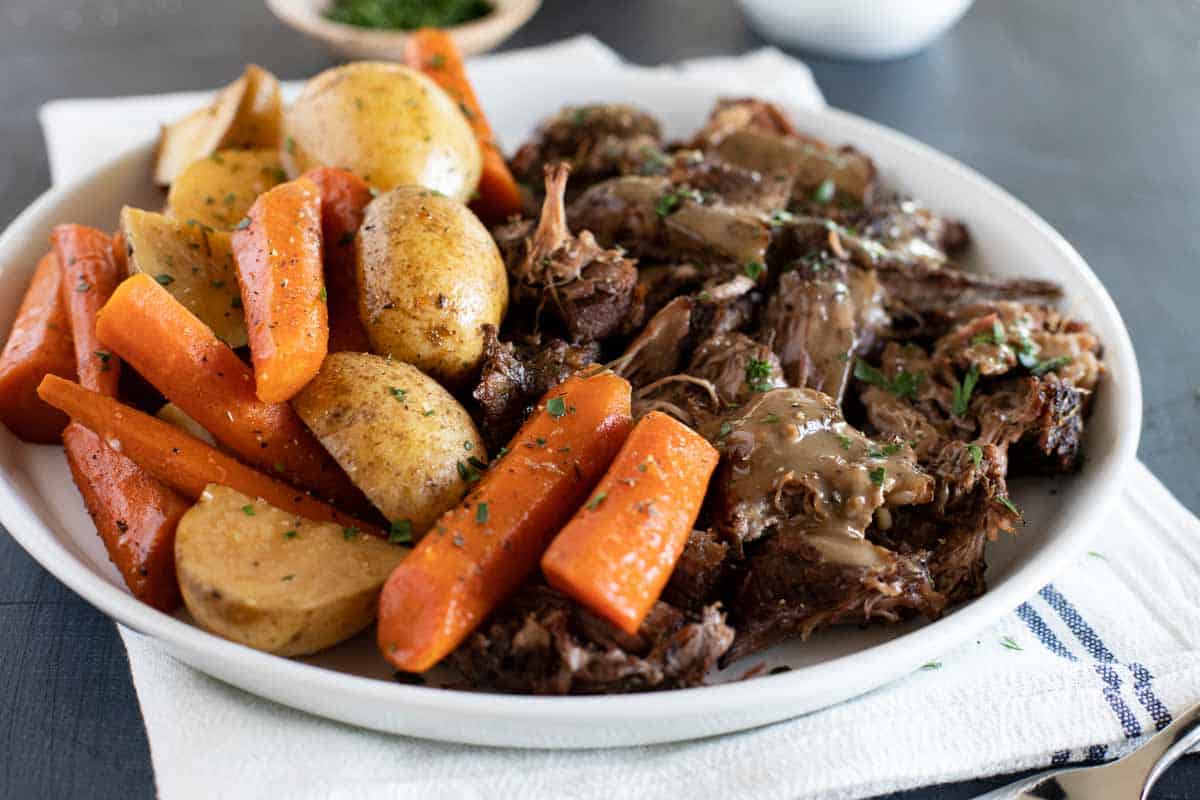 I think it's obvious that I love food. And judging from all of the recipes that I've posted here, you can tell that I love to try new recipes. Throw in all of the cookbooks, food magazines, printed recipes, bookmarked recipes and my little recipe box at home – there are definitely more recipes than an individual could make in 10 lifetimes.
So here's the dilemma – and if you are anything like me, you will feel the same – what happens to those recipes that you try and absolutely love? Do you really go back and make them again, or are you always trying out that new recipe that you've come across??
As much as I love trying new recipes, there are a few recipes that really are worth coming back to. Usually they are the ones that are splattered with remnants of the times you've made the recipe – like my recipe card for this recipe. This is my absolute favorite recipe for pot roast. On the recipe card, it's even labeled "Yummy Roast".
I was craving a good pot roast a little while back, and realized that it had actually been quite some time since I had made this recipe. So I decided to get in and re-test and perfect it so that I can share this new, revised recipe here. And let me tell you – I think this could even convert a non pot roast lover!
But don't think about skipping the gravy – it may be the best gravy that has come out of my kitchen!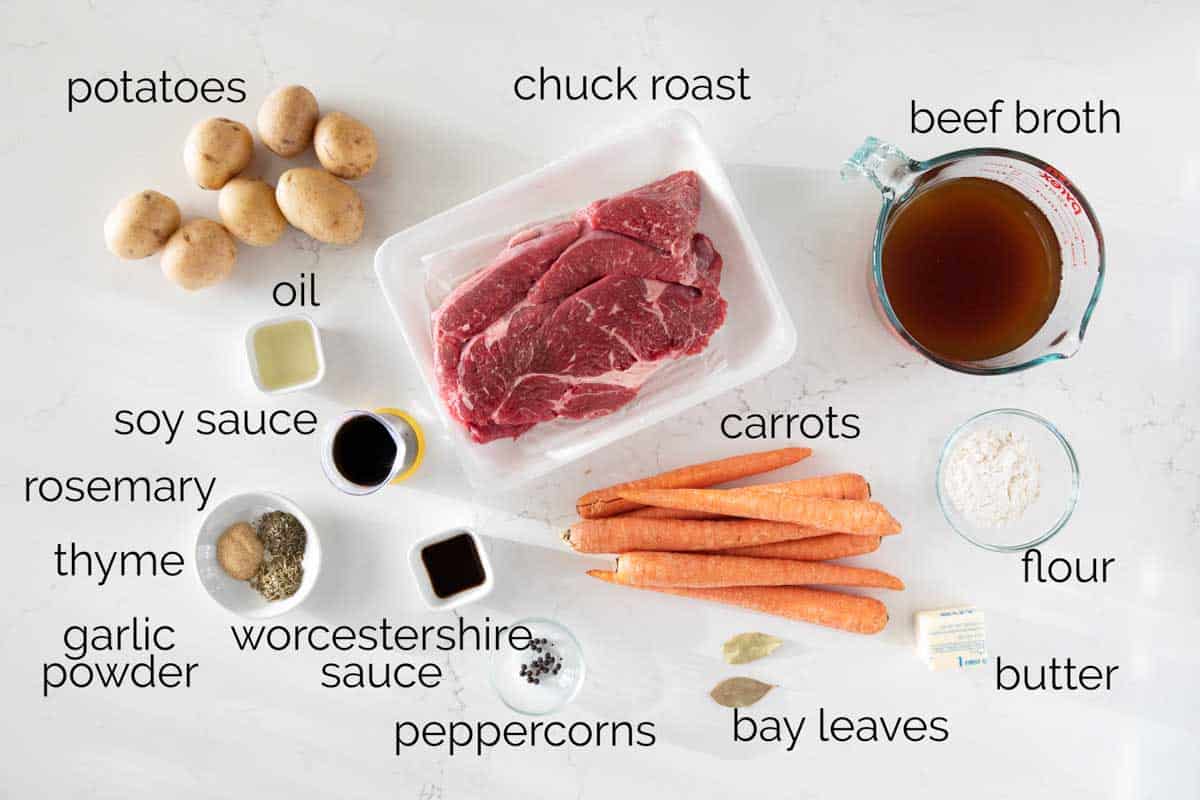 Ingredients
Chuck Roast: My favorite cut of meat for a pot roast (by far) is a chuck roast. I just can't get the same tenderness with other cuts. That being said, you can also use a brisket. The ending texture is more of a shredded beef. You can also use a round roast, although this cut does tend to dry out more than a chuck roast. You'll see this cut labeled as a rump roast or bottom round roast.
Salt and Pepper: Don't underestimate how important it is to salt and pepper the meat!
Oil: This is just for browning the meat, so you'll need a neutral oil with a high smoke point.
Beef Broth: I like to use low sodium, especially since there is soy sauce in the recipe.
Soy Sauce: This is the one ingredient that has always set this recipe apart for me. I've been using it since the 90s, and it really does bring a whole new level of delicious to the pot roast. Use low-sodium, if possible.
Worcestershire Sauce: This adds in some depth to the flavors.
Rosemary, Thyme, and Garlic Powder: I think this mixture of spices works well with the other ingredients, but feel free to swap in what you like.
Peppercorns: I always have peppercorns to refill my pepper mill, but if you don't have peppercorns, you can skip this or add in some extra pepper for that peppery flavor.
Bay Leaves: I use dry because I keep them on hand, but fresh will work as well.
Carrots: I highly suggest using whole carrots that you cut yourself. You technically don't even have to peel them (although I usually do). I try to get carrots that are mostly the same size, but sometimes I'll use whatever I can get. I do avoid mini carrots, though.
Potatoes: You want to use a smaller waxy potato. I like Yukon gold, but red potatoes work well, too.
Butter: This is for the gravy. I use unsalted.
Flour: Also for the gravy. I use all-purpose.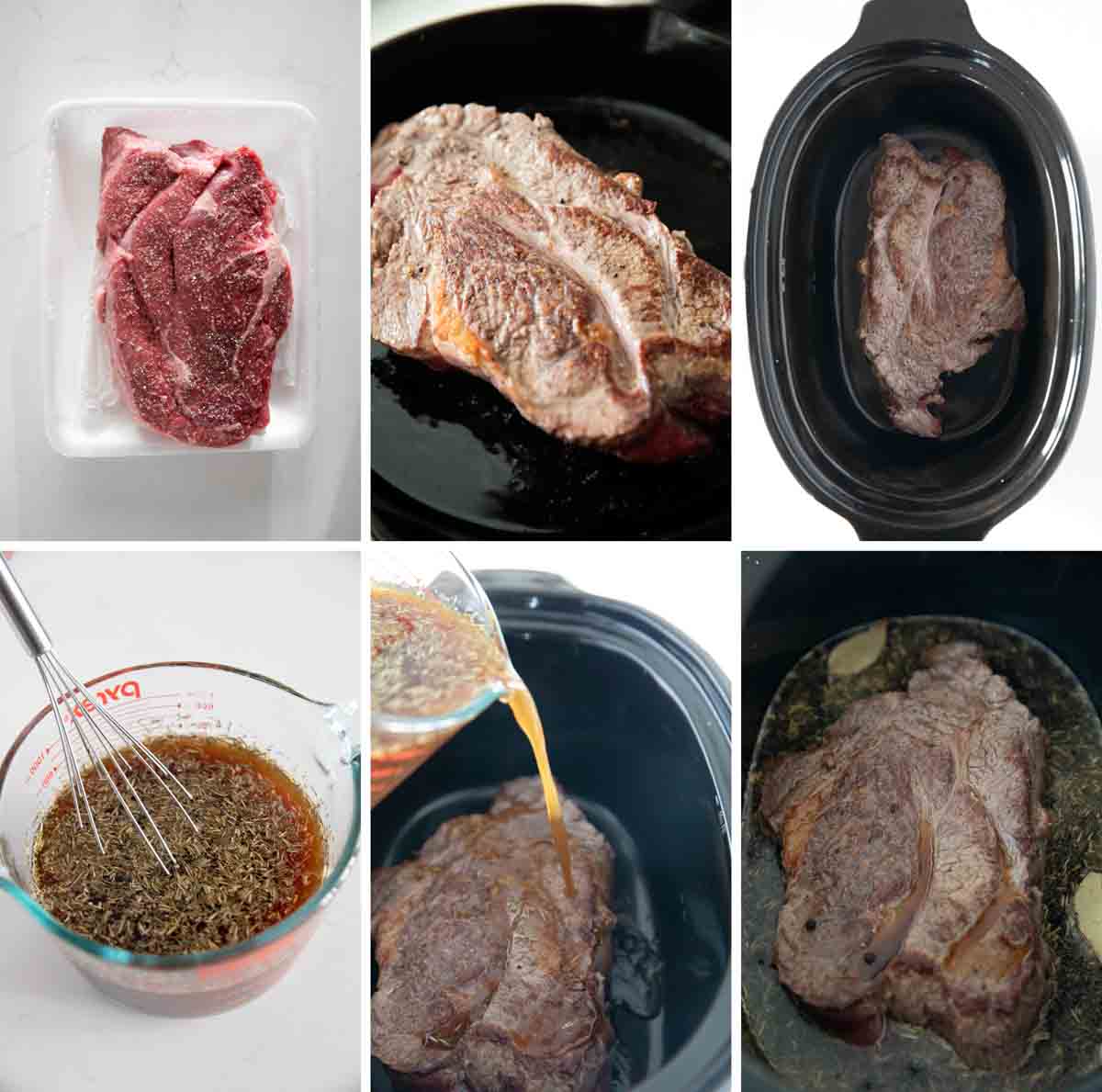 How to Make Slow Cooker Pot Roast
1: Generously salt and pepper both sides of the meat.
2: Heat the oil in a skillet, (I like to use cast iron), and sear the meat on all sides.
3: Place the meat in the bottom of your slow cooker.
4: Combine the broth, soy sauce, worcestershire sauce, rosemary, thyme, garlic powder, and peppercorns.
5: Pour this mixture in with the meat.
6: Add the bay leaves, place the cover on, and cook for 3 hours.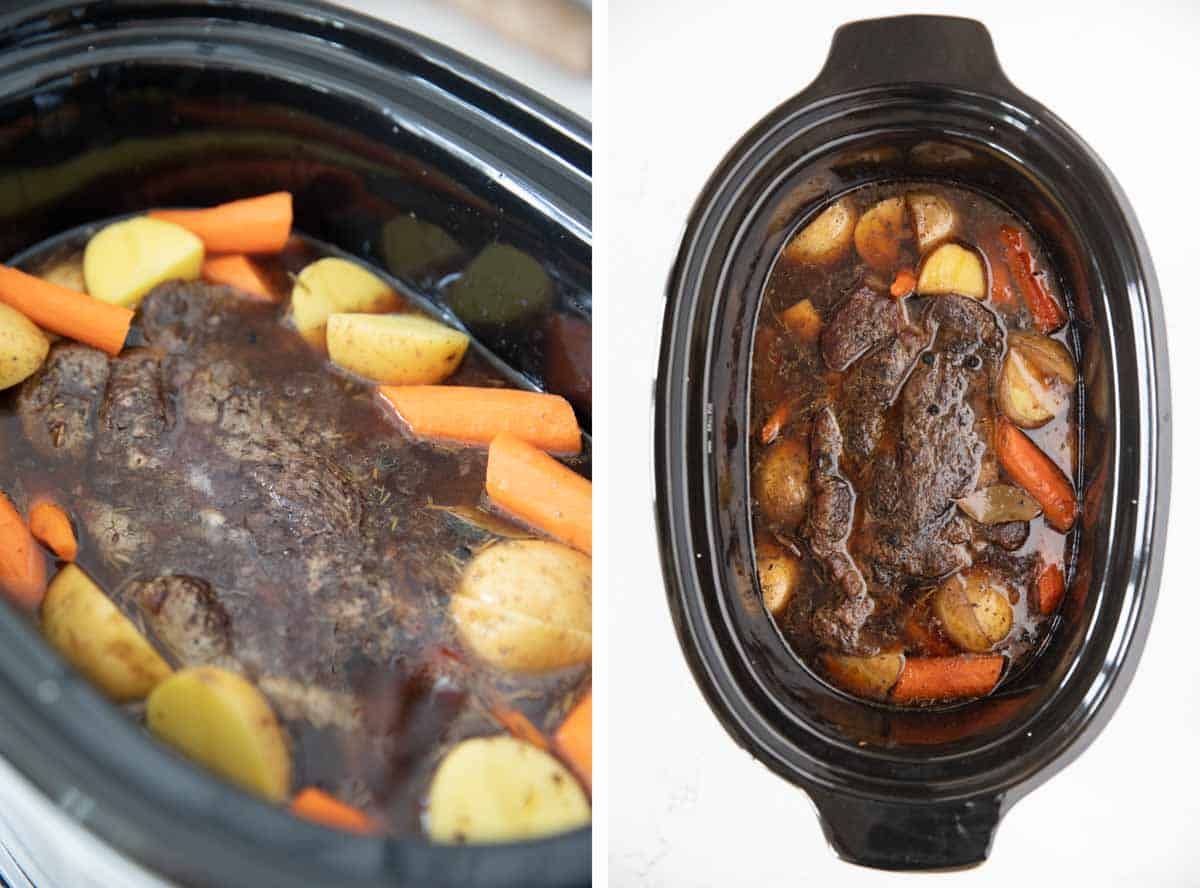 7: After the meat has been cooking for 3 hours, add the potatoes and carrots around the sides of the meat.
8: Replace the lid and cook for another 4-5 hours, or until the meat and vegetables are both tender.
9: Remove the vegetables with a slotted spoon to a bowl. Take the meat and transfer it to a cutting board.
10: Skim off any fat and discard, and strain the liquid that is left in the slow cooker into a large measuring cup. (You want to strain it through a sieve to catch any peppercorns and the bay leaves.) Measure out 2 cups of the cooking liquid and discard the rest.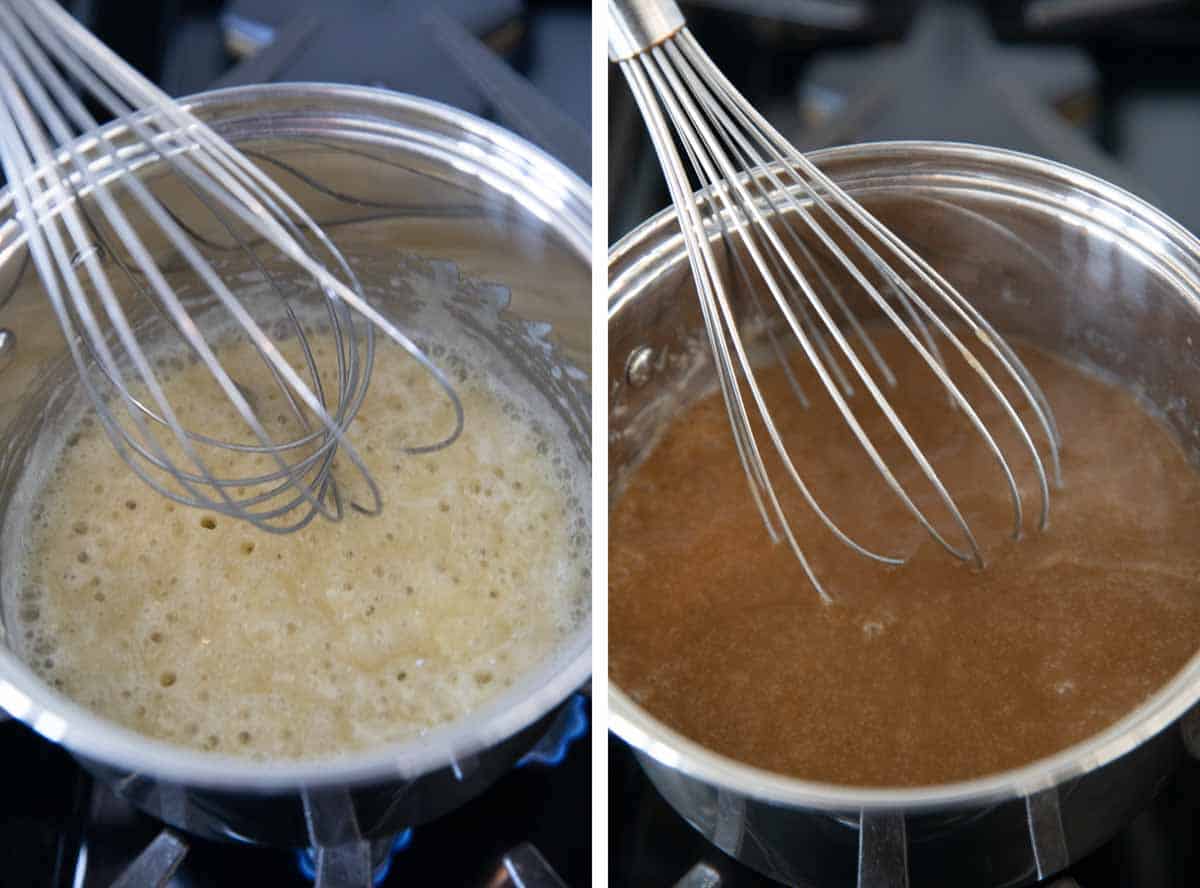 11: In a pot, melt the butter, then whisk in the flour and let it cook for a couple minutes.
12: Whisk in the 2 cups of the cooking liquid. Continue to cook until the gravy has thickened slightly.
13: Break the meat into chunks, and serve it all with the gravy.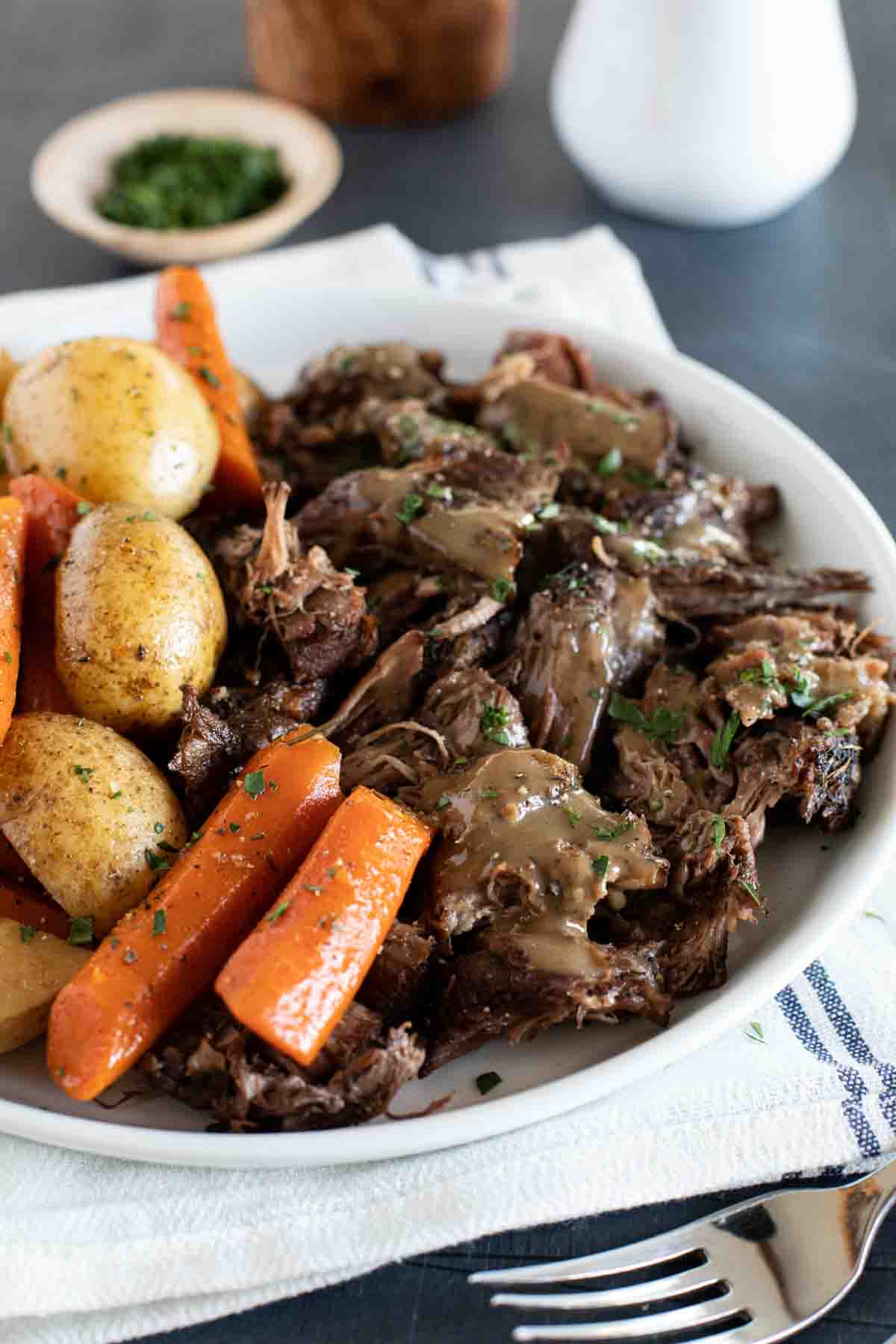 Tips and Tricks
The first time I tested this pot roast, I placed the veggies on the bottom of the slow cooker and the roast on top of the veggies. The vegetables ended up mushy after cooking in the liquid, and the roast was not very tender. It wasn't until I put the roast down in all of the liquid that I ended up with perfectly tender meat. You are essentially braising the meat, which is what gives it the best, tender, moist meat.
If you want more of a set it and forget it meal, you can add the vegetables at the beginning. Just make sure to place them around the meat. They may be a bit more mushy than if you add them part way through the cook time, but sometimes the ease is worth it.
Back in the early days of making this recipe, I would sub in some apple cider for some of the beef broth. And it was delicious!
I have also added in frozen pearl onions and we really love those.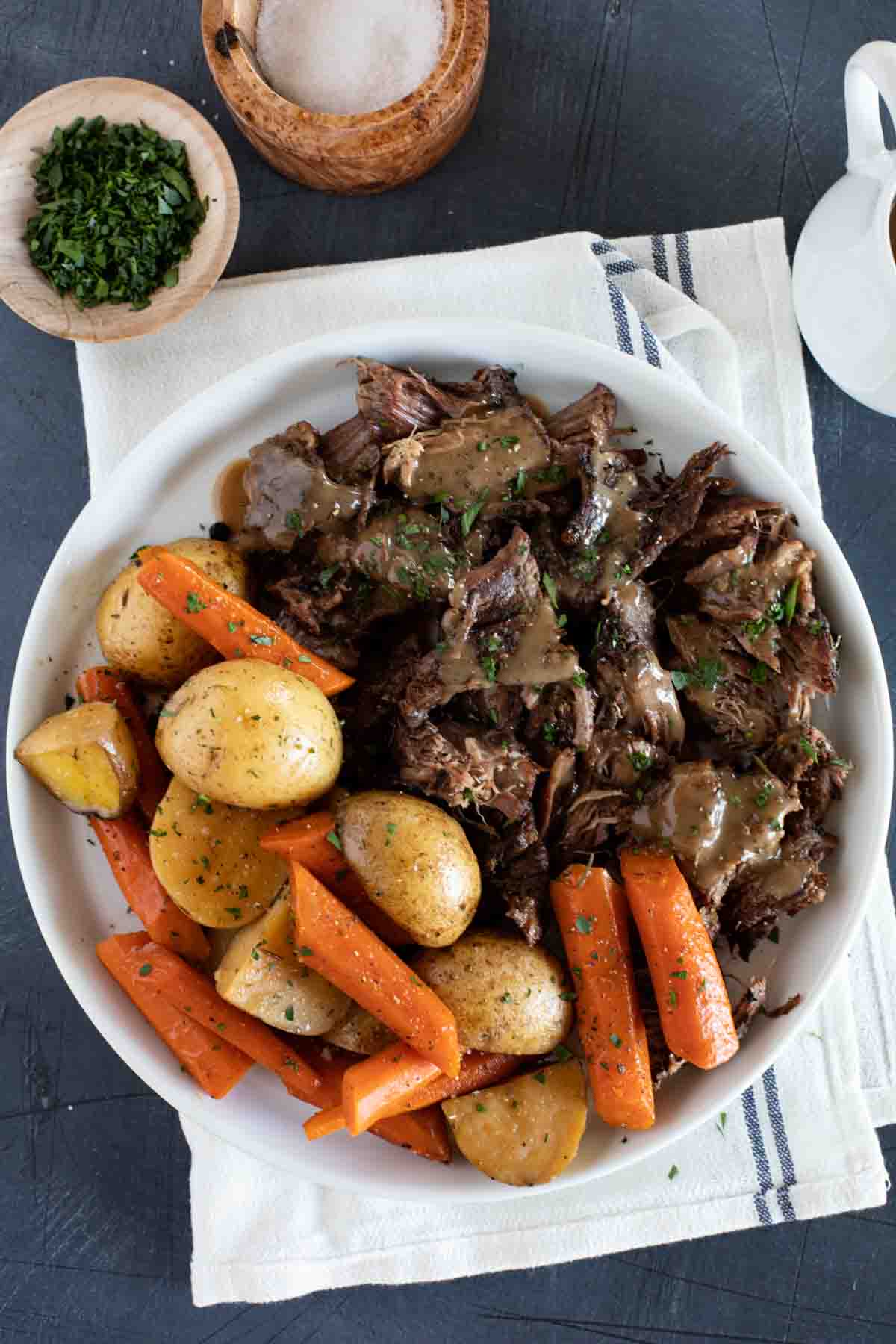 Frequently Asked Questions
Do you have to brown the roast before putting it in the crock pot?
Technically, no. But it adds so much more flavor and improves the texture, so I think it is a step worth taking.
Is it better to cook a pot roast on high or low in the slow cooker?
You can cook it on high or on low, but for the best texture, I recommend cooking on low. This is a cut of beef that needs some time to cook and for the collagen to break down. So yes, you can cook it on high, but the texture will be much, much better if you cook it on low.
Can you use water to cook a roast?
Again, yes you can, but not if you want the best results! I like to use beef broth, especially since I like to make gravy once the pot roast is done cooking.
What internal temperature do you cook a pot roast to?
For fall apart tender meat, you'll want to cook the roast to between 190ºF and 200ºF. If you don't have an instant read thermometer, you can take a fork and twist it in the meat. If the meat easily comes apart, the roast is done.
Why is my pot roast tough?
If the roast is still tough, it probably needs to cook longer. It could also be because of the cut of meat you are cooking. A chuck roast will give you the most tender pot roast.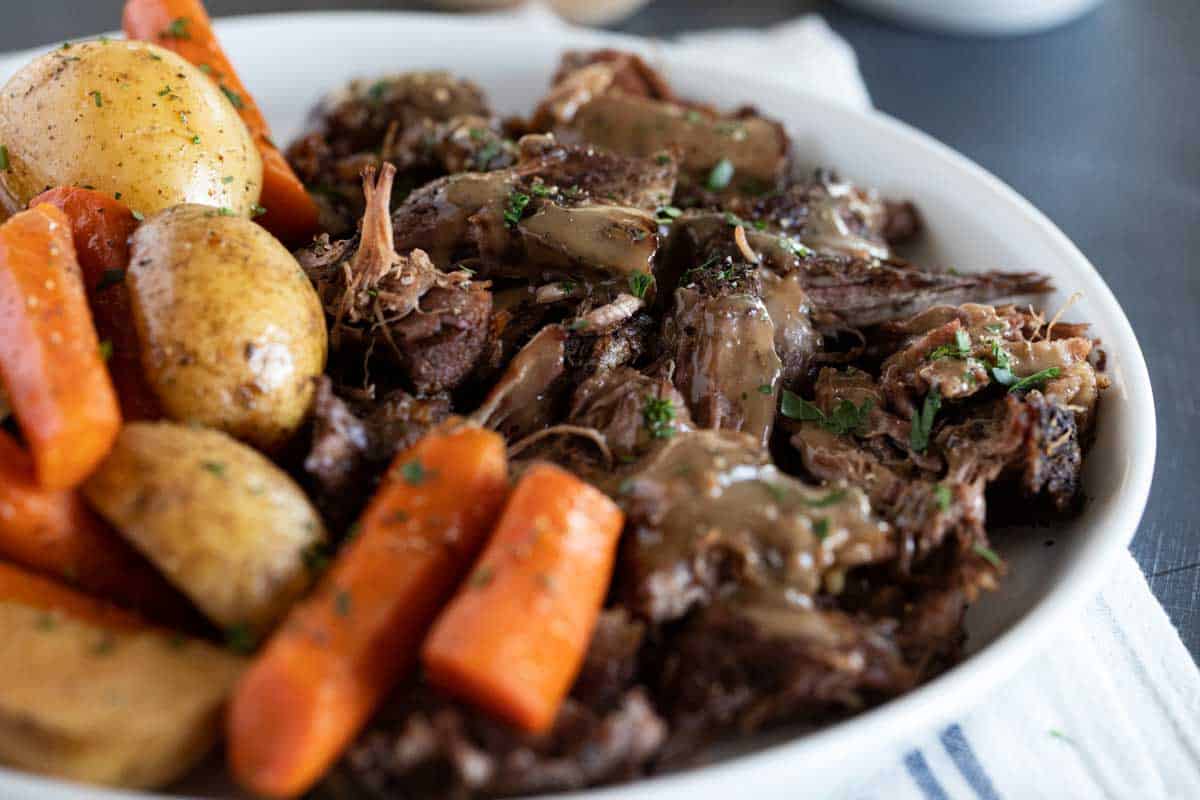 More Delicious Slow Cooker Dinners
Slow Cooker Turkey Meatloaf
Crock Pot Ham
Asian Slow Cooker Pork Roast
Crock Pot Chili
Slow Cooker BBQ Beef Sandwiches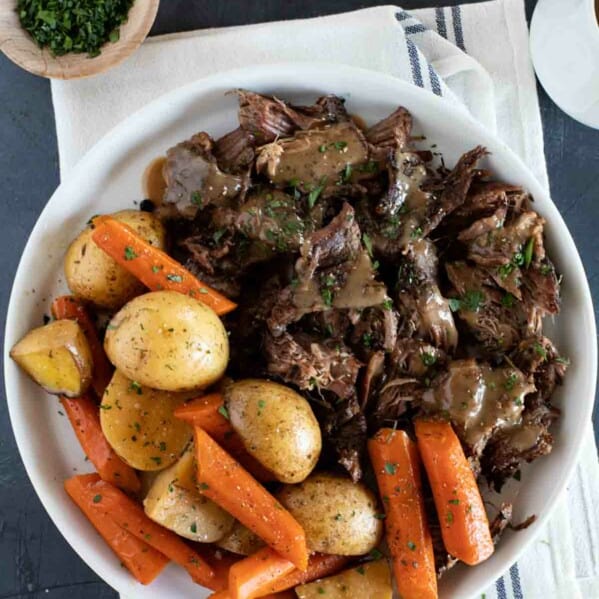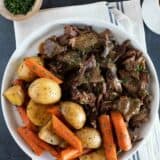 Slow Cooker Pot Roast
---
Author:
Prep Time: 15 minutes
Cook Time: 8 hours 20 minutes
Total Time: 8 hours 35 minutes
Yield: 6 servings 1x
Category: Main Dish
Method: Slow Cooker
Cuisine: American
Description
Sunday supper has never been so delicious! This Slow Cooker Pot Roast gives you perfectly tender beef, tasty (not mushy!) vegetables, and the most delicious gravy ever.
---
Scale
Ingredients
1 (2-3 lb) chuck roast
Salt and pepper
2 tablespoons oil
2 cups beef broth
1/2 cup low sodium soy sauce
1 tablespoon Worcestershire sauce
1 teaspoon dried rosemary
1 teaspoon dried thyme
1 teaspoon garlic powder
10–15 whole peppercorns
1–2 bay leaves
1 pound carrots
1 pound Yukon gold potatoes
1/4 cup unsalted butter
1/4 cup all-purpose flour
---
Instructions
Generously salt and pepper both sides of your chuck roast.
Heat the oil in a large skillet over high heat. When the oil is hot, add the roast and cook for 4-5 minutes per side, until browned. Remove from the skillet and place in the bottom of a slow cooker.
Combine the beef broth, soy sauce, Worcestershire sauce, rosemary, thyme, garlic powder, and peppercorns. Pour this mixture into the slow cooker. Add the bay leaves.
Place the lid on the slow cooker and cook for 3 hours.
When the 3 hours is almost up, prep your vegetables. Peel the carrots and cut into pieces about 2-3 inches long. (If my carrots are fat, I will cut them shorter, and if they are skinnier, I'll leave them a little longer.) Scrub the potatoes and cut in half or in fourths, depending on their size.
Add the carrots and potatoes around the edges of the roast. Replace the lid to the slow cooker and cook until the roast is done, another 4-5 hours.
When the roast is done, remove the meat to a cutting board. Use a slotted spoon to remove the vegetables to a bowl.
Strain the cooking liquid into a large measuring cup. Discard the herbs and peppercorns that were strained, and discard all but 2 cups of the cooking liquid.
In a saucepan, melt the butter. Whisk in the flour, then let the mixture cook while you whisk, for several minutes. Slowly whisk in the 2 cups of the cooking liquid.
Continue to cook until the gravy has thickened.
Meanwhile, use two forks to pull apart the beef into chunks.
Serve the beef with the vegetables and the gravy.
Recipe Notes:
Nutrition information provided as an estimate only. Various brands and products can change the counts. Any nutritional information should be used as a general guide.
Nutrition
Serving Size: 1/6 of recipe
Calories: 620
Sugar: 5 g
Sodium: 1060 mg
Fat: 39 g
Saturated Fat: 7 g
Unsaturated Fat: 9 g
Trans Fat: 0 g
Carbohydrates: 23 g
Fiber: 4 g
Protein: 43 g
Cholesterol: 128 mg
Keywords: Slow cooker pot roast, crock pot pot roast, crock pot roast, pot roast