A traditional, slow cooker roast, this recipe definitely earns its name – Yummy Roast!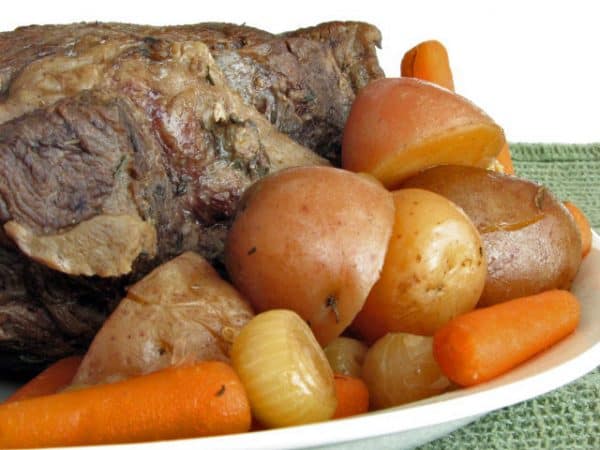 I think it's obvious that I love food. And judging from the food that I've posted about over the last (almost) year, plus all of the recipes that are waiting to be posted about, you can tell that I love to try new recipes. Throw in all of the cookbooks, food magazines, printed recipes, bookmarked recipes and my little recipe box at home – there are definitely more recipes than an individual could make in 10 lifetimes. So here's the dilemma – and if you are anything like me, you will feel the same – what happens to those recipes that you try and absolutely love? Do you really go back and make them again, or are you always trying out that new recipe that you've come across??
As much as I love trying new recipes, there are a select few that really are worth coming back to. Usually they are the ones that are splattered with remnants of the times you've made the recipe – like my recipe card for this recipe. This is my absolute favorite recipe for roast beef. It's earned the title "Yummy Roast".
I think I got this recipe from my older sister years ago, but I'm not exactly sure. If you will remember, the two things my husband has told me that he doesn't like are meatloaf and roast. I think it just comes from a childhood of having them too often. But he now doesn't complain when I make meatloaf. And when I was trying to decide what to make for dinner this last Sunday, I really wanted a roast. I asked him if it would be ok, and he said it would.
I was really excited, but then I wondered if he was just being nice. So I went to my little recipe box (that I haven't opened in months since becoming obsessed with cookbooks and food blogs!) and I started looking through the recipes. Most of the recipes in this box are tried and true recipes, ones that I have been making since I first started cooking for myself. I chose out 5 cards, and gave them to my husband. I told him that he could make the choice. And I was very happy when he handed back the roast card. I would finally have my chance to see if I could make him love a good Sunday roast!!
There is one thing that I know my husband doesn't like – and that is dry meat. (Maybe another reason he has never liked roast?) So the recipe says to cook it on high in the slow cooker for 5 hours, and I knew I would be cutting that down. With the help of a meat thermometer, the meat was done to medium (about 145F) at 3 1/2 hours. The only problem here is that my recipe has you adding in the veggies half way through. I had added the veggies at the 2 hour mark, and they were not done. So I took the meat out and let the veggies cook on high until they were done – about another 45min – 1hr. Then I added back in the meat and let it heat back up for an additional 20 minutes. I will have to remember to add the veggies in at the beginning or an hour into the cook time next time.
Growing up, there were always carrots in with the Sunday roast. I absolutely love roasted potatoes, but unfortunately, my brother is allergic to potatoes, so the potatoes only went in with the roast after my brother had left home. And my husband and I threw in some pearl onions. My mom never did this, but I have a faint memory of staying at my paternal grandparents once where my grandma did this, and I loved the roasted onions. I wouldn't normally put in red potatoes, but those were the only baby potatoes at the grocery store that day, and they worked just fine.
I only made a couple changes from the original recipe (besides the cook time). I was going through the fridge the night before, and realized I still had some apple cider from making the New England Baked Beans. My husband commented that it would go well with the ingredients in the roast, so I substituted 1 cup of water with the apple cider. I think it was definitely a good decision!! I also seared the roast on all sides before putting it in the crockpot. I don't know if this made a huge difference, but it definitely didn't hurt!
So did I convert my husband to the "Yummy Roast"? My husband is good about complimenting me after a good meal, but he just would not shut up about this one. I was actually amazed at how much he enjoyed this meal. He claimed it is the best roast that he has ever eaten, and that he would gladly eat it whenever I made it!! He can no longer say that he is not a fan of good roast beef now!!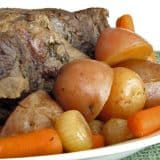 Yummy Roast
---
Author:
Category: Main Dish
Method: Slow Cooker
Description
A traditional, slow cooker roast, this recipe definitely earns its name – Yummy Roast!
---
Scale
Ingredients
3 lb. chuck roast
2 cups water (or substitute 1 c. water with apple cider)
1/2 cup soy sauce
1 teaspoon dried rosemary
1 teaspoon dried thyme
1 teaspoon garlic powder
1–2 bay leaves
8–9 peppercorns (I usually just dump in a small handful!)
---
Instructions
If desired, sear the roast on all sides.
Put all ingredients in a slow cooker and cook on high for 3-5 hours, depending on desired level of doneness.
If adding vegetables, add them in time to allow for a cook time of about 2 1/2 to 3 hours.