Adapted from an old drive in in Minnesota, these Ting Town Barbeque Beef Sandwiches are filled with slow cooked beef is covered in a sweet barbecue sauce then cooked until it is falling apart.
Sometimes, I feel like a broken record on my blog. I feel like every time I talk about birthday treats for work, I have to explain that I make all of the treats for birthdays there. And when I talk about my family get-togethers, I have to explain that we all get together once a month, and rotate turns taking the main part of the meal while everyone else brings sides, drinks and dessert. Why do I feel like I need to be a broken record? Well, if you were to look at my stats, you would be able to tell that the same people aren't reading my blog each post. Some of you are regulars (THANK YOU so much! I love you all – you are the best!) but I get a lot of hits from internet searches. And as one that sometimes uses Google to find a recipe, I hate to go to a blog, only to read and not know what the author is talking about. Call me crazy, I may be alone in this. And I'm sure that half the people don't even read all of this, but skip straight to the recipe, but I guess I just like for people to know the background.
So I apologize now if you are a regular reader and I keep explaining the same things over and over again!
Speaking of family get-togethers, I was in charge in August. I went back and forth about what I wanted to make. My house is just too small to hold 12 adults and a bunch of active children, so thank goodness it was August and a nice day to spend outside. We had contemplated just doing it in our backyard and grilling, but since housework has become one of my lesser priorities since becoming pregnant and tired, (and even if it was in the backyard, it would be impossible to keep people out of the house!), we decided to go to a nearby park. I started thinking barbeque beef sandwiches would be the perfect picnic fare.
After finally deciding on what to make, I had to decide which recipe to use. I saw all kinds of recipes that I wanted to make, but most involved smoking and other processes that took hours and lots of work. Have I mentioned I've gotten lazy and tired with this pregnancy? 🙂 I decided I wanted to do a crock pot barbecue beef, but I didn't want to just throw in the beef and a bottle of barbecue sauce and call it good. I wanted to be lazy, but not that lazy! In comes the good ol' Food Blog Search. Within minutes, I found a recipe I wanted to use!
This recipe was so easy and so delicious. I got many compliments on the sandwiches that evening, and I liked it so much that I would definitely make them again. And since it's made in the crock pot, it's super easy. The recipe required very little hands on time. And the great thing about allrecipes is you can put in the number of servings you want, and they will automatically calculate the ingredients. I did mine for 20, and I had plenty to serve 12 adults and 10 children, plus enough left over for my husband and I for the next day. The recipe below is the original servings – 16.
There's still another week of summer left to enjoy – and if the weather is still nice, these would be great picnic fare!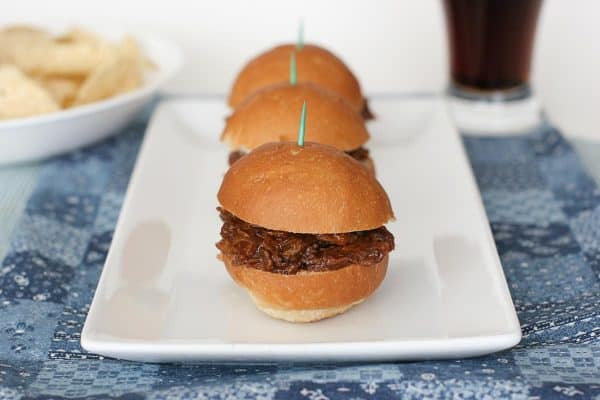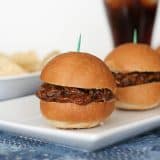 Slow Cooker Ting Town Barbeque Beef Sandwiches
---
Author:
Prep Time: 10 minutes
Cook Time: 7 hours 30 minutes
Total Time: 8 hours
Yield: 16 servings 1x
Category: Main Dish
Method: Slow Cooker
Cuisine: American
Description
Adapted from an old drive in in Minnesota, these Ting Town Barbeque Beef Sandwiches are filled with slow cooked beef is covered in a sweet barbecue sauce then cooked until it is falling apart.
---
Scale
Ingredients
3 stalks celery, sliced thin
1 large onion, coarsely chopped
4 cloves garlic, minced
1 cup ketchup
1 cup barbeque sauce
1 tablespoon prepared yellow mustard
2 tablespoons cider vinegar
2 tablespoons Worcestershire sauce
2 tablespoons brown sugar, packed
1 teaspoon chili powder
1 teaspoon salt
1 teaspoon ground black pepper
4 pounds boneless beef chuck roast, trimmed of fat
16 hamburger buns
---
Instructions
To make the sauce, combine the celery, onion, garlic, ketchup, barbeque sauce, mustard, cider vinegar, Worcestershire sauce, brown sugar, chili powder, salt, and pepper in a bowl; stir until well blended.
Place the chuck roast in a slow cooker. Pour the sauce evenly over the meat. Cover and cook the roast on HIGH for 3 hours. Reduce heat to LOW, and continue cooking until very tender, about 4 hours more.
About 1/2 hour before serving, remove the chuck roast from the slow cooker and shred the meat with a large fork. Empty the sauce and juices to a sauce pan, and cook uncovered over medium heat so the sauce thickens, for 20 minutes.
Put the meat and sauce back in the slow cooker and stir to combine. Keep warm in the slow cooker.
Serve on hamburger buns.