Beef short ribs are simmered in an easy tomato sauce for this Slow Simmered Short Rib Sauce with Pasta. It's perfect for a Sunday supper!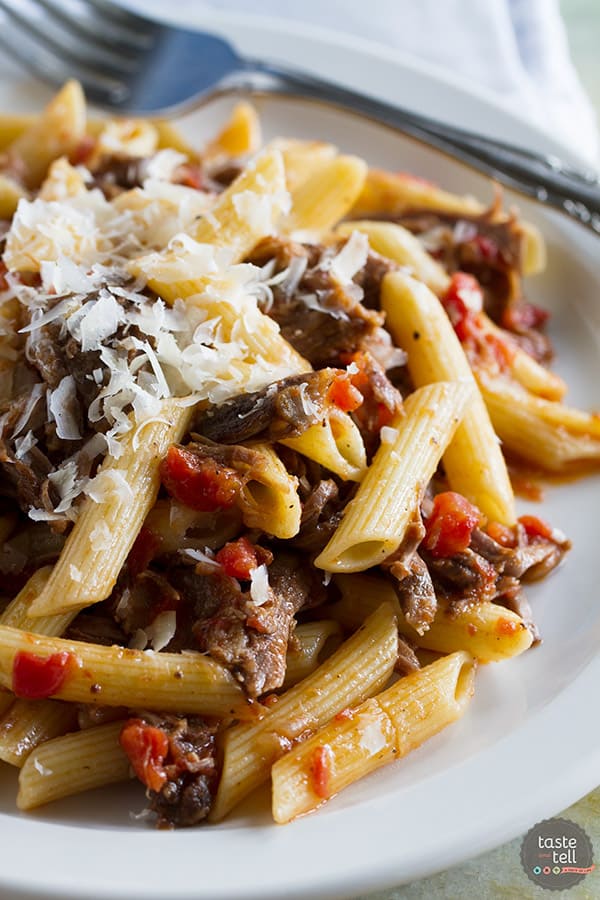 Originally posted January 11, 2008 – Now that we are heading into the cooler months, I figured it's time to start posting all of the comfort foods!! This Slow Simmered Short Rib Sauce with Pasta is not only a great comfort food, but it's perfect for Sunday supper. It takes a little longer than most of my dinner recipes here on Taste and Tell, but that's what makes a great Sunday dinner, right? Short ribs are slowly cooked into a delicious, meaty tomato sauce, and then it's served over pasta. This is such a delicious reason to sit down as a family at the table!
The original post follows:
I have a confession to make – I have already made all 4 recipes from this month's Cookbook of the Month – The New Best Recipe. In fact, I had all 4 things made as of last Sunday – the 6th of January. I think I'm on a kick here – or else I am just in love with this cookbook!!
Another confession – when it comes to pasta sauces, I'm usually the easiest-and-fastest-way-possible kind of girl. I admire those people who simmer their homemade sauces for hours, but the majority of my sauces come from a jar. So when I saw this recipe, I knew I wanted to try it to do something different than I am used to.
This isn't a super long cooking sauce – it takes 1 1/2 to 2 hours on the stove – and it was actually extremely easy. And the smell of the sauce cooking through the house was amazing.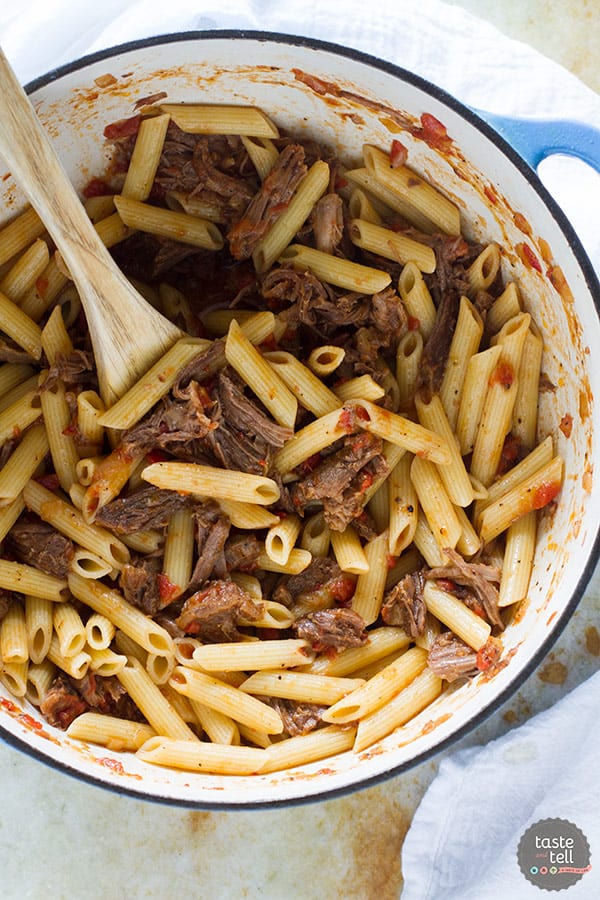 For the meat in this recipe, it calls for 1 1/2 pounds of beef short ribs or pork spareribs or country style ribs. I had decided to half the recipe, even though the original only serves 4, and I'm really glad I did because we still easily got 4 servings out of this. When I was at the grocery store looking at ribs, I originally wanted to go with pork, but the packages they came in were huge. I didn't want to have to freeze the remainder because my tiny freezer is already feeling overburdened. They had a 1 pound package of beef ribs, so I went with that. I ended up using the whole pound of ribs for the half recipe, and I'm glad I did – there was the perfect amount of meat in the final dish.
This short rib sauce turned out delicious. I would definitely make this again on a day I have a few hours to let the sauce and the meat cook. The only complaint I had with it is that it did turn out a little bit greasy. I did try to cut all of the visible fat off of the ribs before starting and I drained the fat, but the end result still had a bit of a greasy feel to it. I would like to try this with pork and see if that helps with the greasiness.
Stay tuned for more features from this book. I have another main dish coming from it, as well as a delicious dessert!!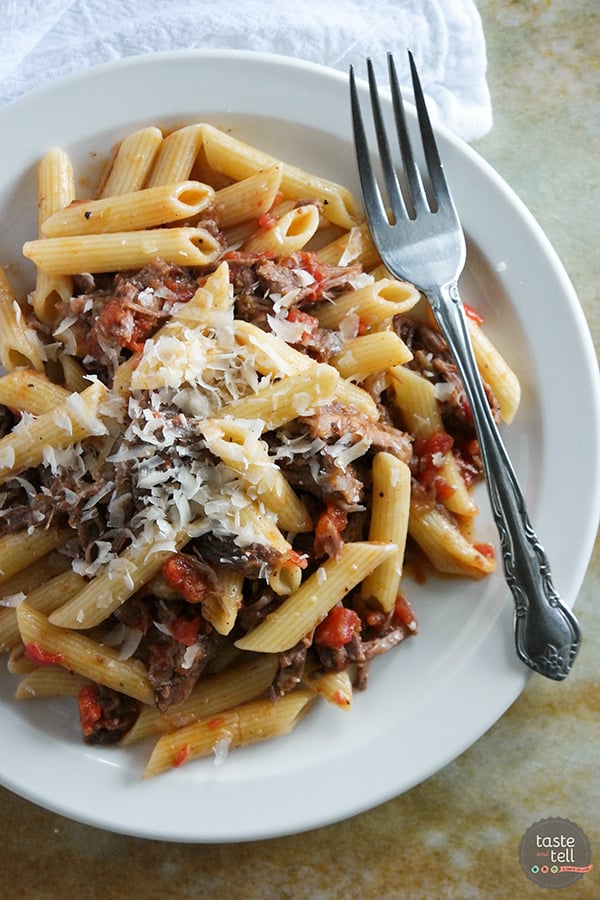 Like what you see here? Make sure you are following Taste and Tell for more recipes and ideas!
Facebook | Pinterest | Instagram | Twitter | Google+ | Weekly Newsletter | Feedly | Bloglovin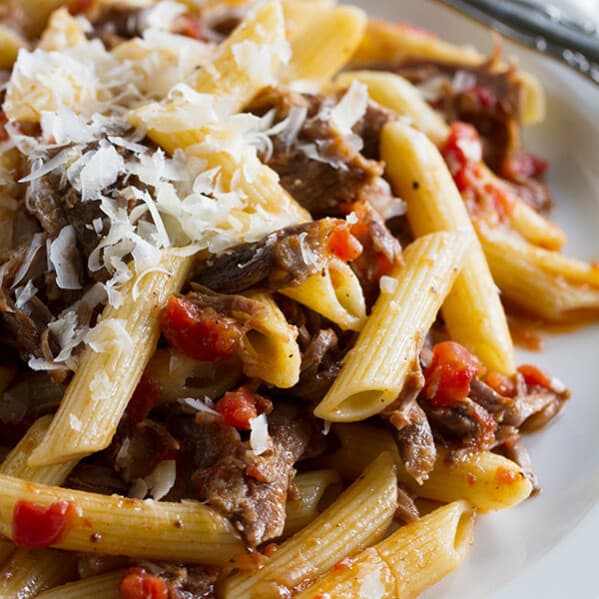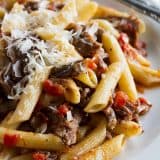 Slow Simmered Short Rib Sauce with Pasta
---
Prep Time: 15 mins
Cook Time: 2 hours 30 mins
Total Time: 2 hours 45 mins
Yield: 4 servings 1x
Description
Beef short ribs are simmered in an easy tomato sauce for this Slow Simmered Short Rib Sauce with Pasta. It's perfect for a Sunday supper!
---
Scale
Ingredients
2 tablespoons extra-virgin olive oil
2 1/2 lbs beef short ribs
1 small onion, minced
1/4 cup beef broth
1 (14-oz) can diced tomatoes, undrained
8 oz penne pasta
freshly grated Parmesan cheese
---
Instructions
Heat the olive oil in a Dutch oven over medium-high heat. Season the ribs with salt and pepper on all sides. Working in batches, if needed, add the ribs and brown on all sides, about 8-10 minutes. Remove the ribs to a plate and discard all but 1 tablespoon of the fat.
Add the onion to the Dutch oven and sauté until soft, 2-3 minutes. Add the beef broth and simmer, scraping up all of the browned bits from the bottom of the pan. Simmer until it reduces to a glaze, a couple of minutes.
Return the ribs to the pan, along with any juices that have accumulated. Turn the heat to low and add the tomatoes. Cover the pan and allow the sauce to simmer, turning the ribs often during cooking. Cook until the meat is falling off the bone, about 2 hours.
When the meat is tender, remove from the pan to a cutting board. When they are cool enough to handle, remove the meat from the bones and shred. Discard the fat and the bones. Add the meat back to the sauce and simmer until heated through. Salt and pepper to taste.
Bring a large pot of water to a boil. Add the pasta and cook until al dente, then drain. Add the drained pasta to the Dutch oven and toss to coat in the sauce. Serve with the grated cheese.
SHOP THIS POST!
More Sunday Suppers: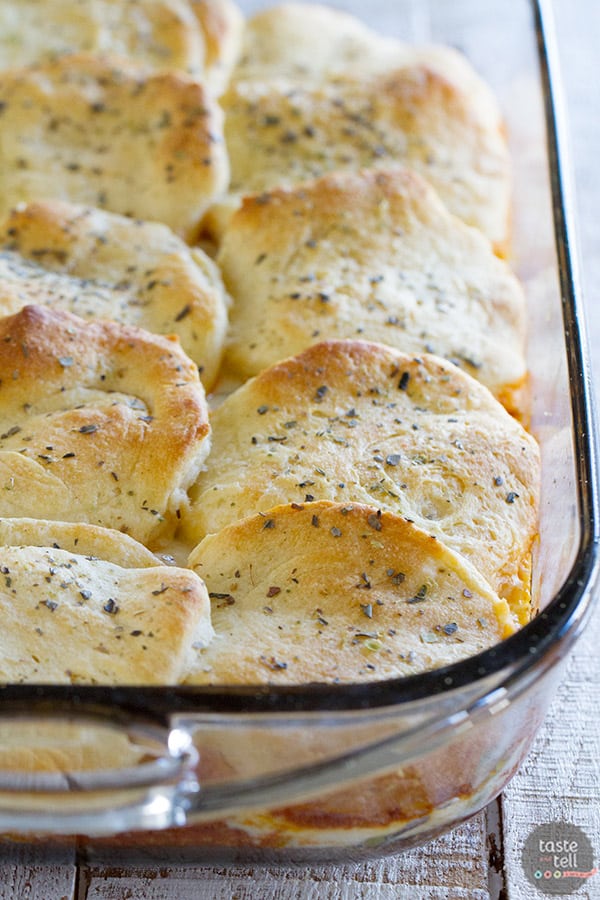 Italian Ground Beef Casserole with Biscuit Topping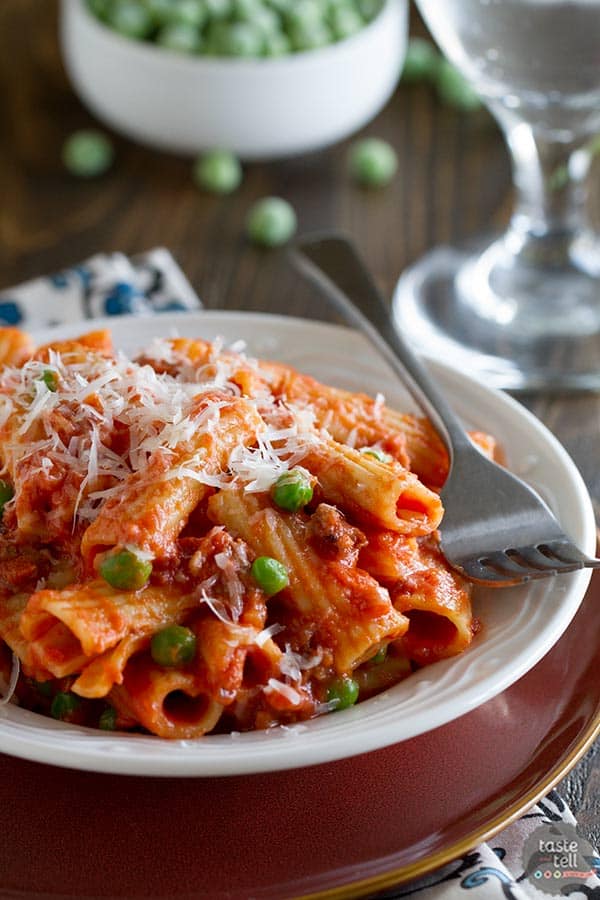 Rigatoni with Sausage, Peas, Tomatoes and Cream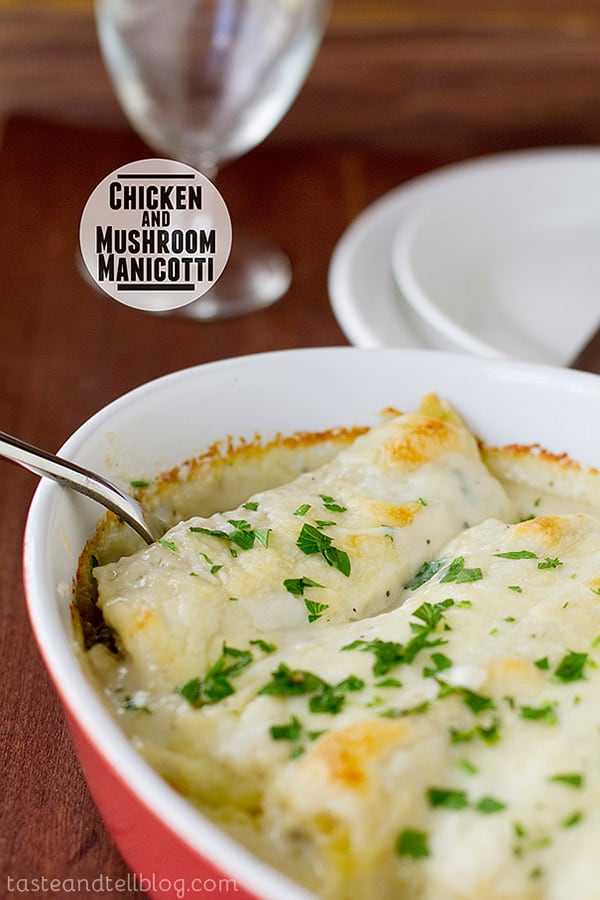 Chicken and Mushroom Manicotti
Around the Web:
Shepherd's Pie with Rich Gravy from Kitchen Sanctuary
Crock Pot Roast with Vegetables from Yummy Healthy Easy
Sicilian Braciole from Baker by Nature
Don't miss a thing! Follow me on Pinterest to see what I'm pinning!
Visit Taste and Tell's profile on Pinterest.