Tender and full of flavor, this Braised Country Style Ribs Recipe is the perfect Sunday supper. They make the perfect comforting dinner for any cold night.
Looking for more comfort food recipes perfect for a Sunday supper? Check out this Slow-Simmered Short Rib Sauce with Pasta, this New Mexican Red Pork Chili, or this Slow Cooker Beef Noodle Soup.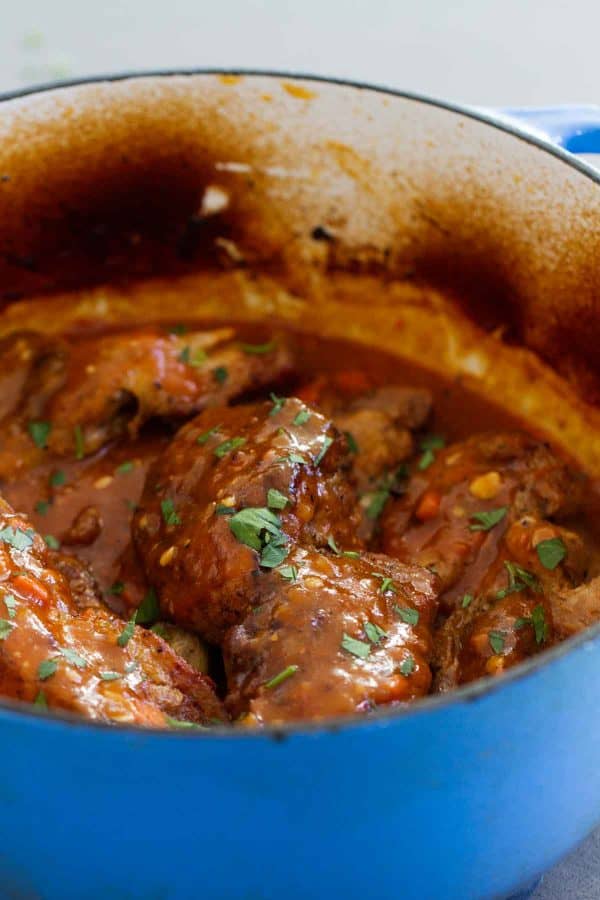 For some reason, I had always been intimidated by cooking country style pork ribs at home. But once you do it, you'll realize just how easy it is! It does take some time, but most of that time is hands off and just braising the meat. And the end result? I would seriously be happy making this Braised Country Style Ribs recipe every weekend!! The meat gets super tender, and has so much flavor.
This recipe is one that makes a regular appearance on our menu!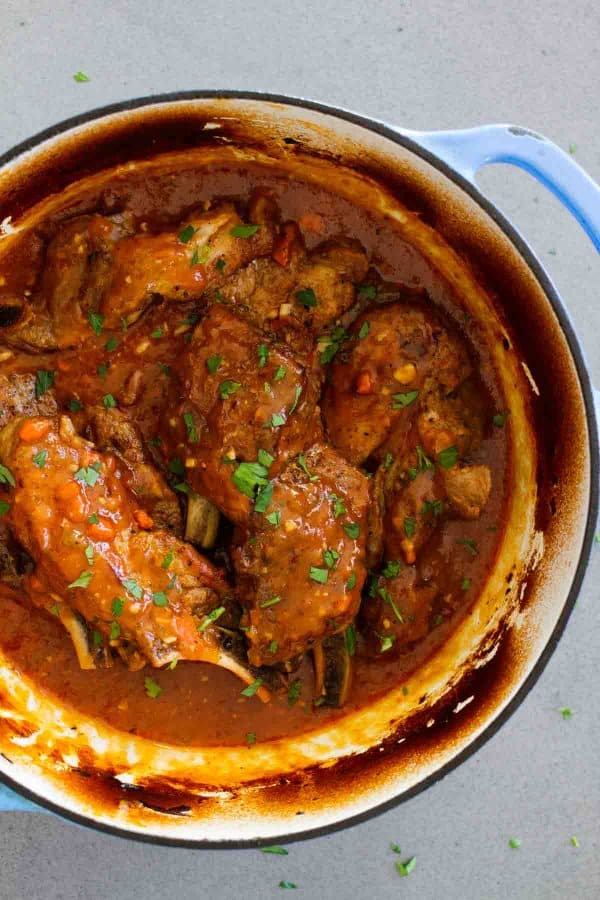 What are country style pork ribs?
There are different cuts of pork ribs – differentiated by where they are cut on the ribs. Country style ribs are actually not even ribs- as they are cut from the blade end of the loin, close to the pork shoulder. Sometimes, they can even be pieces of pork shoulder that have been cut. They tend to be meatier, and will often have some good marbling.
The difference between country style ribs and spare ribs
Sometimes, people confuse country style ribs and spare ribs. Spare ribs are actually part of the ribs, coming from the belly side of the rib cage. These will have bones, tend to be fattier than other cuts of ribs, which means they are super tender.
Most cuts are labeled clearly at the grocery store, but if you are ever in doubt, don't be afraid to ask while you are there!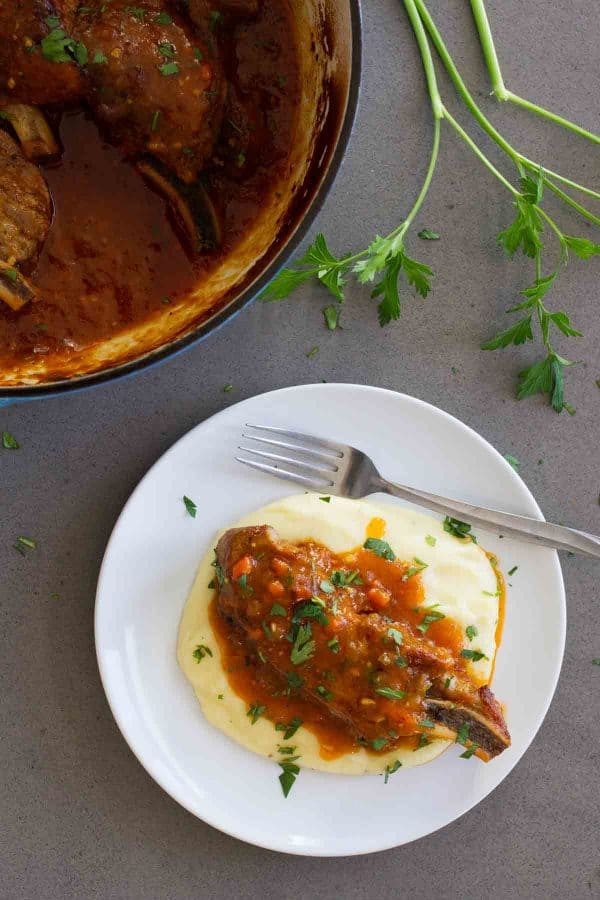 How to cook them
There are actually quite a few ways you can cook country style ribs – in the oven, grill them, in the slow cooker, in the instant pot, and even on the stove top.
But this is a cut of meat that needs to be cooked for a long time to make it tender. Except in the pressure cooker, which speeds up the process, but they still will take a longer cook time than other cuts of meat.
In this recipe, you start by browning the ribs in a heavy pot, I like to use my Dutch oven. This helps to caramelize the meat and bring in a layer of flavor that you don't want to miss.
After browning the meat, remove them from the pot and cook your vegetables until softened. After the vegetables are soft, start making the sauce with tomato paste, apple cider vinegar, bay leaves and red pepper flakes. Don't forget to season to taste with salt and pepper.
The ribs go back in and then are covered with chicken stock. You could also use beef stock, but I like the chicken stock because it's a little milder.
Transfer the pot to the oven to cook low and slow for about 2 hours, until the country style ribs are tender.
And then when they are finished, you'll remove the ribs and make a creamy, amazingly-delicious sauce.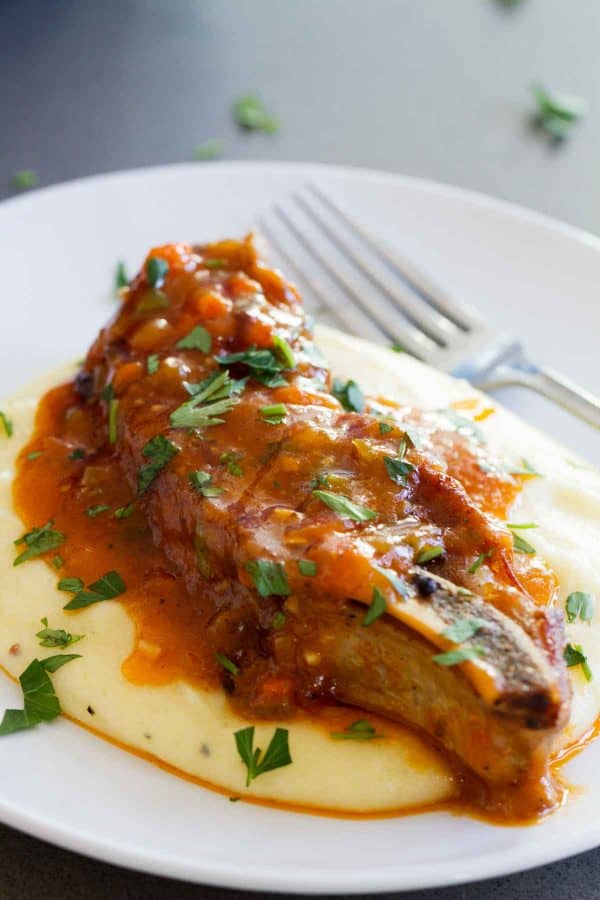 What to serve with country style ribs
Because these are so saucy, you need something to serve the ribs over. I love mashed potatoes or a creamy polenta. But here are some other ideas of what to serve on the side.
Sautéed Green Beans with Cherry Tomatoes
Glazed Carrots
Scalloped Corn and Broccoli
Tomato and Herb Salad
Lemon Butter Broccoli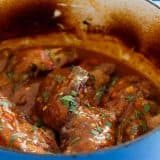 Braised Country Style Ribs Recipe
---
Author:
Prep Time: 30 mins
Cook Time: 2 hours 15 mins
Total Time: 2 hours 45 minutes
Yield: 4 servings 1x
Category: Main Dish
Method: Stove Top
Cuisine: American
Description
Tender and full of flavor, this Braised Country Style Ribs Recipe is the perfect Sunday supper. They make the perfect comforting dinner for any cold night.
---
Scale
Ingredients
3 lbs bone-in country style pork ribs
1 teaspoon Old Bay seasoning
salt and pepper
3 tablespoons vegetable oil
1 medium carrot, peeled and chopped
1 stalk celery, chopped
1 small onion, chopped
4 cloves garlic, minced
2 tablespoons tomato paste
1/4 cup apple cider vinegar
2 bay leaves
pinch of crushed red pepper flakes
2 1/2 cups chicken stock
2 tablespoons water
1 tablespoon cornstarch
mashed potatoes or creamy polenta, for serving
chopped parsley, for garnish
---
Instructions
Preheat the oven to 300ºF.
Pat the ribs dry, then season with the Old Bay Seasoning, and then salt and pepper to taste. Heat 2 tablespoons of the oil in a Dutch oven. Brown the ribs, cooking in batches, until all sides are browned.  Remove all of the ribs to a plate.
Add the remaining tablespoon of oil to the pan. Add the carrot, celery and onions and cook until softened, 3-4 minutes. Add the garlic and cook another minute. Add the tomato paste and cook, stirring to cook out the raw flavor, a few more minutes. Stir in the apple cider vinegar to deglaze the pan, then add the bay leaves and red pepper flakes. Season with salt and pepper if needed.
Place the ribs back into the pan. Add the chicken stock (it should reach about halfway up the sides of the ribs.) Bring to a simmer, then cover the pan and transfer to the oven. Cook until the ribs are tender, about 2 hours. When about 1/2 hour remains, uncover the pan to allow the liquid to reduce a bit and for the pork to brown.
When the ribs are done, remove the pan from the oven to the stove.  Transfer the ribs to a plate. Cover lightly with foil to keep warm. Whisk together the water and cornstarch, then stir into the liquid in the pan, cooking over medium heat. Cook until the sauce is slightly thickened. If desired, add the ribs back into the pan to be coated by the liquid.
Serve the ribs over mashed potatoes or creamy polenta. Garnish with parsley, if desired.
Recipe Notes:
slightly adapted from Ten Dollar Dinners
Nutrition information provided as an estimate only. Various brands and products can change the counts. Nutrition information does not include the mashed potatoes or polenta.
Nutrition
Calories: 319
Sugar: 31 g
Sodium: 1264 mg
Fat: 15 g
Saturated Fat: 9 g
Unsaturated Fat: 4 g
Trans Fat: 0 g
Carbohydrates: 47 g
Fiber: 3 g
Protein: 44 g
Cholesterol: 69 mg
Keywords: country style ribs