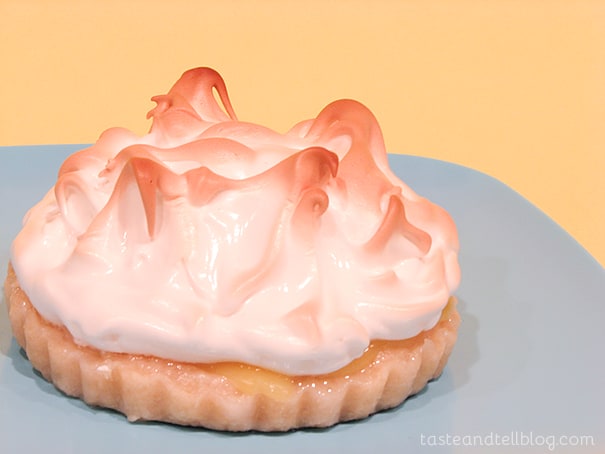 It seems like I just posted about last month's Yule Log yesterday – I can't believe it's already time for another Daring Baker's post!!
This month's challenge is from Jen at The Canadian Baker. Her choice was a lemon meringue pie from Wanda's Pie in the Sky by Wanda Beaver. I was surprised to learn that so many people had never made a lemon meringue pie before!! I grew up with them – they almost always made an appearance on Thanksgiving and Christmas tables. In fact, I'd have to say that the lemon meringue was probably always my favorite pie. So I was quite excited about this challenge because it was something I was familiar with and loved.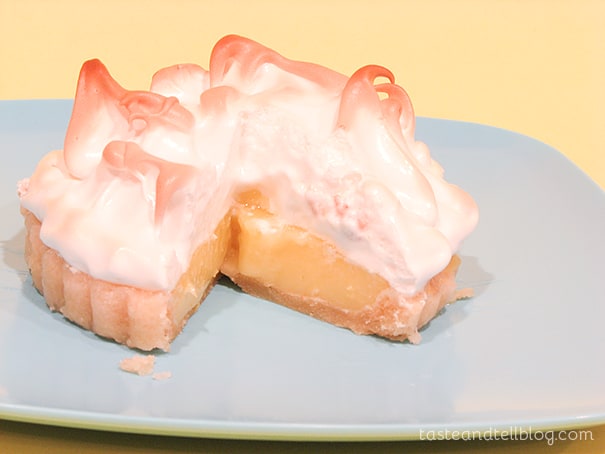 I decided to make mini tarts instead of a whole pie. That way, it would be easier to give away the leftover pie instead of my husband and I feeling like we had to eat a whole pie!! It went off without a hitch – lucky for me since I was a procrastinator again and made them the day before posting day. I swear one of these months I will complete the challenge before the month is over!!
The most fun part for me was the meringue, because I had never piped meringue, so I decided to have fun with it. My husband was quite impressed by all of the designs and had a hard time deciding which one he wanted to eat!
So what did I think of the lemon meringue tarts? I actually really liked the recipe, although I did fall in love with Dorie Greenspan's Lemon Cream Tart that I made for Thanksgiving, and that has become my favorite lemon recipe. I wish I would have cooked the crust a little longer – it was a big soggy, but I blame myself for that because I didn't really know how long to cook them since I made mini tarts instead of a pie. The lemon filling was actually very easy and quick, and the meringue didn't give me any problems. I know many people ended up with a runny filling, but mine turned out wonderfully!
For the recipe, visit Jen's blog. And don't forget to check out all of the other Daring Baker's pies!