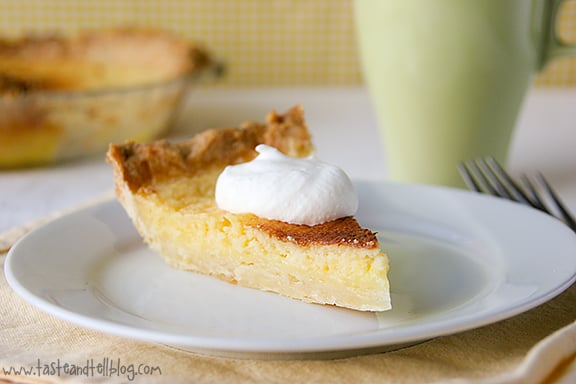 I sometimes think I was meant to be a southern belle.  I have this fascination with the south, even though the closest I've been to the south is parts of Texas.  (Is that even considered the south?  I don't even know!)  I'm obsessed with books set in the south.  And don't even get me started on the food…  Maybe it's that whole "soul" part that has me so enamoured.
While I was browsing through recipes, looking for possibilities for food for the Easter table, I came across this Lemon Chess Pie.  I have heard of chess pies before, but I can't remember ever having one.  I was so intrigued to read that this pie – that is popular in the south – it thickened with cornmeal.  I thought it sounded different, and since I know I'll love lemon anything, I thought I'd give it a try.
If you are afraid of making pies, this is the one for you to try.  Seriously – it doesn't get easier than this.  Just mix, dump and bake.  And if it's the crust you are scared of, use a store-bought crust – I won't tell!!  (I actually realized while making this that I don't even have my go-to pie crust anywhere on my blog.  Once I can figure out how to make my crusts pretty, I definitely need to share the recipe!)
I actually really loved the texture of this pie.  I don't think you'd realize that there is cornmeal in it.  At least my husband couldn't tell.  The lemon flavor was perfect – not too strong and a little bit tart.  Top with some freshly whipped cream, and you have a simple, yet elegant dessert.  This pie would be perfect for your Easter table.  It's so easy that it would even be perfect for a Tuesday night!
Lemon Chess Pie
---
Prep Time: 10 minutes
Cook Time: 50 minutes
Total Time: 1 hour 30 minutes
Yield: 8-10 servings 1x
Description
A simple lemon pie, perfect for a holiday dessert or a weeknight treat!
---
Scale
Ingredients
1 pie crust, prebaked and cooled
1 1/4 cups sugar
1 1/2 tablespoons fine yellow cornmeal
1/4 teaspoon salt
3 large eggs, at room temperature
1 large egg yolk
1/2 cup milk
1/4 cup unsalted butter, melted
1/3 cup fresh lemon juice
grated zest of 1 lemon
1/2 teaspoon vanilla extract
1/2 teaspoon lemon extract (optional)
---
Instructions
Preheat the oven to 350F.
In a large bowl, whisk together the sugar, cornmeal, salt, eggs, and egg yolk. Whisk well. Whisk in the milk, melted butter, lemon juice, lemon zest, vanilla extract and lemon extract. Pour into the cooked pie crust.
Bake the pie in the preheated oven for 45-50 minutes. Turn it 180-degrees halfway through the baking time to ensure it bakes evenly. The outsides should be set, but the middle may still feel slightly jiggly. Cover the pie edges with foil, if needed, to prevent overbrowning.
Cool the pie on a wire rack. Serve at room temperature. Store in the refrigerator.
——————–
recipe from FamilyFun Magazine