This Strawberry Milkshake Ice Cream Cake consists of layers of strawberry cake that are sandwiched with strawberry ice cream and frosted with sweetened whipped cream. It is such a delicious and fun ice cream cake!
Do you love a good ice cream cake? You can also check out this Red Velvet Ice Cream Cake, Peanut Butter Cup Ice Cream Cake, or these Cookies and Cream Ice Cream Cupcakes.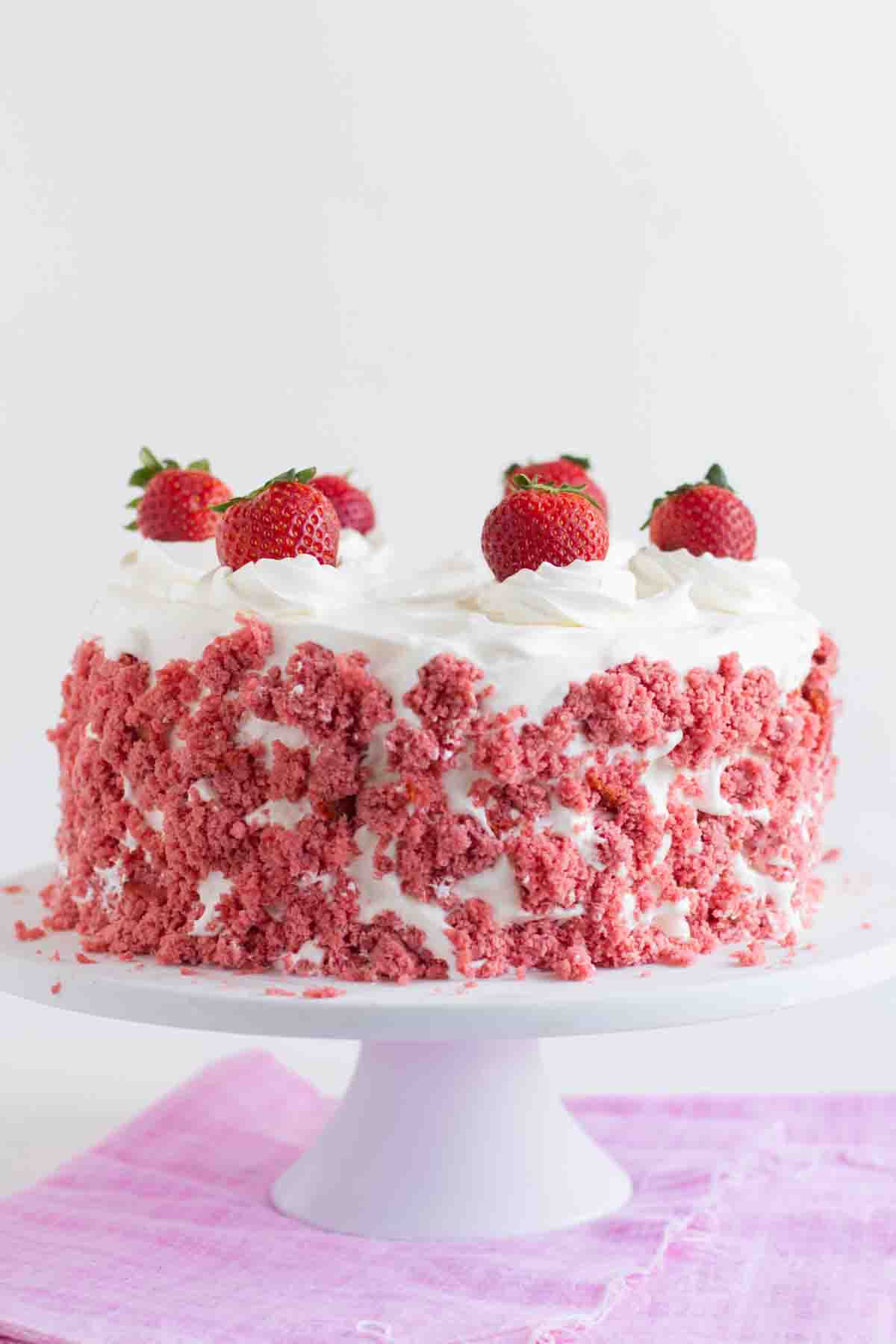 I mentioned earlier this week, but my daughter's birthday was last month, and she is a strawberry fanatic. Everything must be strawberry. Which of course, includes her birthday cake.
The thing is – in January, let's be honest. Strawberries aren't exactly good. Or February for that matter, despite all of the chocolate covered strawberries that make an appearance around Valentine's Day.
And since no other flavor than strawberry will do for her birthday, I have never tried a strawberry cake made from just fresh strawberries. Because right now, I'm afraid that strawberry flavor just wouldn't carry through.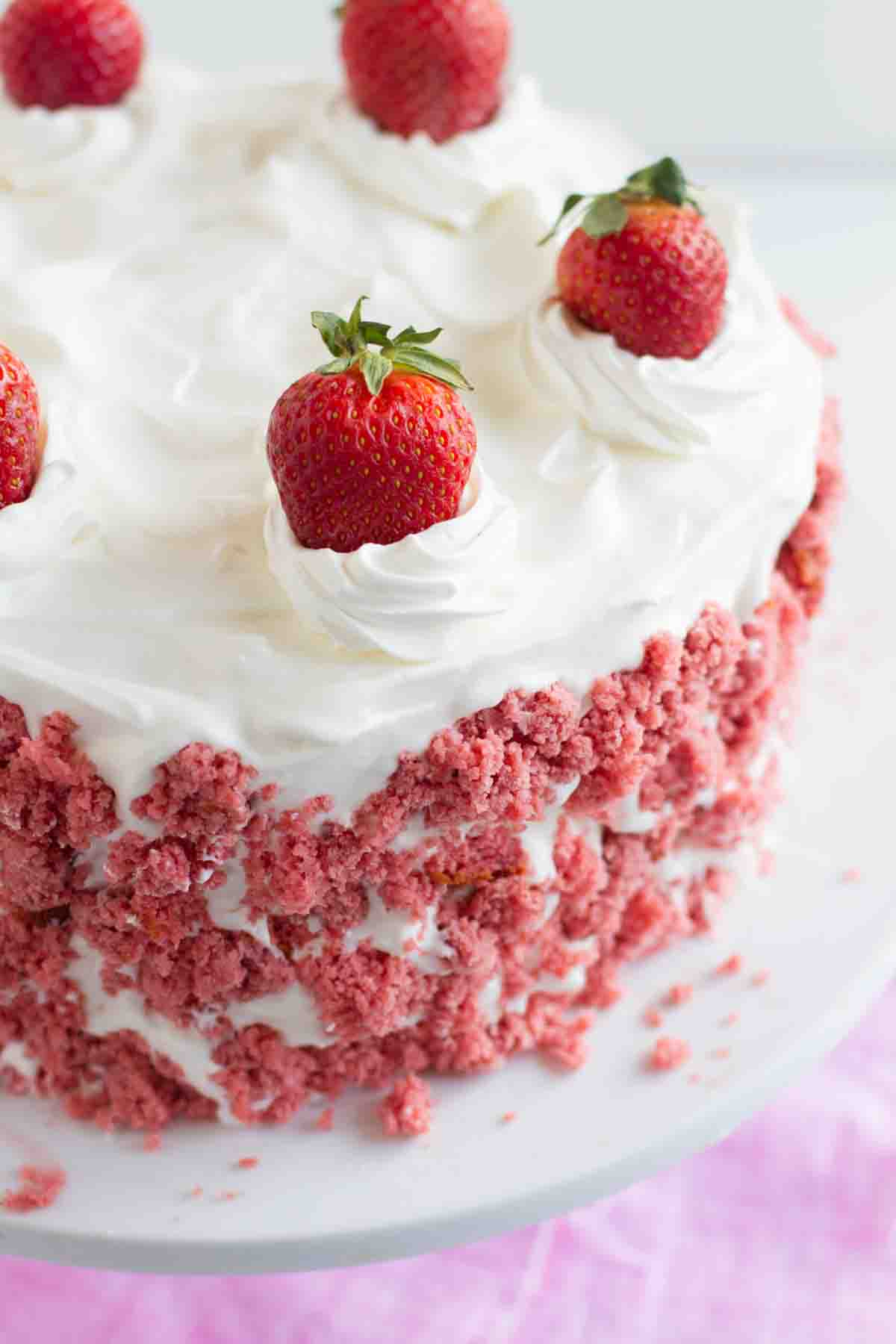 So I've done the next best thing, and I've found a cake that I've made several times now – full of strawberry flavor. Sure, it uses strawberry gelatin and frozen strawberries, but my daughter loves the cake. And that's what really matters.
So a few weeks ago, I was watching the Rachael Ray Show, and Buddy Valastro was on, showing easy ways to make impressive cakes. One of the cakes he made was a Strawberry Milkshake Cake.
I saw that cake, and I knew that I wanted to make this cake for Abbi's birthday.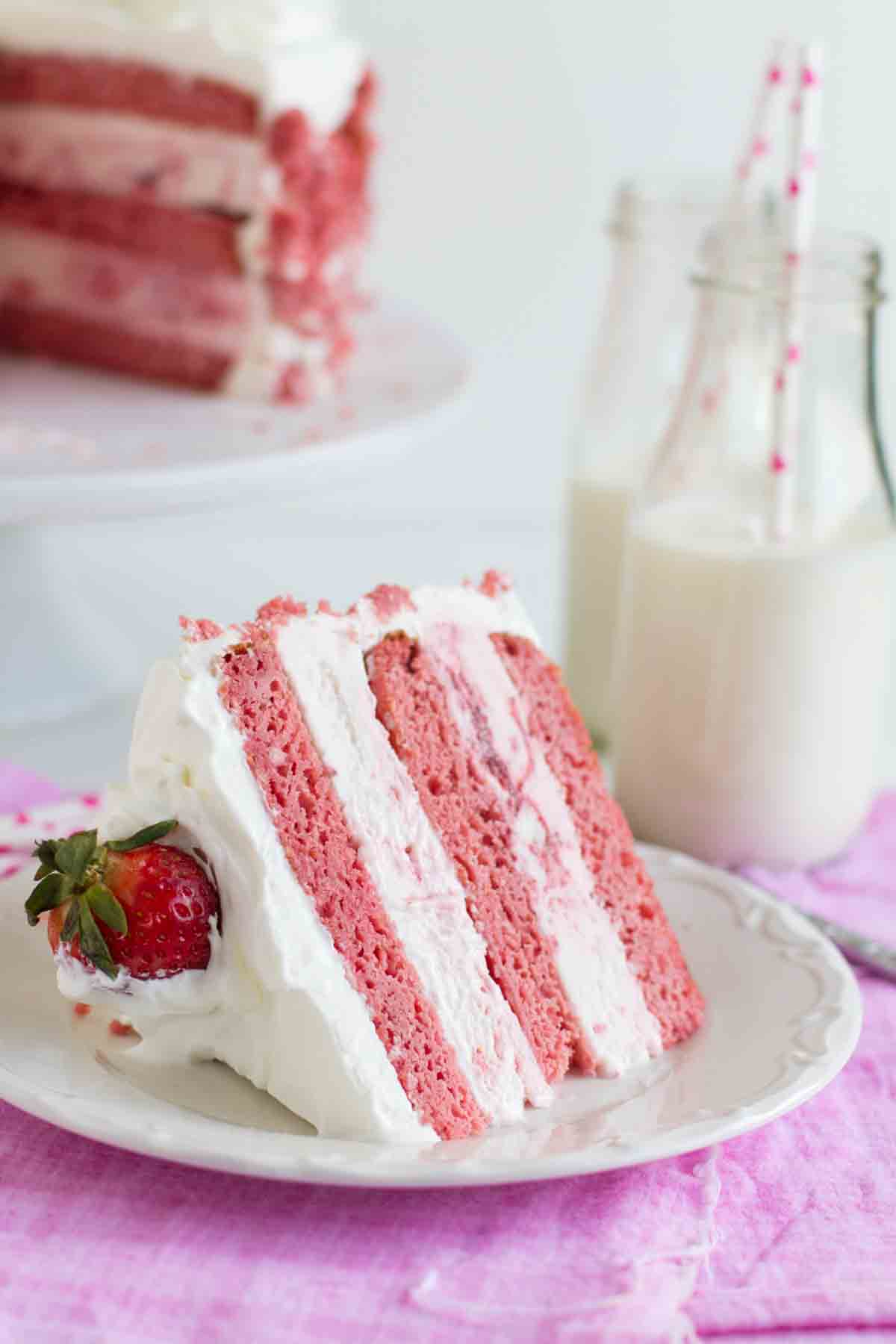 But as her birthday came closer, plans changed, and just a strawberry cake was made. But I still wanted that milkshake cake. So I did what anyone does with a craving does – I made it. 🙂
I didn't use the same recipe that Buddy shared, but instead I used this tried-and-true strawberry cake and sandwiched it with strawberry ice cream.
When I was done, I knew I had a winner. I made a Root Beer Float Ice Cream Cake last year that we loved, but I really loved the pink, strawberry twist to this ice cream cake. And even though it's February and freezing outside, and even though the forecast is calling for snow, I think anytime is a good time for ice cream cake!!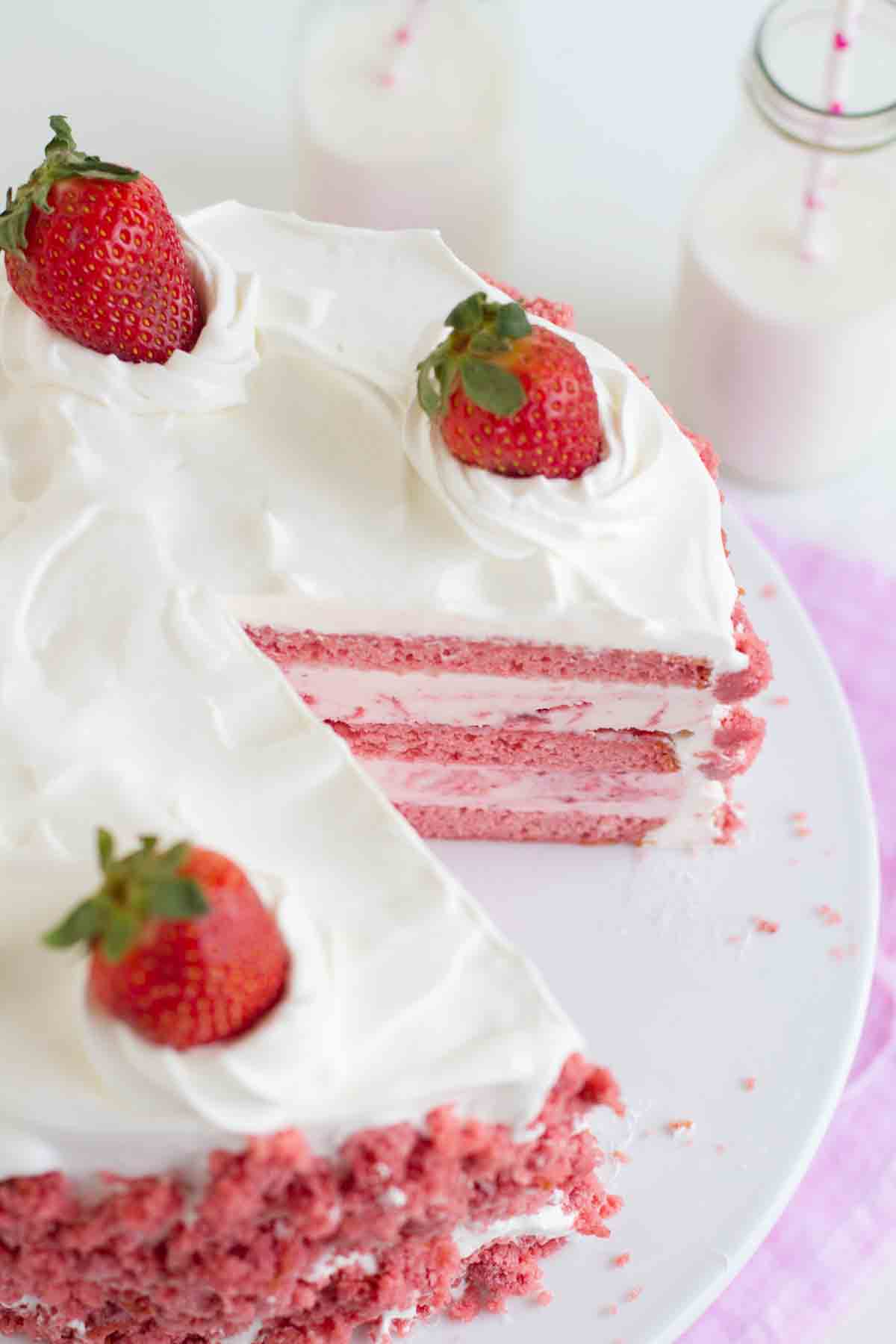 More Strawberry Recipes
Strawberry Mousse
Strawberry Wonton Cups
Strawberry Cupcakes
Strawberry Bread
Strawberry Tart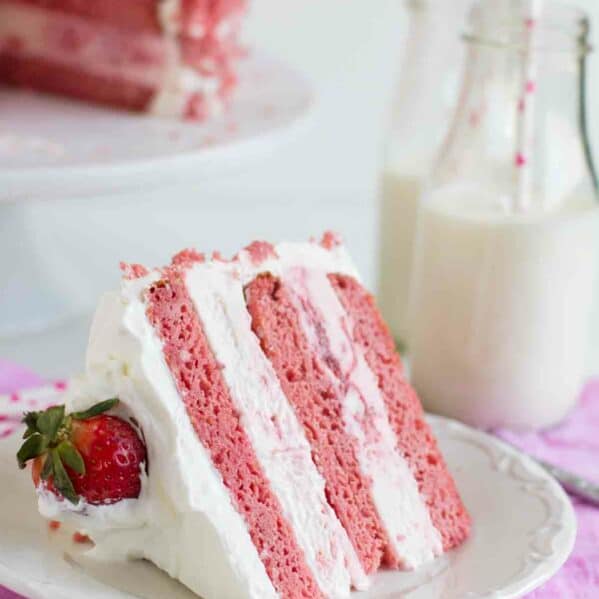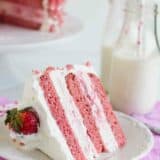 Strawberry Milkshake Ice Cream Cake
---
Author:
Prep Time: 20 minutes
Cook Time: 20 minutes
Total Time: 5 hours 30 minutes
Yield: 12–16 servings 1x
Category: Dessert
Method: Baked
Cuisine: American
Description
Layers of strawberry cake are sandwiched with strawberry ice cream and frosted with sweetened whipped cream for a delicious and fun ice cream cake.
---
Scale
Ingredients
Ice Cream
1 container (1.75 quarts) strawberry ice cream
Cake
1 box (15.25 oz) white cake mix
1 (3 oz) box strawberry jello
1 (15-oz) container frozen strawberries in syrup, thawed and pureed
4 eggs
1/2 cup vegetable oil
1/4 cup water
Frosting
2 cups heavy cream
1/2 cup powdered sugar
For topping
Fresh Strawberries
extra sweetened whipped cream
---
Instructions
Line 2 9-inch cake pans with plastic wrap, allowing enough overhang to go over the sides of the pan. Remove the ice cream from the freezer and allow it to soften slightly. Spread the ice cream evenly in the prepared pans. Cover the top with plastic wrap and return to the freezer and freeze completely, at least 4 hours.
Preheat oven to 350°F. Grease 2 9-inch cake pans, line the bottoms with parchment paper or waxed paper, then grease the paper.
In a large bowl or the bowl of a stand mixer, combine the cake mix and the jello powder. Add in the pureed strawberries, eggs, vegetable oil and water and mix until thoroughly combined. Divide the mixture evenly between the two prepared pans and bake until a tester inserted in the center comes out clean, about 20 minutes. Cool for 10 minutes, then turn out of the pans onto a baking rack to cool completely.
When cool, wrap in plastic wrap and freeze while the ice cream freezes.
Place the whipping cream in a large bowl and whip until slightly thickened. Gradually add the powdered sugar and continue to whip until thick with stiff peaks.
To assemble the cake, unwrap the cake layers and with a serrated knife, cut each of the cakes in half to form 2 thinner layers. Place one layer on a cake stand or cake plate. Unwrap one of the ice cream layers and place on top of the cake layer. Repeat with another cake layer, the remaining ice cream layer, and one more cake layer. (Reserve the remaining cake for the outside of the cake.) Trim the ice cream if needed for the edges to be flush.
Frost the entire cake with the whipped cream. In a bowl, crumble the remaining cake layer and then press into the outsides of the cake.
Freeze until ready to serve.
Right before serving, add additional whipped cream and fresh strawberries to the top.
Recipe Notes:
*This cake recipe is quite moist, so freezing the layers makes it easier to cut the layers in half.
*Because the cake is moist, it doesn't crumble like a drier cake would. I found that it was easiest to heat the cake for 10 seconds in the microwave so that it wasn't frozen anymore, then I used 2 forks to tear the cake apart.
*Cake recipe from Paula Deen
*Inspired by The Rachael Ray Show
Keywords: strawberry ice cream cake