Well, tomorrow is Taste and Tell's actual 6th birthday, but we are ending the week of celebrations today. It's been fun to celebrate with giveaways all week long! (Including a new giveaway at the bottom of this post!)
This is where I should get all mushy and talk about how much this blog means to me. But I'm going to keep it short.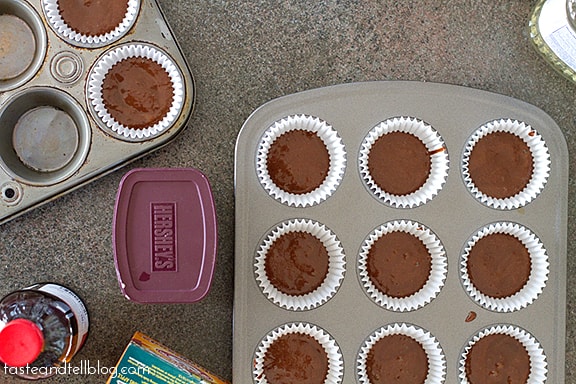 6 years ago, I posted my first recipe, excited to be able to share something that I love to do – cook. I remember sending out an email to my friends and family, telling them to come and check out my new little project. I've started many things over the years, only to lose interest after awhile, but this has stuck.
And I love it.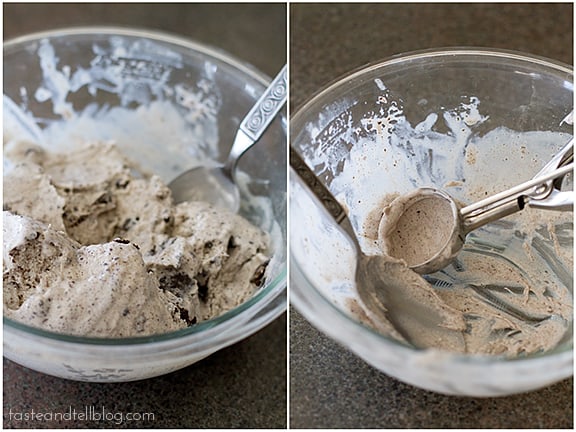 Blogging is hard work. Long days, long nights. A lot that goes on behind the scenes that you never see or hear about. But let me tell you –
This is the best job.
I am so honored and flattered that you all come here to listen to me ramble. That you want to try these recipes. And hopefully, I've inspired some of you to get into the kitchen. Because that's what really matters.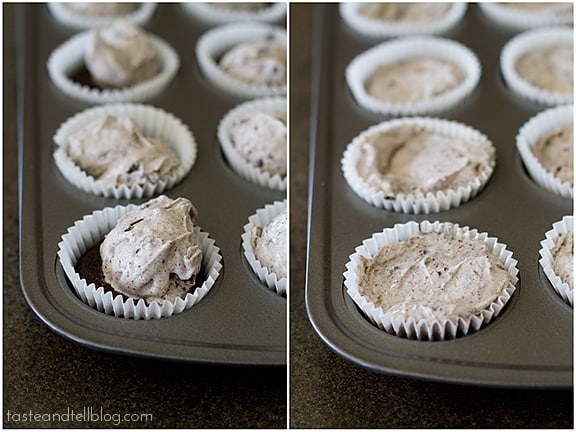 Every day, I give my thanks for you. This blog has been with me through good times and bad times – and many of you have shared those times with me. You've reached out when I really needed it. Thank you.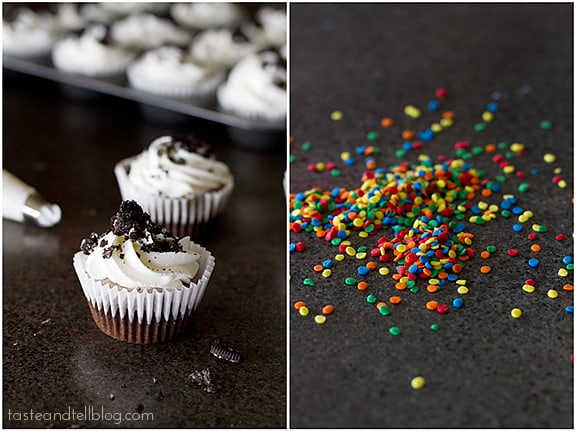 And here's to more than 6 more. Things only get better as time goes on, so I'm excited to see what the future brings!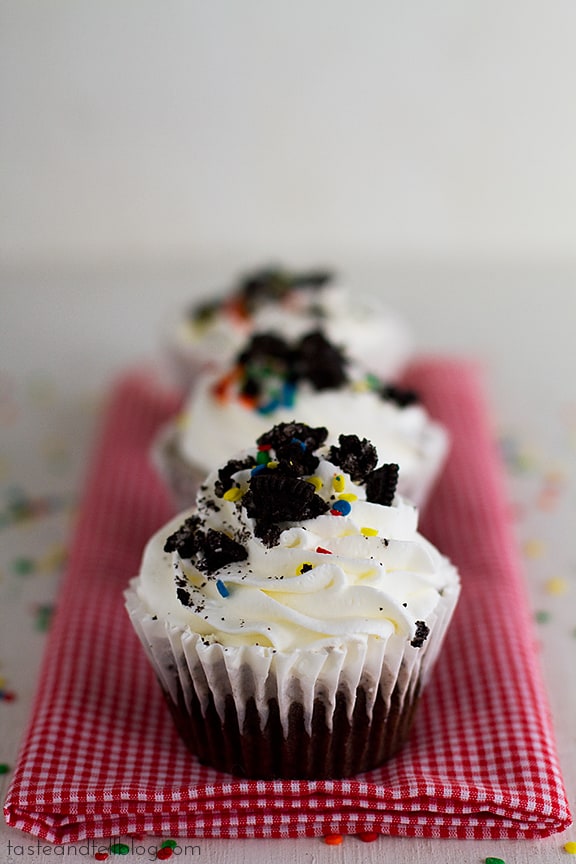 We needed another celebration. And after running across some Ice Cream Cupcakes by Bubbly Nature Creations online, I knew there would be no better way to celebrate. Didn't we all want one of those store bought ice cream cakes growing up? This is even better because they are made at home and they are in cupcake form. You know I'm a sucker for a cupcake! I took a go-to chocolate cupcake recipe to start as the base for the cupcakes. You'll only fill the cups about a third of the way full so that you'll have room for the ice cream. When the cupcakes are cool, you'll add the ice cream and then whipped cream. And of course, I couldn't resist adding a few sprinkles – it is a celebration after all!!
These cupcakes are perfect for any celebration. They are easy to make ahead of time and everyone gets their cake and ice cream together. I can't think of a better way to do it!!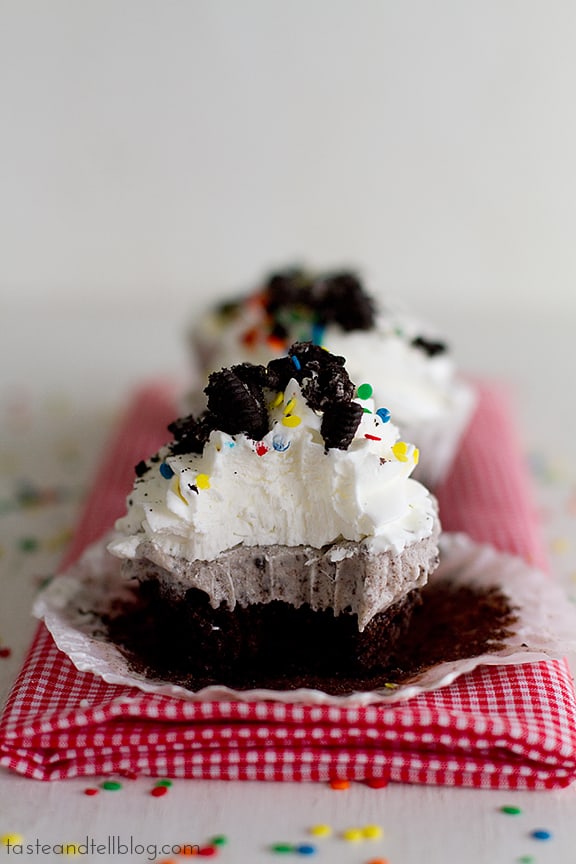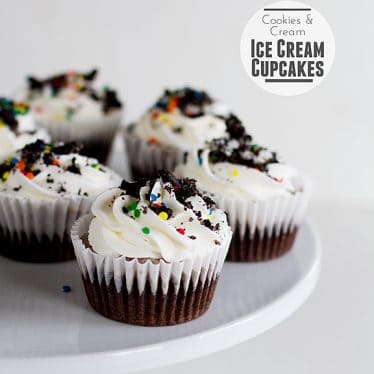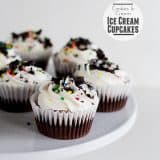 Cookies and Cream Ice Cream Cupcakes
---
Prep Time: 15 minutes
Cook Time: 12 minutes
Total Time: 3 hours 30 minutes
Yield: 16 cupcakes 1x
Description
The perfect cupcake for any birthday celebration – a chocolate cupcake is topped with cookies and cream ice cream and whipped cream.
---
Scale
Ingredients
3/4 cup flour
1/2 cup sugar
1/2 teaspoon baking soda
1/2 teaspoon salt
3 tablespoons cocoa powder
1/4 cup vegetable oil
1/2 cup water
1/2 teaspoon vanilla
3 teaspoons vinegar
4 cups cookies and cream ice cream
1 1/2 cups heavy cream
1/2 cup powdered sugar
crushed oreos and/or sprinkles, optional
---
Instructions
Preheat the oven to 350F. Line 16 muffin tins with cupcake liners.
In a large bowl, whisk together the flour, sugar, baking soda, salt and cocoa powder. Add the oil, water, vanilla and vinegar and mix just until combined. Fill each cupcake liner about 1/3 full with the batter. Bake for 10-12 minutes, or until a toothpick inserted in the center comes out clean. Remove from oven and cool completely.
Allow the ice cream to melt slightly. Fill each cooled cupcake with the softened ice cream. Spread evenly. Place in the freezer until the ice cream is frozen, about 2 hours.
In a large bowl, beat the cream and powdered sugar together. Beat until the cream has stiff peaks. Pipe the whipped cream on top of the cupcakes. Sprinkle with crushed Oreos or sprinkles if desired. Keep frozen.
——————
Inspired by Bubbly Nature Creations