This Root Beer Float Ice Cream Cake consists of vanilla ice cream that is sandwiched in between two layers of root beer cake and frozen for a fun twist on a summer classic.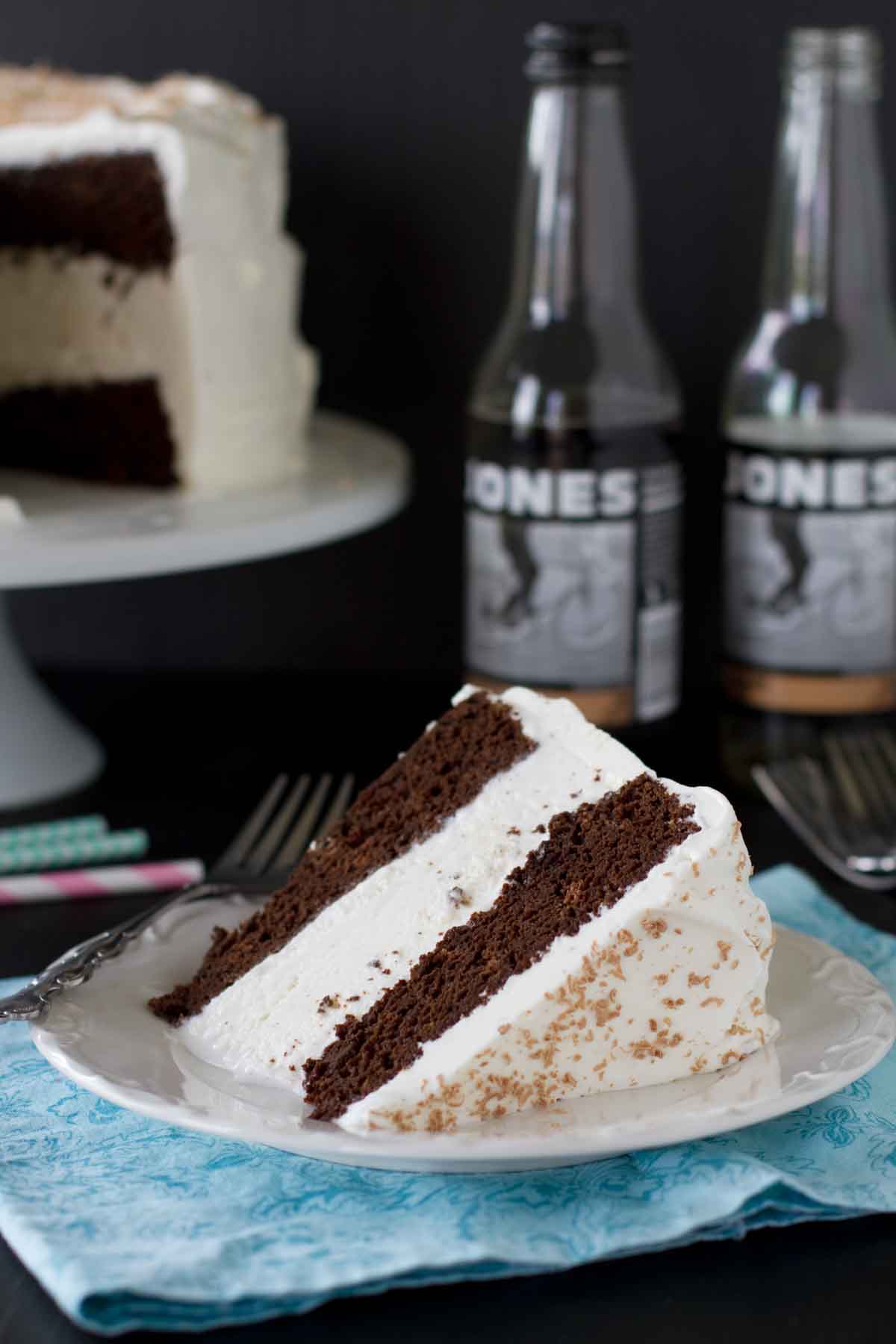 Is anyone else freaking out that July is already almost over? Where is this summer going?
I was thinking a little while back about all of the fun summer treats that I have on my summer bucket list, and realized that the summer is going by way too quickly and I desperately need to start checking some of those ideas off of my list.
I actually had the idea of this cake come to me months ago. There is nothing that screams summer more than a root beer float, right?
I actually made a root beer cake years ago. And I loved the cake. But it was missing one of the most important things – the root beer flavor. So because I loved that cake so much, I decided to try it again, but with one change. The original cake was made with just actual root beer for the flavoring. I decided to up that flavor with an extra root beer kick by also throwing in some root beer extract. I think the flavor is still subtle enough, but it definitely tasted like root beer to me. If you want it to scream root beer, feel free to add in even more root beer extract. And then add a layer of vanilla ice cream, and you have the perfect summertime dessert.
I've got a lot more summer recipe ideas – now hopefully I can fit them in before summer is over! What is on your summer treat bucket list?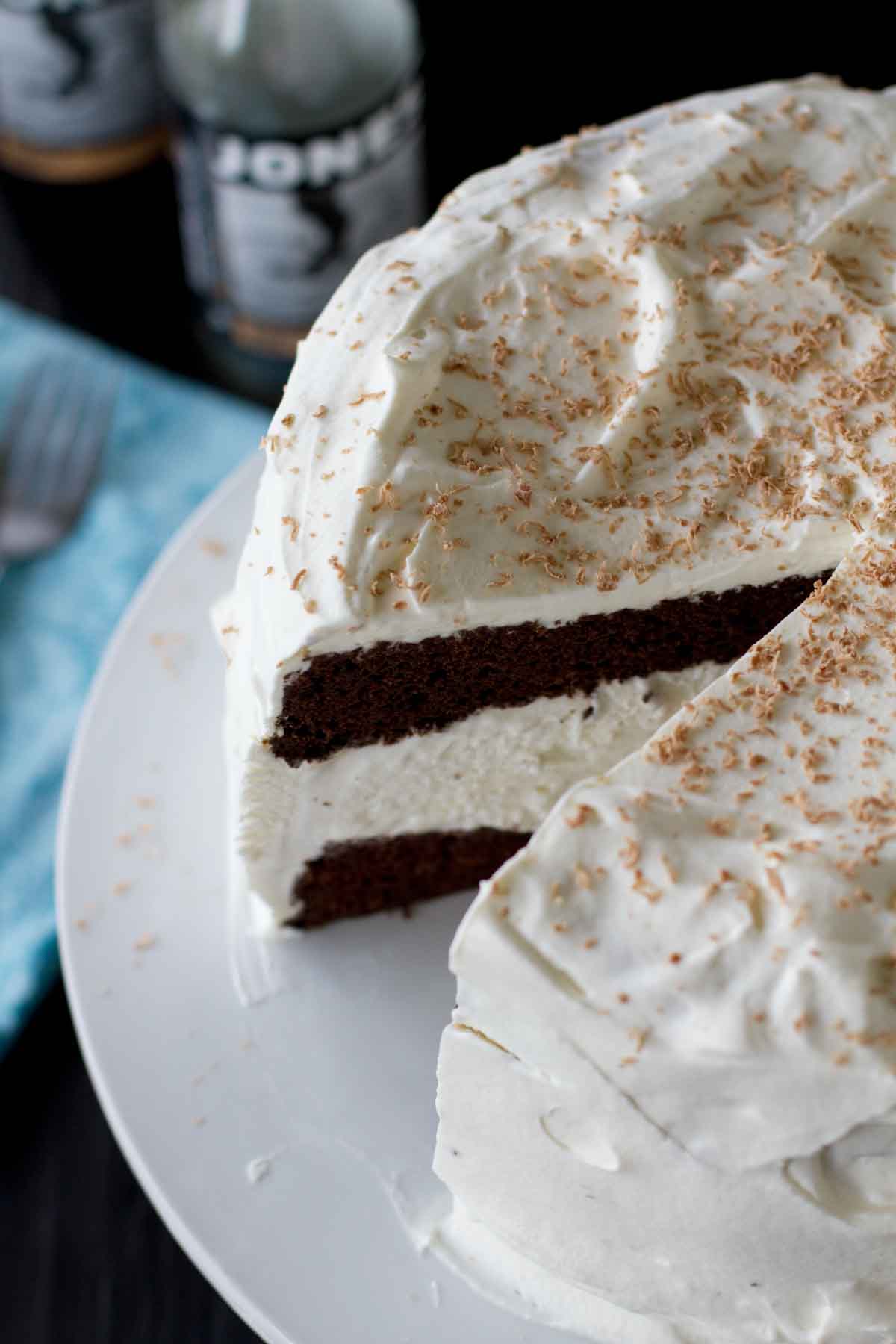 More Ice Cream Cakes:
Peanut Butter Cup Ice Cream Cake
Red Velvet Ice Cream Cake Recipe
Strawberry Milkshake Ice Cream Cake
Cookies and Cream Ice Cream Cupcakes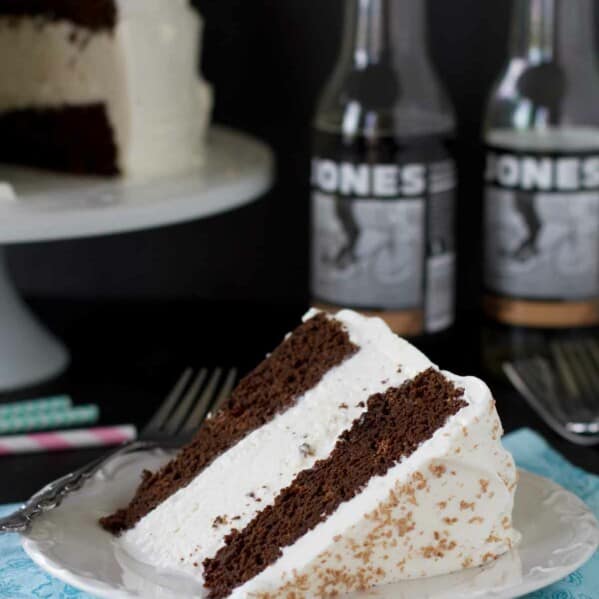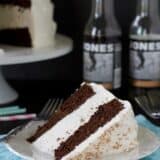 Root Beer Float Ice Cream Cake
---
Author:
Prep Time: 20 minutes
Cook Time: 40 minutes
Total Time: 8 hours
Yield: 16 servings 1x
Category: Dessert
Method: Baked
Cuisine: American
Description
This Root Beer Float Ice Cream Cake consists of vanilla ice cream that is sandwiched in between two layers of root beer cake and frozen for a fun twist on a summer classic.
---
Scale
Ingredients
2 cups root beer
1 cup cocoa powder
1/2 cup butter
1 1/4 cups sugar
1/2 cup brown sugar
2 teaspoons root beer extract
2 cups all-purpose flour
1 1/4 teaspoons baking soda
1 teaspoon salt
2 eggs
1 1/2 quarts of vanilla ice cream
2 cups heavy whipping cream
1/2 cup powdered sugar
---
Instructions
Line a 9-inch cake pan with plastic wrap, allowing enough overhang to go over the sides of the pan. Remove the ice cream from the freezer and allow it to soften slightly. Spread the ice cream evenly in the prepared pan. Cover the top with plastic wrap and return to the freezer and freeze completely, at least 4 hours.
In a saucepan, combine the root beer, cocoa powder and butter. Cook over medium heat until the butter is melted. Stir in the sugars and cook until dissolved. Remove from the heat and allow to cool. Stir in the root beer extract.
Preheat oven to 325°F. Grease 2 9-inch cake pans, line the bottoms with parchment paper or waxed paper, then grease the paper.
In a large bowl, whisk together the flour, baking soda and salt.
In another large bowl, slightly beat the eggs, then whisk in the root beer mixture. Gently fold in the flour mixture just until combined, being careful not to overbeat.
Pour the mixture evenly into the prepared pans. Bake until a tester inserted in the center comes out clean, about 30-32 minutes. Remove from the oven and allow to cool for 10 minutes, then remove from the pans and remove the parchment paper. Allow to cool completely.
Place the whipping cream in a large bowl and whip until slightly thickened. Gradually add the powdered sugar and continue to whip until thick with stiff peaks.
To assemble the cake, place one cake layer on a serving dish. Remove the ice cream layer from the freezer and remove the plastic wrap. Place the ice cream on top of the cake layer. Trim, if needed. Place the second cake layer on top of the ice cream. Frost the cake with the sweetened whipped cream. Garnish with grated chocolate, if desired.
Freeze until ready to serve.
Keywords: root beer float ice cream cake