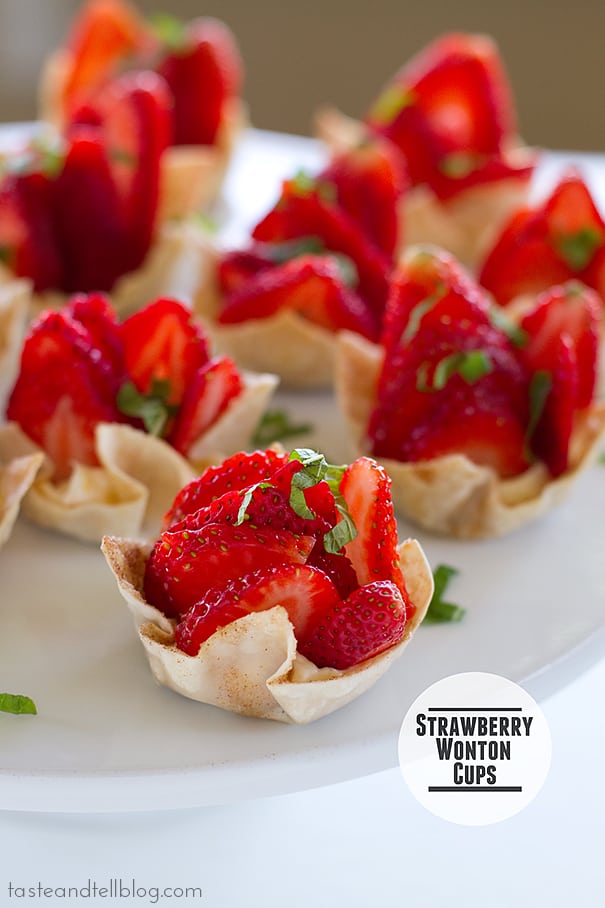 I have seriously been going overboard on the strawberries this year. Every time I go to the grocery store, I buy more, and they never go to waste. And it's not even prime strawberry season here in Utah yet! But the berries we have been getting have been so perfectly sweet and full of flavor, I just can't help but keep buying them while they are so good.
While most of the time we have been enjoying them just plain, the other day I was feeling like getting a little bit fancy.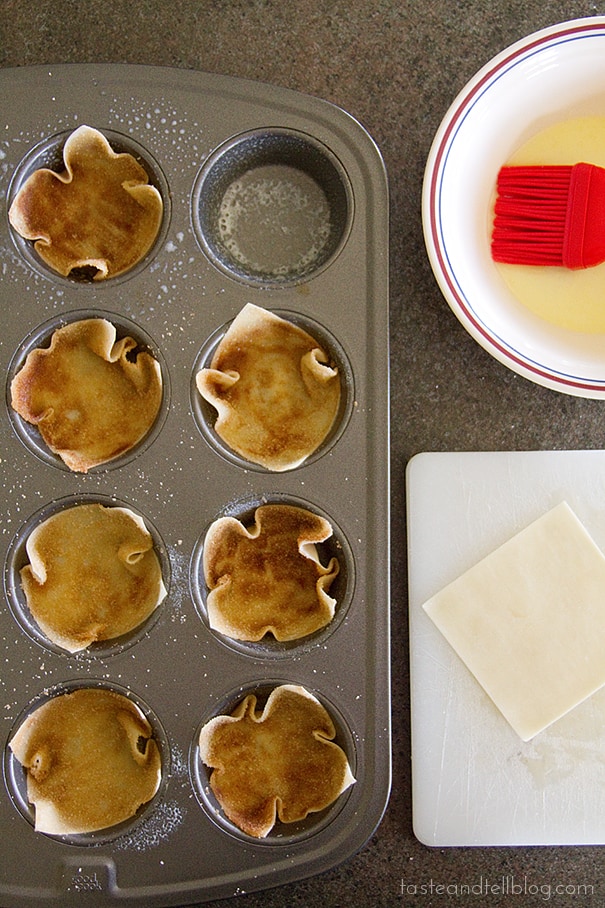 Now, we are a pretty "no frills" kind of household. Cookies, sheet cakes, brownies – we don't usually pull out the good china or serve anything up with special napkins. But these strawberries were just so good that I had to make something a little bit more special with them. Something with a little more wow factor than just a cookie. (Not that there is anything at all wrong with a cookie! :))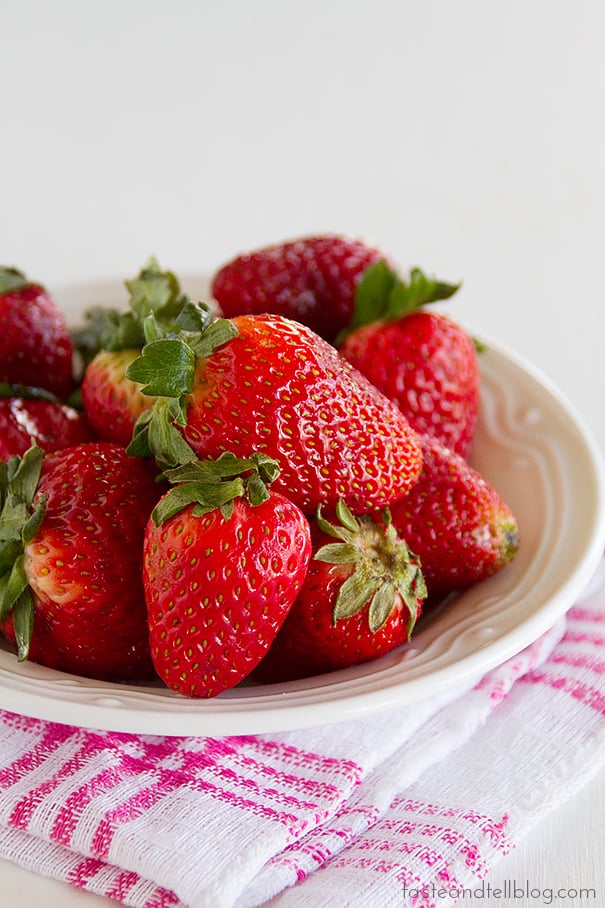 These Strawberry Wonton Cups are kind of a fake out, because they are so easy to make, but they look like they took a lot more effort. And the taste? Let me just say that you'd better make sure you have somewhere to take these or someone to give them to, otherwise, you may find yourself sneaking away to the refrigerator every 15 minutes. Just a hypothetical, though – that totally didn't happen. 😉
So next time you need a sweet appetizer, or something that looks a little fancy for dessert, these Strawberry Wonton Cups are what you need!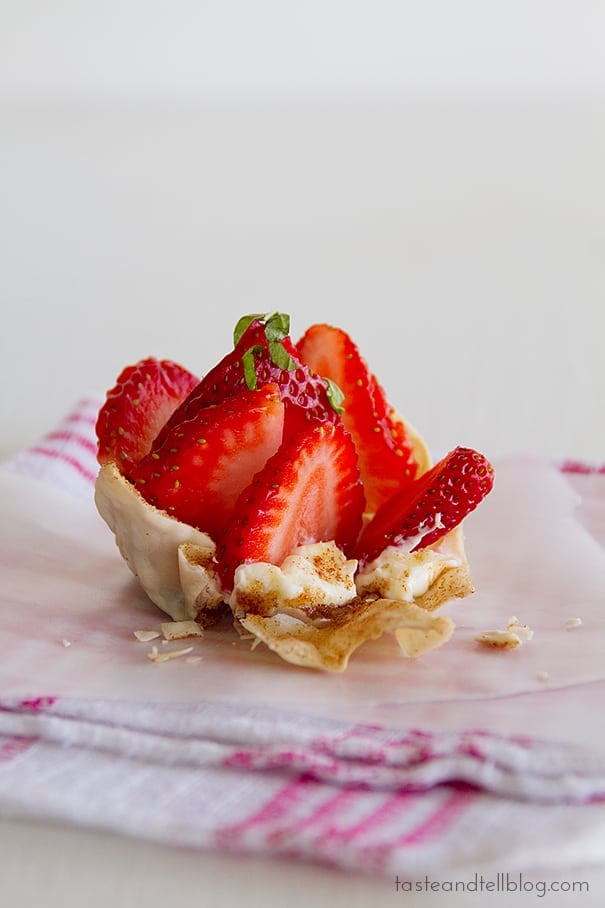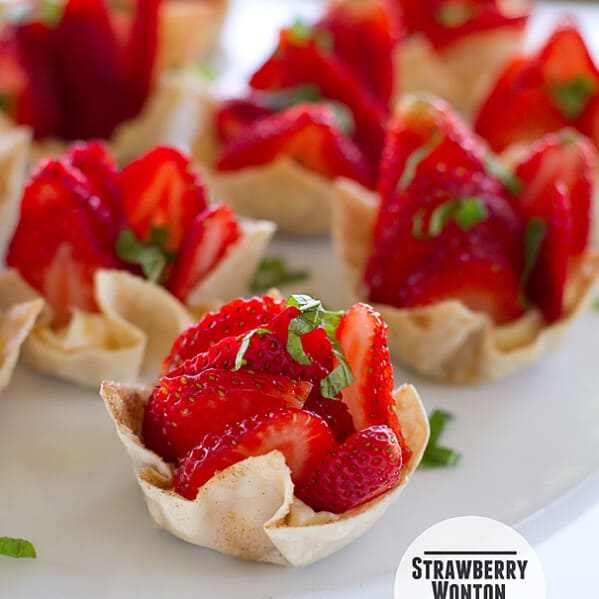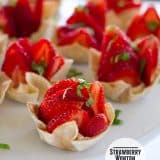 Strawberry Wonton Cups
---
Prep Time: 15 minutes
Cook Time: 9 minutes
Total Time: 40 minutes
Yield: 12 cups 1x
Description
The perfect spring and summer sweet appetizer – sugared wonton cups are baked and filled with a cream cheese mixture, then topped with fresh strawberries and mint.
---
Scale
Ingredients
12 wonton wrappers
2 tablespoons butter, melted
1/3 cup sugar
1 teaspoon cinnamon
4 oz cream cheese, softened
3 tablespoons powdered sugar
1 teaspoon orange zest
3 cups sliced strawberries
mint, for garnish
---
Instructions
Preheat the oven to 325F. Spray a 12-cup muffin tin with nonstick cooking spray.
Brush one side of the wonton wrappers with butter. Combine the sugar and cinnamon in a shallow bowl. Dip the buttered side of the wrappers into the cinnamon-sugar, then place the wrappers, sugared side up, into the muffin tins. Bake until golden brown, 7-9 minutes. Remove and allow to cool completely.
In a small bowl, beat the cream cheese, powdered sugar and orange zest together. Divide the mixture evenly between the cooled wonton cups.
Place the strawberries on top of the cream, then garnish with mint. Serve immediately.
Recipe Notes:
*The filled cups are best served immediately, but can be refrigerated for a few hours in advance if needed. Unfilled cups can be made ahead and stored in an airtight container.
More uses for those fresh strawberries: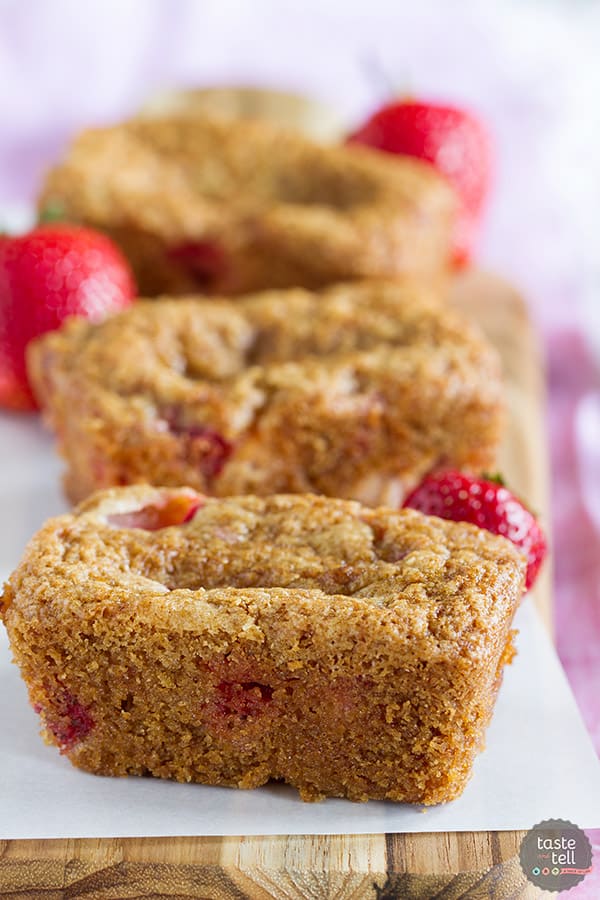 Best Strawberry Bread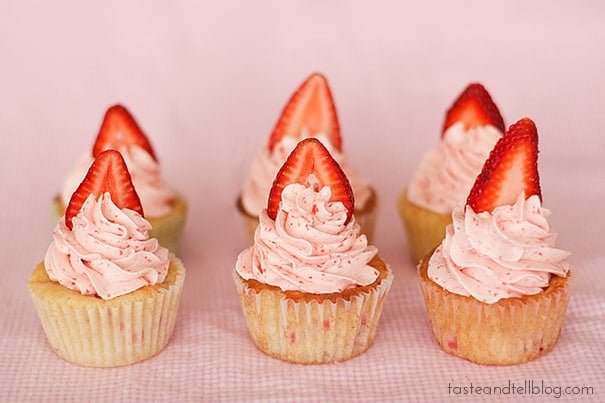 Strawberry Cupcakes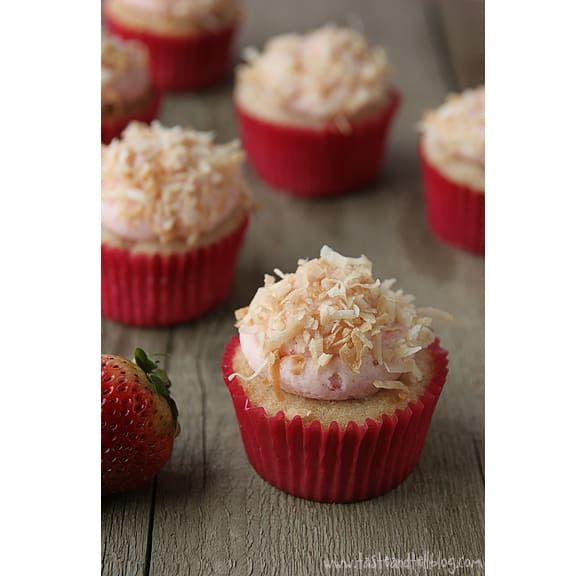 Strawberry Colada Cupcakes
Around the Web:
Strawberry Tartlets from Two Loves Studio
Strawberry Cream Puff Cake from The Girl Who Ate Everything
Glazed Strawberry Biscuits from Buns In My Oven