A recipe for Strawberry Cupcakes with Strawberry Meringue Buttercream. The perfect summer cupcake.
I usually have a "go-to" cookbook or two. I'm sure most of you know what I'm talking about. A cookbook (or website) you can go to and get a recipe to make that you know will turn out, because everything you've made from that book has been great. I actually have been making a lot of recipes from 2 cookbooks lately, and they are both Martha Stewart cookbooks. Every Day Food: Great Food Fast and her Cookie Book have both been very successful for me. So when I saw that she was coming out with a cupcake book – you better believe I'd be first in line!
I'm so glad I chose Martha Stewart's Cupcakes as the Cookbook of the Month, because I can tell that I'm going to have tons of fun. In fact, I may even get ambitious and post more than one a week.
For my first try out of the book, I debated between these strawberry cupcakes and a rhubarb cupcake. Both ingredients in season, and I really had a hard time deciding. But the strawberry cupcakes won out, mainly because they look so impressive!
I'm so glad I chose this one, because they were delicious!! I did have a couple of issues along the way, though. First of all, I live at almost 4800 ft. elevation. I've never made alterations in my baking for elevation – things usually work out for me. But when I took the first pan of these out of the oven, I could tell things weren't working correctly. They were falling in the middle and they baked way faster than the recipe said. So I went online and did a search for high elevation changes, just as an experiment. I went back and upped the temperature 25F, and baked the next pan for only about 15 minutes. And they came out perfectly! I guess I do need to start making high elevation changes…
The only other issue I had was that I got 44 cupcakes out of the recipe instead of the 34 that it claims. But that seems to happen to me a lot with cupcakes and cookies – I'm not sure why. So the recipe below says that you'll probably get 40 – 44 cupcakes.
Please also note that the recipe does not include the high altitude changes I made.
Recipe Rating: 4.25 out of 5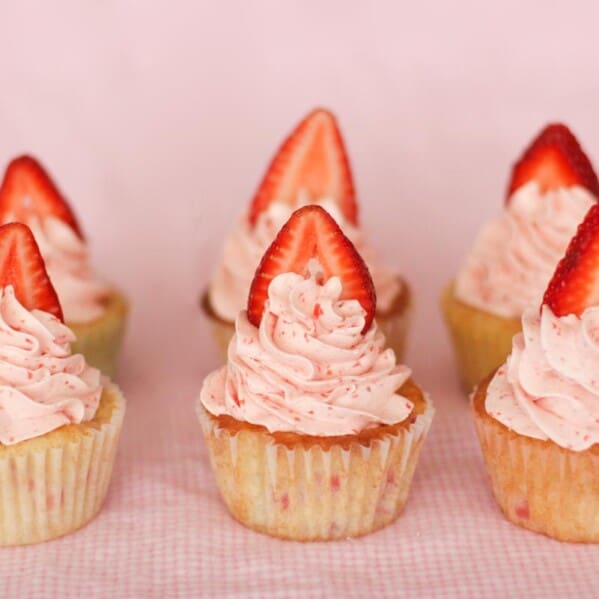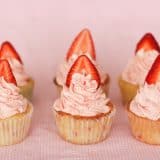 Strawberry Cupcakes
---
Author:
Prep Time: 30 minutes
Cook Time: 30 minutes
Total Time: 2 hours
Yield: 40-44 cupcakes 1x
Category: Dessert
Method: Baked
Cuisine: American
Description
Strawberry cupcakes, made with fresh strawberries, are topped with a strawberry infused meringue buttercream.
---
Scale
Ingredients
Cupcakes
2 3/4 cups all-purpose flour
1/2 cup cake flour (not self rising)
1 tablespoon baking powder
1 teaspoon salt
1 cup (2 sticks) unsalted butter, at room temperature
2 1/4 cups sugar
1 1/2 teaspoons vanilla extract
3 large whole eggs, plus 1 egg white
1 cup milk
2 cups finely chopped strawberries, plus more for garnish
Strawberry Meringue Buttercream
1 1/2 cups fresh strawberries (8 ounces), rinsed, hulled, and coarsely chopped
4 large egg whites
1 1/4 cups sugar
1 1/2 cups (3 sticks) butter, cut into tablespoons, at room temperature
---
Instructions
To make the cupcakes:
Preheat the oven to 350F. Line standard muffin tins with paper lines.
Sift together the flours, baking powder and salt. Set aside.
Put butter, sugar and vanilla in the bowl of an electric mixer. Cream on medium-high until pale and fluffy. Add the whole eggs and egg white, one at a time, beating until each is fully incorporated. Scrape down the sides of the bowl as needed. Change the speed to low, add the flour mixture in 2 batches, alternating with the milk. Beat until well combined. Fold in the chopped strawberries by hand.
Fill each paper liner with batter 3/4 full. Bake, rotating the pans half way through, until golden and a toothpick inserted in the middle comes out clean, 20 – 30 minutes. Transfer to wire racks to cool for 15 minutes, then turn cupcakes out onto rack to let cool completely.
To finish, fill a pastry bag fitted with a large open-star tip with the buttercream. Pipe buttercream onto each cupcake, swirling tip and releasing as you pull up to form a peak. Just before serving, top each cupcake with a thinly sliced strawberry.
To make the buttercream:
Puree strawberries in a food processor. Combine egg whites and sugar in the heatproof bowl of a standing electric mixer set over a pan of simmering water. Whisk constantly by hand until mixture is warm to the touch and sugar has dissolved (the mixture should feel completely smooth when rubbed between your fingertips).
Attach the bowl to the mixer fitted with the whisk attachment. Starting on low and gradually increasing to medium-high speed, mix until stiff (but not dry) peaks form. Continue mixing until the mixture is fluffy and glossy, and completely cool (test by touching the bottom of the bowl), about 10 minutes.
With mixer on medium-low speed, add the butter a few tablespoons at a time, mixing well after each addition. Once all butter has been added, scrape down sides of bowl with a flexible spatula and switch to the paddle attachment; continue beating on low speed until all air bubbles are eliminated, about 2 minutes. Add strawberries and beat until combined. Stir with a flexible spatula until the frosting is smooth. Keep buttercream at room temperature if using the same day, or transfer to an airtight container and refrigerate up to 3 days or freeze up to 1 month. Before using, bring to room temperature and beat with paddle attachment on low speed until smooth again, about 5 minutes.
Keywords: strawberry cupcakes