S'mores Pancakes – graham cracker pancakes covered with homemade chocolate syrup and marshmallow sauce
I love doing themed weeks.  And I had all intentions of doing a s'mores week this summer.  but then this last weekend, I looked around my kitchen, and this is what I found – 3 different kinds of homemade ice cream in the freezer, along with the Chocolate Chip Peanut Butter Cheesecake Bars, a bowl full of Jordan almonds, half of a leftover birthday cake from my husband's birthday, and some Chocolate Chip Banana Cookies.  It was seriously out of control.  (On the bright side, at least they were all sitting there, and not disappearing into my belly!)  That was when I decided that 6 days of s'mores treats is not in the cards for me this year!  But I have a whole page full of ideas, and I need to execute at least one or two of them before the summer is over!
These s'mores pancakes are a great way to get your s'mores fix – whether for breakfast or dessert!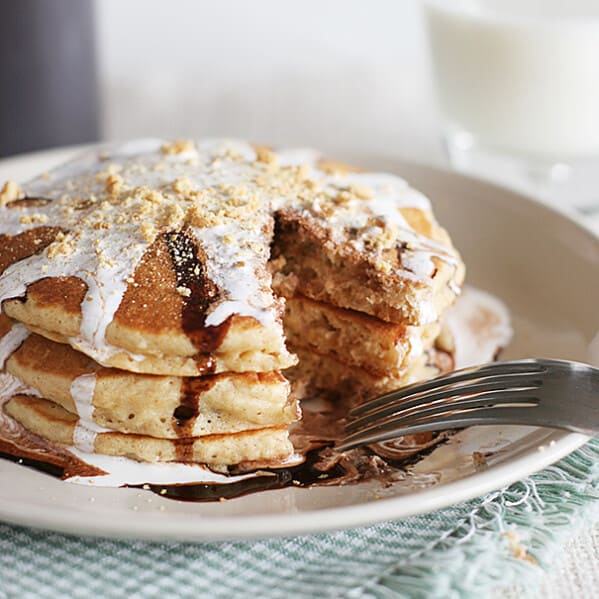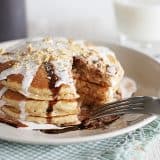 S'mores Pancakes
---
Prep Time: 10 minutes
Cook Time: 15 minutes
Total Time: 25 minutes
Yield: 8 pancakes 1x
Description
All of the flavors of s'mores – in breakfast form!
---
Scale
Ingredients
for the graham cracker pancakes:
1 1/4 cups all-purpose flour
3/4 cup very fine graham cracker crumbs
1 tablespoon baking powder
3/4 teaspoon salt
3 tablespoons sugar
2 eggs, yolks and whites separated
1 1/2 cups milk
3 tablespoons vegetable oil
for the chocolate syrup:
2/3 cup unsweetened cocoa
1 cup water
1 1/2 cups sugar
1/4 teaspoon salt
for the marshmallow sauce:
1 cup marshmallow creme
a couple tablespoons of hot water
---
Instructions
Make the pancakes:
In a bowl, combine the flour, graham cracker crumbs, baking powder, salt and sugar. Mix well. Add in the egg yolks, milk and oil; stir just until combined.
In another bowl, whip the egg whites to soft peaks. Fold into the pancake batter.
Heat a lightly oiled griddle over medium heat. Pour about 1/4 cup of the batter on the hot griddle and cook until both sides are browned.
While the pancakes are cooking, make the chocolate syrup:
In a saucepan, whisk together the cocoa powder and water. Stir in the sugar and salt and cook over medium heat. Bring to a boil, then let boil for 3 minutes.
Make the marshmallow sauce:
In a small bowl, stir hot water into the marshmallow creme, 1 teaspoon at a time until a desired consistency is reached.