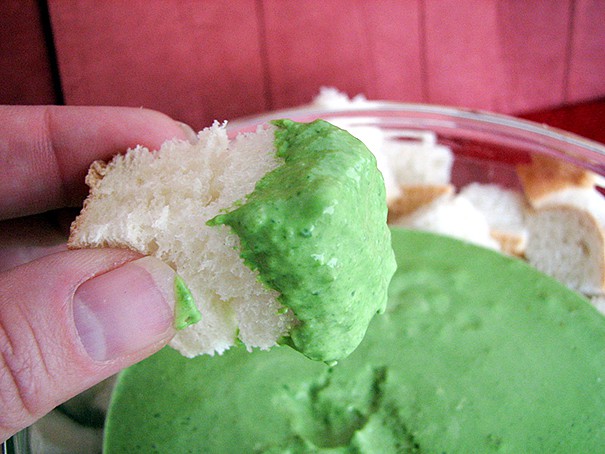 I'm tardy!! I have to first apologize to Nicole and Allison. Nicole at For the Love of Food created a wonderful blogging event called Taste & Create. Basically, you are assigned a "blog buddy" and you copy a recipe from their blog and they copy a recipe from yours. A great idea – I just don't think that a whole lot of people heard about it this time around. It was just me, Nicole and Allison. I was assigned to Allison's blog – Sushi Day. I love sushi, but I have never made it before, so when I was assigned her blog, I was quite excited to try something completely new. But then life got in the way. I have a full time day job, then another part time job that I work from home. On top of that, I am trying to start my own business, take care of the house, and try to spend at least a little quality time with my husband and my dog. Life is just so crazy right now!!
I did manage to make one of Allison's recipes, but unfortunately, it wasn't sushi. I ran out of time to try to find the required supplies, and I was already past the deadline, so I decided to make another recipe on her blog that sounded very interesting to me. It is for a spinach dip. This dip is different than any spinach dip I have had before. The ones I have made and had in the past are usually served hot and are full of cheese (and often artichokes.) This one just has fresh spinach, sour cream, mayo, garlic powder and onion powder. So when I saw this dip, it peaked my curiosity. It couldn't have been easier. Just throw all of the ingredients in a blender or food processor, and that's it!! The only problem is that I ate way too much bread – this stuff was addictive!!
The only change I would make would be to add fresh, chopped garlic instead of the garlic powder and maybe grate some onion in instead of the onion powder. But really, for an easy snack or appetizer, this is great!
Thanks to Nicole and Allison. Hopefully Nicole will hold this event again – and next time I won't be so tardy!! And I really am going to make some sushi from Allison's blog – if you are interested in making sushi, you should really check out her blog. Oh – and the recipe for the spinach dip can be found here. And if you want to see what she made from my blog, it can be found here. She made the first recipe I ever blogged about!!